Congratulations to Lauren Roberts, who became the first woman to win a U.S. Poker Open title when she defeated Koray Aldemir heads up in Event #3 – $10,000 No-Limit Hold'em to win $218,400 and earn 200 USPO player of the series points.
This win marks the first live tournament career win for Roberts, and she was ecstatic to take it down.
"It's huge for me. I mean I've never won anything before. And so especially for women or old people and for amateurs. I love this game, I played with some phenomenal players and I learn every time I play a tournament. I happenend to run good in some of these coin flips and they can make or break a tournament."
The day started with eight players and it was Jerry Robinson who grabbed his second cash of the 2019 USPO, busting in eighth place after which Rodger Johnson hit the rail in seventh shortly after play began. Johnson got all in against Stephen Chidwick preflop with
against the
of Chidwick. Johnson couldn't catch up and busted seventh for $45,500.
Ralph Wong was next to go when he three-bet shoved with pocket threes over a rather large open from Aldemir. Aldemir had two overs and flopped a better pair to eliminate Wong in sixth. Wong won $54,600.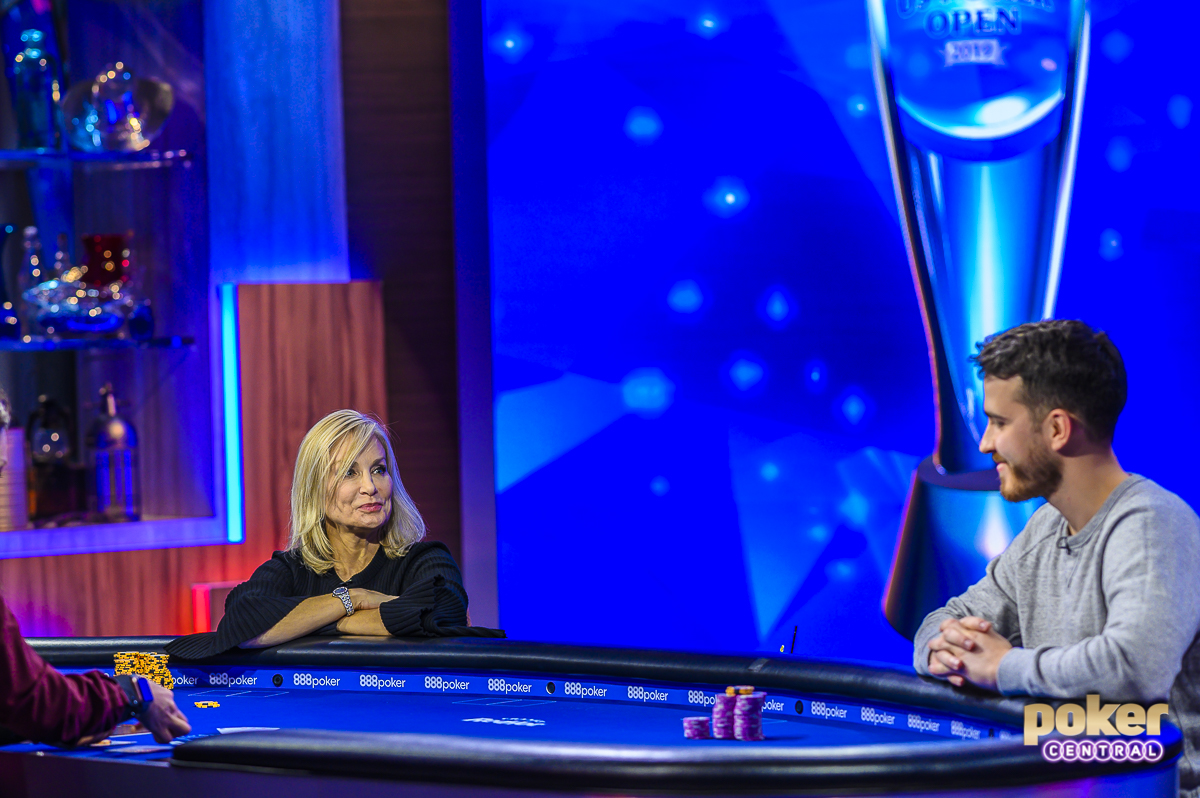 In possibly the most interesting hand of the tournament, Sean Winter sat in the small blind with Brandon Adams behind him. Adams had 60,000 chips and less than an ante, but Winter picked up
and Aldemir shoved from the small blind. Winter couldn't help but call and was well ahead of the
of Aldemir. Winter earned 60 USPO player of the series points and is currently settled into third place in the standings.
Aldemir flopped a pair and managed to stay ahead to eliminate Winter in fifth place ($72,800). Adams hung around a little longer, actually getting his ante back when the other players folded and doubling up before finally busting in fourth place. Chidwick called Adams' button shove with
and was ahead of the
held by Adams. Adams couldn't find any help from the board and was out, taking $91,000 home with him.
Chidwick fell in third after a huge pot with Aldemir but managed to extend his overall championship lead over Jordan Cristos and Sean Winter. On the Brit's final hand, Aldemir shoved two fours and Chidwick called with a couple overs. Aldemir came into heads up play with the lead, but Roberts earned a huge double with two pair when she led into Aldemir on the river. Aldemir shoved all in with queen-high and Roberts quickly called. The tournament only lasted only a few hands more and Roberts ended it when she made a flush on the river after flopping a pair and a flush draw.
Aldemir would eventually fall to Roberts in second place, giving her her first live tournament win and putting her in fourth place in the USPO overall standings.
About her play and ambitions this week, Roberts said, "I probably will play the $25k higher rollers, and I'll play tomorrow depending on how I feel. There are some amazing players in here and I have no clue how to play the short deck I don't have any illusions that I could win the overall championship. I feel like I have the capability to play well against these guys. I don't always live up to it but I always believe that I can do it and sometimes it actually works out."
2019 U.S. Poker Open Event #3 Payouts
Name
Prize
1
Lauren Roberts
$218,400
2
Koray Aldemir
$159,250
3
Stephen Chidwick
$113,750
4
Brandon Adams
$91,000
5
Sean Winter
$72,800
6
Ralph Wong
$54,600
7
Rodger Johnson
$45,500
8
Jerry Robinson
$36,400
9
Alex Foxen
$27,300
10
Seth Davies
$27,300
11
Erik Seidel
$27,300
12
Manig Loeser
$18,200
13
Sean Perry
$18,200
The U.S. Poker Open Championship Standings are now as follows.
2019 U.S. Poker Open Championship Standings
RANK
NAME
POINTS
CASH
1
Stephen Chidwick (2)
300
$329,750
2
Jordan Cristos (2)
240
$206,200
3
Sean Winter (3)
240
$267,900
4
Lauren Roberts
200
$218,400
5
Manig Loeser (2)
180
$146,200
6
Koray Aldemir
140
$159,200
7
Joseph Cheong
100
$112,500
8
Martin Zamani
100
$83,200
9
Brandon Adams
80
$91,000
10
Joseph Cappello
80
$90,000
Stay tuned right here at PokerCentral.com for the exclusive live coverage of all the U.S. Poker Open action from the PokerGO studio. New to PokerGO? Subscribe right now to not miss a minute of the action.
Lauren Roberts doubled through Koray Aldemir to take the chip lead in heads up play. Then Aldemir busted shortly after when the two were all in preflop.
A few hands before the final hand, the board read
and Roberts bet 700,000 into a pot of 2,700,000.
Aldemir held
and shoved all in, putting Roberts at risk should she call. Roberts didn't even hesitate and called with
and double up to take the chip lead.
After passing a few blinds and antes back and forth, Aldemir went all in with
and Roberts called with
.
To say that Roberts flopped the world might be an understatement as the flop came
, but Aldemir still had a chance with a gut-shot straight draw.
The turn was the
and the river completed the flush with the
eliminating Aldemir in second place. He will take home $159,000 for his finish.
Level
Level 26
Blinds
100,000 / 200,000
Big Blind Ante
200,000
Lauren Roberts doubled through Koray Aldemir after he limped
and Roberts shoved
. Aldemir called.
The board ran out
and Roberts doubled up.
Koray Aldemir limped with
against the
of Roberts in the big blind. She checked.
The flop came
and Roberts checked. Aldemir bet 150,000 and Roberts called.
The turn was the
, giving Roberts two pair. Both players checked and Aldemir hit the
on the river for one pair. It was good enough to call when Roberts led for 325,000.
Stephen Chidwick was eliminated in third place and will take home $113,750 after he called off his stack with
against a Koray Aldemir shove. Aldemir had
.
Aldemir flopped a set and didn't look back to eliminate Chidwick in third place.
| Player | Chips | Change |
| --- | --- | --- |
| Koray Aldemir | 8,450,000 | 3,250,000 |
| Lauren Roberts | 2,925,000 | 680,000 |
| Stephen Chidwick | Busted | -3,700,000 |
Level
Level 25
Blinds
75,000 / 150,000
Big Blind Ante
150,000
Brandon Adams was eliminated in fourth place, after hanging on with less than an ante he shoved his final 285,000 with
from the button. Stephen Chidwick called from the small blind with
. Lauren Roberts folded.
The board ran out
and Chidwick won the hand, eliminating Adams in fourth place. He will take home $91,000.
Koray Aldemir shoved from the small blind with
and Sean Winter called his remaining 1,970,000 from the big blind with
. Meanwhile, Brandon Adams was sitting with just 60,000 behind and looking to earn a pay jump if Winter were to get eliminated.
The board ran out
and Winter did indeed get eliminated in fifth place to take home $72,800 while Adams sat behind him with less than the big blind ante, which he will put in on the very next hand.
You're all caught up!
No more pages to load