Event #1 $10,000 Pot Limit Omaha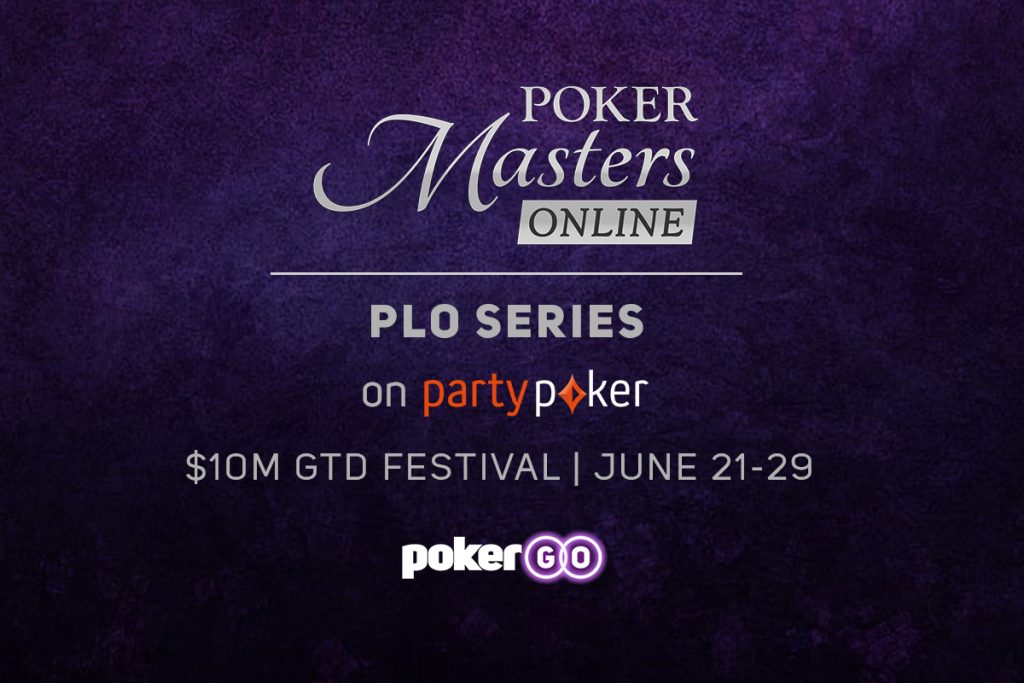 Marcello Marigliano has taken down the first Poker Masters Online PLO Series High Roller on partypoker besting a field of 72 entrants to claim to top prize just shy of a quarter-million dollars. Marigliano beat Gavin Cochrane heads up after an epic hour-long battle, all of which can be rewatched in the player below.
Poker Masters Online PLO Series Event #1 Results
Place
Name
Country
Payout
1
Marcello Marigliano
United Kingdom
$249,053
2
Gavin Cochrane
United Kingdom
$162,000
3
Norbert Szesci
Hungary
$86,400
4
Mark Demirjian
Lebanon
$64,800
5
Jesper Hougaard
Denmark
$46,800
6
Lasse Nielsen
Malta
$32,400
7
Niklas Astedt
Sweden
$26,182
8
Niko Soininen
Finland
$26,182
9
Andreas Torbergsen
Norway
$26,182
From the final table, Lasse Nielsen was first to go when he ended up with ace-king-jack-deuce versus Demirjian's king-nine-eight-five on king-four-five. Both players were double suited in diamonds and hearts with no flush draws in play. The turn brought a queen of diamonds, giving Nielsen the nut flush draw, but the river was a six and Demirjian took down the pot with two pair.
The second player to go was two-time WSOP bracelet winner Jesper Hougaard who ended up all in with ace-king-queen-queen with three spades against Marigliano's queen-ten-nine-eight. The remainder of the chips went in on an eight-deuce-four flop and Marigliano hit running cards to make his straight.
Demirjian busted in fourth place when he ended up all in with ace-queen-ten-six double suited. Both Marigliano and Gavin Cochrane called Demirjian's small shove and saw a nine-eight-four flop. Having flopped top set, Cochrane bet and saw Marigliano fold which lead him to send Demirjian to the rail as the turn nor river improved the short stack's hand.
Hungarian pro Norbert Szecsi busted in third place after an interesting hand that lead him to call all in with nine-nine-five-five after Marigliano shoved with ace-ace-jack-six on queen-queen-deuce. Szesci had a flush draw but when that didn't come in he was sent packing in third place. After more than an hour of heads-up play, Marigliano took down the event after chipping Cochrane down and busting him holding the better two pair combination.
Join commentators Jeff Platt and Pot Limit Omaha specialist Joey Ingram for the first of eight live-streamed final tables of the Poker Masters Online PLO Series on partypoker.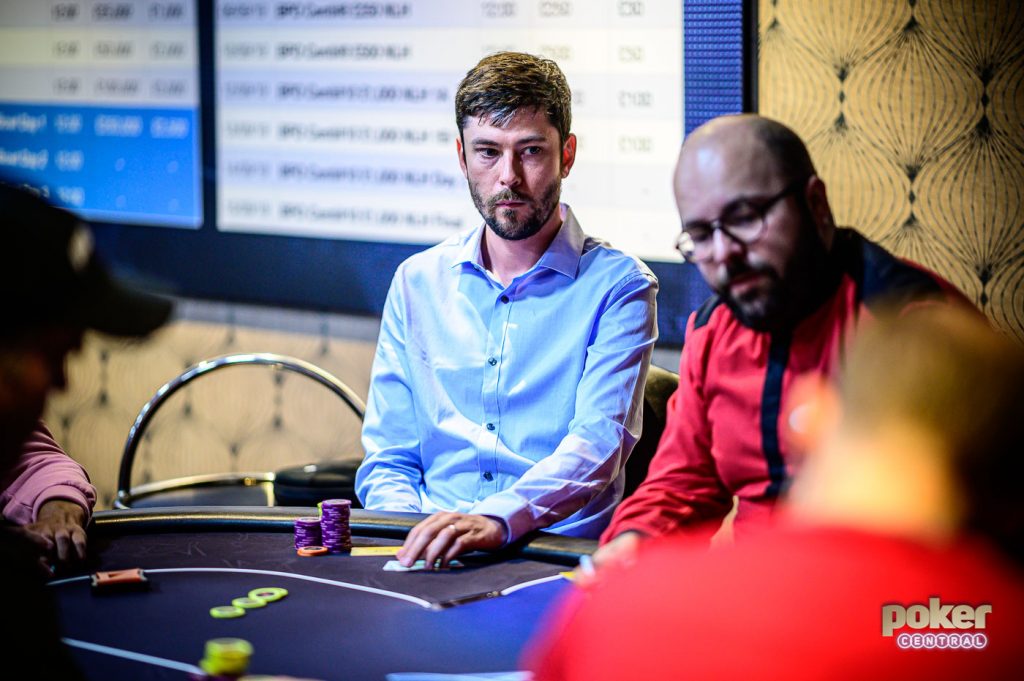 Gavin Cochrane got hot near the bubble and didn't look back. The British pro bagged elimination after elimination before bagging the Poker Masters Online: Pot Limit Omaha Event #1 final table chip lead.
Those knockouts – which began with the elimination of Sam Trickett – put Cochrane in pole position heading into tomorrow's Poker Masters Online final table. Five more world class PLO players will join Cochrane, including countryman Marcello Marigliano.
Lebanon's Mark Demirjian and Hungary's Norbert Szecsi will return near the chip average, while Norway's Jesper Hougaard and Malta's Lasse Nielsen return short.
Here's what they'll be playing for:
$249,053
$162,000
$86,400
$64,800
$46,800
$32,400
The first Poker Masters Online: Pot Limit Omaha Event #1 final table streams live tomorrow on Facebook and YouTube.
Watch and follow Poker Central's live reporting from the rest of the partypoker series – where the next Poker Masters Online Champion will be crowned.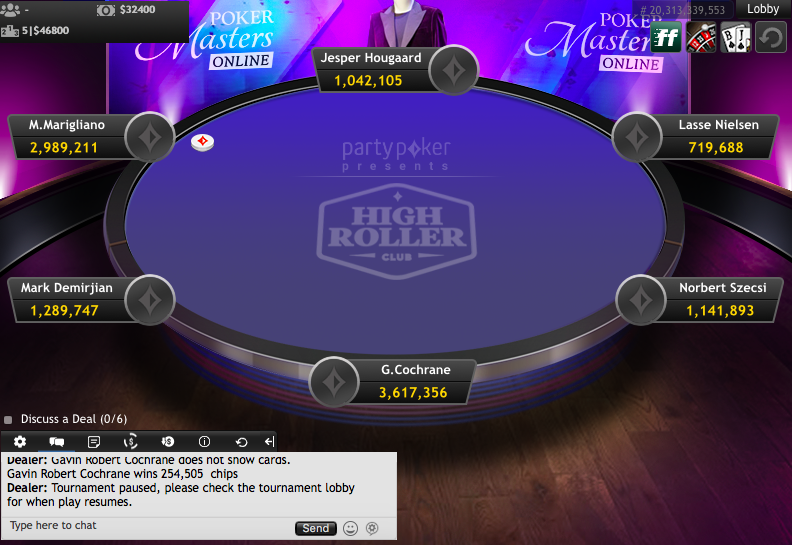 | Player | Chips | Change |
| --- | --- | --- |
| Gavin Cochrane | 3,617,356 | 1,184,873 |
| Marcello Marigliano | 2,989,211 | -492,974 |
| Mark Demirjian | 1,289,747 | -185,587 |
| Norbert Szecsi | 1,141,893 | 232,130 |
| Jesper Hougaard | 1,042,105 | 512,347 |
| Lasse Nielsen | 719,688 | 381,594 |
Gavin Cochrane has continued to crush heading towards the end of Day 1. He just scored another elimination, to bring Event #1 to the final table.
This time, Niklas Astedt was the victim and while the Swede will miss out on the final table – he does earn just over $26,000 for his first Poker Masters Online: Pot Limit Omaha cash.
Lasse Nielsen has been the short stack since the two table redraw and while he's still at the bottom of the leaderboard, he now has a little more to work with.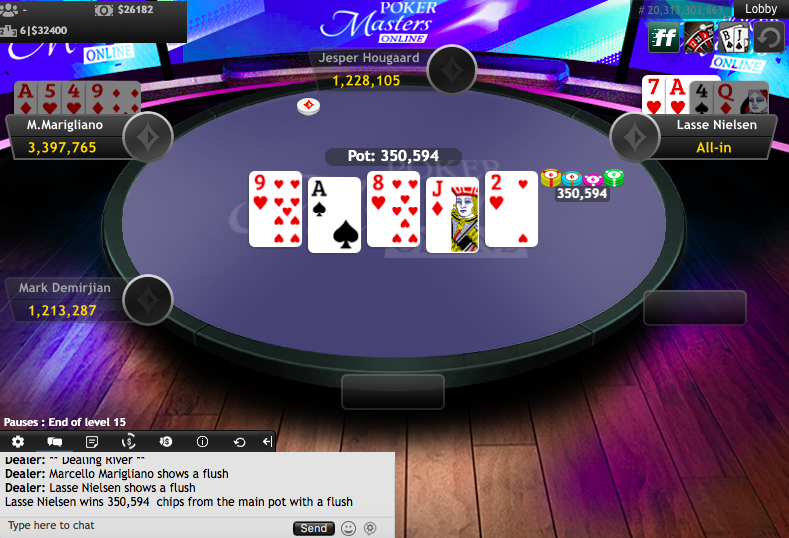 Nielsen doubled through chip leader Marcello Marigliano – who remains the only player over 3,000,000.
Gavin Cochrane just scored another knockout to leave Event #1 one spot shy of the final table. Finland's Niko Soininen was the victim, after he put in a three-bet pre.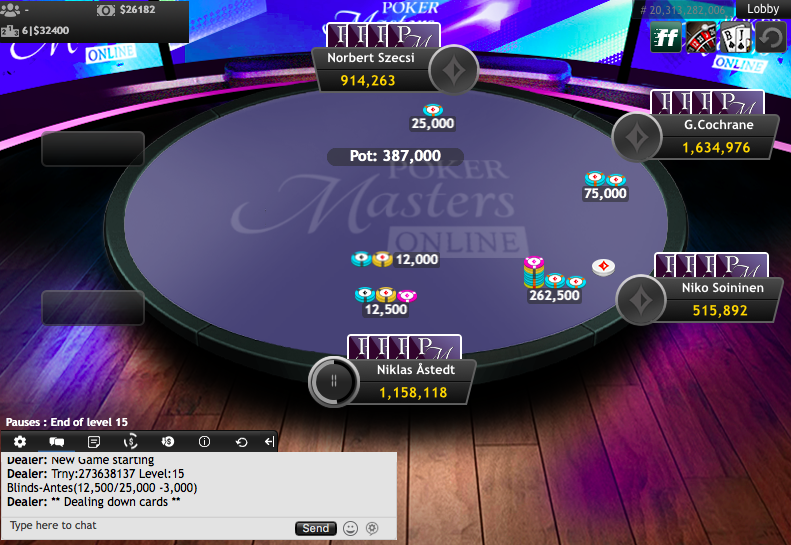 Cochrane was the only player to call and after the flop, he shoved and Soininen called to put himself at risk.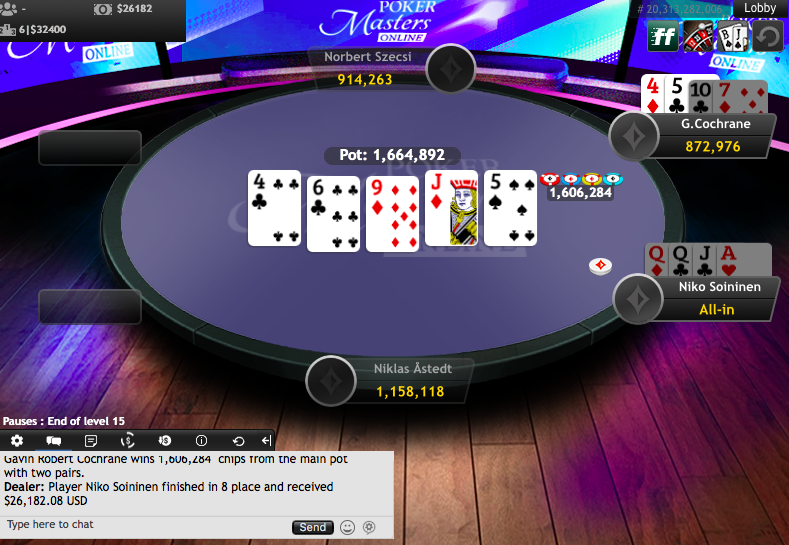 Soininen had the best of it, but Cochrane had the better runout. He's now well over 2,000,000 chips with seven players remaining.
We picked up Gavin Cochrane's elimination of Sam Trickett before the bubble, but the Brit's most recent knockout was missed. Former chip leader Andreas Torbergsen was eliminated by Cochrane in 9th place – good for a $26,000 score.
A few hands later, Cochrane doubled Niko Soinen and some more movement has occurred. Here's how Table 2 currently stacks up: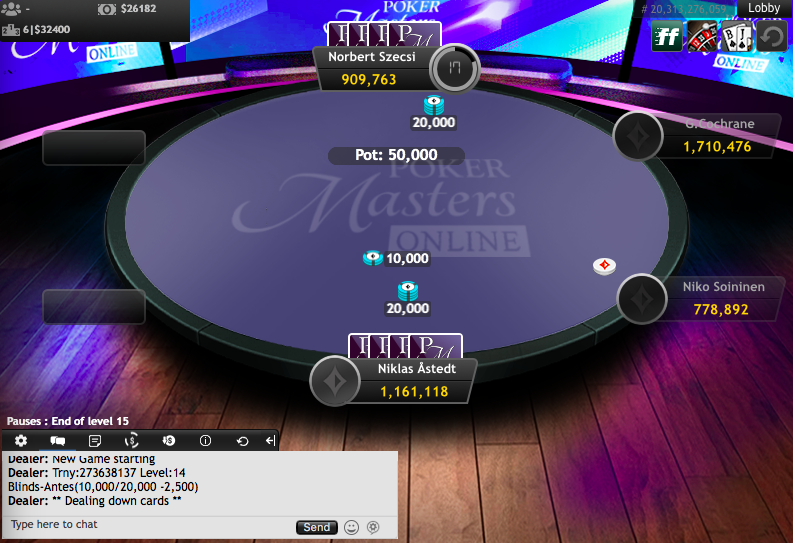 | Player | Chips | Change |
| --- | --- | --- |
| Gavin Cochrane | 1,710,476 | 449,737 |
| Niklas Astedt | 1,161,118 | 979,125 |
| Norbert Szecsi | 909,763 | 114,500 |
| Niko Soininen | 778,892 | 368,196 |
| Andreas Torbergsen | Busted | -916,558 |
Almost immediately after Jason Mercier hit the rail, partypoker pro Sam Trickett did the same. Trickett got all-in on the flop against Gavin Cochrane, who had flopped two pair.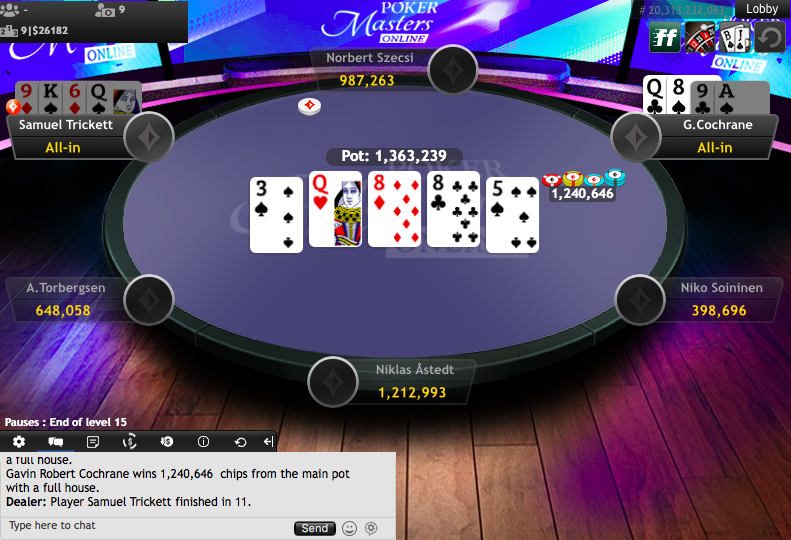 Cochrane improved to a full house on the turn and Trickett was eliminated in 11th place. A few hands later, Eelis Parssinen became the Event #1 bubble boy.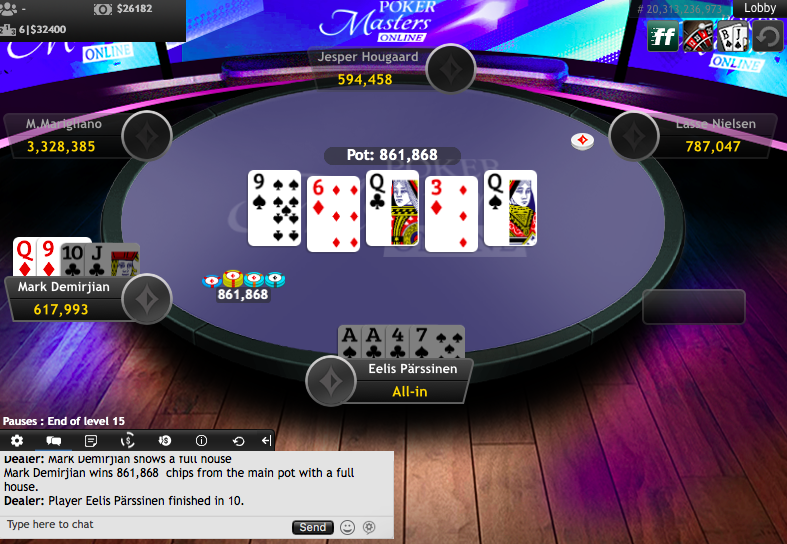 His aces were cracked by Mark Demirjian and the remaining nine players are officially in the money. Play will continue until the end of Level 15.
| Player | Chips | Change |
| --- | --- | --- |
| Mark Demirjian | 1,475,334 | -54,275 |
| Gavin Cochrane | 1,260,739 | 925,781 |
| Sam Trickett | Busted | -821,823 |
| Eelis Parssinen | Busted | -210,841 |
Shortly after the start of Level 14, Lasse Nielsen found a double against Mark Demirjian. The short stack check-called a bet on the flop and then called an all-in on the turn.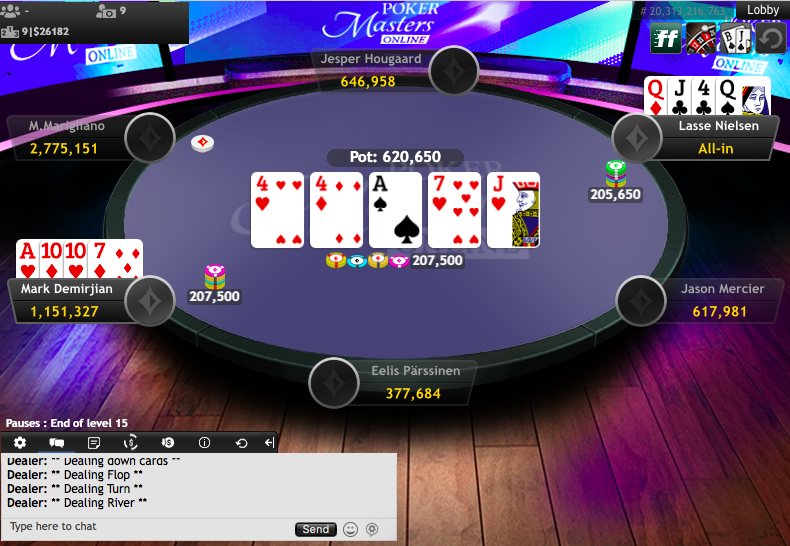 The river completed Demirjian's flush, but Nielsen improved to a full house. Both players are now on either side of the chip average.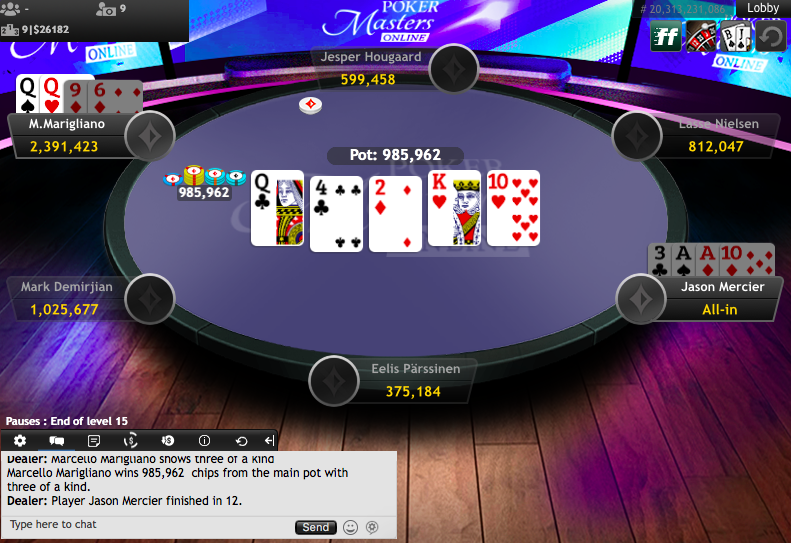 A few moments later, Jason Mercier was all-in at the same table. Mercier three-bet pre and then shoved the flop. Marcello Marigliano called and Mercier was up against a set. He was eliminated in 12th place.
| Player | Chips | Change |
| --- | --- | --- |
| Marcello Marigliano | 3,043,635 | 289,016 |
| Lasse Nielsen | 734,547 | 201,813 |
| Jason Mercier | Busted | -560,190 |
You're all caught up!
No more pages to load