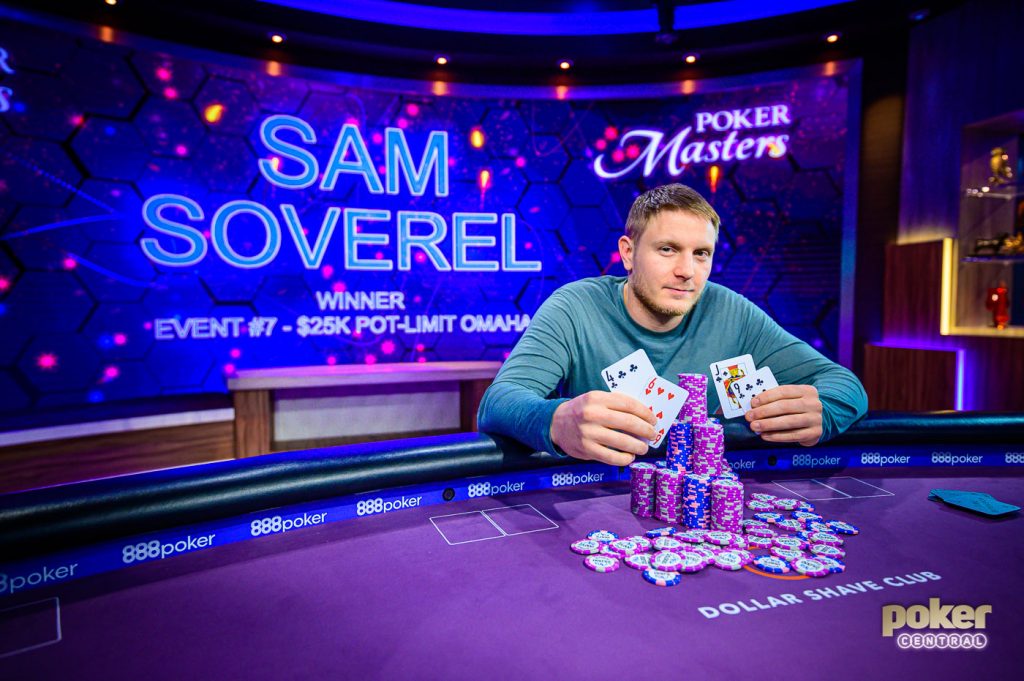 Sam Soverel has done it again! The winner of the British Poker Open and reigning High Roller of the Year has taken down Event #7 of the 2019 Poker Masters for $25,000 by defeating Sean Winter heads up. Soverel now sits second in the Championship Standings behind only Chance Kornuth.
"I ran good," Sam Soverel exclaimed after taking the event down, "It was a lot of fun playing against Sean, we have been playing for against each other for about 11 years."
"I watched a bunch of Mike Tyson and Roy Jones videos last night to come in and knock Chance off the top so I feel like I have a good shot."
2019 Poker Masters Event #7 Pot Limit Omaha Results
1
Sam Soverel
300
$340,000
2
Sean Winter
210
$221,000
3
George Wolff
150
$136,000
4
Kahle Burns
120
$85,000
5
Anthony Zinno
90
$68,000
The five-handed action started off slowly but exploded when Anthony Zinno and Sam Soverel played a big pot. Zinno raised before the flop with ace-king-ten-seven, three spades, and Soverel defended the big blind with jack-ten-seven-six with two clubs. The flop brought out six-eight-nine with two spades giving both players the nut straight while Zinno had the flush draw to go along with and Soverel a higher straight draw. After the money went in on the flop, Soverel hit a seven on the turn for a higher straight and after a brick river, Zinno was eliminated in fifth place.
Kahle Burns was next to bust when he, as the short stack, called a raise from Soverel with queen-jack-four-three with two clubs. The flop brought ace-ten-five with two diamonds and Burns potted which was called by Soverel with queen-ten-seven-six. The turn brought a four, and Burns' remaining chips went into the middle eliciting a quick call from Soverel. Another ace hit on the river and Soverel's pair of tens was enough to take down this pot.
George Wolff, winner of the £10,000 Pot Limit Omaha British Poker Open event, busted in third place. With fewer than 10 big blinds, Wolff ended up all in with ace-queen-ten-nine – three diamonds – against Sean Winter's jack-nine-eight-seven – two clubs – on a ten-ten-six flop. Wolff was in the lead with trips but Winter hit a straight on the turn to make a straight. The river didn't improve Wolff's hand and he busted in third.
The heads up action started with Winter holding a 2:1 chip lead but that proved to not be enough. On the final hand, Soverel raised pot from the button with jack-nine-six-four and Winter called with ace-king-ten-eight. The flop brought out king-six-six and both players checked after which Winter bet 260,000 on the deuce turn. Soverel raised pot to 1.07 million and Winter took a sip of his wine before calling all in with top pair. Winter did not hit on the river and he was knocked out in second place.
2019 Poker Masters Championship Standings
Name
Points
Earnings
Results
1
Chance Kornuth
630
$556,400
3
2
Sam Soverel
570
$491,800
4
3
Kahle Burns
330
$194,200
2
4
Kristen Bicknell
300
$408,000
1
5
Isaac Baron
300
$223,100
1
6
Ryan Laplante
300
$186,000
1
7
Julien Martini
300
$166,400
1
8
Jared Bleznick
300
$153,000
1
9
Jonathan Depa
300
$133,200
1
10
Sean Winter
270
$250,100
2
Follow the Poker Central Live Reporting and check out the PokerGO Live Events page here. New to PokerGO and ready to dive into the action? Subscribe right now. There are three events left to be played at the Poker Masters with Event #9 $25,000 No Limit Hold'em starting tomorrow and the final event, a $50,000 No Limit Hold'em getting underway on Wednesday.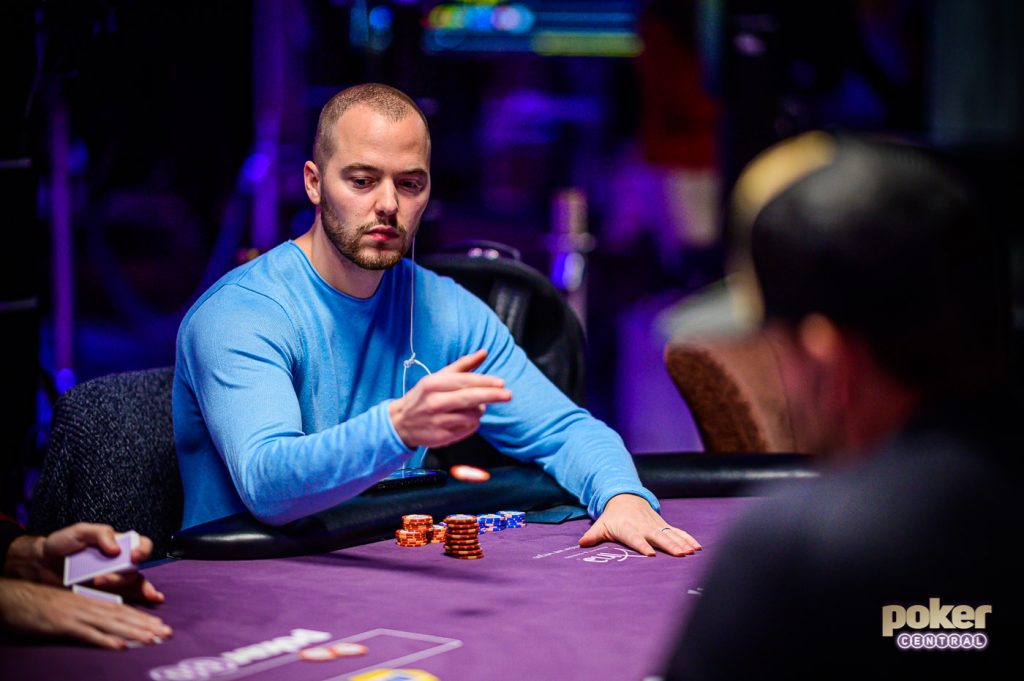 The stage is set for yet another Poker Masters final table on PokerGO as the remaining five are battling for a top prize of $340,000. There are big implications for the Poker Masters Championship standings as Sam Soverel can jump into second place behind Chance Kornuth with a win today. Kortuth currently leads the way with 630 points while Soverel can get to a maximum of 570 with a win.
Anthony Zinno and Sean Winter have one min cash to date and a win today would put them in contention with three events left to be played. Watch the final table action unfold in the player below.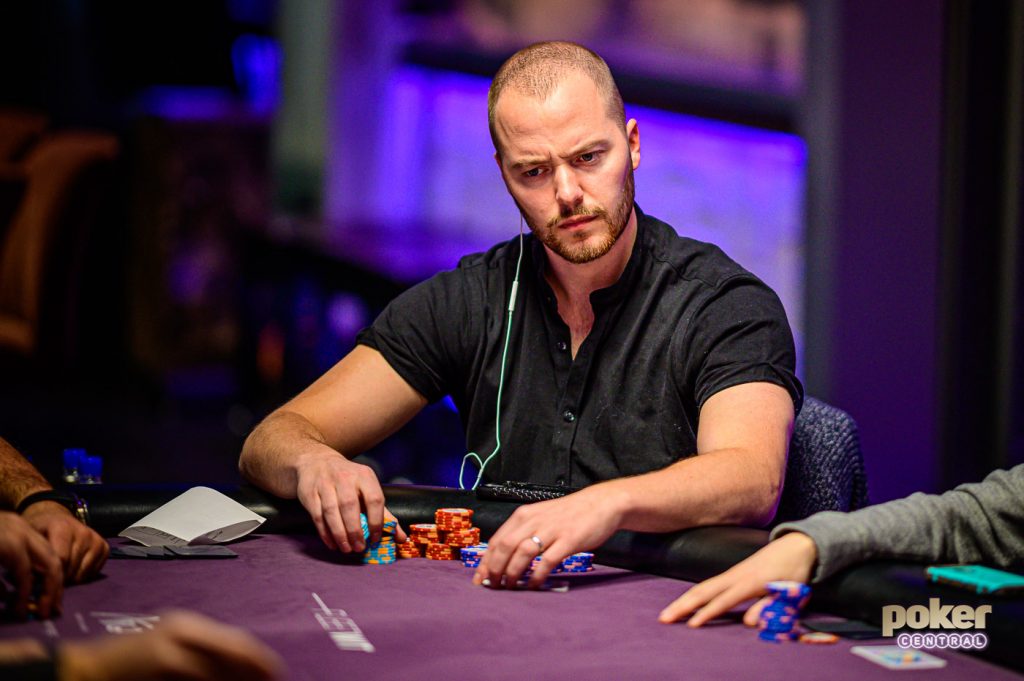 The second Pot-Limit Omaha event of the 2019 Poker Masters saw the buy-in raised as 34 entrants took a seat inside the PokerGO Studio to partake in Event #7: $25,000 Pot-Limit Omaha. A quick day would see play end in level 15 with Sean Winter holding a huge chip lead of 2,532,000 heading into Monday's PokerGO streamed Event #7 final table.
Earlier this week on Tuesday, the first Pot-Limit Omaha event of the series took place, and it would be Ryan Laplante defeating the 62-entrant field to capture the $186,000 first-place prize. The second Pot-Limit Omaha tournament would raise the stakes to $25,000, and with 34 entrants taking a seat, the prize pool of $850,000 would pay the final five players.
A late influx of entries when registration closed saw Bryn Kenney and Dan Smith make their 2019 Poker Masters debut. With action fast and furious, eliminations occurred at a rapid rate as the likes of John Riordan, Orpen Kisacikoglu, Stephen Chidwick, and Ben Yu were all quickly eliminated once the tournament was down to the final two tables. With soft hand-for-hand in play, Dutchman Jorryt van Hoof would fall short of his third cash of the series falling in eighth to put the final seven players down to one table.
The current Poker Masters Championship Standings leader in Chance Kornuth played a huge pot against Sean Winter, and when his two pair couldn't beat Winter's trips, he was down to just one big blind and busted two hands later in seventh. Ben Lamb then took on Winter as well, and committed the remainder of his chips with
on a board of
but ran into Winter's
for the nut straight. Lamb had outs to hearts, a king or nine, or a ten for the chop, but when the
landed on the river, he was the Event #7 bubble boy in sixth place.
The final five players are all guaranteed a $68,000 payday, but it is the $340,000 first-place prize awaiting up top that everyone will be gunning for. The player in prime position to make a run at the Event #7 title of champion is Sean Winter who finished with 2,532,000 in chips – good for nearly half the chips in play. Winter has one cash in Event #9 on the back of his outstanding 2019 U.S. Poker Open where he finished with one win and six final table appearances.
Second overall is George Wolff with 1,145,000 in chips and is at his second Poker Masters final table following his seventh-place in Event #4 on the heels of a first-place and second-place finish in the two Pot-Limit Omaha events at the British Poker Open. In third place on the leaderboard is Sam Soverel with 749,000 in chips and is collecting his fourth cash of the series. So far Soverel has finished in fourth, fifth, and sixth place, and with his result in this event, he already sits in second place in the Poker Masters Championship Standings pending results of the other four players at the final table.
Rounding out the final table as the shorter stacks are Anthony Zinno and Kahle Burns. Zinno sits with 458,000 in chips and finished in ninth-place in the first Pot-Limit Omaha tournament, and is now collecting his second cash of the series. Burns sits behind 216,000 in chips and will be looking to improve on his second place finish in the Big Bet Mix just a few days ago.
| | | | |
| --- | --- | --- | --- |
| Seat | Name | Country | Chip Count |
| 1 | Kahle Burns | Australia | 216,000 |
| 2 | Sean Winter | United States | 2,532,000 |
| 3 | Sam Soverel | United States | 749,000 |
| 4 | George Wolff | United States | 1,145,000 |
| 5 | Anthony Zinno | United States | 458,000 |
The button is on Anthony Zinno and there is a dead small blind. There is 20:24 remaining in Level 15 with blinds at 8,000-16,000 and a 16,000-big blind ante.
The Event #7: $25,000 Pot-Limit Omaha final table begins at 12 p.m. (PT) on Monday, November 11, with action continuing until the Event #7 champion is crowned. Follow every hand when the PokerGO coverage begins at 1 p.m. (PT) / 4 p.m. (ET).
Follow the final table exclusively on PokerGO through your favorite devices and in the embedded player below. Can't watch live? Catch the action on-demand at your leisure. New to PokerGO? Subscribe right now.
| Player | Chips | Change |
| --- | --- | --- |
| Sean Winter | 2,532,000 | - |
| George Wolff | 1,145,000 | -115,000 |
| Sam Soverel | 749,000 | -33,000 |
| Anthony Zinno | 458,000 | -22,000 |
| Kahle Burns | 216,000 | -155,000 |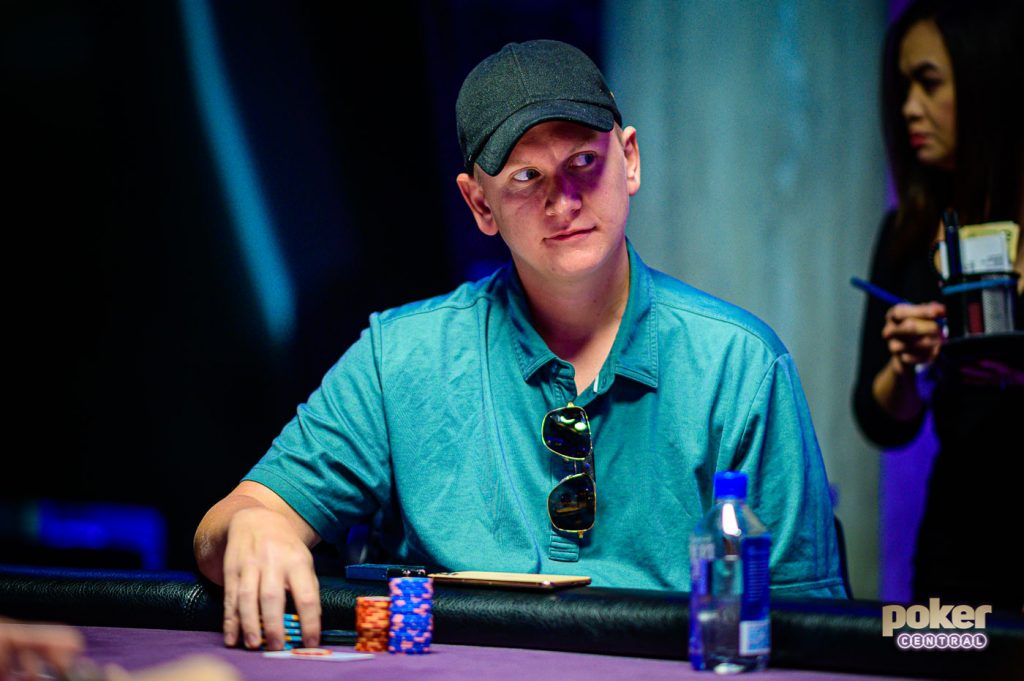 Sean Winter raised to 56,000 in the hijack and Ben Lamb defended his big blind.
The flop landed
and Lamb checked to Winter who bet 130,000. Lamb called, and when the turn fell the
, he moved all in for 125,000 and Winter snap-called.
Lamb:

Winter:
The river landed the
and Lamb was eliminated in sixth place leaving the final five players in the money with play concluding for the night.
Level
Level 15
Blinds
8,000 / 16,000
Big Blind Ante
16,000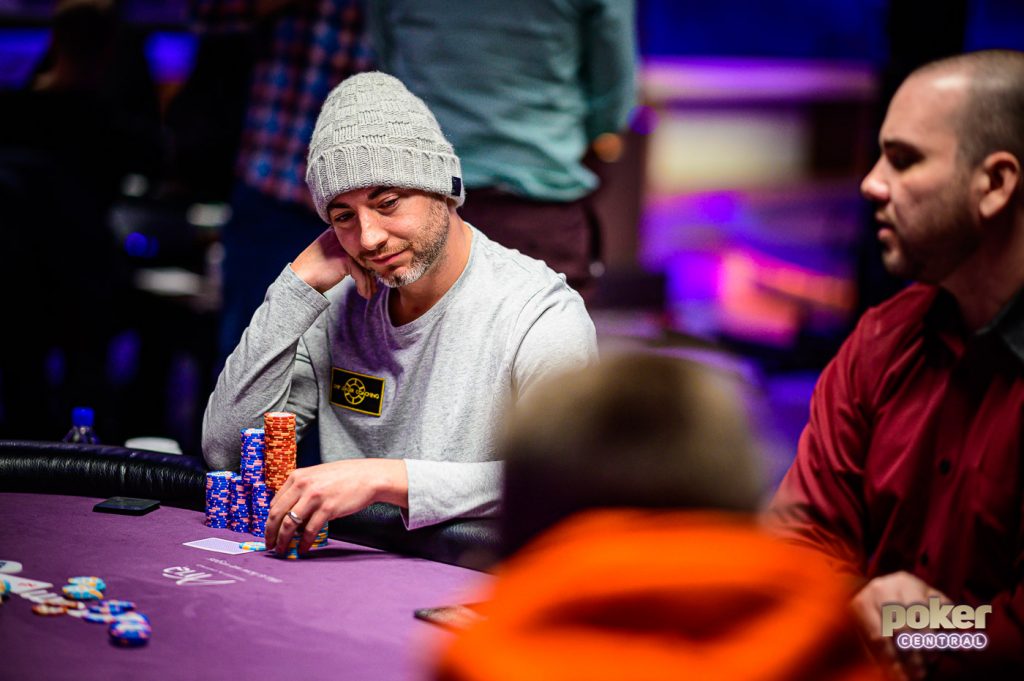 Chance Kornuth raised all in for his final 13,000 from the cutoff and both Sean Winter and Sam Soverel called in the blinds.
The
board checked to the river where Winter bet 30,000 and Soverel folded.
Winter tabled his
and Kornuth showed his
and mucked.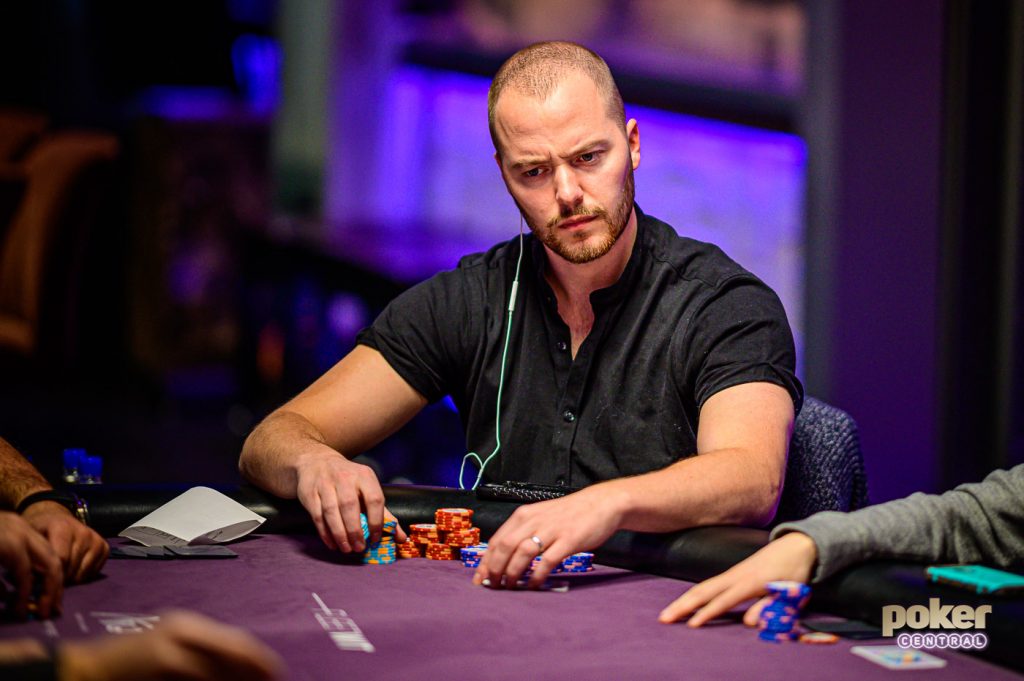 In a limped pot, action checked through to the turn with the board reading
.
Chance Kornuth bet out 30,000 from the small blind and Kahle Burns called in the big blind. From under the gun, Sean Winter raised to 116,000.
Anthony Zinno folded in the cutoff, and after using a time extension, Kornuth three-bet to 240,000.
Burns used two time extensions and then folded, while Winter called.
The river landed the
and Kornuth announced a bet of 380,000 and Winter snap-called.
"You got it," Kornuth said as he tabled his
.
Winter revealed his
for trips to collect the pot.
The final seven players have redrawn to one table and play will continue until just five players remain.
Seat 1: Kahle Burns
Seat 2: Sean Winter
Seat 3: Sam Soverel
Seat 4: George Wolff
Seat 5: Anthony Zinno
Seat 6: Ben Lamb
Seat 7: Chance Kornuth
| Player | Chips | Change |
| --- | --- | --- |
| George Wolff | 1,260,000 | 105,000 |
| Sean Winter | 1,195,000 | - |
| Sam Soverel | 782,000 | 2,000 |
| Chance Kornuth | 595,000 | -2,000 |
| Anthony Zinno | 480,000 | 65,000 |
| Kahle Burns | 425,000 | -6,000 |
| Ben Lamb | 370,000 | -30,000 |
On a flop of
, Jorryt van Hoof bet the remainder of his chips from out of the small blind holding
.
From the big blind, Sean Winter called and tabled his
.
The
and
on the turn and river saw van Hoof eliminated in eighth place.
You're all caught up!
No more pages to load