Event #7 $50,000 Short Deck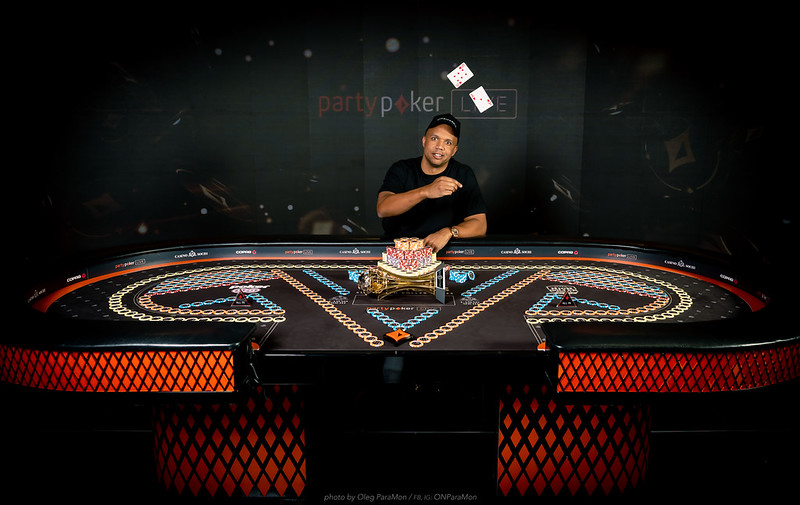 Phil Ivey has once again backed up his reputation as one of the best in the business with a victory in Event #7 $50,000 Short Deck in Sochi, beating a total field of 55 to take home the last trophy available at the partypoker LIVE MILLIONS Super High Roller Series.  His $856,050 first prize bumps his all-time winnings to $30 million across multiple poker disciplines, proving that though he may not be the constant fixture on the live tournament scene he has been in the past, snatching a title from one of the greats of the game is no easy feat.
Recap all Live Reporting coverage from this event here and replay the full final table stream on PokerGO here.
Five finalists attempted to do just that today, and not one inch was given without a fight.  Though the Short Deck format has a reputation for being fast and furious, the battle to a winner took five hours and involved the chip lead changing hands multiple times.  Ivey started out second in chips to eventual runner up Michael Soyza, who was responsible for the first elimination of the day, that of Sam Greenwood in 6th ($160,510).  Greenwood, no slouch on the all-time money list himself with $22 million in cashes before his trip to Russia, came 3rd in Event #5 (also a $50,000 Short Deck) in which Ivey finished runner up to Wai Kin Yong.
While Wai Kiat Lee got involved early to good effect (eventually taking the chip lead, however briefly), Sergi Reixach did not receive such a start.  He lost half his stack fairly early on after doubling short stack Seth Davies whose ace-queen overtook his ace-king suited on the river (all in preflop).  Getting no traction on flops thereafter, Reixach was again unlucky with a dominating ace to bust in 5th ($214,000).  Ivey was his executioner, taking a fortunate rivered full house (ace-ten vs. ace-queen, again all in preflop) and putting the chips to use straight away.
While the top stacks tangled, there was a period during which none of them seemed to want to take on Davies, who kept his short stack level with timely committing-sized raises that received no callers – for a while.  One showdown was all it took (he raised almost half his stack with ace-seven suited, then had to call off the rest when Soyza set him in with ace-queen offsuit) and Davies was out in fourth place, taking home $267,520.
Having been fairly quiet since his early flurry of pots, Lee now won hand after hand, taking his turn as chip leader at the expense, mainly, of Soyza.  His view from the top was short-lived, however, as he soon lost a huge pot to the eventual winner, setting him in with ace-high when Ivey had flopped a full house.  Lee was eliminated in third place and won $374,520.
The theme of lead-swapping was to continue right to the end, with Soyza battling back every time it seemed that Ivey was running away with it.  The pair of them traded big bluffs and cagey periods until finally the ante pressure on their stacks meant that something had to give.  The biggest pot of the tournament involved Soyza trying to close out the final, setting Ivey all in with middle pair on a two heart flop; Ivey called with king-queen of hearts and spiked a flush to send Soyza's stack to a point from which it could not recover.
Soyza had notably finished on the bubble in yesterday's Event #6 $100,000 No Limit Hold'em still smiling after a tough beat; fortune came back round, rewarding him with $561,780 for his runner up spot here.  Ivey, with nothing to prove but having fought hard for the title, delighted fans on the livestream with his return to form.
Full Payouts:
| | | | |
| --- | --- | --- | --- |
| Place | Player | Country |  Prize |
| 1 | Phil Ivey | United States |  $856,050 |
| 2 | Michael Soyza | Malaysia |  $561,780 |
| 3 | Wai Kiat Lee | Malaysia |  $374,520 |
| 4 | Seth Davies | United States |  $267,520 |
| 5 | Sergi Reixach | Spain |  $214,010 |
| 6 | Sam Greenwood | Canada |  $160,510 |
| 7 | Dmitriy Kuzmin | Dominica |  $133,760 |
| 8 | Thai Ha | Vietnam |  $107,000 |
Tomorrow coverage switches to the $250,000 buy-in Super High Roller Bowl (live reporting from Day 1 here).  Day 2 will feature live streaming on PokerGO from the start (8am EDT/3pm local time) with coverage of the outer tables keeping pace with the delay right here on Poker Central.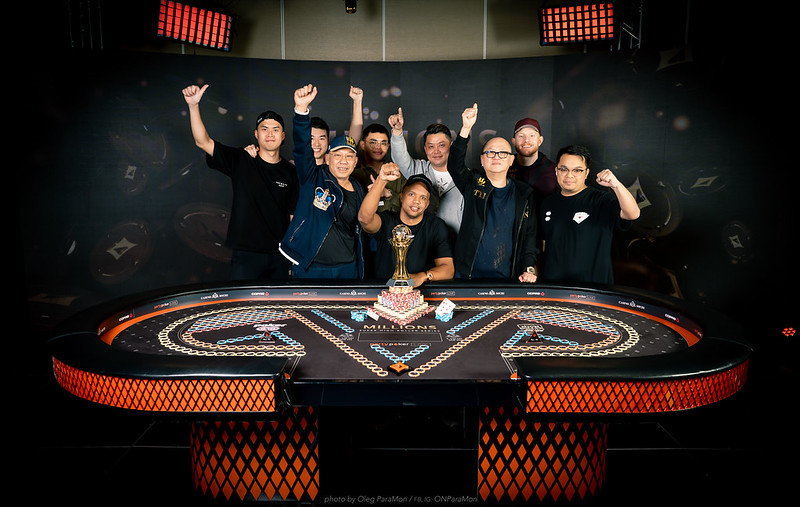 With the antes skyrocketing, Phil Ivey closed out his back-and-forth heads up match with Michael Soyza to claim victory in Event #4 $50,000 Short Deck.  He went one better than his runner-up spot in Event #5 (same buy-in, same format) to take home the last trophy available in the partypoker LIVE MILLIONS Super High Roller Series Sochi.
A recap of the final table will follow.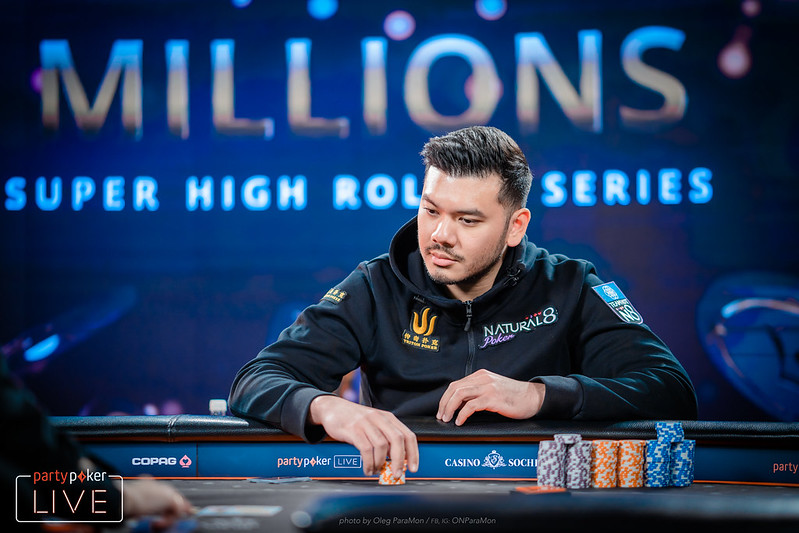 Down to ten button antes, Michael Soyza was put to the test preflop by Phil Ivey, who set him in with
.  Soyza elected to take his
and run with it in pursuit of a double up, and called his last 2,630,000 all-in.  He flopped a pair of kings, but Ivey's flush draw came in on the river, the final board of this tournament ending up standing
.
The start of day chip leader will take home over half a million dollars (or "two bullets to the Super High Roller Bowl" as the commentary noted).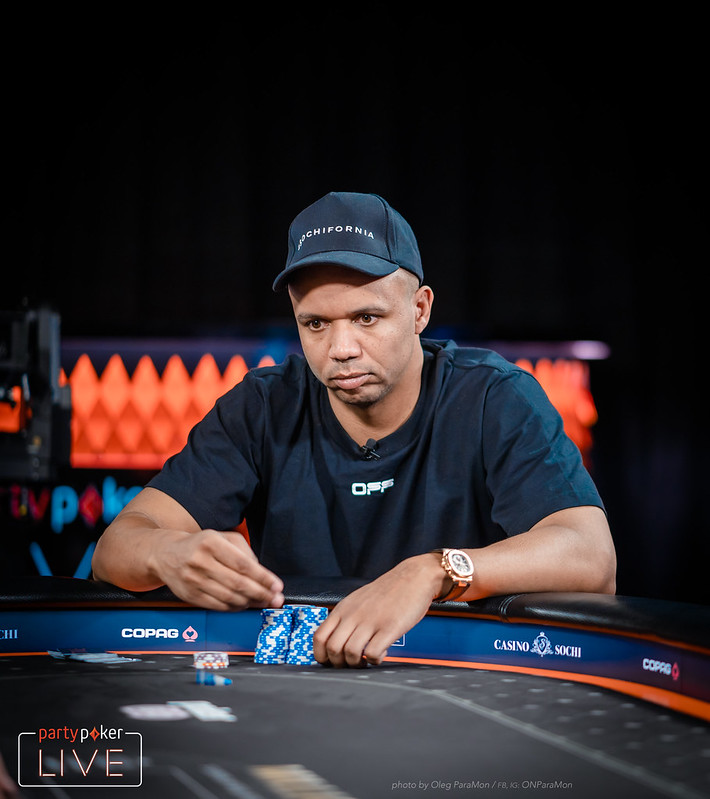 Michael Soyza, start of day chip leader, had pulled back the lead recently, but one huge pot (the blinds a very hefty 150,000/300,000 now), changed it all around.  Soyza called with
preflop and Ivey raised from the button with
to 1,000,000.  Soyza called to see a flop of
, on which he simply set his opponent all in, first to act.  Ivey did put his stack over the line (all 5,575,000 of it) and after the
turn and river had improved to the nut flush.
Level
Level 22
Ante: 150,000 Button Ante: 300,000
Despite his chip deficit, Michael Soyza is proving hard to finish off for Phil Ivey.  He induced a rare incorrect fold from Ivey with ten-high recently, betting out 700,000 on a board of
with
after a cagey check down of the streets.  Ivey passed
.
Phil Ivey just called with
preflop and Michael Soyza checked his
.  Ivey led out for 300,000 on the
flop and Soyza, with top pair, made the call.  Both players checked the
turn, but Ivey led out sans heart or straight for 600,000 when the river came the
and was rewarded with a swift fold from his opponent.
Level
Level 21
Ante: 120,000 Button Ante: 240,000
All the chips flew in preflop (a preflop raise being extremely rare during this extended heads up session, let alone jams), but it turned out that the match-up was
vs.
: no change in the stacks.
The last few hands have seen Phil Ivey pull away from Michael Soyza, but a bit of help from the deck didn't hurt on the last one.  No action (apart from a preflop call) until the turn of a
board, when Ivey checked his
and faced a bet of 300,000 from Soyza who'd turned a straight with
.  Ivey check-raised to 1,200,000 and Soyza just elected to call.  The river was the
, making Ivey's nine good for the same straight (he check-snap-called Soyza's 2,000,000 river bet).
No raise preflop, and Phil Ivey received an instant straight on a
flop with
on the button, Michael Soyza having completed with
.  Soyza check-called Ivey's 200,000 flop bet, then checked the
turn.  Ivey bet again – 600,000 – and Soyza picked quite the time to make a move.  He check-raised to 2,000,000 into Ivey's second nuts.
Ivey used two timebank cards, then moved in for 5,935,000.  Soyza let his draw go, and Ivey is chip leader heads up (for now).
You're all caught up!
No more pages to load