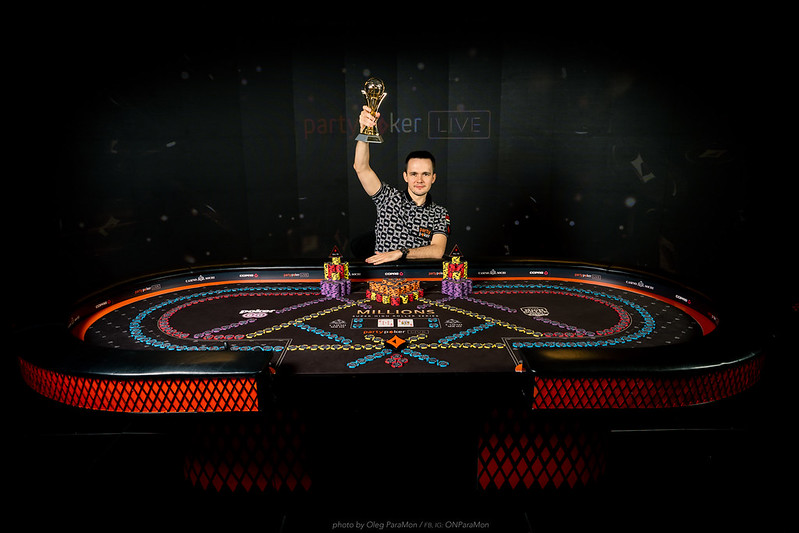 Mikita Badziakouski returned for Day 2 of Event #4: $50,000 No Limit Hold'em as chip leader and sailed through to victory with aggressive play and a little heads up deck-based help against eventual runner-up Artur Martirosyan.  He collected $765,000 after seeing off a star-studded final table, whittled from 45 entries, to add yet another high roller trophy to his already bulging cabinet.
Recap all Live Reporting coverage from this event here and check out the full final table stream on PokerGO here.

A total prize pool of $2,250,000 was awarded on today's seven-handed final table, the largest generated so far at the partypoker LIVE MILLIONS Super High Roller Series Sochi.  The first payout went to Wiktor "limitless" Malinowski, the online specialist running king-queen into the ace-king of Martirosyan on the second hand dealt.
While Badziakouski relentlessly picked up pots, Martirosyan too was active in the early stages of the final table, overtaking the Belarusian just before Cary Katz was eliminated in sixth place ($135,000).  Katz was playing his second final this week (having finished fourth in Event #1: $25,000 Short Deck for $105,000 on Saturday) but never got the momentum going for a trophy run on this one.  His eliminator, Sam Greenwood (who won a preflop flip with king-jack vs. Katz's pocket sixes), had ducked and weaved his start-of-day short stack into what was now an above average one, prompting a tablemate on the stream to call him a "short stack ninja."
Sam Greenwood was to see all his hard work undone shortly after Katz's exit, however, as he ran ace-queen into Badziakouski's pocket kings, finishing 5th for $180,000. While Sam was one of three players to have already banked more than $20 million in live earnings (the others the eventual winner and Katz), the Greenwood family continued to be represented on the table by Luc, who went on to finish third, winning $337,500.
Before Luc Greenwood's exit, Aaron Van Blarcum hit the rail in fourth place.  Another premium for Badziakouski, this time ace-king, knocked out Van Blarcum who, now short himself, had made his move with ace-nine.  This was Van Blarcum's third final table of the series; considering there have only been four events it has been a blistering performance so far by the American, who added $225,000 to his winnings with this finish.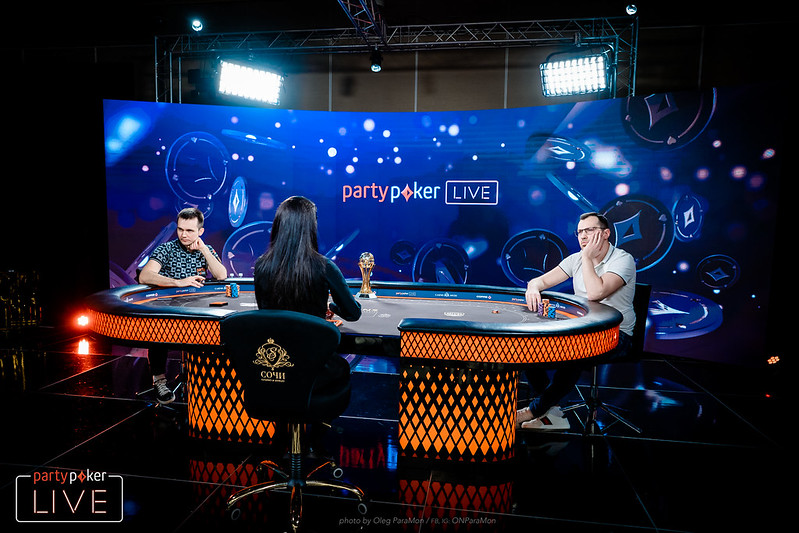 It took under 15 minutes to lose these three players from the final, which was suddenly heads up, the two early risers battling for the title through three levels.  It looked at one point that Martirosyan was out for the count, after a queen-high river hero call that backfired, but he rallied to challenge Badziakouski all the way to a dramatic finish.  The final hand saw Martirosyan, having flopped trips, one card away from a double to snatch the chip lead, but Badziakouski called his river shove with a gutshot/flush draw combo draw and hit his flush on the river to end the tournament.
Martirosyan, hitherto a bit of an unknown quantity, picked up $495,000 for his second place finish, adding to the $87,000 he took for sixth place in Event #2: $25,000 No Limit Hold'em.  Badzikouski, meanwhile, despite self-describing as a "fish" as he made the final call, has now upped his total live earnings to nearly $27 million.
Full Payouts:
| | | | |
| --- | --- | --- | --- |
| Place | | |  Prize |
| 1 |  Mikita Badziakouski | Belarus |  $765,000 |
| 2 |  Artur Martirosyan | Russia |  $495,000 |
| 3 |  Luc Greenwood | Canada |  $337,500 |
| 4 |  Aaron Van Blarcum | United States |  $225,000 |
| 5 |  Sam Greenwood | Canada |  $180,000 |
| 6 |  Cary Katz | United States |  $135,000 |
| 7 |  Wiktor Malinowski | Poland |  $112,500 |
Tomorrow's live stream (7am EDT/2pm local time) features the final of the $50,000 Short Deck (live reporting from Day 1 can be found here) and coverage will resume along with the cards up broadcast on PokerGO.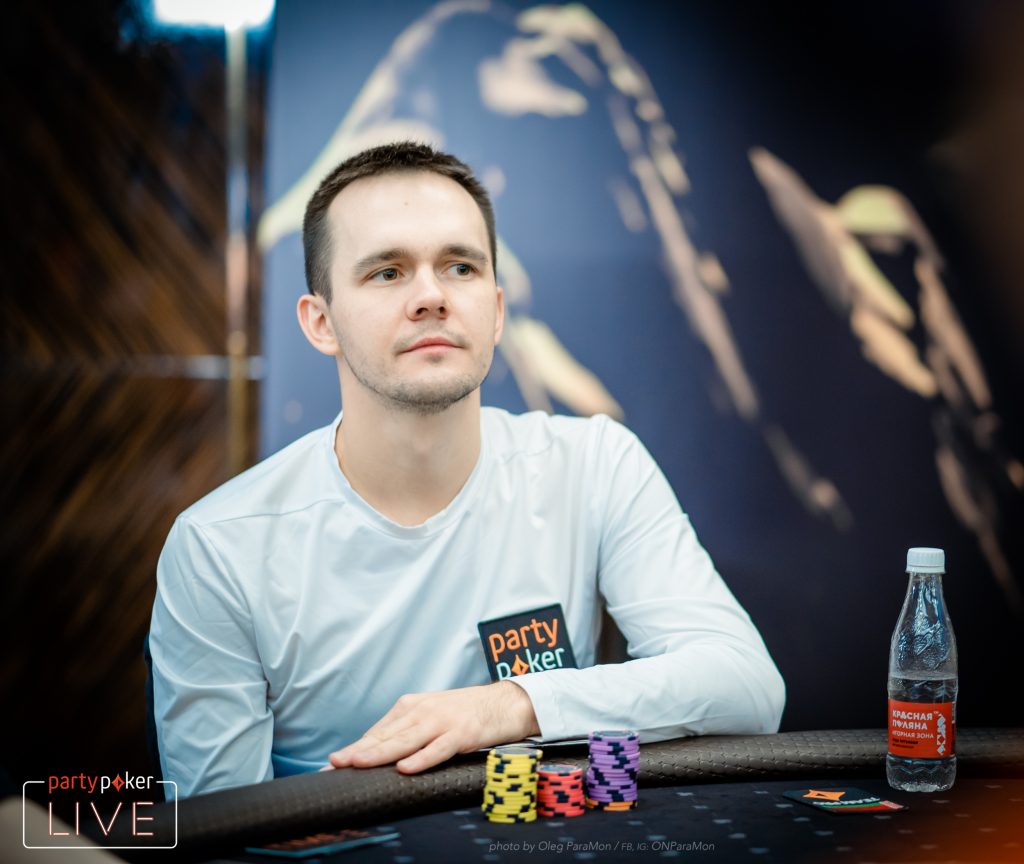 After a heads up fight that can only be described as eventful, Mikita Badziakouski has taken the top spot and $765,000 first prize in Event #4: $50,000 No Limit Hold'em.  Starting the day as chip leader, he only lost this title briefly – to the man who finished runner up – sole Russian finalist Artur Martirosyan, who was contesting his second final table of the week at the partypoker LIVE MILLIONS Super High Roller Series Sochi.  A total of $2,250,000 was awarded on today's seven-handed final table; stand by for a recap of the day's action and winner's shots.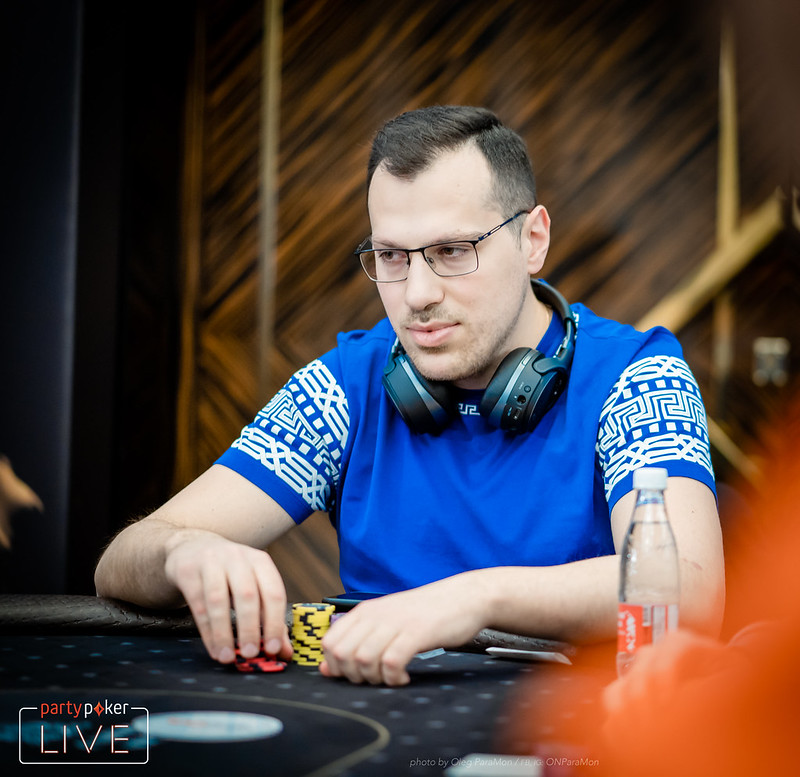 Artur Martirosyan limp-called the button preflop (320,000 total) with
, seeing a pretty dream flop of
vs. Mikita Badziakouski, who held
.  Badziakouski led with his trips for 220,000, Martirosyan raised to 540,000 and Badziakouski made the call.
The turn:
.  Badziakouski checked his turned flush draw and Martirosyan moved all in for 1,280,000 prompting a bit of tortured self-talking from his opponent.
"Dammit, give me a count!" he said, before muttering "Nyet, nyet, nyet…"
Finally, he said, "I'm a fish – I call," looking to wrap up the whole tournament there and then with a river spike… which is exactly what happened.  The
fell on the river handing victory to the Belarusian.  One card away from doubling into the chip lead, Martirosyan finishes without a trophy, but with $495,000 in consolation prize money.
Level
Level 17
Blinds
60,000 / 120,000
Big Blind Ante
120,000
Artur Martirosyan has picked up a few small pots in a row, moving all-in once from the big blind with
for 1.7 million after Mikita Badziakouski limped with
(no call), then betting two streets with
in position as a board rolled out
.  Badziakouski, with
relinquished his hand to a bet of 400,000 on the turn.
Mikita Badziakouski raised his button to 200,000 with
, called by big blind Artur Martirosyan with
.  Both players checked the
flop, and a
turn prompted action.  Badziakouski led out for 600,000, called by Martirosyan.  On the
river, he bet 950,000, and after a short think, Martirosyan flicked in the call only to find his stack back to its prior worst shape during this heads up period as Badziakouski scooped the pot with two pair.
Level
Level 16
Blinds
50,000 / 100,000
Big Blind Ante
100,000
Mikita Badziakouski limped the button with
, then called Artur Martirosyan's raise to 200,000.  Martirosyan, holding
, led out for 100,000 on the
flop and Badziakouski came along to see the
turn.  Martirosyan checked and Badziakouski bet 180,000, making a sound like, "aargh" when Badziakouski check-raised all in for 1,075,000 total.  Badziakouski made the call, but missed all 13 outs to double up his opponent.
Freshly re-stacked Martirosyan took another pot soon after, raising to 300,000 (the blinds newly risen) with
when Badziakouski limped the button with
, then leading out on the
flop and taking the pot.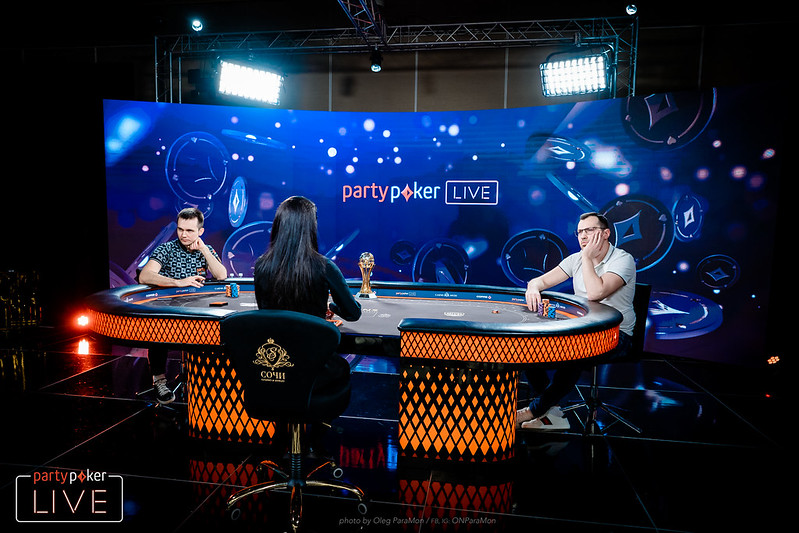 Mikita Badziakouski limped his button with
; Artur Martirosyan checked his
.  Both players checked the
flop.  Badziakouski turned trips with the
and bet 80,000 when it was checked to him.  Martirosyan called, then checked the
river.  Badziakouski now bet twice the pot – 640,000 – and Martirosyan went deep into the tank, using two cards to extend his ponder.  Eventually he threw in the call but got the bad news seeing the deuce in the now big chip leader's hand.
Mikita Badziakouski is pulling away, now with over a 2:1 chip lead over his opponent.  His most recent pot involved a button raise to 175,000 with
, called by Artur Martirosyan with
.  He got one street of value after flopping trips on a
board (80,000), but Martirosyan folded to his bet of 600,000 on the
turn.
You're all caught up!
No more pages to load