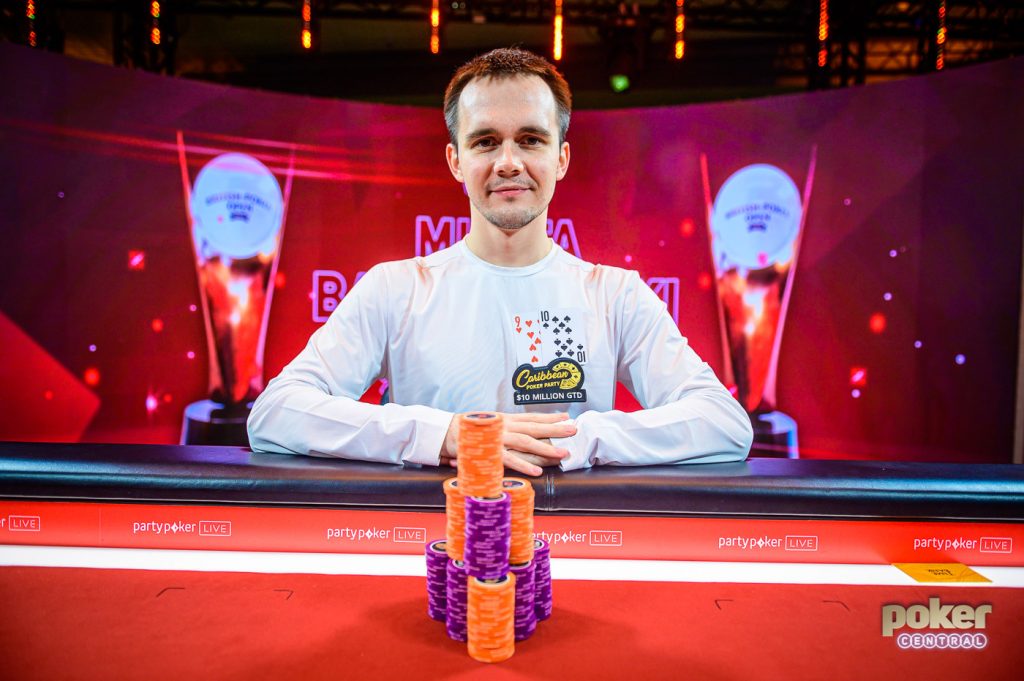 After a rollercoaster final table, partypoker pro Mikita Badziakouski has won Event #9 of the British Poker Open for the biggest winners prize yet this Series, a massive £486,000, beating German high roller Christoph Vogelsang heads-up for the win.
A LONG RUN TO THE MONEY
The battle to win Event #9 was a long way off for the nine players who made the final table, with Cary Katz and Stephen Chidwick both busting before the lights, cameras and plenty of action descended on the table for PokerGO viewers.
When the live stream did start, the only British player at the table would depart first, Charlie Carrel's flopped two-pair outdrawn by David Peters' Broadway on the turn and call to Carrel's shove on the river.
THE BUBBLE BURSTS
Sam Greenwood was the only man who could win this event and remain in the hunt to reign in Sam Soverel, but that dream died when the Canadian busted on the bubble, having outlasted Ali Imsirovic and Matthias Eibinger, but not found the money.
Greenwood made his move with two overs the flop and a gutshot to Broadway. But Mikita Badziakouski made the call with his flush draw and it came in right there on the turn to skittle Sam Greenwood's dreams of overhauling the Event #9 field, meaning Sam Soverel was crowned 2019 British Poker Open Champion without even needing to be at the table, his two victories, two runner-up placings and a third-place finish all contributing to his steamrollering of the series.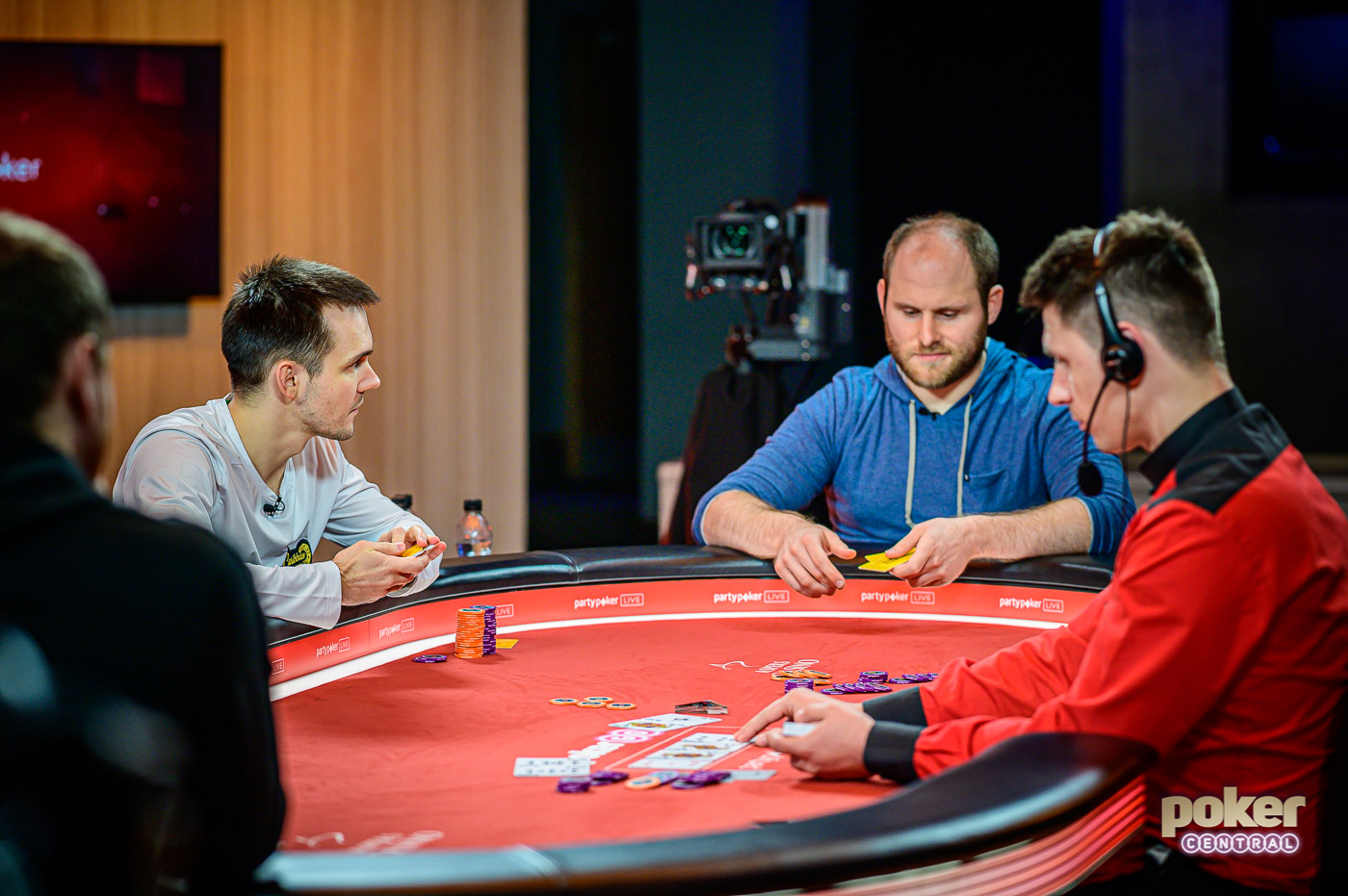 PETERS CRASHES FROM LEADER TO LOSER
David Peters was a healthy chip leader just two hands before his participation ended, proving yet again that no limit hold'em is a most brutal of formats, able to snatch dreams away as quickly as it can fulfil them. Rarely is anyone more than two disastrous hands from swapping glory for defeat and Peters was gone in exactly that fashion.
First, Peters was counterfeited in a coinflip situation, before moving all-in in the next had with ace-jack, only to run into pocket aces, the German pro Christoph Vogelsang being the beneficiary on each occasion.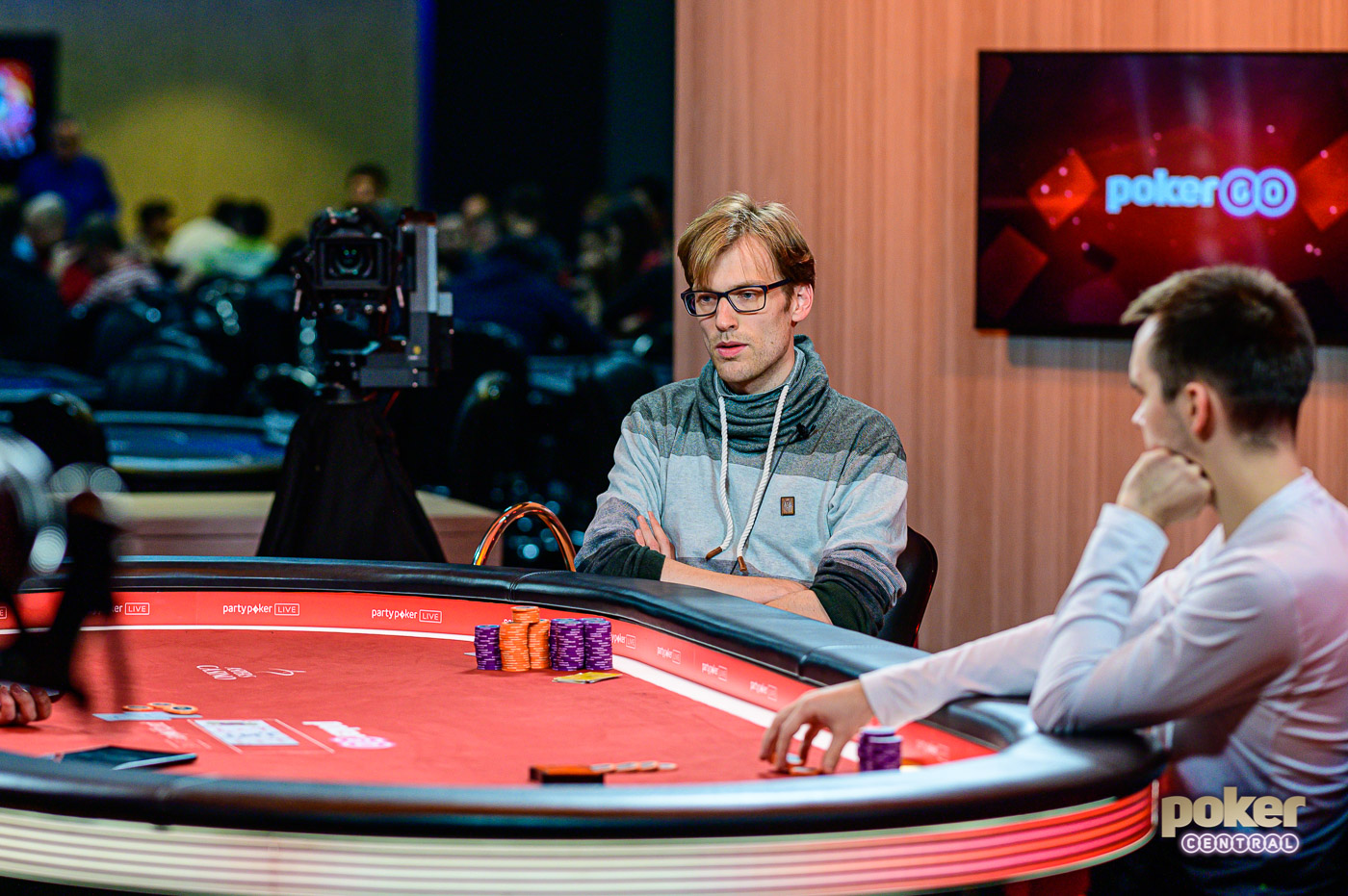 HEADS-UP FLIPS THE SCRIPT
The heads-up battle was a completely one-sided affair, and not in favor of the man who went into the battle ahead in the counts. Vogelsang was beaten into submission by a rampant Mikita Badziakouski, with the partypoker pro flushing, dominating and value-betting for fun, only pausing to double Vogelsang's micro-stack when the latter held pocket aces.
Soon after, with blinds agreed to be reduced to just ten minutes rather than thirty, no further levels were needed. Badziakouski pushed with ten-nine, Vogelsang called it off with ten-eight, and the run out saw Mikita Badziakouski crowned champion.
A MODEST MAN
Having won the biggest single prize yet in this 2019 British Poker Open, a huge £486,000, Mikita Badziakouski was humble in victory.
"I had a lot of fun," said Badziakouski. "You're always happy when you're winning because if you get to the end of the tournament it means that you like experienced every single stage. I'm happy to win."
The Belarussian performed superbly, and after so many victories in his career, leapfrogging John Juanda in the all-time money list with this victory, it's still all about winning for him.
"You need to have the feeling of winning something like this!" he said.
Congratulations to Mikita Badziakouski, winning of Event #9 of the British Poker Open.
Final Table Results:
| | | |
| --- | --- | --- |
| Place | Player | Prize  |
| 1st | Mikita Badziakouski | £486,000 |
| 2nd | Christoph Vogelsang | £270,000 |
| 3rd | David Peters | £144,000 |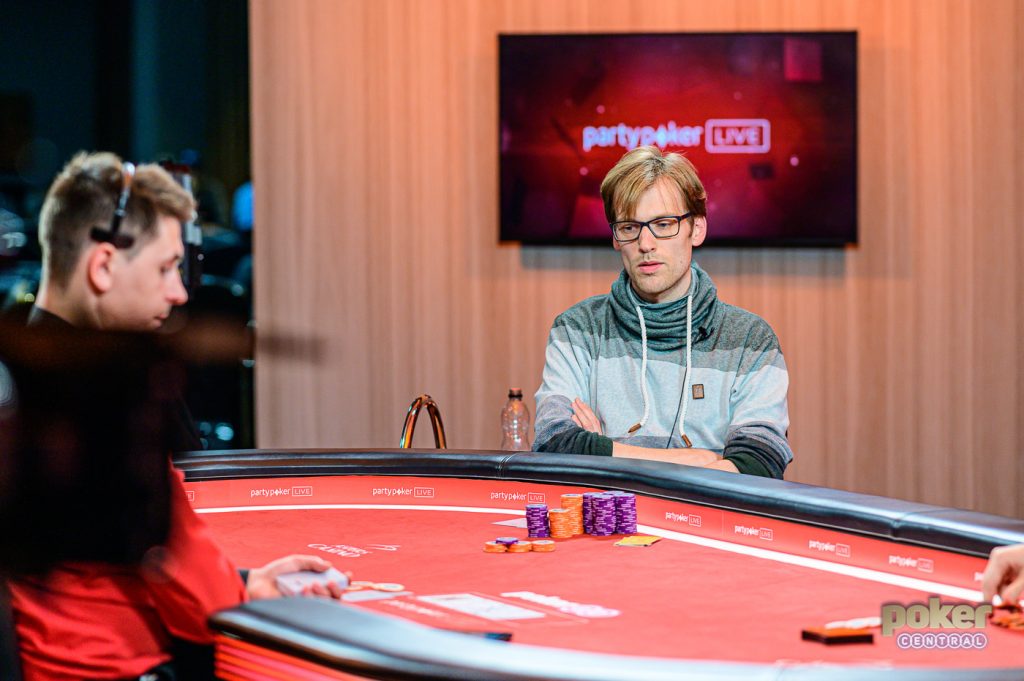 Christoph Vogelsang has not had the best of luck in the heads-up battle, and what luck he did have has finally run out.
Mikita Badziakouski pushed all-in pre-flop with
and Vogelsang called with
. The German would need some help to survive, and he didn't get it on the
flop.
The turn of
changed nothing, and one of the two remaining eights in the deck needed to come for him to win the hand. The
confirmed Mikita Badziakouski as the Event #9 champion, winning £486,000, and giving Christoph Vogelsang the runner-up prize of £270,000. What a whirlwind heads-up finish to award the biggest prize of the British Poker Open so far.
Christoph Vogelsang was down to just over ten big blinds when he woke up with pocket aces, limping in with his
.
Mikita Badziakouski moved all-in with
and immediately wished that he hadn't, 700,000 up for grabs in the pot.
The board of
saw Vogelsang use a hammer to kill a fly, and just like that he was back up to being just 1:3 down in the ratio. One more double and he'll be level.
Level
Level 18
Blinds
15,000 / 30,000
Big Blind Ante
30,000
Christoph Vogelsang bet 25,000 into a pot of 75,000 with
on a flop of
. Mikita Badziakouski made the call with
and both men checked the
turn card.
Badziakouski value-bet for 50,000 on the
river and Vogelsang obliged, handing over another couple of chips.
In the next hand, Vogesang raised to 120,000 with
, and Badziakouski pushed all-in with ace-jack, taking another pot down.
The German looks like he can't win a pot -he hasn't yet – and the partypoker pro Badziakouski is taking control early.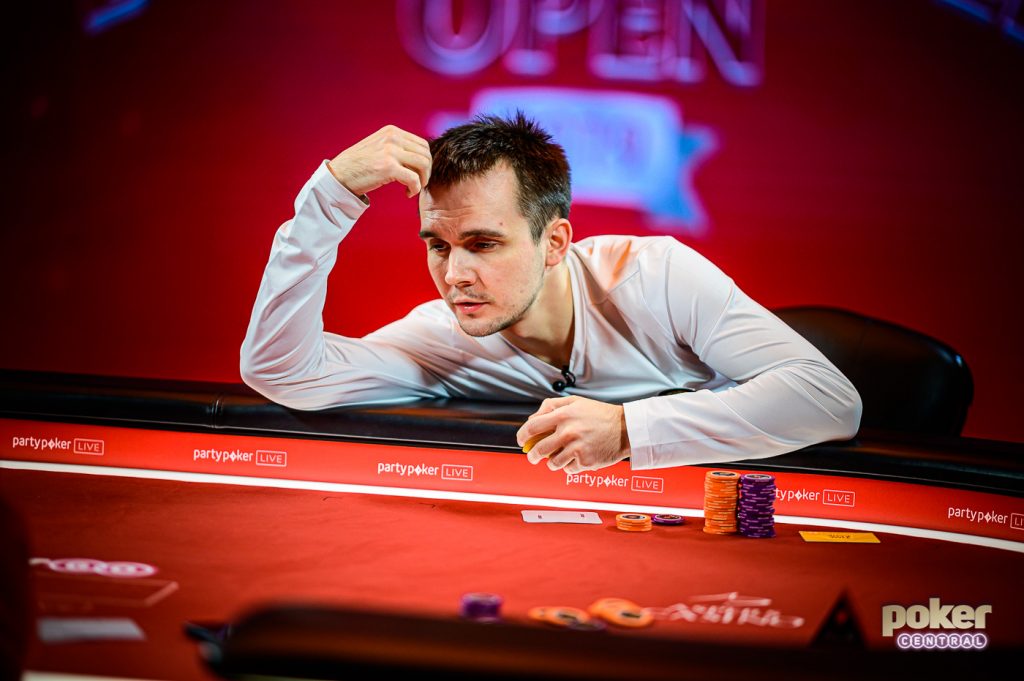 Mikita Badziakouski flopped second pair with a flush draw on a flop of
with
and he checked along with Christoph Vogelang who held
.
The turn card of
saw a bet, however, with Badziakouski making it 100,000. Not a problem for Vogelsang, who popped it to 310,000 with two pair and the partpyoker pro had a big decision to make. He called, and a pot of 745,000 was up for grabs in the very first hand of heads-up play.
The river
completed the board in the most dramatic of fashions, with Badziakouski rivering the flush.
Vogelsang bet 190,000, prompting Mikita Badziakouski to move all-in. Vogelsang asked for a count, and when he got it, he called for 435,000 more and shipped it across to Badziakouski.
A stunning opening hand.
Level
Level 18
Blinds
15,000 / 250,000
Big Blind Ante
25,000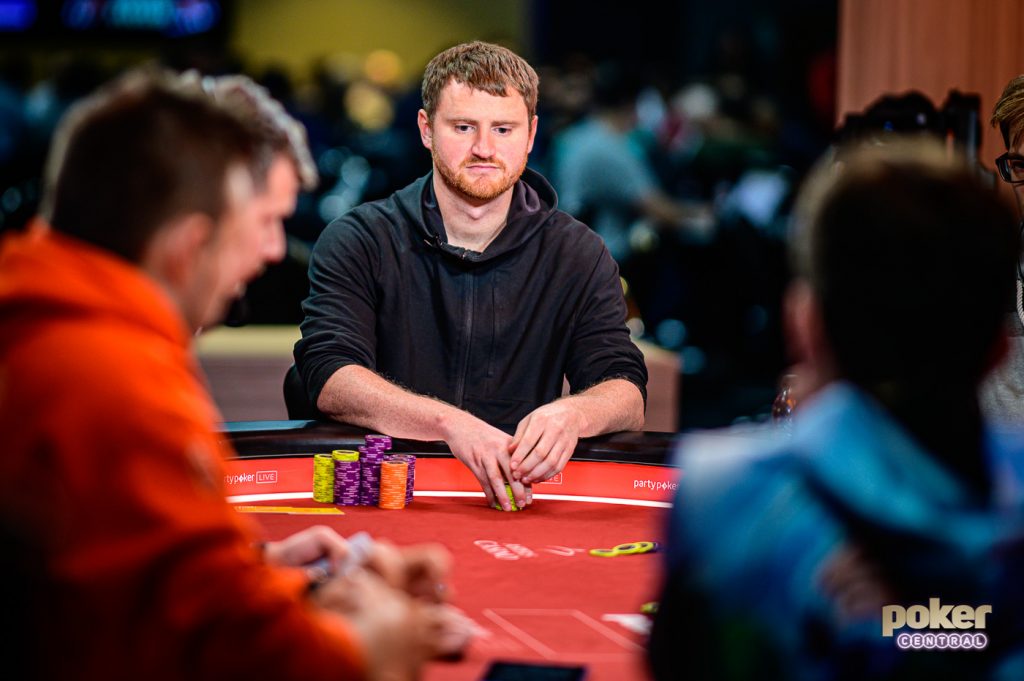 David Peters, maybe stunned by that last hand, moved all-in in the next hand with
, but was snap-called by Christoph Vogelsang with
in a spot so cold it could have frozen hell right over like an ice rink.
"From dominating to dire straits!" as Brent Hanks said in the commentary booth with Jeff Platt for PokerGO.
The flop of
made a recovery for Peters unlikely, and the turn
saw him busted already, the
river meaningless as he walked disconsolately away from the table, dragging his food with him. How he must have assumed he would have had time not just to eat it, but perhaps digest it, at the table. Peters has gone from being chip leader for 90% of the final table to out of Event #9 in two brutal hands.
Christoph Vogelsang was all-in and at risk for 630,000 with
, David Peters hoping
would hold to see him heads-up with a 2:1 chip lead.
The board of
counterfeited Peters' pair, however, and puts the German in pole position for the win after all of Peters' hard work this whole day.
Here's a reminder of the full chipcounts.
Sam Greenwood made it 40,000 with a raise while holding
and Mikita Badziakouski came along for the ride with
.
No seatbelts! The flop was an incredible
, making Badziakouski a favorite to win the hand but keeping Greenwood ahead. Sam Greenwood moved all-in for 240,000, an amazing move, putting Badziakouski into deep thought.
After much consideration, Badziakouski, who would go past Phil Ivey in tournament winnings if he could finish in second place or better here… called, slamming down a chip to symbolise his risk to get the reward of making the money.
The turn card was the
, locking up the hand, the irrelevant
river saw Sam Greenwood skittled on the bubble.
Not only does that mean Greenwood cannot win the hand or title here in Event #9, but it confirms the American Sam Soverel will be the inaugural winner of the British Poker Open Championship, with two wins, and three other podium-place finishes, it's outstanding for anyone to win it with an event – the biggest event – to spare. Phenomenal.
You're all caught up!
No more pages to load