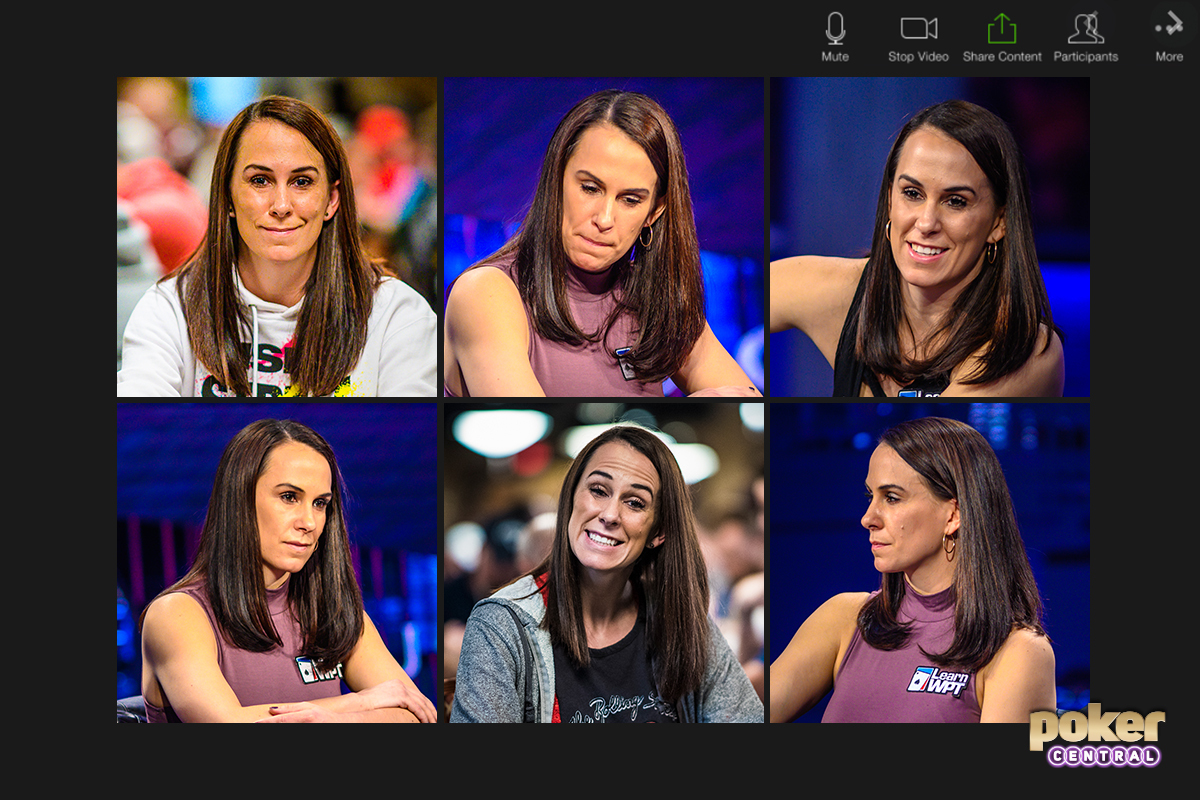 Most people in the world have used Zoom in recent weeks. Whether it's to stay in touch with friends or family, work from home or just connect with important people in all areas of your life, the familiar appearance of a pixelated face of the ones you care for has become commonplace as the world has altered around us.
When it comes to playing poker, however, can Zoom conferencing be useful? Zoom web conferencing connects people in real-time, so we reached out to poker player Danielle Andersen to see if there were any tips and tricks we might pick up. It turns out that Zoom, just like poker, can be a guide to shepherd us through these quarantine days just as much as it is a conferencing tool.
A SEPARATION FROM THE GAME
Like many people, Andersen found that when the Coronavirus crisis began, she didn't have the same drive for poker that she had enjoyed for many years as a professional.
"When quarantine started I had literally no interest in online poker," she says. "Since switching to live, I've just always found online to be boring. Yes, it's faster play but I enjoy the social dynamics of live [poker] enough to overcome the slow pace."
Faced with no poker to play for a poker professional used to making a living from the game, Andersen focused on family time. However, after turning down some requests to play online poker, one offer included the social element she'd missed.
"A friend invited me to a game played while on Zoom together," says Andersen. "This was the first online poker option that was at all intriguing to me. I played, had cocktails, laughed, talked smack, and had a blast. It was as close to live poker as I was going to get for a while, so I started participating more frequently and then running my own smaller stake game with Zoom so anyone could participate."
PLAYING WITH FRIENDS ON ZOOM
While some players might have had some qualms about using online screens like Zoom, Andersen was happy to say that it wasn't too difficult for her to adapt.
"It's been pretty easy." She tells us. "I think most people miss socialization right now. I open up the hangouts I've been organizing to everyone, regardless of their ability or interest to play."
Keeping poker fun and friendly is crucial if you're organizing a poker game on Zoom during quarantine or lockdown situations. If there's a way to open up people's houses and make everyone more connected and host a poker game, what could be more important right now?  "There are quite a few people who join the Zoom room just to hang out and socialize without even playing in the games," says Andersen. "Human interaction is an important part of mental health for many, if not most people. Being able to see faces and have conversation helps fill that void right now."
MAKING THE MOST OF THE GAME
Danielle Andersen is an experienced player both live and online, so is probably the ideal person to host such games but as she tells us, some players were a little timid about joining in, to begin with.
"There were a few people who said they were too shy to join at first but eventually, as quarantine lengthened, they gave in. All I'd say to anyone who is interested is to 'just give it a shot'. Nobody bites and it's therapeutic to interact. I've already met some really interesting people who I'd never have met otherwise."
However, you're setting up your own Zoom poker game, getting used to the technology yourself is a great starting point. Sure, you might want to brush up on certain elements of your game if you really want to turn a profit, such as facial tells, how players act when holding strong cards or weak ones. But the crucial aspect of any poker right now where each player can see the others in the game is fun – make it enjoyable for everyone and keep your friends and family interested and happy. It's how we'll get through this period of poker restriction and come out the other side with a refreshed love of playing the game face-to-face and in person at the same time.
Some of the best live poker clashes you'll ever see are in shows like Poker After Dark or High Stakes Poker. With everything on the line, how will the best players in poker history behave? Check out the latest episodes added to the archive 24 hours a day by subscribing to PokerGO today.