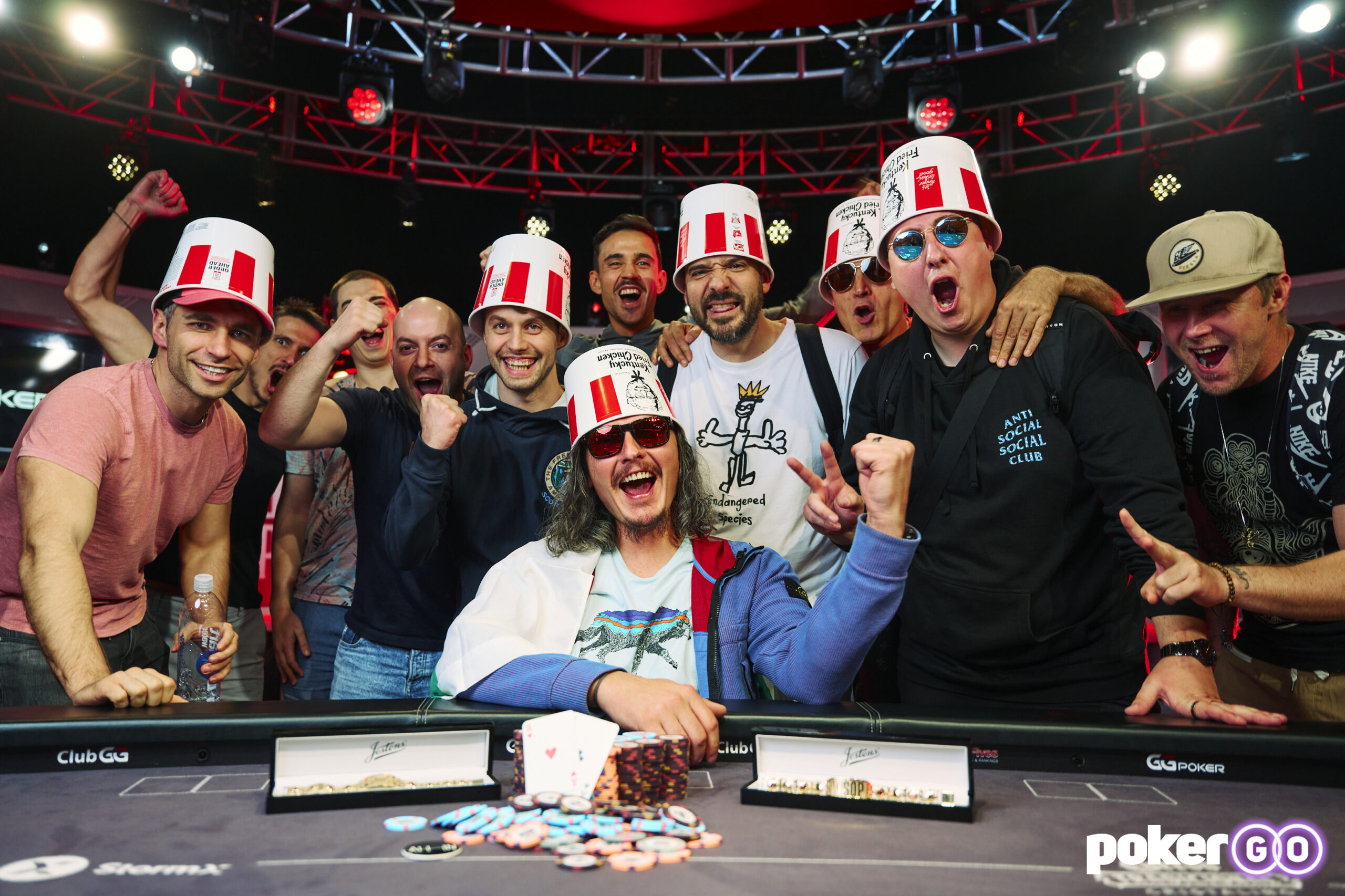 A busy day of action at a packed Bally's and Paris saw another champion crowned as Bulgarian player Yuliyan Kolev won his second WSOP bracelet and first in a live arena live on PokerGO in the Thunderdome. Elsewhere, five other tournaments worked closer to their winners as play reached the final table in other WSOP events.
Kolev Wins Millionaire Maker for $1.1 million
Bulgarian player Yuliyan Kolev took down the Millionaire Maker in Las Vegas last night amid a sea of red and white bucket hats in the Thunderdome. Kolev, who won his first bracelet nine months ago in the online $777 Lucky 7's event for $146,163, took down Event #37 on the schedule this year for $1,125,141 and his first live bracelet win.
With 7,961 entries overall, Kolev's success came at the expense of Oren Rosen heads-up, the Israeli player beaten by Kolev when pocket aces slayed Rosen's queen-jack.
All the action played out on the streamed final table on PokerGO, which you can watch below, as Kolev's win came to a backdrop of his friends wearing similar 'bucket hats' advertising a popular fried chicken emporium.
WSOP 2022 Event #37 $1,500 Millionaire Maker Final Table Results:
Place
Player
Country
Prize
1st
Yuliyan Kolev
Bulgaria
$1,125,141
2nd
Oren Rosen
Israel
$695,390
3rd
Tyler Gaston
U.S.A.
$522,705
4th
Yita Choong
Australia
$395,545
5th
Dominic Brazier
U.S.A.
$301,346
Kennedy Leads After Day 1a of Seniors Championship
Day 1 of the $1,000-entry Seniors Championship saw a mammoth field of 5,121 players pitch up at both Bally's and Paris as the twin venues of the World Series swelled with dedicated poker players over the age of 50. Day 1a saw a prize pool of over $4.5 million reached, not far off the 2021 total with a whole Day 1b flight to come.
At the close of play, James Kennedy ended as chip leader with 452,000 chips, with Seongsu Kong (365,000) and Women in Poker Hall of Famer Allyn Shulman (350,000) in close pursuit.  With Schulman's fellow Hall of Fame alumni Kathy Liebert (225,000) also high in the chipcounts, others such as Kevin Song (350,000), Barry Schulman (305,000) and Michael Abecassis (110,000) all survived too.
Others didn't make Day 2, with 2004 Main Event winner Greg Raymer, Bruno Lopes, Perry Friedman, Humberto Brenes and Todd Witteles all failing to bag up any chips.
WSOP 2022 Event #47 $1,000 Seniors Championship Top 10 Chipcounts:
Position
Player
Country
Chips
1st
James Kennedy
U.S.A.
452,000
2nd
Seongsu Kong
South Korea
365,000
3rd
Allyn Shulman
U.S.A.
361,500
4th
Orlando Barrera
U.S.A.
358,500
5th
Michel Bouskila
Australia
353,500
6th
Kevin Song
U.S.A.
350,000
7th
Terence Anton
Canada
343,500
8th
Louis Russo
U.S.A.
339,000
9th
Dennis Spretz
U.S.A.
333,000
10th
Daniel Gerard
U.S.A.
310,000
Yeh on Top in H.O.R.S.E. as Final Five Reached
Andrew Yeh (3,860,000) has the chip lead from luminaries such as Philip Long (3,630,000) and John Racener (2,520,000) as the final day looms in the $10,000-entry H.O.R.S.E. Championship. Just four opponents stand in Yeh's way after a dominant last few levels saw him sneak the lead ahead of previous overnight leader Bryce Yockey (1,290,000).
Yeh was run close over the day, in particular by Long, with Racener one of three other players at the final table with hopes of overcoming those two leaders. Elsewhere, Craig Chait will hope to spin up his short stack of 1,245,000 just like Yockey will.
On a busy penultimate day of action, players such as Brad Ruben (12th for $26,347), Ben Lamb (10th for $31,327) and Mike Gorodinsky (7th for $61,314) all busted as their dreams of lifting the latest bracelet faded on Day 3 of this four-day event.
WSOP 2022 Event #44 $10,000 H.O.R.S.E. Championship Final Table Chipcounts:
Position
Player
Country
Chips
1st
Andrew Yeh
U.S.A.
3,860,000
2nd
Philip Long
United Kingdom
3,630,000
3rd
John Racener
U.S.A.
2,520,000
4th
Bryce Yockey
U.S.A.
1,290,000
5th
Craig Chait
U.S.A.
1,245,000
Prociak Leads Weisman in PLO 8-Max Event
David Prociak leads the final 10 players in Event #45, the $1,500 buy-in PLO 8-Handed bracelet event. With a bulky stack of 6.4 million chips, Prociak is some way clear of many in the field, with Dylan Weisman (5,660,000) the only player truly close to him.
Elsewhere in the final 10 chipcounts of this popular event, Shane Nardiello (4,725,000), David Williams (2,980,000) and Dylan Smith (1,640,000) all feature, with former bracelet winners such as Randy Ohel (53rd), Brandon Cantu (47th) and Dash Dudley (26th) all crashing out before the close of play.
WSOP 2022 Event #45 $1,500 PLO 8-Handed Final Day Chipcounts:
Position
Player
Country
Chips
1st
David Prociak
U.S.A.
6,400,000
2nd
Dylan Weisman
U.S.A.
5,660,000
3rd
Shane Nardiello
U.S.A.
4,725,000
4th
Charles Coultas
U.S.A.
4,325,000
5th
Daniel Tordjman
France
3,745,000
6th
David Williams
U.S.A.
2,980,000
7th
Phil Hui
U.S.A.
2,675,000
8th
Paul Fehlig
U.S.A.
1,930,000
9th
Kao Saechao
U.S.A.
1,820,000
10th
Dylan Smith
U.S.A.
1,640,000
Spinella Close to Lead After Day 2 of $5,000 NLHE 6-Max Event
Anthony Spinella sits in second place after Day 2 of the $5,000-entry Event #46, the 6-Max no limit hold'em event. It is Argentinian player Ezequiel Waigel who leads and it's a big lead too, with him picking up 3,440,000 chips by the close of play. Spinella (2,575,000) will be confident that he can improve on his stack tomorrow as 46 players will return from the 928 total entries and 324 who began Day 2.
Elsewhere in the top 10 chipcounts, former bracelet winner Stephen Song (2,485,000) sits in third place, with another former winner, Robert Mizrachi (1,170,000), aiming for his fifth bracelet from 14th position. With other bracelet winners Joey Weissman (985,000), Elio Fox (895,000), Jonas Lauck (605,000), Sandeep Pulusani (605,000), Chad Himmelspach (440,000), WSOP Main Event winner Joe Cada (380,000), Anthony Zinno (360,000) and Joao Simao (60,000) all still in the hunt albeit with different expectations of success, it's sure to be a bumper Day 4 to fight to the final table.
WSOP 2022 Event #46 $5,000 NLHE 6-Max Top 10 Chipcounts:
Position
Player
Country
Chips
1st
Ezequiel Waigel
Argentina
3,440,000
2nd
Anthony Spinella
U.S.A.
2,575,000
3rd
Stephen Song
U.S.A.
2,485,000
4th
Johan Marinet
France
2,150,000
5th
Justin Bond
U.S.A.
2,145,000
6th
Paraskevas Tsokaridis
Greece
1,970,000
7th
Anthony Hu
U.S.A.
1,745,000
8th
Felipe Ketzer
Brazil
1,540,000
9th
Jonathan Pastore
France
1,340,000
10th
Jonho Hong
South Korea
1,315,000
Dobbs, Leng and Arieh All Strong in Event #48
Finally, Event #48 closed out the action on Day 2 as Michael Dobbs (293,100), who leads from Jay Kerbel (269,000), Hoeu Liu (251,500) and Randy Ohel (237,000), with Jason Stockfish (235,500) closing out the top five. With WSOP bracelet runner-up Dustin Dirksen (227,000) looking to go one better than when he came second to Dan Zack in Event #15 after a seven-hour heads-up match, there is quality throughout the remaining 200 players from the Day 1 field of 695.
Other big names to survive include former WSOP Main Event winner Scotty Nguyen (161,800), Ryan Leng (151,500) and 2022 Poker Hall of Fame nominee Josh Arieh (119,300), who will be sat to the immediate left of an old foe and friend Shaun Deeb (60,900).
Others busted out on the first day of the event, with Phil Hellmuth, Yuri Dzivielevski, David Bach, Alex Livingston, Eugene Katchalov, Anatoliy Zyrin, Joe McKeehen, Amnon Filippi, Yuval Bronshtein and Jeff Madsen all leaving the party.
WSOP 2022 Event #48 $1,500 8-Game Mix 6-Max Top 10 Chipcounts:
Position
Player
Country
Chips
1st
Michael Dobbs
U.S.A.
293,100
2nd
Jay Kerbel
U.S.A.
269,000
3rd
Hieu Luu
U.S.A.
251,500
4th
Randy Ohel
U.S.A.
237,000
5th
Jason Stockfish
U.S.A.
235,500
6th
Dustin Dirksen
U.S.A.
227,000
7th
Robert McLaughlin
U.S.A.
222,200
8th
Alex Outhred
U.S.A.
221,600
9th
Tyler Willse
U.S.A.
216,800
10th
Scott Bohlman
U.S.A.
208,900
PokerGO is available worldwide on all of your favorite devices, including Android phone, Android tablet, iPhone, iPad, Apple TV, Roku, and Amazon FireTV. You can also stream PokerGO on any web or mobile browser by going to PokerGO.com. For a limited time, you can save $30 off an annual subscription by using the code "WSOP30" at checkout.
Connect with PokerGO.com on Facebook, Twitter, Instagram, and TikTok. Watch daily poker clips on the PokerGO YouTube channel. Join the conversation on the PokerGO Discord server.