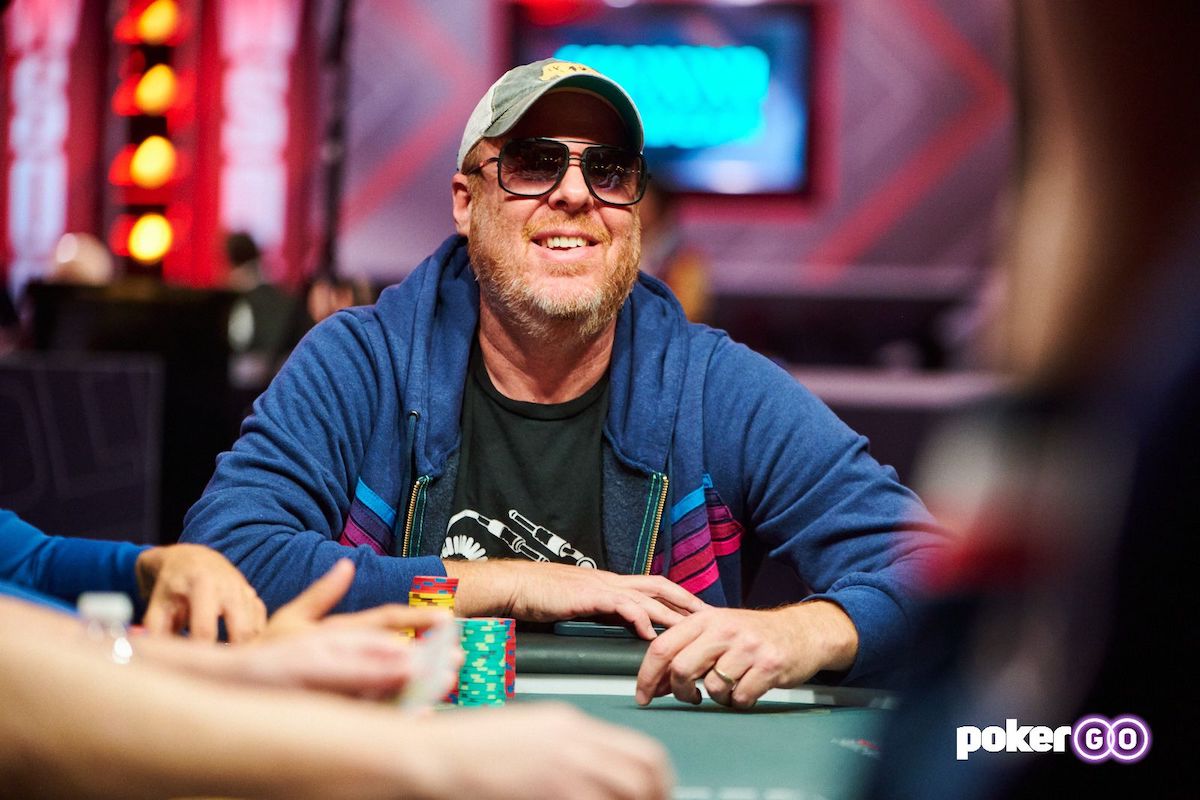 On a busy day of action in Las Vegas, Nevada, three bracelets were won by first-time winners, while big names such as Phil Ivey and Dan Smith both survived the opening day of the $100,000-entry Super High Roller in fine shape.
Bromfman Seals Maiden Victory
Pedro Bromfman won his first-ever WSOP bracelet as he outlasted a final table containing online poker legends, former bracelet winners and bracelet holders from 2022 in the final four.
Bromfman, whose debut bracelet comes with a top prize of $294,616, made it to the final table and saw mixed game legend Eli Elezra crash out in seventh place before Farzad Bonyadi claimed another great result on the WSOP. It was the turn of online poker phenom Yuri Dzivielevski to bust in fifth place, cashing for over $71,000 before the final four were reached.
With 2022 bracelet holders Scott Seiver and Alex Livingston both making the business end of the event along with Cary Katz, it was a top-quality trio to get through for Brazilian Bromfman, but he did so in stunning fashion, as you can see right here:
WSOP 2022 Event #38 $10,000 NL 2-7 Single Draw Final Table Results:
Place
Player
Country
Prize
1st
Pedro Bromfman
Brazil
$294,616
2nd
Scott Seiver
U.S.A.
$182,086
3rd
Cary Katz
U.S.A.
$131,362
4th
Alex Livingston
Canada
$96,104
5th
Yuri Dzivielevski
Brazil
$71,315
6th
Farzad Bonyadi
U.S.A.
$53,687
7th
Eli Elezra
Israel
$41,011
Ivey Survives Day 1 of Super High Roller
Just 23 players made the cut from 52 entries in the $100,000 Super High Roller Event #42, with players such as Phil Ivey, Jason Koon and Dan Smith all making the top ten chipcounts. Despite this, there were no American players in the leaderboard's top four when play drew to a close, with Japanese player Masashi Oya (2,765,000) on top so far in the biggest buy-in event of the 2022 WSOP to date.
Also thriving in the top four were Aleksejs Ponakovs (2,490,000), 2021 WSOP world champion Koray Aldemir (2,390,000) and Ben Heath (2,275,000), each of whom ended player with between 55-65 big blinds. With legendary players Jason Koon (2,230,000), 2022 first-time bracelet winner Dan Smith (1,560,000), his victim in the Heads-Up Championship final Christoph Vogelsang (1,450,000) and 10-time WSOP bracelet winner Phil Ivey (1,410,000) all making the cut, Day 2 will be rich in quality and high in drama.
Michael Addamo started like a train but eventually came off the rails, losing both entries along with Jake Schindler, Chris Brewer, and Andrew Lichtenberger. Others busted but still have their re-entry option before Day 2 kicks off, such as in-form four-time bracelet winner Jeremy Ausmus, nine-time winner Erik Seidel, 2019 WSOP Main Event runner-up Dario Sammartino and Spanish four-time bracelet winner Adrian Mateos.
Day 2 will also feature Nick Petrangelo (1,200,000) and British pair Talal Shakerchi (835,000) and Stephen Chidwick (610,000), with Day 2 due to play down to the five final players who will all return on Tuesday to fight for one of the most coveted crowns this summer.
WSOP 2022 Event #42 $100,000 Super High Roller Top 10 Chipcounts:
Position
Player
Country
Chips
1st
Masashi Oya
Japan
2,765,000
2nd
Aleksejs Ponakovs
Latvia
2,490,000
3rd
Koray Aldemir
Germany
2,390,000
4th
Ben Heath
United Kingdom
2,275,000
5th
Jason Koon
U.S.A.
2,230,000
6th
Gregory Jensen
U.S.A.
2,150,000
7th
Seth Davies
U.S.A.
1,580,000
8th
Dan Smith
U.S.A.
1,560,000
9th
Christoph Vogelsang
Germany
1,450,000
10th
Phil Ivey
U.S.A.
1,410,000
Tom Thomas on Top After Day 2 of Millionaire Maker
A vast field of 1,700 players sat down to battle on Day 2 of the $1,500 Millionaire Maker, which has a top prize of $1,125,141, promising to make one player a millionaire. With just 232 players surviving a busy day at the felt in both Bally's and Paris casinos, it was American player Tom Thomas who bagged up the most chips on Day 2, piling up 2,875,000 by the close of play.
Behind Thomas, a top 10 containing closest rivals Paul Ahn (2,650,000) and Seamus Cahill (2,560,000) also sees recent Lodge Championship Main Event winner Alain Bauer (1,950,000) sneak into the top 10. With stars of the game such as Matt Affleck (1,855,000), Kenny Hallaert (1,815,000), and Elio Fox (1,510,000), Ryan Leng (1,330,000) and Michael Mizrachi (850,000) all surviving to Day 3, the penultimate day of the event could well be the most dramatic of them all.
WSOP 2022 Event #37 $1,500 Millionaire Maker Day 2 Top 10 Chipcounts:
Position
Player
Country
Chips
1st
Tom Thomas
U.S.A.
2,875,000
2nd
Paul Ahn
U.S.A.
2,650,000
3rd
Seamus Cahill
Ireland
2,560,000
4th
Raul Martinez
Spain
2,370,000
5th
Maxime Chilaud
France
2,250,000
6th
Harsukhpaul Sangha
U.S.A.
2,200,000
7th
Chen-An Lin
Taiwan
2,145,000
8th
Tyler Gaston
U.S.A.
2,140,000
9th
Thibault Renard
France
1,990,000
10th
Alain Bauer
France
1,950,000
Yanovski and Winter Flying High in PLO Six-Max
After a busy Day 2 of action in Event #39, the PLO 6-Max event, Israeli player Leonid Yanovski leads the pack, with a cool 5 million chips meaning he leads 15 remaining rivals from a Day 2 starting field of 156 players. Yanovski is a great mixed game player, but if there is one man who will be determined to stop him it is his closest rival Jamey Hendrickson.
Hendrickson, who sits on 3.66 million chips, came second in Event #30 just a few days ago, the $1,000-entry Pot Limit Omaha 8-Handed event. On that night, he scored the biggest result of his poker career ($157,819) but will be desperate to go one better on the final day of this event and claim the gold bracelet and top prize.
With others such as Sean Winter (2,590,000), Jan-Peter Jachtmann (1,130,000) and Jason DeWitt (580,000) all still in contention, it promises to be an entertaining conclusion to the event. Sadly for fans of Jonathan Cohen, Alex Epstein, Matt Waxman and Scott Bohlman, those players all fell by the wayside on Day 2 and will have to try again in another tournament.
WSOP 2022 Event #39 $3,000 PLO 6-Handed Top 10 Chipcounts:
Position
Player
Country
Chips
1st
Leonid Yanovski
Israel
5,000,000
2nd
Jamey Hendrickson
U.S.A.
3,660,000
3rd
Jason Stockfish
U.S.A.
3,320,000
4th
Andriy Lyubovetskiy
Ukraine
3,180,000
5th
Sean Winter
U.S.A.
2,590,000
6th
Fabian Brandes
Austria
2,060,000
7th
Ferenc Deak
Hungary
1,855,000
8th
Thomas Morrison
U.S.A.
1,545,000
9th
Jan-Peter Jachtmann
Germany
1,130,000
10th
Amirhossein Shayesteh
U.S.A.
1,000,000
Eveslage Leading Deeb in Seven Card Stud Championship
Chad Eveslage continued his already superb 2022 WSOP by leading Day 2 of the $10,000-entry Seven Card Stud Championship from Shaun Deeb. With other mixed game experts in the field, it is a super-strong 15 players who remain from the 75 who began the day, with Eveslage (1,131,000) and Deeb (1,017,000) the only two players over a million in chips.
Other big names pack out the top 10, with Daniel Zack (568,000) aiming to win his second 2022 WSOP bracelet, Poker Hall of Famer Todd Brunson (540,000) and Brazilian pro Felipe Ramos (530,000) aiming for his first WSOP gold. Brian Hastings has already won gold this summer and will aim to make it a magnificent seven WSOP bracelets when play resumes on the final day of three in this event.
WSOP 2022 Event #40 $10,000 Seven Card Stud Championship Top 10 Chipcounts:
Position
Player
Country
Chips
1st
Chad Eveslage
U.S.A.
1,131,000
2nd
Shaun Deeb
U.S.A.
1,017,000
3rd
Eric Kurtzman
U.S.A.
873,000
4th
David Funkhouser
U.S.A.
805,000
5th
Long Tran
U.S.A.
720,000
6th
Daniel Zack
U.S.A.
568,000
7th
Todd Brunson
U.S.A.
540,000
8th
Felipe Ramos
Brazil
530,000
9th
Brian Hastings
U.S.A.
483,000
10th
Eric Wasserson
U.S.A.
428,000
Ramsey Stovall Outlasts Neymar to Win First WSOP Bracelet
American player Ramsey Stovall won his maiden WSOP bracelet in the Super Turbo event that raced from a total field of 2,227 entries to a winner on the same day. With the early action seeing plenty of big names flick in the $1k buy-in and miss out on a profitable result, such as former WSOP Main Event winners Koray Aldemir (2021) and Joe Cada (2009), others made the money, including Bertrand 'Elky' Grospellier (311th for $1,061), Humberto Brenes (203rd for $1,326), and Ryan Depaulo (22nd for $6,941).
Easily the biggest rail was for Paris St. Germain and Brazil soccer legend Neymar, who almost broke the internet running to 49th place for a score of $3,959), while 2021 WSOP Player of the Year Josh Arieh bagged another deep run, ending in 11th place.
Eventually, it was Stovall's rail who cheered their man to the win as his pocket sevens held against Timothy Heng's ace-five to win the gold bracelet and top prize of $191,268.
WSOP 2022 Event #41 $1,000 Super Turbo Bounty Final Table Results:
Place
Player
Country
Prize
1st
Ramsey Stovall
U.S.A.
$191,268
2nd
Timothy Heng
U.S.A.
$118,213
3rd
Steve Frakes
U.S.A.
$87,047
4th
Wing Yam
U.S.A.
$64,702
5th
Larry Carillo
U.S.A.
$48,551
6th
Rafael Lebron
U.S.A.
$36,782
7th
Ed Chang
U.S.A.
$28,136
8th
Louise Francoeur
Canada
$21,733
9th
Wen Ni
U.S.A.
$16,953
PokerGO is available worldwide on all of your favorite devices, including Android phone, Android tablet, iPhone, iPad, Apple TV, Roku, and Amazon FireTV. You can also stream PokerGO on any web or mobile browser by going to PokerGO.com. For a limited time, you can save $30 off an annual subscription by using the code "WSOP30" at checkout.
Connect with PokerGO.com on Facebook, Twitter, Instagram, and TikTok. Watch daily poker clips on the PokerGO YouTube channel. Join the conversation on the PokerGO Discord server.