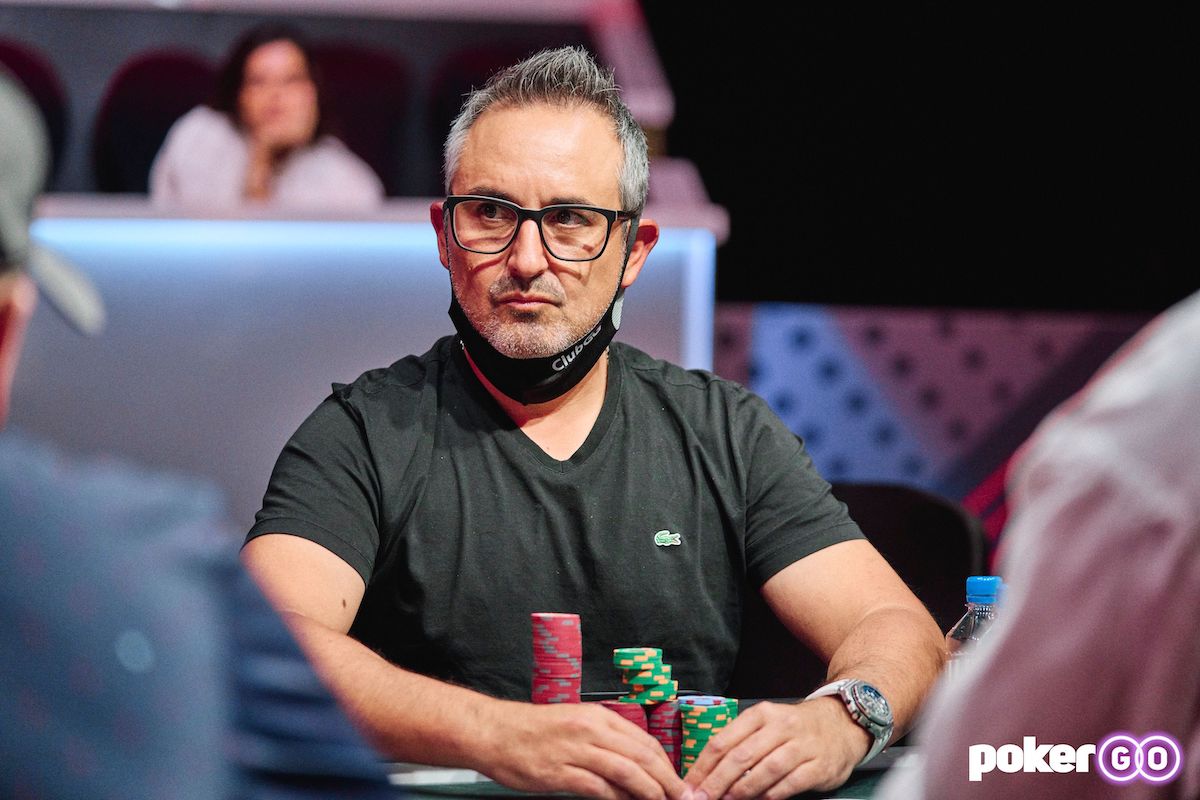 Six events raced on to the business end of their events on Saturday night as the $25,000 PLO High Roller reached its final five and two bracelets were won in the $3,000 NLHE and $1,500 Limit 2-7 Lowball events. With players such as Phil Ivey, Adam Friedman and Scott Seiver all in action, we've got the best of it as we look back on a huge day in the story of the 2022 World Series of Poker.
Final Five Reached in PLO High Roller Event
A frantic day of action took place in the $25,000-entry PLO High Roller Event where players such as Chance Kornuth, James Chen, Daniel Negreanu and Ben Lamb all busted early on, some way out from the final nine players, who then played down to five to bring the final table of the event around.
Negreanu left in 16th place for $57,738, shortly before Kornuth made his exit in 13th place for $80,105. Kornuth lost out with a pair of aces to Scott Ball's turned straight and soon after the overnight chip leader Jared Bleznick lost out in 10th place. Just before that hand, Josh Arieh had doubled up with quad kings after two in his hand were joined by two on the flop to save Arieh's tournament life and propel him up the leaderboard.
By the time the unofficial final table was reached, the chip leader was Fabian Brandes with 9.2 million chips, with Arieh not far behind on 8.7 million. They were by far the two biggest stacks, and between them, they dominated the final table and eliminated many of their opponents. WSOP Main Event runner-up David Williams lost his stack in ninth place, his aces cracked by Brandes, who rivered a flush to further grow his lead.
Eventually, after the eliminations of Gregory Shuda (8th for $152,091), Emmanuel Sebag (7th for $195,713) and Jonathan Depa (6th for $256,582), the final five were confirmed and while Brandes (13,175,000) has the lead, Arieh (8,900,000) is in hot pursuit, with Tong Li (6,350,000), Sam Stein (5,875,000) and Scott Ball (5,300,000) all having a great chance to win.
With seven bracelets shared unequally between the final five, Arieh (4), Ball (2) and Stein (1) will all be looking to win more gold, with Brandes and Li both looking for their first-ever WSOP wins. Everyone will be looking for the top prize of $1,467,739 and you'll be able to watch all the action in the five-handed final right here.
WSOP 2022 Event #19 $25,000 Pot Limit Omaha High Roller
Position
Player
Country
Chips
1st
Fabian Brandes
Austria
13,175,000
2nd
Josh Arieh
U.S.A.
8,900,000
3rd
Tong Li
China
6,350,000
4th
Sam Stein
U.S.A.
5,875,000
5th
Scott Ball
U.S.A.
5,300,000
Stefan Lehner Wins First Bracelet for $558,000
Austrian player Stefan Lehner won his first-ever WSOP bracelet, claiming the top prize of $558,616 in Event #16, the $3,000-entry No Limit Hold'em event. Lehner got the job done heads-up against Toby Boas as the Austrian booked his first WSOP win in his career, with players such as Alex Foxen and overnight chip leader David Miscikowski both falling short on the day.
With nine players returning to the felt, both former bracelet winners were out in the first three eliminations. Davide Suriano busted in 9th for $44,785 while Joey Weissman busted in 7th for $75,282. Alex Foxen ran all the way to fifth place but eventually lost out to Miscicowki's ace-six of diamonds having shoved with king-eight of-suit pre-flop. The ace-high board eliminated Foxen, still without a bracelet, in fifth for $133,300, with Miscikowski gone a place later in fourth for $180,795.
Three-handed, Boas had a big lead, with 35.8 million chips almost three times as many as his two opponents, but no limit is a brutal game and it all changed very quickly. When Nathan Russler busted in third place for $248,298, Boas still had three times Lehner's chips, but Lehner called a big bluff in heads-up to take the lead. When Boas shoved with ace-seven to go for the lead, Lehner called with ace-ten and even flopped the open straight draw to leave Boas drawing to three tens. A five on the turn opened up the chance of a six saving the American, but a nine instead gave Lehner the title and Austria's first winner this WSOP.
WSOP 2022 Event #16 $3,000 NLHE Final Table Results:
Place
Player
Country
Prize
1st
Stefan Lehner
Austria
$558,616
2nd
Toby Boas
U.S.A.
$345,244
3rd
Nathan Russler
U.S.A.
$248,298
4th
David Miscikowski
U.S.A.
$180,795
5th
Alex Foxen
U.S.A.
$133,300
6th
Kevin Stevens
U.S.A.
$99,535
7th
Joey Weissman
U.S.A.
$75,282
8th
Nicholas Dolen
U.S.A.
$57,683
9th
Davide Suriano
Italy
$44,785
Nesterenko Beats Altizer to Title in Event #20
Denis Nesterenko claimed victory for Russia in Event #29, the $1,500-entry Limit 2-7 Lowball Triple Draw event, where Benny Glaser crashed out in sixth place.
Glaser was the man to watch coming into the action, but he whiffed the podium places, cashing in sixth for $14,947. In just Nesteranko's second-ever WSOP event, he has won where so many others have failed to do, after taking down the title by beating overnight leader Von Altizer heads-up. The Russian went into the final duel with a slim lead, but never relinquished it as he dominated the heads up section of the event to close out victory in style.
WSOP 2022 Event #20 $1,500 Limit 2-7 Lowball Final Table Results:
Place
Player
Country
Prize
1st
Denis Nesterenko
Russia
$108,250
2nd
Von Altizer
U.S.A.
$66,910
3rd
Evan Sayer
U.S.A.
$44,347
4th
Hieu Luu
U.S.A.
$30,107
5th
Yufei Zhong
China
$20,948
6th
Benny Glaser
United Kingdom
$14,947
7th
Peter Lynn
U.S.A.
$10,945
Day1b of Monster Stack Sees Over 3,500 Entries
A huge day across both Bally's and Paris casinos saw the $1,500-entry Monster Stack Event #21 live up to its name, as over 1200 players survived from a total field of 3,561. At the close of play, stars such as Matt Kuba (498,500), Arash Ghaneian (437,500) and British pro Chris Da Silva (305,000) all bagging top 10 stacks on the day. A little further back, Daniel Lazrus, who won two WSOP bracelet events last year, bagged big with 98,300 his end-of-day amount.
With big names such as Alex Foxen, Allen Kessler, Ryan Riess and Antoine Saout all making Day 2, others weren't so lucky, with Veronica Brill one of over 2,000 players to lose their tournament chips.
Friedman in Charge in Seven Card Stud Championship
Adam Friedman has a huge lead in Event #22, with just eight players still in seats at the close of play in the $10,000-entry Seven Card Stud Championship. With 11 new players on the day, a start of day field of 52 was whittled down to the final table by the close of play and Friedman, on an incredible streak in recent years in mixed game events, bagged up an amazing 40% of the chips in play, with 2,385,000 chips.
Jean Gaspard (1,231,000) is the only other player over a million chips, with Yuval Bronshtein, who led at the start of play, on 837,000. Everyone else has less than 400,000 chips, with Phil Ivey down to 174,000 chips but still in with a chance of winning his 11th WSOP bracelet.
WSOP 2022 Event #22 $10,000 Seven Card Stud Championship Top 10 Chipcounts:
Position
Player
Country
Chips
1st
Adam Friedman
U.S.A.
2,385,000
2nd
Jean Gaspard
U.S.A.
1,231,000
3rd
Yuval Bronshtein
Israel
837,000
4th
Ben Diebold
U.S.A.
375,000
5th
Marco Johnson
U.S.A.
236,000
6th
James Paluszek
U.S.A.
235,000
7th
Yueqi Zhu
China
231,000
8th
Phil Ivey
U.S.A.
174,000
Vampan On Target in Event #23
Day 1 of the $3,000-entry Limit Hold'em Six-Max Event #23 saw 213 entries down to just 98 survivors to Day 2, with Daniel Vampan bagging the chip lead with 217,500 chips. With Joao Vieira (176,000) in the top five too, others to make the cut included Shaun Deeb (107,000), Robert Campbell (76,000), and defending champion in this event Ryan Hansen (64,500).
Plenty of big names failed to survive, with poker legend Daniel Negreanu joined by former WSOP Main Event winner Joe McKeehen, Mike 'The Mouth' Matusow, Scott Seiver, Nick Schulman and Anthony Zinno on the rail.
WSOP 2022 Event #23 $3,000 Limit Hold"em 6-Max Top 10 Chipcounts:
Place
Player
Country
Prize
1st
Daniel Vampan
U.S.A.
217,500
2nd
Phuong Nguyen
U.S.A.
210,000
3rd
Ruiko Mamiya
Japan
207,000
4th
Bin Duan
U.S.A.
193,000
5th
Joao Vieira
Portugal
176,000
6th
Motoyoshi Okamura
Japan
161,000
7th
Lyly Vo
U.S.A.
160,000
8th
Jameson Painter
U.S.A.
160,000
9th
Timothy Ebenhoeh
U.S.A.
151,000
10th
William Smith
U.S.A.
151,000
PokerGO is available worldwide on all of your favorite devices, including Android phone, Android tablet, iPhone, iPad, Apple TV, Roku, and Amazon FireTV. You can also stream PokerGO on any web or mobile browser by going to PokerGO.com. For a limited time, you can save $30 off an annual subscription by using the code "WSOP30" at checkout.
Connect with PokerGO.com on Facebook, Twitter, Instagram, and TikTok. Watch daily poker clips on the PokerGO YouTube channel. Join the conversation on the PokerGO Discord server.