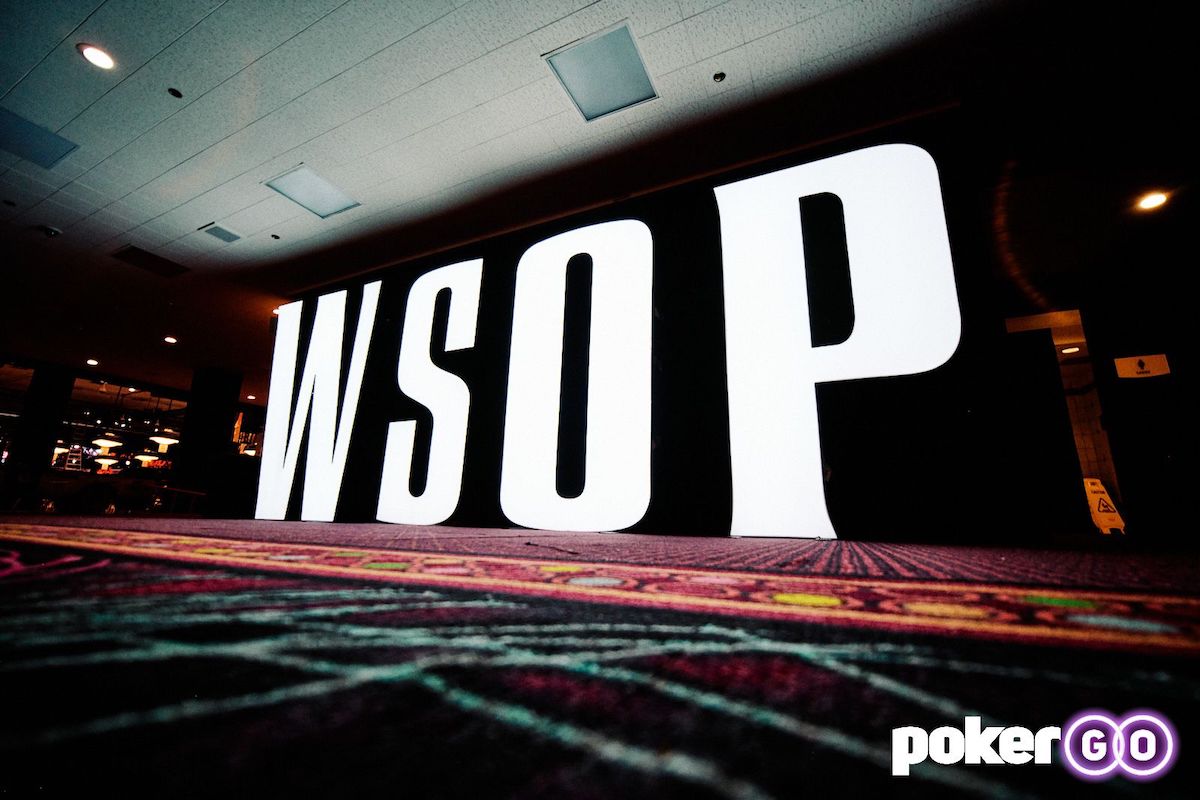 There was just one bracelet won on Day 10 of the 2022 WSOP, but it was a spectacular one as France claimed gold for the first time this series. With six other events in progress across both Bally's and Paris casinos, there was action right up until the final hand in events across a variety of poker formats.
Yuval Bronshtein Leads Final Five in Omaha Championship
With 24 players starting the day, just five remained at the close of the action in Event #15, the $10,000 Omaha Hi-Lo 8 or Better Championship. Yuval Bronshtein leads the final five with over 4.1 million chips, with Dustin Dirksen (3.1m) and Dan Zack (2.4m) his closest challengers.
While Ray Dehkharghani has 1.6m chips to play with, Jake Liebeskind will come into play with just two big blinds as his micro-stacked 295,000 chips need a miracle.
WSOP 2022 Event #15 $10,000 Omaha Hi-Lo 8 or Better Championship:
Position
Player
Country
Chips
1st
Yuval Bronshtein
Israel
4,175,000
2nd
Dustin Dirksen
U.S.A.
3,165,000
3rd
Daniel Zack
U.S.A.
2,440,000
4th
Ray Dehkharghani
U.S.A.
1,695,000
5th
Jake Liebeskind
U.S.A.
295,000
Soma Claims Event #14 Victory
Leo Soma won his first bracelet and in doing so claimed gold for France for the first time during the 2022 WSOP. As a fast-paced final day played down to a winner in the $1,500 buy-in 6-Max No Limit Hold'em Event #14, the final 16 was quickly turned into the final table. Soma, who started the day in the middle of the chipcounts, rose to lead when Joe Cada busted in seventh place for $61,098 and never relinquished his lead thereafter. Cada, the 2009 Main Event winner, was desperately unlucky too, losing his chips with pocket kings shot down by Soma's ace-king.
It was a final table full of similar upsets in terms of hands overcoming stronger ones when the chips were committed pre-flop, with Ivan Zhechev winning with ace-nine suited against Thomas Schultz's pocket queens before Zhechev himself busted with the best hand in sixth place. Schultz could have been out in fourth but his ace-seven triumphed against Soma's pocket kings to provide a stay of execution.
Soma was damaged by losing that hand, but not critically. He still had twice the chips of his three opponents combined, and when he took out former overnight chip leader Daniel Wellborn in fourth place – Soma's six-seven winning against ace-jack – the win looked certain.
So it would prove, as Soma took out Max Gallardo in third place before going to heads-up with an unassailable 10:1 lead. Schultz laddered to second place, but Soman's jack-three toppled his king-nine to give a raucous French rail plenty to cheer about as they celebrated their countryman's first-ever WSOP bracelet win.
WSOP 2022 Event #14 $1,500 6-Handed NLHE Final Table Results:
Place
Player
Country
Prize
1st
Leo Soma
France
$456,889
2nd
Thomas Schultz
U.S.A.
$282,358
3rd
Maximiliano Gallardo
Argentina
$203,451
4th
Daniel Wellborn
U.S.A.
$148,171
5th
Derek Sudell
U.S.A.
$109,083
6th
Ivan Zhechev
Bulgaria
$81,188
7th
Joe Cada
U.S.A.
$61,098
You can watch Event #15 play down to a winner on Poker GO when it kicks off tomorrow.
Foxen Firing Hard on Day 2 of $3,000 NLHE Event #16
In Event #16, the $3,000-entry NLHE event saw Alex Foxen bag up the most chips as perhaps the best player on the planet without a bracelet – certainly on current form – put himself in the best position to break that curse. Foxen bagged up over 2 million chis and was the only player to do so, with his nearest challengers Niall Farrell (1.6m) and Michael Marder (1.59m) a little further back despite having great days at the felt.
Elsewhere in the top 10, there were bags for David Miscikowski (1,315,000) and Adrian Mateos (1,165,000) as a top-quality field played from 1,240 total entries and 407 players at the start of play were funnelled down to just 75 players on Day 2, with the money bubble bursting at 161st place. Players such as Felipe Ramos (970,000) and our own Jeff Platt (790,000) had great days at the felt too and finished comfortably inside the top 20.
Others who cashed but didn't make Day 3 included Michael Gathy (135th for $5,276), Faraz Jaka (112th for $6,029) and Ali Imsirovic, who cashed in 89th place for $6,962.
WSOP 2022 Event #16 $3,000 No Limit Hold'em Top 10 Chipcounts:
Position
Player
Country
Chips
1st
Alex Foxen
U.S.A.
2,070,000
2nd
Niall Farrell
United Kingdom
1,610,000
3rd
Michael Marder
U.S.A.
1,595,000
4th
Stefan Lehner
Austria
1,395,000
5th
Arnaud Enselme
France
1,350,000
6th
David Miscikowski
U.S.A.
1,315,000
7th
Lander Lijo
Spain
1,175,000
8th
Adrian Mateos
Spain
1,165,000
9th
Tyler Hirschfeld
U.S.A.
1,130,000
10th
Toby Boas
U.S.A.
1,105,000
All North American Top 10 in Mixed Triple Draw
With nine American and one Mexican players, the top 10 after Day 2 of Event #17, the $2,500-entry Mixed Triple Draw event had a distinct home country feel to it in Las Vegas. Bariscan Betil (1,190,000) leads the way but he is being chased down by some of the best in the business, with former WSOP final table 8th place finisher Jerry Wong in second on 1,140,000.
Others such as Andrew Brown (1,010,000), Frank Kassela (750,000), Matthew Schreiber (740,000), John Monnette (600,000), and Alex Epstein (475,000) all had great days at the felt, while overnight chip leader James Opie, 2019 WSOP Player of the Year Robert Campbell and six-time WSOP bracelet winner Daniel Negreanu all made the money without surviving to the next day.
Plenty of big names whiffed profit as Shaun Deeb bricked out, Scotty Nguyen failed to make money and Brandon Shack-Harris left without cashing too.
WSOP 2022 Event #17 $2,500 Mixed Triple Draw Top 10 Chipcounts:
Position
Player
Country
Chips
1st
Bariscan Betil
U.S.A.
1,190,000
2nd
Jerry Wong
U.S.A.
1,140,000
3rd
Andrew Brown
U.S.A.
1,010,000
4th
Yehuda Buchalter
U.S.A.
980,000
5th
Alejandro Torres
Mexico
885,000
6th
Dominick Sarle
U.S.A.
815,000
7th
Frank Kassela
U.S.A.
750,000
8th
Matthew Schreiber
U.S.A.
740,000
9th
John Monette
U.S.A.
600,000
10th
Alex Epstein
U.S.A.
475,000
James Little Leads the Way in Event #18
A frantic day's action saw Day 1 of Event #18, the $1,000-entry NHLE Freezeout event end with just 203 players making the Day 2 seat draw from 2,663 total entries. With a prize pool of over $2.3 million, the top prize of $330,057 is going to be one of the best value wins of the series for someone.
Elsewhere in the top 10, there were plenty of players who got close to Little's with 765,000. Lily Lofty is Little's nearest challenger, as she piled up 755,000 by close of play, with Thomas Stocker not far behind her on 720,000.
Big names to bag stacks included Shaun Deeb (395,000), Ben Yu (270,000), and Ismael Bojang (375,000), while others such as Maria Ho (304th for $1,751), Kevin Rabichow (270th  for  $1,751), and Tristan Wade (241st for $2,002) all made profit without scraping into Day 2.
WSOP 2022 Event #18 $1,000 NLHE Freezeout Top 10 Chipcounts:
Position
Player
Country
Chips
1st
James Little
U.S.A.
765,000
2nd
Lily Lofty
U.S.A.
755,000
3rd
Thomas Stocker
U.S.A.
720,000
4th
Paul Lee
U.S.A.
695,000
5th
Jordan Griff
U.S.A.
690,000
6th
Dustin Cullimore
U.S.A.
675,000
7th
Ryan Yu
Canada
635,000
8th
Jason Reels
U.S.A.
635,000
9th
Austin Farmer
U.S.A.
630,000
10th
Amirpasha Emami
Canada
625,000
Two More Events Close Day 1s
In Event #19, the $25,000 PLO High Roller event, Jared Bleznick bagged the chip lead after bagging 601,500 at the close of play. Followed by Chris DeMaci (586,000), Sean Winter (578,000), Frank Crivello (575,000) and James Chen     (553,000) in an all-American top five, there were also chips to bag up for Scott Ball (403,500), Chance Kornuth (333,000) and 10-time bracelet winner Phil Ivey (360,500).
Players to lose all their chips on Day 1 in this event included WSOP bracelet winners Robert Cowen, Norbert Szecsi, Daniel Negreanu and Julien Martini, with just 124 players of the 196 entries surviving to start Day 2 with chips.
WSOP 2022 Event #19 $15,000 PLO High Roller Top 10 Chipcounts:
Position
Player
Country
Chips
1st
Jared Bleznick
U.S.A.
601,500
2nd
Chris DeMaci
U.S.A.
586,000
3rd
Sean Winter
U.S.A.
578,000
4th
Frank Crivello
U.S.A.
575,000
5th
James Chen
U.S.A.
553,000
6th
Ben Lamb
U.S.A.
540,500
7th
Dmitrii Perfilev
U.S.A.
536,500
8th
Duarte Baptista
Portugal
484,500
9th
Kristopher Tong
U.S.A.
444,500
10th
Conrad De Armas
U.S.A.
437,500
Finally, in Event #20, the $1,500 Limit 2-7 Lowball event saw 116 players make Day 2 from an influx of 350 entries. Chip leader at the close of play was Justin Geary on 259,000 chips, but he has plenty of close competition with Karl Tretter (222,000) closest.
Other big names to make the upper limits of the leaderboard included Kevin Gerhart (178,500) and Robert Mizrachi (149,500), both of whom sit in the top 10, while a little further back Calvin Anderson (134,000) and Adam Friedman (130,500) both made the next day.
WSOP 2022 Event #20 $1,500 Limit 2-7 Lowball Top 10 Chipcounts:
Position
Player
Country
Chips
1st
Justin Geary
U.S.A.
259,500
2nd
Karl Tretter
U.S.A.
222,000
3rd
Hasan Kural
U.S.A.
192,500
4th
Yufei Zhong
China
180,500
5th
Kevin Gerhart
U.S.A.
178,500
6th
John Prather
U.S.A.
172,500
7th
Pawel Andrzejewski
U.S.A.
160,000
8th
Michael Balan
U.S.A.
157,500
9th
Robert Mizrachi
U.S.A.
149,500
10th
Von Altizer
U.S.A.
148,000
PokerGO is available worldwide on all of your favorite devices, including Android phone, Android tablet, iPhone, iPad, Apple TV, Roku, and Amazon FireTV. You can also stream PokerGO on any web or mobile browser by going to PokerGO.com. For a limited time, you can save $30 off an annual subscription by using the code "WSOP30" at checkout.
Connect with PokerGO.com on Facebook, Twitter, Instagram, and TikTok. Watch daily poker clips on the PokerGO YouTube channel. Join the conversation on the PokerGO Discord server.