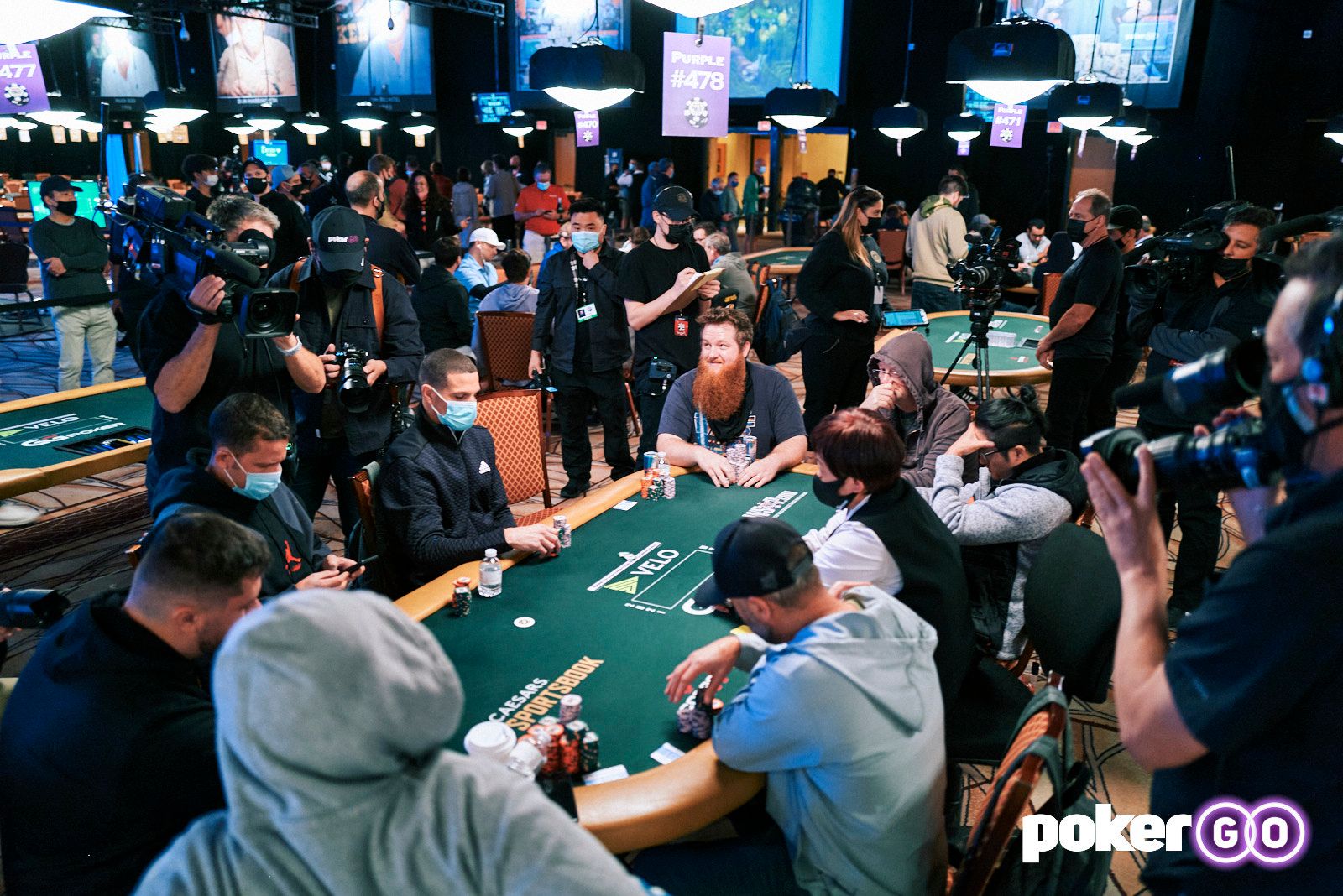 A mammoth day of action across five tournaments saw drama, players busting, possibly the best bluff in WSOP history and another WSOP gold bracelet winner on Day 6 of the Main Event and Day 46 of the 2021 World Series of Poker.
In the WSOP Main Event, it was Day 6. The action was spectacular all day, especially with Nicholas Rigby on the feature table as he once again proved himself a fearless competitor with any hand, but in particular deuce-three.
After the day concluded, just 36 players of the 96 who began Day 6 still had chips. It was Hye Park (29.5 million) who had the chip lead, with a chunk more chips than Demosthenes Kiriopoulos (24.9 million) and Joshua Remitio (21.4 million) as the top of the leaderboard saw some star names make the top ten.
Just a small amount back from the leaders are some big-hitters who will fancy their chances of making the final table. Day 5 leader Koray Aldemir from Germany sits fifth in the chipcounts with 18.9 million, while Ramon Colillas (18.2 million) and Chance Kornuth (13.6 million) both have great shots at the $8 million top prize.
WSOP 2021 Event #67 $10,000 Main Event
Place
Player
Country
Chips
1st
Hye Park
U.S.A.
29,500,000
2nd
Demosthenes Kiriopoulos
Canada
24,905,000
3rd
Joshua Remitio
U.S.A.
21,490,000
4th
Chase Bianchi
U.S.A.
20,765,000
5th
Koray Aldemir
German
18,905,000
6th
George Holmes
U.S.A.
18,425,000
7th
Ramon Colillas
Spain
18,200,000
8th
Alejandro Lococo
Argentina
17,950,000
9th
Ozgur Secilmis
Turkey
14,700,000
10th
David Cabrera
Spain
14,530,000
In Event #72, Japanese player Motoyoshi Okamura won his first-ever WSOP bracelet as he triumphed in the $1,500-entry Mixed NLHE/PLO event. Okamura, who won $209,716 for his tournament victory overcame the overnight chip leader Rafael Mota of Brazil heads-up, with Nick Yunis finishing third.
Of the other final table players, Jordan Spurlin ran in sixth for $35,942 as a host of global poker players from countries such as Austria, Germany, Brazil, China and Israel competed for the latest WSOP bracelet.
WSOP 2021 Event #72 $1,500 Mixed NLHE / PLO
Place
Player
Country
Prize
1st
Motoyoshi Okamura
Japan
$209,716
2nd
Rafael Mota
Brazil
$129,621
3rd
Nick Yunis
Chile
$91,989
4th
Leonid Yanovski
Israel
$66,249
5th
Mike Takayama
Japan
$48,428
6th
Jordan Spurlin
U.S.A.
$35,942
7th
Marc Lange
Germany
$27,088
8th
Tim Grau
Austria
$20,737
In Event #70, the final Day 1 flight of the $888-entry Crazy Eights event took place, with Farhad Davoudzadeh bagging the chip lead late on with a stack of 2.41 million. Davoudzadeh is a three-bet clear of Hungarian player Miklos Zsuffa (2.405m), while 2021 WSOP bracelet winner Cole Ferraro (2.29m) isn't far behind in third place on the Day 1d leaderboard.
With 2,241 entrants overall, just 337 players made the money, with 100 players ending the day bagging up chips. Among the thousands who would not do so were poker names Ryan Riess, Kathy Liebert, Phil Laak, Matt Affleck, Barry Greenstein,Barny Boatman, Ryan Depaulo, Chris Moorman, David 'Bakes' Baker, Ebony Kenney and Jeremy Ausmus.
WSOP 2021 Event #70 $888 Crazy Eights
Place
Player
Country
Chips
1st
Farhad Davoudzadeh
U.S.A.
2,410,000
2nd
Miklos Zsuffa
Hungary
2,405,000
3rd
Cole Ferraro
U.S.A.
2,290,000
4th
Leonid Yanovski
Israel
2,205,000
5th
Jason Wheeler
U.S.A.
2,100,000
6th
Timo Kamphues
Germany
2,055,000
7th
Lipei Xu
U.S.A.
1,975,000
8th
John Simonian
U.S.A.
1,850,000
9th
Pierre Merlin
France
1,850,000
10th
Joseph Liberta
U.S.A.
1,835,000
In the $10,000-entry Seven Card Stud Championship, just 11 players remain in the hunt for the latest bracelet with one day of action to come. Of the final 11 players, it is Marco Johnson (1,400,000) who has the chip lead, but a galaxy of stars are aligning behind him, with Yuval Bronshtein (1,332,000) closest of them.
With Brian Hastings (1,093,000), Erik Seidel – who could win his 10th WSOP bracelet, which would put him second on the all-time list – (994,000) and Ian O'Hara (975,000) all in the top five, it is going to be an incredible battle for the gold on the final day. Josh Arieh (535,000), leader of the WSOP Player of the Year race, will be desperate to win gold again and give himself a buffer between himself and the other POY challengers.
WSOP 2021 Event #73 $888 Seven Card Stud Championship Final Day
Place
Player
Country
Chips
1st
Marco Johnson
U.S.A.
1,400,000
2nd
Yuval Bronshtein
Israel
1,332,000
3rd
Brian Hastings
U.S.A.
1,093,000
4th
Erik Seidel
U.S.A.
994,000
5th
Ian O'Hara
U.S.A.
975,000
6th
Scott Seiver
U.S.A.
783,000
7th
John Monnette
U.S.A.
657,000
8th
Josh Arieh
U.S.A.
535,000
9th
Gary Benson
Australia
351,000
10th
Ahmed Mohamed
U.S.A.
273,000
11th
Brett Richey
U.S.A.
192,000
Finally, in Event #74, the $2,500-entry Big Bet Mix event, Jarryd Godena from Australia bagged the chip lead with 1,400,000 chips with little to spare in the evening. With players such as Brazilian online legend Yuri Dzivielevski (1,332,000) and Ismael Bojang (1,093,000) close behind, there is everything to play for as the event, which has a $117,898 top prize and saw 92 players from 212 entries survive to Day 2, plays out.
On Day 1, players such as Benny Glaser, Jake Daniels, Paul Volpe, Ben Yu, chris Brewer, Yueqi Zhu, Mike Matusow and David 'Bakes' Baker all busted short of the money.
WSOP 2021 Event #74 $2,500 Big Bet Mix
Place
Player
Country
Chips
1st
Jarryd Godena
Australia
1,400,000
2nd
Yuri Dzivielevski
Brazil
1,332,000
3rd
Ismael Bojang
Austria
1,093,000
4th
Asher Lower
U.S.A.
994,000
5th
Yik Chiu
Hong Kong
975,000
6th
Richard Bai
U.S.A.
783,000
7th
Anthony Ribeiro
Brazil
657,000
8th
Scott Bohlman
U.S.A.
535,000
9th
Jon Turner
U.S.A.
351,000
10th
Maury Barrett
U.S.A.
273,000
Connect with PokerGO.com on Facebook, Twitter, and Instagram. Use code "WSOP2021" for $20 off an annual PokerGO.com subscription now!