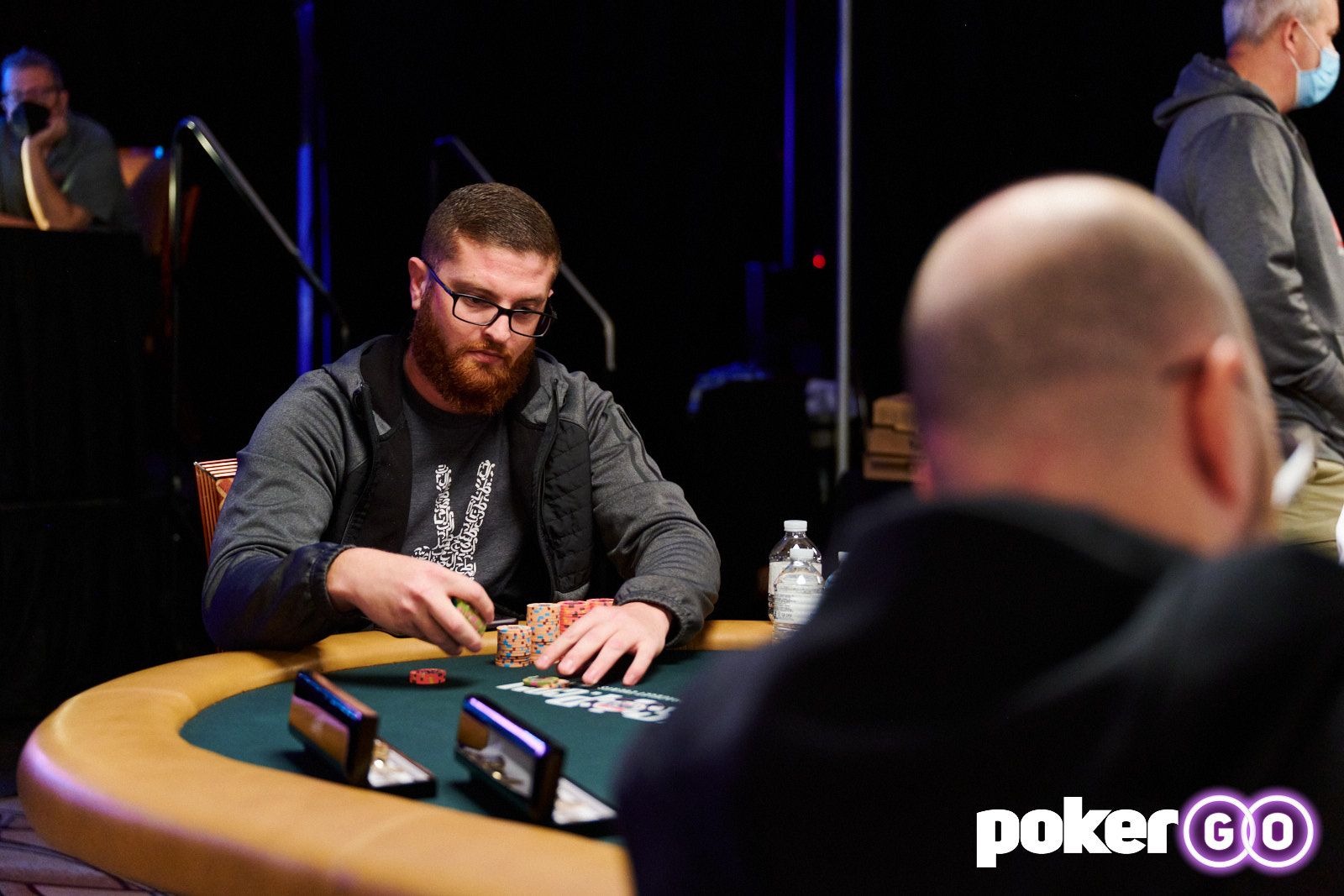 The action at the World Series of Poker on Day 34 of the 2021 series saw two more bracelets won as French player Jean-Luc Adam won the $1,000 Super Seniors Event and the $1,000 Tag Team event also saw the winners of Mike Ruter and Samy Dighlawi crowned champions. Elsewhere, Ryan Leng leads the final ten players in the $50,000-entry Poker Players Championship.
Adam Crowned Champion as Another French Bracelet Awarded
The first bracelet event of the day to produce a winner was Event #58, the $1,000-entry Super Seniors event, which saw French player Jean-Luc Adam claim another bracelet for France this WSOP. The 69-year-old saw off a final table that included eight others, all of whom were American, as he toppled Eugene Salomon heads-up to claim victory and the $255,623 top prize, the biggest cash of his career by far.
End of Day 2 chip leader David Slaughter missed out on the final nine as he busted the action in 10th place, leaving the way clear for Adam to close out a lead he had taken as the final table began and see it through to its conclusion.
WSOP 2021 Event #58 $1,000 Super Seniors Event
Place
Player
Country
Chips
1st
Jean-Luc Adam
France
$255,623
2nd
Eugene Salomon
U.S.A.
$157,986
3rd
Scott Sukstorf
U.S.A.
$117,181
4th
Bill Stabler
U.S.A.
$87,722
5th
Alex Katsman
U.S.A.
$66,284
6th
Joseph Richards
U.S.A.
$50,559
7th
Girish Apte
U.S.A.
$38,932
8th
Reginald Powell
U.S.A.
$30,269
9th
Gary Pagel
U.S.A.
$23,762
Tag Team Event Won by Ruter and Dighlawi
The $1,000-entry Tag Team event saw Mike Ruter and Samy Dighlawi reign supreme as they won a top prize of $113,366 by outlasting the other nine teams at the final table. With players such as father-daughter team Amanda and David Botfeld reaching third place ($49,512), the action at the final table saw Ruter and Dighlawi top the lot as 641 entries were whittled down to a winner on the final day.
Both Ruter and Dighlawi were quick to credit each other as each man came up trumps in different periods of the final day and the WSOP event that played out with the friendliest atmospheres ever was concluded with a heads-up battle against Tomer Wolf and David Landell, who congratulated their conquerors when the final hand saw Dighlawi's queen-seven hold against Tomer Wolf's seven-six.
WSOP 2021 Event #59 $1,000 Tag Team Event
Place
Team
Prize
1st
Mike Ruter & Samy Dighlawi
$113,366
2nd
Tomer Wolf & David Landell
$70,074
3rd
Amanda Botfeld & David Botfeld
$49,512
4th
Michael Newman & Robert Ormont
$35,542
5th
Alfie Adam & Vidur Sethi
$25,928
6th
Benjamin Miner & Dmitriy Uskach
$19,226
7th
Holly Babbitt & Michael Babbitt
$14,494
8th
Zachary Erdwurm & Steven Jones
$11,114
9th
Scott Johnston & Bob Fisher
$8,670
Leng Leads Poker Players Championship from Arieh and Cates
Ryan Leng is aiming to win one of the most prestigious bracelets of his glittering career as he takes on the last nine opponents in tomorrow's Poker Players Championship final day. Leng, who built a chip lead with 4,500,000 in his bag at the end of Day 3 of the four-day event, saw his nearest rivals Josh Arieh (3,025,000) and Dan Cates (2,310,000) both chasing his total by the close of play.
With terrific players making the top 10, such as Eli Elezra (1,880,000), Nick Schulman (1,280,000), Day 2 chip leader Paul Volpe (900,000) and Daniel Negreanu (780,000), there is everything to play for on what should be a thrilling denouement to this classic WSOP event.
Others were not so fortunate to survive on Day 3, with former WSOP Player of the Year Robert Campbell (11th) the bubble boy to both the final day and the money places as each player will now win a minimum of $82,623. Everyone will be focused on the top prize of $954,020, however, as well as the infamous Chip Reese Trophy, won last year by Phil Hui.
WSOP 2021 Event #60 $50,000 Poker Players Championship
Place
Team
Country
Chips
1st
Ryan Leng
U.S.A.
4,500,000
2nd
Josh Arieh
U.S.A.
3,025,000
3rd
Dan Cates
U.S.A.
2,310,000
4th
Chris Brewer
U.S.A.
2,025,000
5th
Eli Elezra
Israel
1,880,000
6th
Matt Glantz
U.S.A.
1,575,000
7th
Nick Schulman
U.S.A.
1,280,000
8th
Paul Volpe
U.S.A.
900,000
9th
Daniel Negreanu
Canada
780,000
10th
Mike Wattel
U.S.A.
670,000
In Event #61, the $600 Deepstack Championship, Perry Ernest topped the chipcounts by the close of play with a massive 10.1 million to his name. Ernest finished ahead of Sami Ruston (7.1 million) and Marc Rangel (6.8 m) as he soared above the competition and with just 40 players remaining, has every chance of winning his first WSOP bracelet.
Of the remaining 39 opponents Ernest will face on Day 3, only Barry Shulman (2.4 million) and Mark Seif (950,000) have ever won WSOP gold before, so we could see a new name on the roster of bracelet winners or a third bracelet to add to either Shulman or Seif's collection tomorrow.
WSOP 2021 Event #61 $600 Deepstack Championship
Place
Player
Country
Chips
1st
Perry Ernest
U.S.A.
10,500,000
2nd
Sami Ruston
U.S.A.
7,150,000
3rd
Marc Rangel
U.S.A.
6,800,000
4th
Richard Dixon
U.S.A.
6,430,000
5th
Edgardo Rosario
U.S.A.
5,859,000
6th
Jean Francois Alexandre
Canada
5,480,000
7th
Nicolas De Bari
Argentina
5,100,000
8th
Ronald Slucker
U.S.A.
5,030,000
9th
Fernando Viana Da Costa
Brazil
5,000,000
10th
Rubin Chappell
U.S.A.
4,400,000
In Event #57 Matthew Kaplan proved king on Day 2 as he piled up over 3.1 million chips to lead the remaining field of just 13 players, with 100 players departing across the action, including PLO8 powerhouses such as Mike Matusow, Robert Mizrachi, Kathy Liebert, and Ari Engel.
With Kaplan in the lead, his closest challengers are Kevin Gerhart (2,900,000) and Dustin Dirksen (2,400,000), with other big names such as Dylan Wilkerson (1,240,000) and Michael Trivett (730,000) also both making the end of Day 3 chipcounts.
WSOP 2021 Event #62 $1,500 PLO Hi-Lo 8 or Better
Place
Player
Country
Chips
1st
Matthew Kaplan
U.S.A.
3,145,000
2nd
Kevin Gerhart
U.S.A.
2,900,000
3rd
Dustin Dirksen
U.S.A.
2,400,000
4th
Roman Hrabec
Czech Republic
1,800,000
5th
Sterling Lopez
U.S.A.
1,350,000
6th
Dylan Wilkerson
U.S.A.
1,240,000
7th
Tamon Nakamura
Japan
1,145,000
8th
Alexandr Orlov
Russia
1,015,000
9th
Bryant Bustamante
U.S.A.
805,000
10th
Michael Trivett
U.S.A.
730,000
Day 1 of the $500-entry Salute to Warriors event saw the predictably good-natured battle for a bracelet begin with an electric atmosphere in the Rio. With the traditional event gaining 1,738 entries in total, just 261 of those were guaranteed profit on their buy-in, and that bubble burst shortly before the close of play.
At the day's end, Andrew Moon had eclipsed everyone else's stack to sit with 1,274,000 as the only player to crack a million chips and pile up a seven-figure stack. Moon was shadowed by Taylor Pollard (866,000) and John Song (711,000) in the top 10, with a place for places such as Terry Wheeler (617,000) and Alan Percal (580,000) too among others.
Among those to bust this event, which raised $40 from each player's entry to go towards the United Services Organization charity, were bracelet winners Stephen Song, Michael Wang, Shaun Deeb, Barry Greenstein and Marsha Wolak.
WSOP 2021 Event #63 $500 Salute to Warriors
Place
Player
Country
Chips
1st
Andrew Moon
U.S.A.
1,274,000
2nd
Taylor Pollard
U.S.A.
866,000
3rd
John Song
U.S.A.
711,000
4th
Nicholas Verderamo
U.S.A.
653,000
5th
Senthuran Vijayaratnam
Canada
629,000
6th
Terry Wheeler
U.S.A.
617,000
7th
Kyle Besaw
U.S.A.
584,000
8th
Alan Percal
U.S.A.
580,000
9th
Marty Zabib
U.S.A.
557,000
10th
Arnaldo Gordon
U.S.A.
536,000
Finally, Event #64 took place today too, with the opening levels of the $5,000-entry NLHE/PLO Eight Handed Mix begin with 579 entries, who were reduced to 49 by the close of play. Tomorrow will see the event play down to a winner ahead of the WSOP Main Event starting the following day.
Top of the leaderboard after a mammoth opening day was David Prociak (2,405,000) who bagged almost double anyone else's stack with Niklas Astedt (1,345,000) and Joni Jouhkimainen trailing in his wake.
Elsewhere, big names such as one of three Israeli players to make the top 10, Uri Reichenstein (1,010,000), streamer extraordinaire Jason Somerville (690,000), Noah Bronstein (705,000), Stefan Schillhabel (445,000) and Dan Smith (310,000) all made Day 2 , with the latter hoping to spin up some 'Cowboy' rungood in his bid to shoot down the opposition and win what would be the poker legend's first WSOP bracelet.
WSOP 2021 Event #64 $5,000 NLHE/PLO Eight-Handed
Place
Player
Country
Chips
1st
David Prociak
U.S.A.
2,405,000
2nd
Niklas Astedt
Sweden
1,345,000
3rd
Joni Jouhkimainen
Finland
1,215,000
4th
Greg Dyer
U.S.A.
1,175,000
5th
Tommy Le
U.S.A.
1,050,000
6th
Oliver Bosch
Austria
1,020,000
7th
Uri Reichenstein
Israel
1,010,000
8th
Shahar Levi
Israel
945,000
9th
Barak Wisbrod
Israel
865,000
10th
Corey Zedo
U.S.A.
785,000
Connect with PokerGO.com on Facebook, Twitter, and Instagram. Use code "WSOP2021" for $20 off an annual PokerGO.com subscription now!