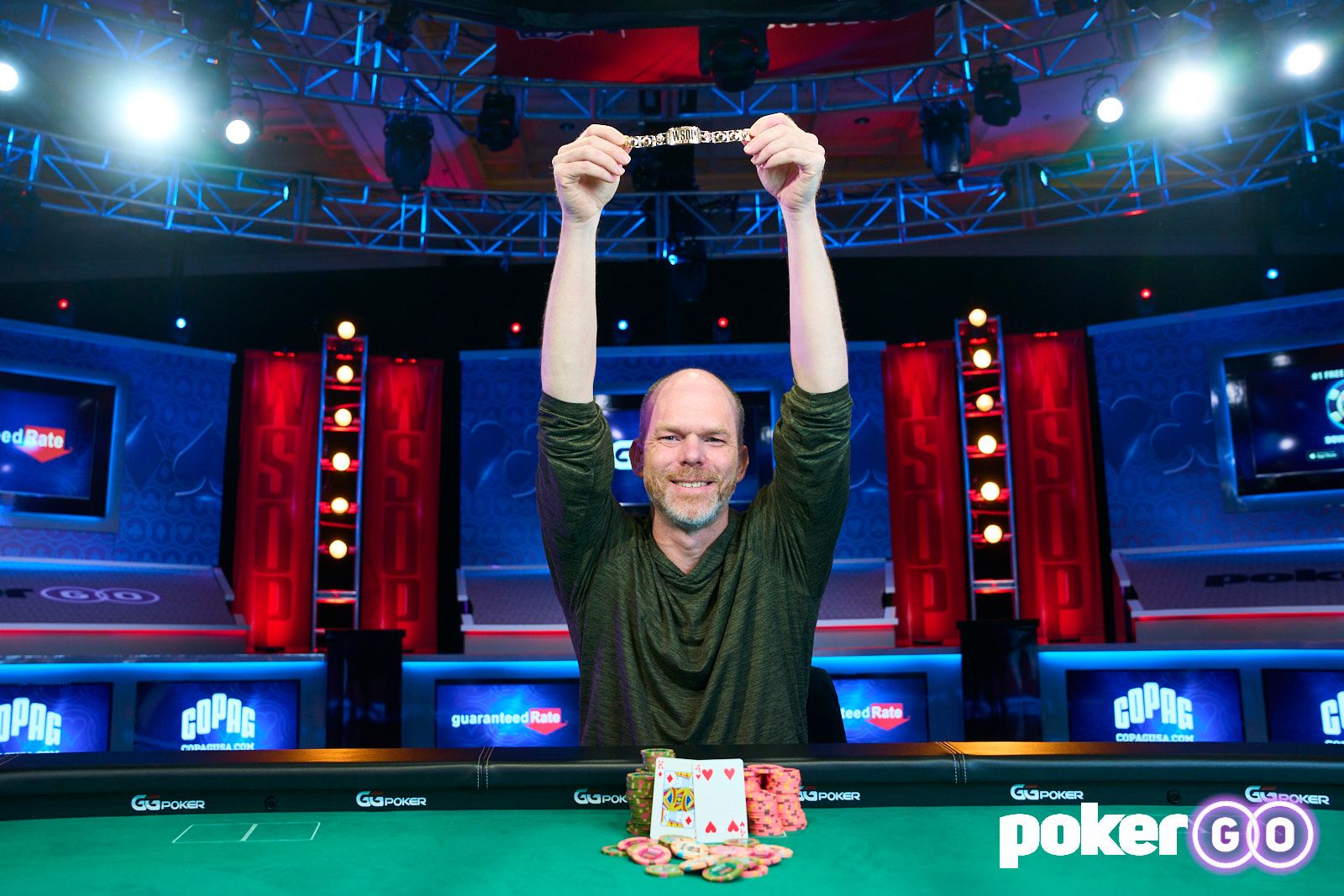 The latest day of World Series of Poker action saw a very familiar face at the top of one event leaderboard, while a new name made it onto the roster of WSOP bracelet winners and legends took to the felt as they battled towards glory.
It's time for a round of Rio action as Day 25 crowned a new champion and saw late drama in virtually every event.
Ryan Hansen Claims First Bracelet Win on PokerGO
The latest bracelet winner was a first-timer as Ryan Hansen fulfilled a lifelong dream to claim WSOP gold for the first time. Winning his bracelet on the live-streamed PokerGO final table, Hansen was ecstatic as he took down the $3,000-entry Six-Handed Limit Hold'em Event #44.
With some superb action seeing Hansen come back from being 2:1 down when he began his heads-up battle with Japan's Kosei Ichinose, Hansen claimed a memorable victory and banked the top prize of $109,692 as he became champion.
WSOP 2021 Event #44 $3,000 Limit Hold'em
Place
Player
Country
Chips
1st
Ryan Hansen
U.S.A.
$109,692
2nd
Kosei Ichinose
Japan
$67,796
3rd
Kevin Erickson
U.S.A.
$46,669
4th
Ken Deng
U.S.A.
$32,864
5th
Kenny Hsiung
U.S.A.
$23,688
6th
Steve Chanthabouasy
U.S.A.
$17,486
Jeff Platt the Man to Beat After Day 2 Double Stack Heroics
In the $1,000-entry Double Stack Event #43, our own Jeff Platt ended Day 2 as chip leader, with a stunning performance at the felt meaning the No Gamble, No Future co-host bagged up a top stack of over 3.3 million chips. Platt's nearest rivals overnight are Zach Daly (2,905,000) and David Guay (2,900,000), but plenty of other sharks remain in the water, with Belgian player Sylvain Naets (2,740,000) one of them.
Some big names busted on Day 2 as 1,064 players started but only 149 survived the day's play. Players to be eliminated included Daniel Lazrus, Dylan Line, Kathy Liebert, Anthony Spinella and Michael Gathy.
WSOP 2021 Event #43 $1,000 Double Stack
Position
Player
Country
Chips
1
Jeff Platt
U.S.A.
3,315,000
2
Zach Daly
U.S.A.
2,905,000
3
David Guay
Canada
2,900,000
4
Sylvain Naets
Belgium
2,740,000
5
Avraham Azulay
U.S.A.
2,715,000
6
Gene Harrill
U.S.A.
2,610,000
7
Kathy Stahl
U.S.A.
2,485,000
8
Matthew Vaughan
U.S.A.
2,255,000
9
Sihao Zhang
Luxembourg
2,250,000
10
Josue Aguirre
Mexico
2,175,000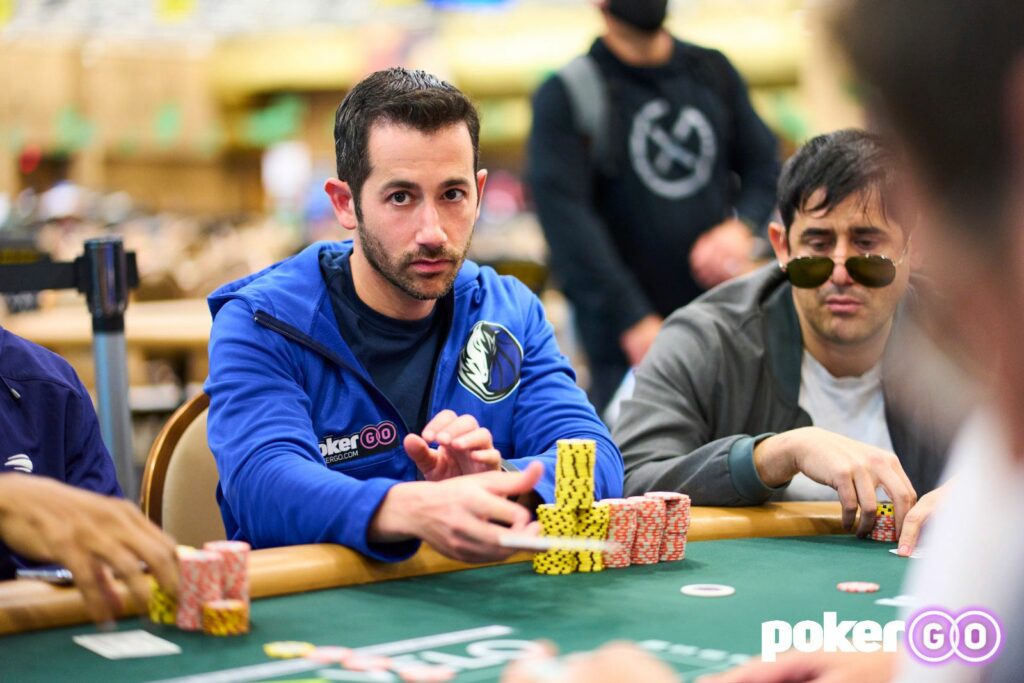 In Event #45, the Pot Limit Omaha Championship reached the latter stages as just 18 players made the cut for Day 3, with Jonathan Witz (2,620,000) the chip leader.
He was closely followed by some real superstars in the top 10 chipcounts, however, with players such as Daniel Zack (1,845,000) and Artem Maksimov (1,400,000) just two of the players to make the upper echelons of the leaderboard at the pivotal stage.
WSOP 2021 Event #45 $10,000 Pot Limit Omaha Championship
Position
Player
Country
Chips
1
Jonathan Witz
U.S.A.
2,620,000
2
Arthur Morris
U.S.A.
2,390,000
3
Chris Sandrock
U.S.A.
1,900,000
4
Daniel Zack
U.S.A.
1,845,000
5
Kyle Montgomery
U.S.A.
1,430,000
6
Artem Maksimov
Russia
1,400,000
7
Anderson Ireland
U.S.A.
1,305,000
8
Nader Younes
U.S.A.
1,190,000
9
Tommy Le
U.S.A.
1,000,000
10
Jordan Spurlin
U.S.A.
960,000
In Event #46, the $800 Deepstack event saw Alejandro Andión lead the remaining 120 players on Day 1 after 2,053 entries were whittled down during a fast and furious day at the felt.
With Joel Orum (1,705,000) and Tomasso Briotti (1,675,000) closest behind the leader, others to survive included James Moor (975,000) and Eric Baldwin (720,000) while stars such as Ryan Riess, Ari Engel, Jesse Sylvia and16-time bracelet winner Phil Hellmuth all hit the rail.
WSOP 2021 Event #46 $800 Deepstack
Position
Player
Country
Chips
1
Alejandro Andion
Argentina
2,400,000
2
Joel Orum
Canada
1,705,000
3
Tommaso Briotti
Italy
1,675,000
4
Jonas Wexler
U.S.A.
1,630,000
5
William Blais
Canada
1,600,000
6
Koray Aldemir
Austria
1,380,000
7
Xiao Yu
U.S.A.
1,345,000
8
Virab Zakaryan
U.S.A.
1,345,000
9
Itzhak Ashkenazi
Israel
1,325,000
10
Gregory Giannokostas
U.S.A.
1,275,000
Just 82 survivors emerged from 421 entries in the $5,000 Freezeout Event #47, with Daniel Negreanu (617,000) and Daniel Lazrus (597,000) both hovering behind chip leader Jamie Sequeira (1,070,000).
Other stars of the felt such as Finnish tournament and cash game player Joni Jouhkimainen (559,000) and WSOP Main Event runner-up Tony Miles (429,000) survived, but other big names busted, such as Chance Kornuth, Paul Newey and Manig Loeser.
WSOP 2021 Event #47 $5,000 Freezeout
Position
Player
Country
Chips
1
Jamie Sequeira
Canada
1,070,000
2
Benjamin Chalot
France
733,000
3
Daniel Rezaei
Austria
702,000
4
Daniel Negreanu
Canada
617,000
5
Daniel Lazrus
U.S.A.
597,000
6
Ivan Galinec
Croatia
561,000
7
Joni Jouhkimainen
Finland
559,000
8
Johan Martinet
Mexico
450,000
9
Jongwook Lee
South Korea
430,000
10
Tony Miles
U.S.A.
429,000
Connect with PokerGO.com on Facebook, Twitter, and Instagram. Use code "WSOP2021" for $20 off an annual PokerGO.com subscription now!