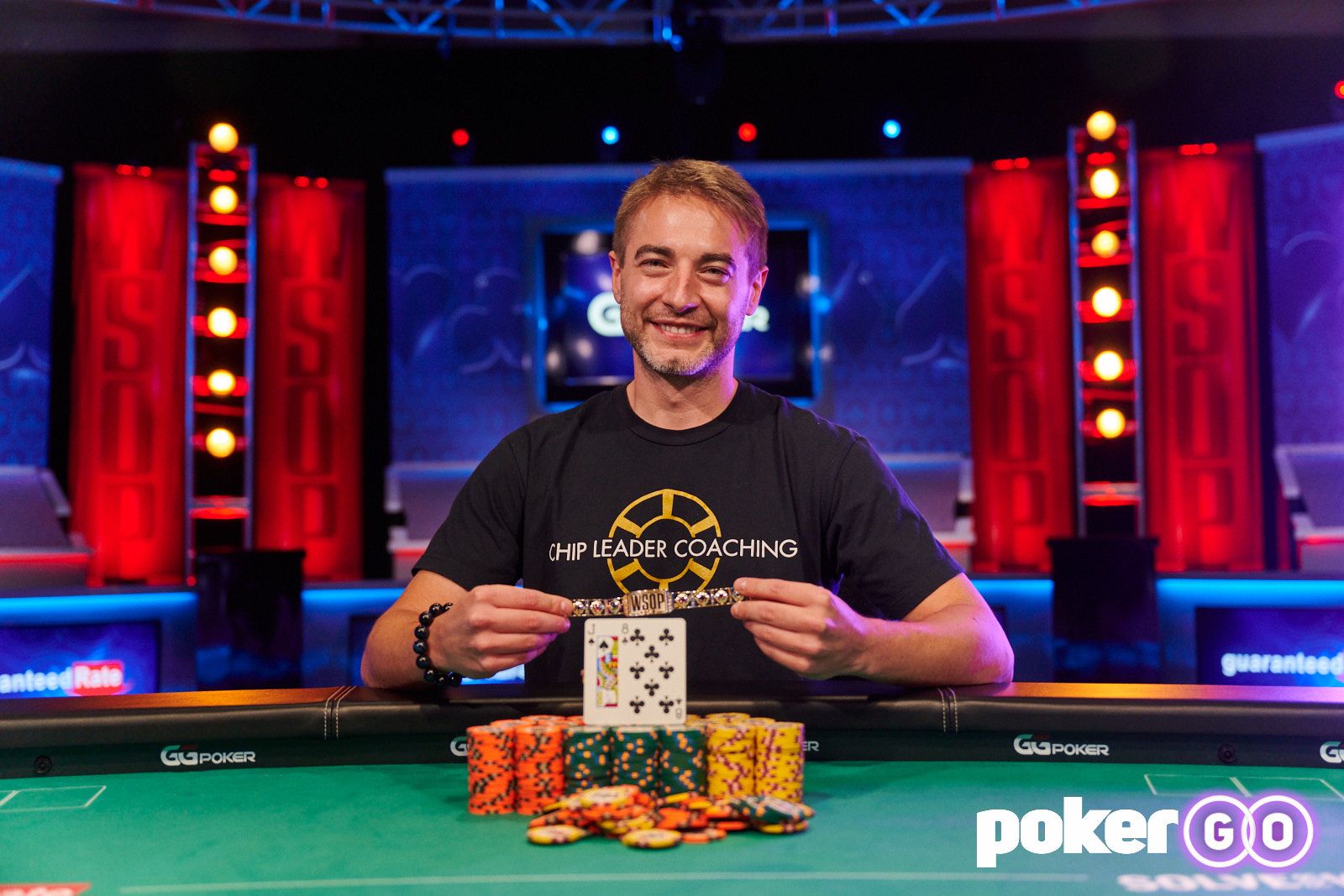 Chance Kornuth celebrated his third WSOP victory last night in Las Vegas as the popular poker pro and coach in the game won the $10,000-entry Short Deck Event #29 for a top prize of $194,670.
Kornuth the King Once Again as Chance Wins Third Bracelet
Chance Kornuth won his third bracelet last night as he was victorious in Event #29, the $10,000 Short Deck event, where he defeated Chad Campbell to win his third WSOP bracelet. The final began with six players in seats and Kornuth held a slim chip lead over Campbell, who was one of four players at the table without a bracelet win in their careers.
Short-stacked Thomas Kysar was first to leave the action, and he was followed from the felt by the only other man to win WSOP gold previously in Joao Vieira. Israeli player Moshe Gabay busted in fourth place before Dan Shak missed out on the chance to win his first-ever WSOP bracelet.
Heads-up was a battle between the two men at the top of the chipcounts at the start of the day, as Kornuth overcame Chad Campbell and sealed victory in the Thunderdome.
Watch all the action as the final six played down to a winner at the Rio right here:
WSOP 2021 Event #29 $10,000 Short Deck
Place
Player
Country
Prize
1st
Chance Kornuth
U.S.A.
$194,670
2nd
Chad Campbell
U.S.A.
$120,316
3rd
Dan Shak
U.S.A.
$82,678
4th
Moshe Gabay
Israel
$58,601
5th
Joao Vieira
Portugal
$42,885
6th
Thomas Kysar
U.S.A.
$32,437
Weisman the Winner in Pot Limit Omaha
Event #28 saw Dylan Weisman win his first-ever WSOP bracelet as he triumphed on the final day and took the gold at the expense of Craig Chait heads-up. Weisman's first bracelet came in an event where the eliminations came thick and fast, with Weisman at the heart of many of them.
With a total of 1,069 entries and a prizepool of just over $950,000, Weisman was in control of much of the final table and entered heads up with a lead of 10:1 against Chait. With earlier players busted from the final table including Manan Bhandari (seventh for $22,787) and Alexander Yen (third for $74,239), Weisman's win saw his friends hoist him on their shoulders and hurl him into the air.
WSOP 2021 Event #28 $1,000 Pot Limit Omaha
Place
Player
Country
Prize
1st
Dylan Weisman
U.S.A.
$166,461
2nd
Craig Chait
U.S.A.
$102,884
3rd
Alexander Yen
U.S.A.
$74,239
4th
Tim Van Loo
Germany
$54,230
5th
Ran Niv
Israel
$40,109
6th
Chase Fujita
U.S.A.
$30,040
7th
Manan Bhandari
U.S.A.
$22,787
8th
Youness Barakat
Italy
$17,510
The second starting flight of Event #30, the $1,500-entry event with an almost $4.7 million prizepool, saw 1,972 players build the total entries in the event to a whopping 3,520. Of the Day 1b entries, just 701 players made the cut, meaning that combined with Day 1a's 518 survivors, just 1,219 remain in the hunt for the $610,347 top prize.
Day 1b's chip leader at the close of play was Rajaee Wazwaz, whose pile of 510,500 chips dwarfed most, with the closest two challengers to Wazwaz being Pavel Plesuv (483,500) and Ryan Leng, who already has one 2021 live WSOP bracelet to his name. Elswhere in the top 10, there was also a spot for another newly-crowned WSOP champion in Dylan Linde (443,000), who will be hoping to add a no limit hold'em bracelet to his mixed game win the other day.
WSOP 2021 Event #30 $1,500 Monster Stack
Position
Player
Country
Chips
1st
Rajaee Wazwaz
U.S.A.
510,500
2nd
Pavel Plesuv
Moldova
483,500
3rd
Ryan Leng
U.S.A.
473,000
4th
Mitchell Collins
U.S.A.
465,000
5th
Dylan Linde
U.S.A.
443,000
6th
Francois Pirault
France
440,500
7th
Joshua Gordon
U.S.A.
440,500
8th
Yeon Bae
South Korea
433,500
9th
La Sengphet
U.S.A.
428,000
10th
Matthew Eng
U.S.A.
424,500
Event #31 saw the $1,500 No Limit 2-7 Lowball Draw event reach the final 10 players from a total field of 84 players. With Rep Porter the chip leader with 1,129,000 chips, the headlines will belong to Phil Hellmuth as the 'reformed' Poker Brat made his fourth final day of the Series so far, racking up 1,016,000 as Porter's closest challenger.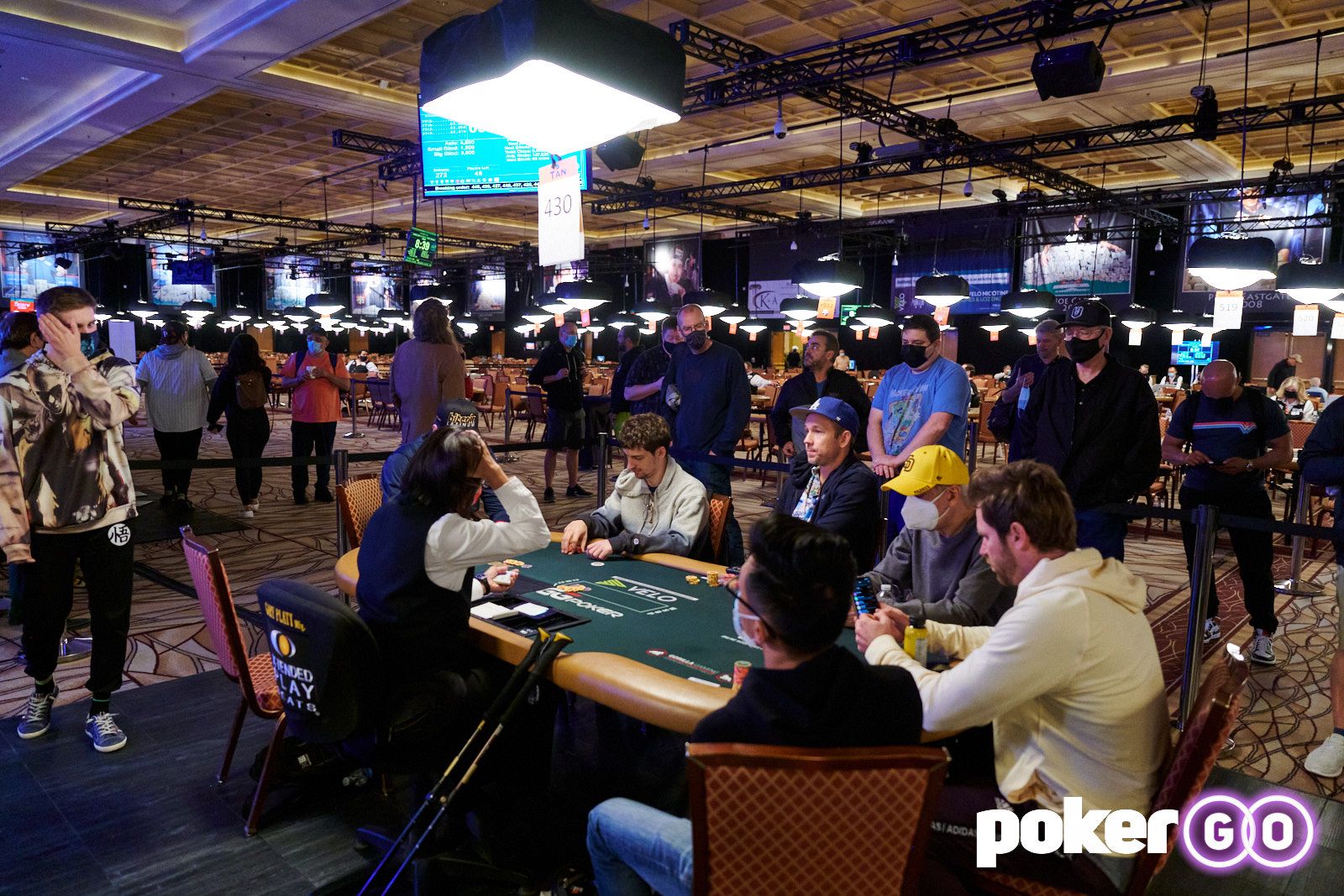 Elsewhere in the final ten players, there was a bag for Italian WSOP Main Event runner-up Dario Sammartino, whose 800,000 chips represent a great chance for him to grab gold, while Jake Schwartz (398,000) and 2013 Main Event winner Ryan Riess (266,000) will go into play as short-stacks who have a wealth of experience to call upon.
WSOP 2021 Event #31 $1,500 No-Limit 2-7 Lowball Draw
Position
Player
Country
Chips
1st
Rep Porter
U.S.A.
1,129,000
2nd
Phil Hellmuth
U.S.A.
1,016,000
3rd
Kenji Faris
U.S.A.
840,000
4th
Dario Sammartino
Italy
800,000
5th
Jason Papastavrou
U.S.A.
666,000
6th
Jason Lipiner
U.S.A.
663,000
7th
Kevin Gerhart
U.S.A.
581,000
8th
Chris Vitch
U.S.A.
447,000
9th
Jake Schwartz
U.S.A.
398,000
10th
Ryan Riess
U.S.A.
266,000
Event #32 was the final event of the day to close play for the night as Saturday's superstars of H.O.R.S.E. bagged up their chips and saddled up for the night. At the end of the night, Lithuanian player Vincas Tamasauskas held the chip lead with 197,000 chips, as John Fahmy (188,700) and Brian Hastings (178,400) followed him in the chipcounts.
Elsewhere, players such as Maria Ho (169,400), David Williams (168,900), John Monnette (120,600), Max Pescatori (106,100), Daniel Negreanu (95,900), Ari Engel (95,100), Eli Elezra (83,200) and Robert Mizrachi (79,700) all made Day 2, with stars such as Dan Shak, Cary Katz and Chino Rheem among those who were unable to make the next day, with around half of the 282 entries falling out of contention for the bracelet.
WSOP 2021 Event #32 $3,000 H.O.R.S.E.
Position
Player
Chips
1st
Vincas Tamasauskas
197,000
2nd
John Fahmy
188,700
3rd
Brian Hastings
178,400
4th
Daryl Aguirre
174,600
5th
Sachin Bhargava
173,300
6th
George Alexander
169,700
7th
Maria Ho
169,400
8th
Jose Paz-Gutierrez
169,400
9th
David Williams
168,900
10th
Paramjit Gill
139,500
Connect with PokerGO.com on Facebook, Twitter, and Instagram. Use code "WSOP2021" for $20 off an annual PokerGO.com subscription now!