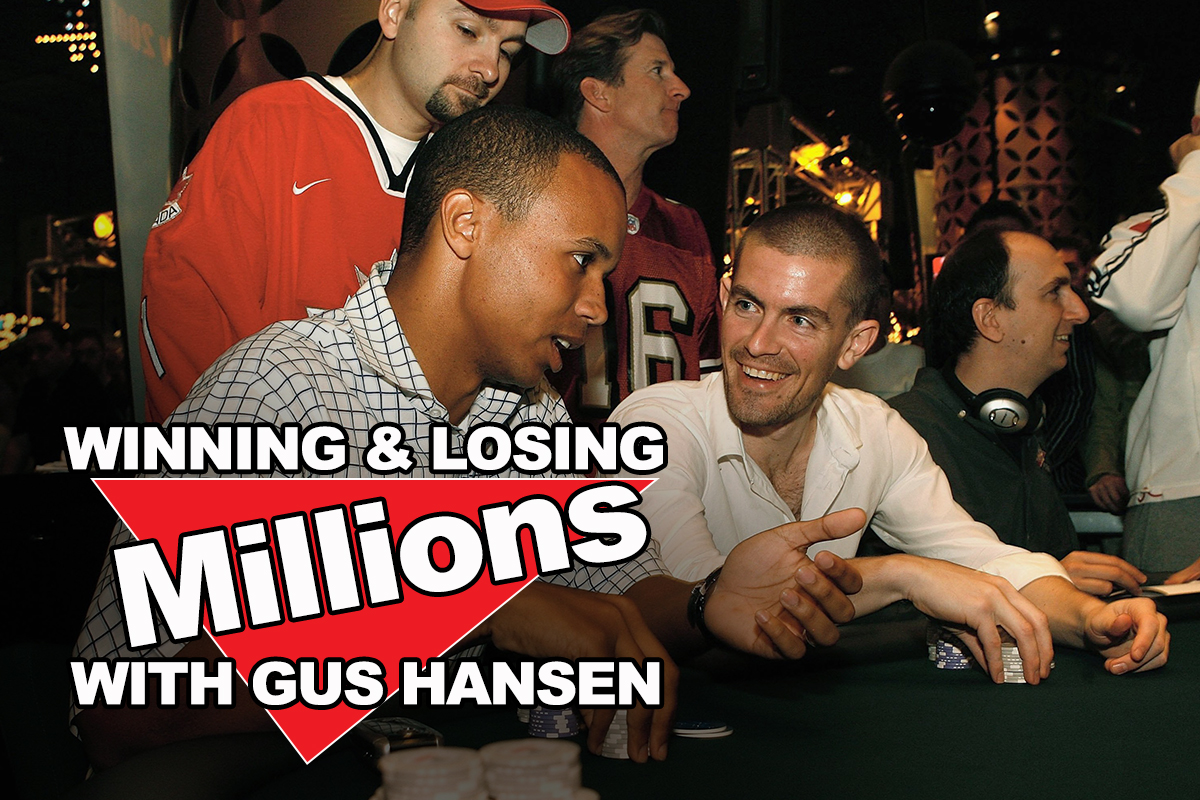 Of all the poker players that fans love but don't understand, Gus Hansen might be at the top of the list. An enigma, Gus Hansen may have written a poker book, the hugely popular Every Hand Revealed, but he has also walked out of tournaments when the chip leader, gone from zero to hero to win from nowhere and disappeared for years at a time. Gus Hansen is a unique poker player who has won and lost millions playing the game we all love.
THE EARLY YEARS OF THE GREAT DANE
In the 1999 movie the Talented Mr. Ripley, Jude Law's character Dickie Greenleaf states: 'Everybody should have one talent, nobody should have more than one talent' to the Ripley of the title. He clearly never met Gus Hansen, whose early years consisted of not one but three major talents that the Danish legend was using to his advantage. That was literally the case when it came to his sporting passion of tennis, in which he was a champion during his youth. He then turned his attentions to backgammon, where he became one of the world's best players. Finally, not long after the release of the Talented Mr. Ripley, the turn of the millennium gave way to a change of career – to that of a professional poker player.
A HOT STREAK CREATES A HERO
To say that Gus Hansen timed his run at poker well would be a bit like saying Robin Hood had a knack for firing arrows. Hansen's first ranking title win was in 2002, where he won $556,460 by taking down the $10,000-entry Five Diamond World Poker Classic, defeating a final table that included John Hennigan and Scotty Nguyen and saw John Juanda finish as runner-up. Both Hansen's next two cashes were victories too, the first of which was the L.A. Poker Classic Main Event, which he won for another half a million dollars just a few months before Chris Moneymaker won the World Series of Poker Main Event.
Can @GusHansen get away or will he pay off @Scott_Seiver? Watch this PLO hand and then watch $3,000/$6,000 10-Game Mix action LIVE on PokerGO!
▶️ https://t.co/5rUlItuiNK pic.twitter.com/3WR2LK6FmC

— PokerGO (@PokerGO) December 13, 2018
THE MILLION DOLLAR MAN
More victories followed, with the Poker Superstars Invitational Event just one of them, Hansen outlasting Johnny Chan and Phil Ivey in the final three to take the top prize of a million dollars, his first seven-figure score. It would be the first of several high-profile million-dollar results. The next time he won a million, it was in Australian dollars too, the top prize translating to around $1.2m in U.S. Dollars as Hansen cracked Down Under, winning an Aussie Millions Main Event final table that included Andy Black and runner-up Jimmy Fricke.
By the time he played the Full Tilt Poker 'Poker Million', he had already a superstar of the game, winning his only WSOP  bracelet to date in the £10,000-entry Heads-Up event at the World Series of Poker Europe in London. The title-deciding match against James Collopy came after players such as Ram Vaswani, Neil Channing, Daniel Negreanu, and Huck Seed all finished close but not close enough.
The Poker Million, however, was something entirely different. It was a million dollars to the winner… but nothing to anyone else. You needed minerals of steel to take it down, and at a final table that boasted a who's who of the game at the time – players such as British luminaries Tony Bloom, Gary Peniket, James Bord and Hendon Mobster Barny Boatman and International stars such as Seth Webber, Howard Lederer and Patrik Antonius – Hansen had what it took. Here was a poker hero who could beat all contenders if everything was on the line. The bigger the risk, the bigger he liked it. The Great Dane was unbeatable.
BLACK FRIDAY AND ONLINE SWINGS
To say that 2011 hit online players hard would be to master the understatement. Hansen was a Full Tilt pro and as such, was associated with the disaster that was Black Friday more than most. Over the years, Hansen has had a love/hate relationship with online poker. Rumors have always surrounded him that suggests he is a losing player and has even lost as much as $20 million. The true figure in Hansen's profit and loss columns may never be known but it seems unlikely to us that Hansen, that smartest of players, would ever allow himself to run dry. He's too good at the game and has always found a way back in. One example of this came in a poker tournament in London around a decade ago. Hansen was chip leader and in pole position to seal the victory. Hearing of a lucrative backgammon game that he wouldn't want to miss, Hansen left the poker table, and played backgammon for the highest stakes, allowing his stack to simply blind away. He knew where the most money was to be made and went for it.
The legend of Gus Hansen isn't confined to his book Every Hand Revealed, just like it isn't restricted to his efforts in poker, backgammon or tennis. There is a lot more to Gus Hansen than what meets his eye, and the end of his story is still a long way off. The only certainty when it comes to the Great Dane is that he'll be back… and probably even bigger and better than ever before.
Want to watch classic Gus Hansen moments? Check out Poker After Dark in The Vault, Dolly's Game, and much more as your favorite player is involved in many of our biggest broadcasts. Subscribe now to watch all the action!