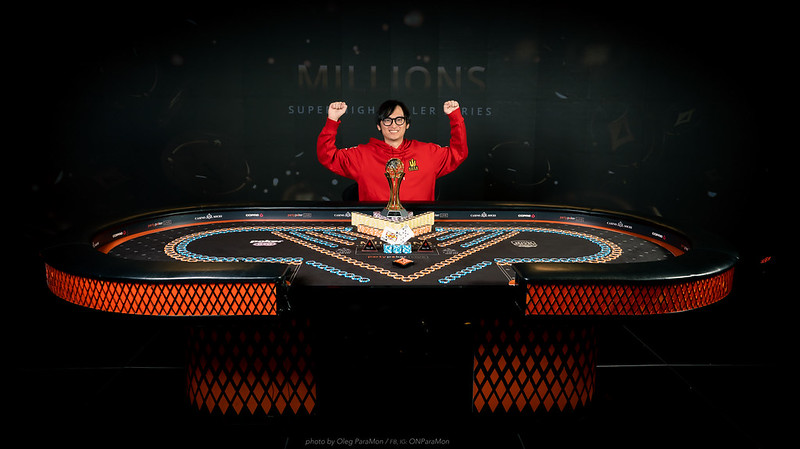 The trophy and $800,000 first prize in Event #5: $50,000 Short Deck went to Wai Kin Yong today, after a heads up battle that truly deserves the name against the player many consider the GOAT, Phil Ivey.  Making his first final table at the partypoker LIVE MILLIONS Super High Roller Series Sochi, Yong may have been an unknown quantity to some watching the live stream, but has proven his chops (to the tune of over $10 million in winnings) at the highest buy-in levels worldwide.  He was the very last player to register in Event #5, and when the dust settled, he was also the last player standing from a field of 50.
Recap all Live Reporting coverage from this event here and check out the full final table stream on PokerGO here.
Returning today were eight in-the-money players, still short-handed on two tables.  With the elimination of Paul Phua (who narrowly missed out on his third final table here in Sochi), the consolidated final began with a double through for Yong through chip leader Mikhail Rudoy.
Early action was driven by Cary Katz and Sam Greenwood, both experienced super high rollers with over $20 million in winnings apiece and fresh from sharing a final table in yesterday's Event #4.  The latter, however, started Ivey's ascent to the chip lead, exerting the pressure of his big stack by moving in preflop with king-jack offsuit but finding Ivey willing to risk his middle-of-the-pack stack in its entirety with ace-jack.  Though Greenwood flopped the nut straight, running tens filled Ivey's boat in a dramatic double.  This was not, however, to be the most eye-catching hand the two of them were to play on the final.
Seth Davies, who had seen few playable hands at this crucial stage of the tournament, lost his one all-in confrontation to Rudoy, jamming king-ten suited vs. Rudoy's limp-calling ace-jack suited and receiving no help from the deck.  Davies, a prior $250,000 Super High Roller Bowl finalist, picked up $125,000 for 7th place, and the "official" final table of six continued.  Ivey had taken the lead, with Rudoy now a close second in chips when a huge flip (jacks vs. ace-king, all in preflop) propelled the sole Russian finalist to the exit in 6th ($150,000).
Aaron Van Blarcum followed Davies to the rail, having provided Yong with his second double through (calling most of his stack with pocket tens on the button when Yong moved in preflop with queen-jack suited and failing to hold).  Left with dust thereafter, Van Blarcum's incredible fourth final table appearance this week came to an end with a $200,000 payday, a trophy still proving elusive.
Cary Katz has spent almost as much time on live streamed final tables in Sochi since Saturday as Van Blarcum and today added $250,000 to his winnings with his 4th place finish, having manoeuvred a short stack around the bust-outs of his fellow Americans.
Ivey was now to finish what he started vs. Greenwood.  Having flat called preflop with two red aces and seen check from button Greenwood (holding king-eight of clubs), Ivey went on to flop a set, turn quads, and find the river bringing in Greenwood's flush (in this variant, a hand that beats a full house).  The river saw two big stacks fly in, and only one come out: that of Ivey who suddenly found himself heads up with more than a 2:1 chip lead.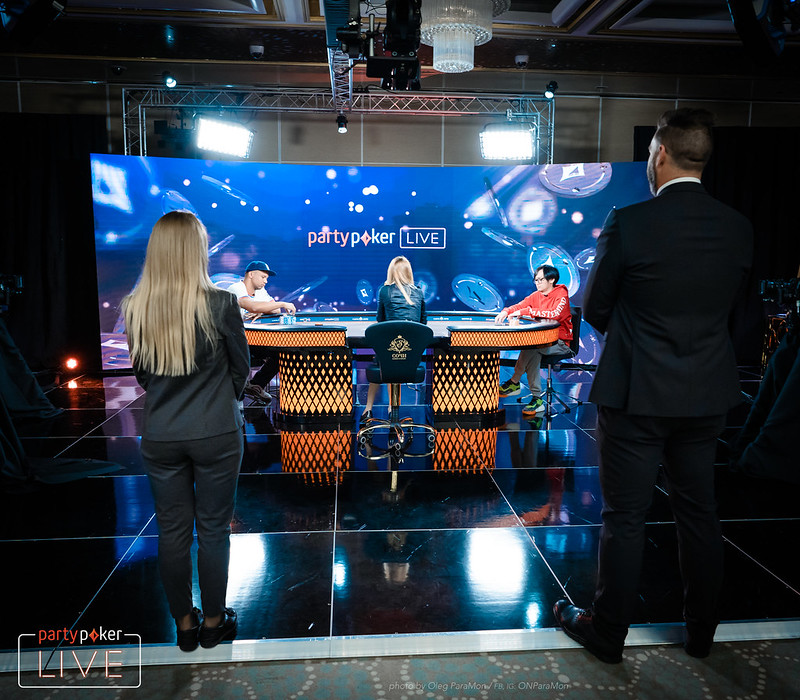 There followed a lengthy, quick-fire, small-ball period where Yong fought back against Ivey, nearly bringing the stacks to parity, before losing a big pot to send Ivey into end-game relentless mode.  Such was the pressure of the blinds, however, that one all-in pot flipped the chip lead, and minutes later Yong had clinched victory.  Ivey showed a return to tournament form at the top level after something of a hiatus, winning $525,000, while Yong took the trophy and $800,000.
Full results:
Live reporting continues from Event #6: $100,000 No Limit Hold'em, the first six-figure buy-in event of the series here. Its final table will be streamed on PokerGO from 7am EDT/2pm local time tomorrow, with live blogging continuing concurrently.