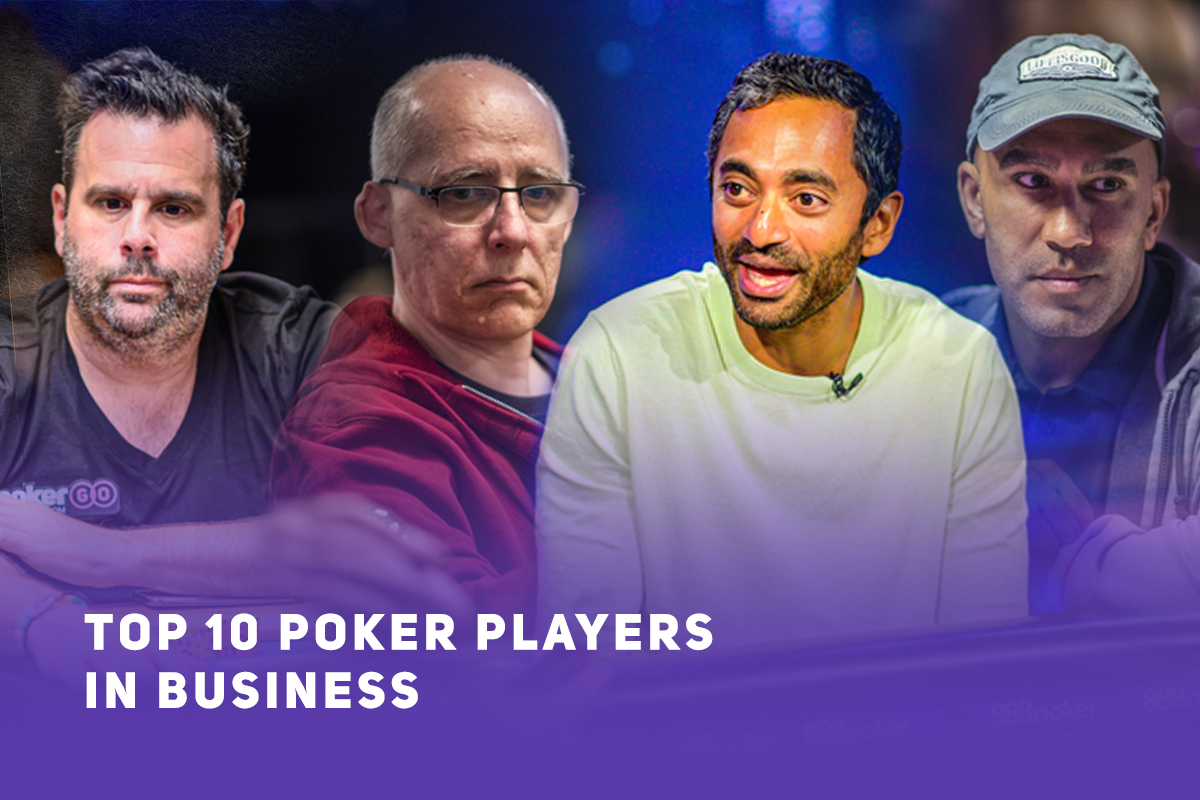 Poker has long been a game in which the business professional had a lot of power. Businessmen and women have been playing poker for a long time and have kept games going, made million-dollar tournaments come together in the first place and have provided insight into how the game of poker can grow for many years using their vast professional acumen in that area.
For some time, business owners were seen as good value to have in the game. They were competitive but not professional, so many top players enjoyed the fact they were involved in a number of levels.
That's not the case anymore.
Business owners of the 21st century are poker-savvy beyond their poker ancestors wildest dreams. Hedge fund managers, investment gurus, and stock market wizards know a thing or two about when to put their money in and when to resist that urge.
Here are 10 of our favorite business-related poker players and what makes them great to be around, but some of the toughest competitors in poker at any table.
1. Talal Shakerchi
The British super high roller expert is a highly successful investment manager when he's not at the felt, and the founder and CEO of Meditor Capital Management Limited is clearly a formidable man in the business world. The same is true at the felt, and with over $7.6 million in earnings at the felt, showed he was a player to be reckoned with at the $50,000-entry Poker Players Championship last summer at the 2019 World Series of Poker. Check out this hand below where he goes up against Phil Ivey.
🚨 Did Phil Ivey fold another WSOP winner!? 🚨 @ali_nejad and @PrahladFriedman break down the PPC blunder: https://t.co/6DynX4XdZe #WSOP50 pic.twitter.com/uY5DOAfnk6

— PokerGO (@PokerGO) June 28, 2019
2. Rob Yong
The man behind so many of the changes to partypoker over the last few years has hardly been out of the headlines since swapping the ownership of Eastwood Town for the running of Nottingham's Dusk Till Dawn Casino. Both businesses threw up massive challenges which Yong overcame with flair, but his business nous has been a huge benefit to partypoker as their MILLIONS tour and partnership with Triton have made them a huge player in the poker world.
3. Chamath Palihapitiya
The venture capitalist and the founder of Social Capital, who is also a member of the board of the Golden State Warriors is also a powerful force at the poker table. Palihapitiya doesn't just play high rollers with small fields, he finished 101st in the WSOP Main Event back in 2011.
4. Rick Salomon
You may have heard of him through other headlines, but Salomon has proved himself a Big One in poker, too. Winning $2.8 million at the 2014 Big One for One Drop, $3.3 million at the 2016 Big One for One Drop and $2.84 million in the 2018 version of the event.
5. Bill Perkins
He may be trying to 'Die With Zero', but Bill Perkins is also happy to play poker at the highest level and trade blows with the best. Perkins actively values time more than money, as he told Remko Rinkema and is a regular at big money events on PokerGO.
6. Lauren Roberts
The lady who grew up with gambling is now a major part of the modern-day poker game, and often the most popular star of the poker tournaments she plays in. Is she a 'queen among kings'? Decide for yourself:
7. Randall Emmett
What can be said about Randall Emmett that hasn't already been written? The living poker legend is a whirlwind of poker action, table talk and personal drama that a daily soap opera would survive for twenty years being based on. Emmett is always fun at the felt, but when the action is on him, he's a walking, talking mouthpiece of mirth.
8. Paul Newey
The former Ocean Finance owner-turned-poker player and slots king, Paul Newey won his first-ever major tournament at this year's British Poker Open at Aspers Casino in London. Always gregarious at the table, Newey is a shark underneath his 'beachwear' style open shirts and loves to play poker when he can see the whites of his opponents' eyes.
A top dollar turn for a @TOPDOLLARMAN!

Paul Newey picks up his first tournament win in Event #3 of the British Poker Open! https://t.co/09gUveUtK4 #BPO 🇬🇧 pic.twitter.com/xwnhFGsltG

— PokerGO (@PokerGO) September 5, 2019
9. Dan Fleyshman
Entrepreneur, Angel Investor and business legend, Dan Fleyshman is the youngest person ever to trade his company publically, which he did at the age of 23. Having won seven ranking tournaments, Fleyshman has some poker props too, and when he's not helping people invest their money correctly, he's doing so at the tables. His biggest tournament result came at the World Series of Poker Europe Main Event in 2010, when he finished in 7th place behind the eventual winner, James Bord.
10. Dan Shak 
Winning over $10 million in tournaments alone, Dan Shak is one of the businessmen you'd want your own money on in any tournament. He's got two seven-figure wins in his back catalog and can always be relied on for a superstar play followed by a winning smile.
You can make the right investment when you subscribe to PokerGO for 24/7 poker coverage. It's the poker world's best content at a great value price, and with plenty of live streaming events on the cards, you'd be mad to miss out on the fun.