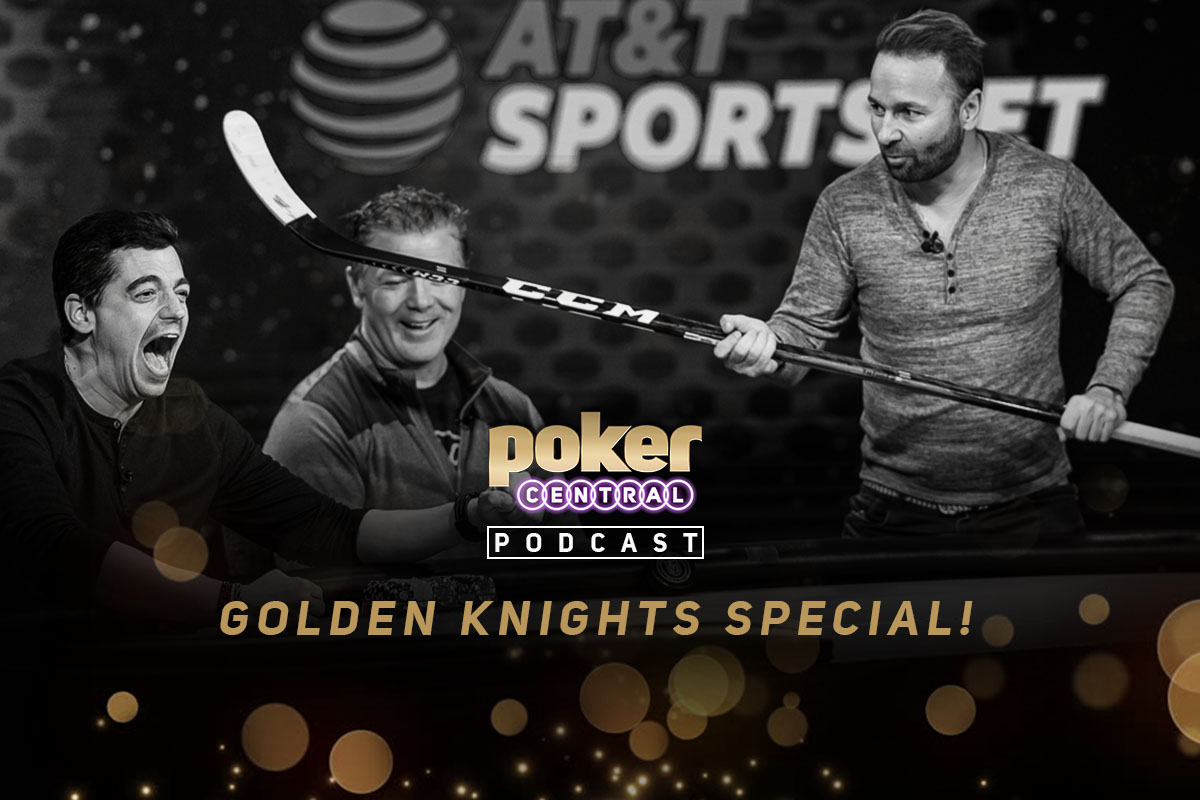 Today, on this very special episode of the Poker Central Podcast we bring you the AT&T SportsNet team of Brad May and Nick Gismondi who visited us at the PokerGO Studio. Daniel Negreanu also joined the show to talk some hockey and poker. Watch the Knight Life feature that was taped at the PokerGO Studio at 6pm PT on Friday.
Peep the all new episode of #KnightLife this Friday at 6pm PT. @maydayhockey @NickGismondi and @RealKidPoker talk all things @GoldenKnights and poker. @AlysonLozoff keeps these characters in check all while getting to know @reavo7five. You don't want to miss it! pic.twitter.com/MknrjSA0HT

— AT&T SportsNet™ | RM West (@ATTSportsNetRMW) February 28, 2019
1:58 – The start of the conversation with the Vegas Golden Knights broadcast team Nick Gismondi and Brad May as well as Poker Hall of Famer Daniel Negreanu.
4:06 – Daniel Negreanu on how the Golden Knights immediately became an integral part of the Las Vegas community.
5:14 – Brad May and Nick Gismondi on the knowledge that Daniel Negreanu has on hockey, and how he called certain things that ended out coming true.
9:00 – Hockey analytics versus analytics in other sports. Is hockey evolving as quickly as the other sports are?
11:40 – Brad May and Nick Gismondi on why analytics aren't the end all be all of the National Hockey League.
13:50 – What does the Mark Stone trade tell us about the Vegas Golden Knights approach and how general manager George McPhee sees the future?
19:20 – Brad May got schooled by Daniel Negreanu at the poker table! And the story of him qualifying for the 2008 World Series of Poker Main Event and playing in the biggest event of the year.
23:57 – Stories from Brad May on playing poker and other card games during his 19-year career in the NHL.
26:40 – The best and favorite NHL players that Brad May played with and against.
28:28 – Does Las Vegas have an added home advantage because of the entertainment available in the city?
32:00 – The team atmosphere between Brad and Nick doing the AT&T SportsNet broadcast.
33:00 – Daniel Negreanu, Brad May, and Nick Gismondi share their Vegas Golden Knights rest of the season predictions and a Stanley Cup hot take.

New to the podcast? Subscribe right now and leave us a review on your favorite podcasting app. New to PokerGO and ready to watch some exciting poker action? Subscribe right now to never miss another minute of action.