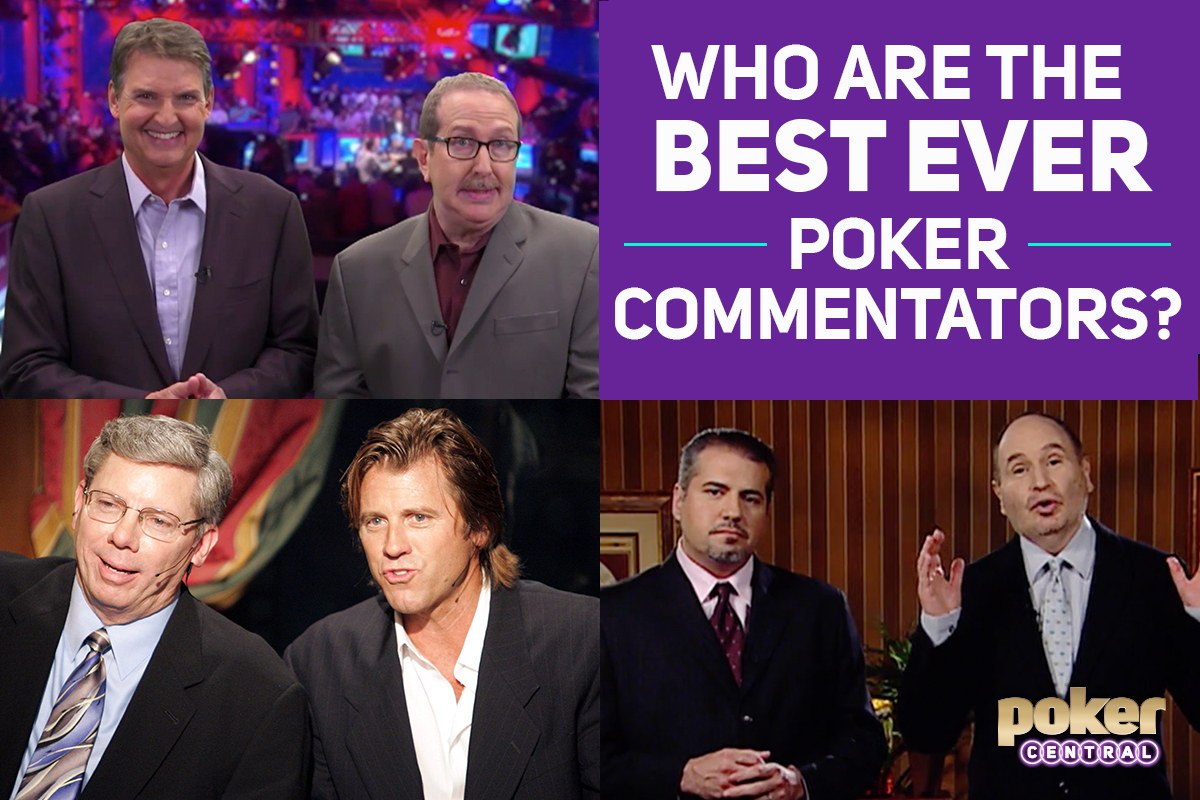 Playing poker is at the top of any person that loves the feeling of chips and cards, but when things are outside your bankroll or when you've been eliminated from a big tournament, then next best thing is watching the action unfold on TV or PokerGO. Bringing poker to life is an art, and we've delved into the vault to bring you some of the very best at bringing poker to life.
The Duos
It's impossible to ignore that poker partnerships behind the microphone have made poker one of the best games to watch ever. No other mind sport has made it to popular mainstream viewing, such as Chess or Backgammon, but somehow poker has. It has as much to do with the people describing the action as those at the felt.
Norman Chad & Lon McEachern
As Daniel Negreanu said back in 2015, it's hard to look past Chad and McEachern as the go-to poker commentators, so long have they been presenting the World Series of Poker footage from Las Vegas, Nevada. In recent years this iconic duo has been supported by the likes of Jamie Kerstetter, Antonio Esfandiari, Daniel Negreanu, and Phil Hellmuth on the live broadcasts of the WSOP Main Event final table. Watch Stories from the Felt featuring Lon & Norm on PokerGO right here.
I truly believe that @NormanChad and @lonmceachern are the best TV poker commentators around. Simple, funny, and connects with casual fans.

— Daniel Negreanu (@RealKidPoker) August 19, 2015
'Norm and Lon' have brought some phenomenal poker drama our way over the years, such as this amazing final table in the WSOP Main Event of 2017.
Joe Stapleton & James Hartigan
The legendary pair have brought European Poker Tour, PokerStars Caribbean Adventure and many other PokerStars events to fans for 10 years now. Working a classic straight man and funny man routine, the rapport between the two very different men is fantastic.
Hartigan's natural presenting skills mixes perfectly with 'Stapes' and his stand-up comedy ability. With superb chemistry, intelligent material and on-point delivery, listening to Stapes and Hartigan has become something associated with poker by millions.
Mike Sexton & Vince Van Patten
Having brought the World Poker Tour to life for such a long time, one of the biggest losses to poker fans was when Sexton swapped WPT for partypoker a few years ago.
These two have such a buddy-cop-movie vibe about them that you don't ever want them to stop talking, and they've transformed truly special action together for years.
Gabe Kaplan & A.J. Benza
It's easy to create poker content these days, but back when Gabe Kaplan and A.J. Benza were revolutionizing poker commentary, it wasn't. High Stakes Poker would have been nothing if not for the insights of Benza and Kaplan, whose foray into poker was the latest move in a chequered career that always made fans of his laugh.
This episode is a great example of how some very special chemistry and some ship-smart humour always kept the action as big as the pots the players played.
Jeff Platt/Ali Nejad & Brent Hanks
Technically not a duo, the combination of either Jeff Platt and Ali Nejad and Brent Hanks have brought some of your favourite poker moments to life over the last few years here at Poker Central and on PokerGO. From the flawless professionalism of Jeff Platt, and the effortless ease of Ali Nejad to the acerbic wit of Brent Hanks, there's so much more to come from our men behind the mic.
You can probably remember moments like Daniel Negreanu and Doug Polk clashing in the 2018 Super High Roller Bowl, as well as Nejad's earlier work on classic episodes of Poker After Dark, but the most exciting thing about this trio is the hands yet to be played… and commentated on. We can't wait.
The Players
Antonio Esfandiari
'The Magician' has long been one of the most prominent voices that bring the World Series of Poker to life. Frequently given plenty of criticism by some players for his work during the WSOP Main Event, Esfandiari actually deserves a lot of credit for providing the crucial bridge between fans and the regular commentators with some player insight and no little humour.
Phil Hellmuth
Pure comedy at the felt for his frequent rage-induced 'Poker Brat' moments, Phil Hellmuth is actually a really good co-commentator and very different from the persona we see at the poker table. Hellmuth's calm, considered understanding of the game from different perspectives always offers something new to counterbalance the naturally dramatic commentary from regular presenters.
Randy Lew
Known for his recent work behind the mic on the Triton events, 'Nanonoko' is both an incisive player-commentator as well as an entertaining presenter himself. It's impossible to say for sure, but he could have a real longevity in the game as a commentator through the next few decades.
Nick Schulman
Everyone's current favourite player behind the mic, Nick Schulman is enormously popular despite being so successful that he has recent WSOP bracelets falling off an already-full mantelpiece. Cutting through any spiel with a slacker-but-smart vibe that's difficult not to love, he's at his peak, possibly as a player and commentator in one go. His interview during the World Series with Brent Hanks and Remko Rinkema was priceless!
David Tuchman
Often overlooked, we want to pay credit to David Tuchman. He's provided commentary on some of the most iconic poker moments of all-time across a massive span of years. From legendary voice work on Phil Ivey losing a million in one pot to being on the spot for the recent moment when Phil Galfond came from $900,000 down to move into profit in his Galfond Challenge, Tuchman is so often the man who brings the big moments to life in a way that everyone can enjoy. That's so, so difficult to do.
Want to watch more poker content than you could manage in one summer? Subscribe to PokerGO today and you'll have 24/7 access to the best poker footage money can buy!