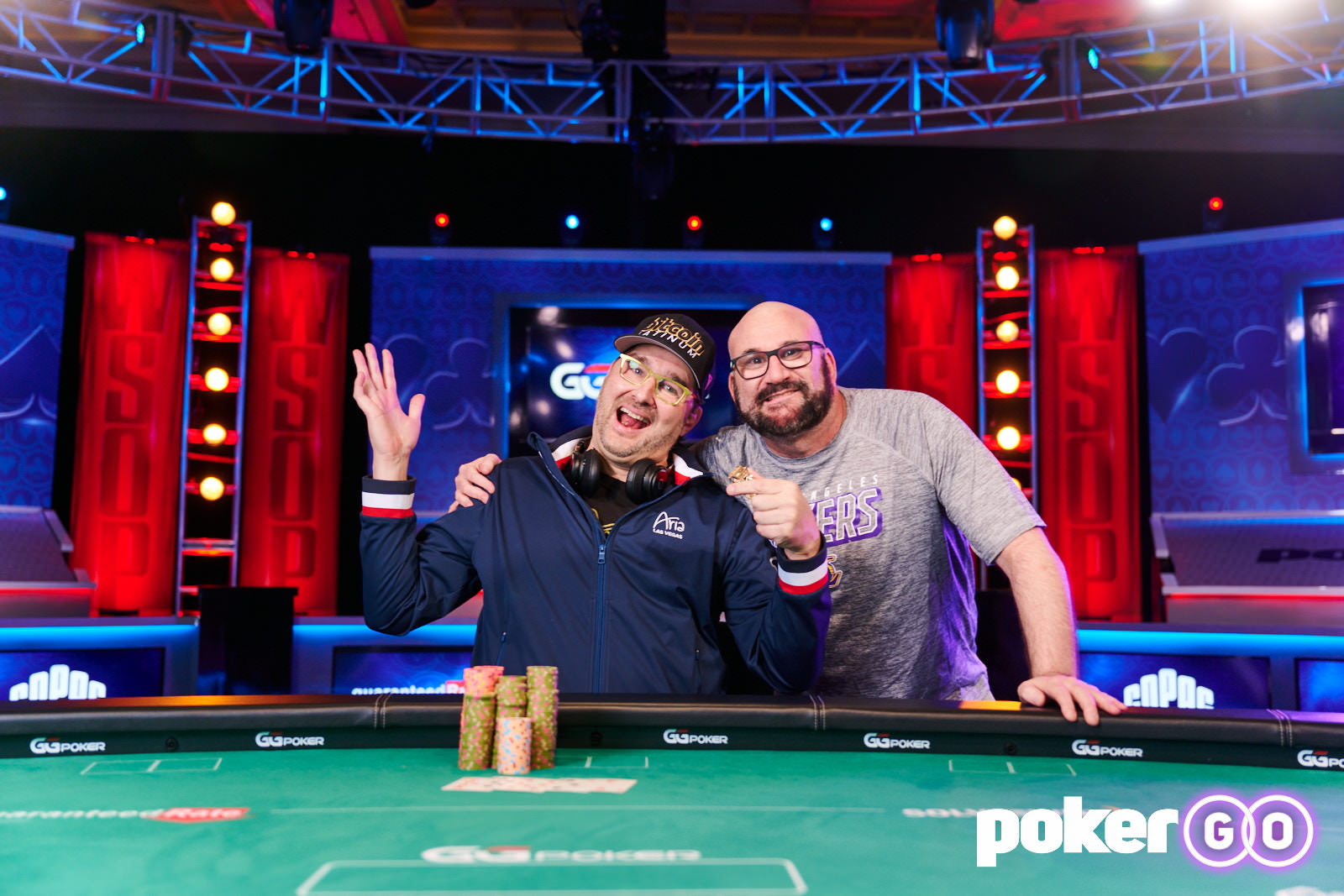 The most decorated player in the history of the World Series of Poker has done it again. On Sunday, October 17, with his wife, friends, and several dozen fans surrounding the PokerGO WSOP main stage at the Rio All-Suite Hotel & Casino, Phil Hellmuth captured an unprecedented 16th WSOP gold bracelet.
Hellmuth won Event #31: $1,500 No-Limit 2-7 Lowball Draw, a gold bracelet he said he had been chasing since the 1980s. Hellmuth defeated Jake Schwartz in heads-up play, finishing atop the 272-entry field to win $84,951.
"I've wanted a deuce-to-seven bracelet ever since the 1980s because it was the coolest bracelet to win," Hellmuth said. "It was the one tournament that Chip [Reese] and Doyle [Brunson] showed up for. All of the big-name poker players, such as Billy Baxter – all the champions showed up for that one tournament. It was a $10K with rebuys, so they would be in for $50,000. I wanted this bracelet so badly."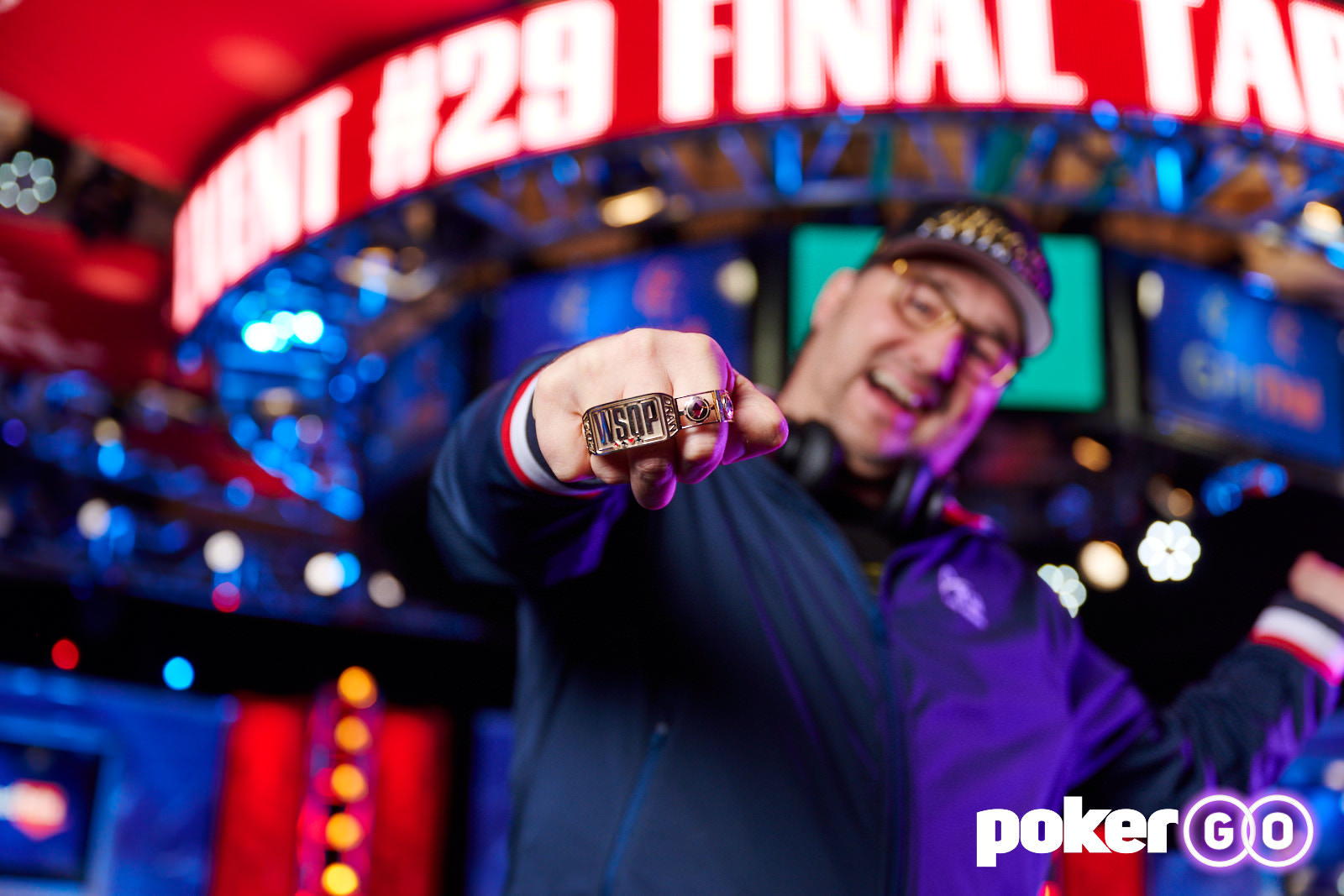 Hellmuth recounted times when he lost heads up to Billy Baxter and John Juanda in no-limit 2-7 single draw events. Hellmuth lost to Baxter in the $5,000 buy-in of this event at the 1993 WSOP. In 2011, he lost to Juanda in the $10,000 buy-in of this variant. He also recalled times when he was beaten by Seymour Leibowitz in non-WSOP no-limit 2-7 single draw events.
"I've been fighting so fucking hard for this bracelet for so long in the deuce-to-seven," Hellmuth said. "My game has gotten better and better and better. I've worked really hard at it, and I know all of these tricks because I've been playing it since the 1980s."
Hellmuth entered the final day of play second in chips with 10 players remaining. It wasn't until three-handed play that Hellmuth eliminated one of his opponents, and he got his first Day 3 knockout when he busted Chris Vitch in third place.
The start of heads-up play had Schwartz in the lead, but Hellmuth quickly took control and moved in front. From there, he extended his lead quite a bit. After the two took a 45-minute break to get some food, they returned and Hellmuth was able to finish off Schwartz. On the final hand, Hellmuth made a ninety-eight and Schwartz paired up.
Event #31: $1,500 NL 2-7 Lowball Draw Final Table Results
Place
Name
Country
Prize
1st
Phil Hellmuth
United States
$84,951
2nd
Jake Schwartz
United States
$52,502
3rd
Christopher Vitch
United States
$36,387
4th
Rep Porter
United States
$25,661
5th
Joshua Faris
United States
$18,421
6th
Dario Sammartino
Italy
$13,463
7th
Jason Lipiner
United States
$10,023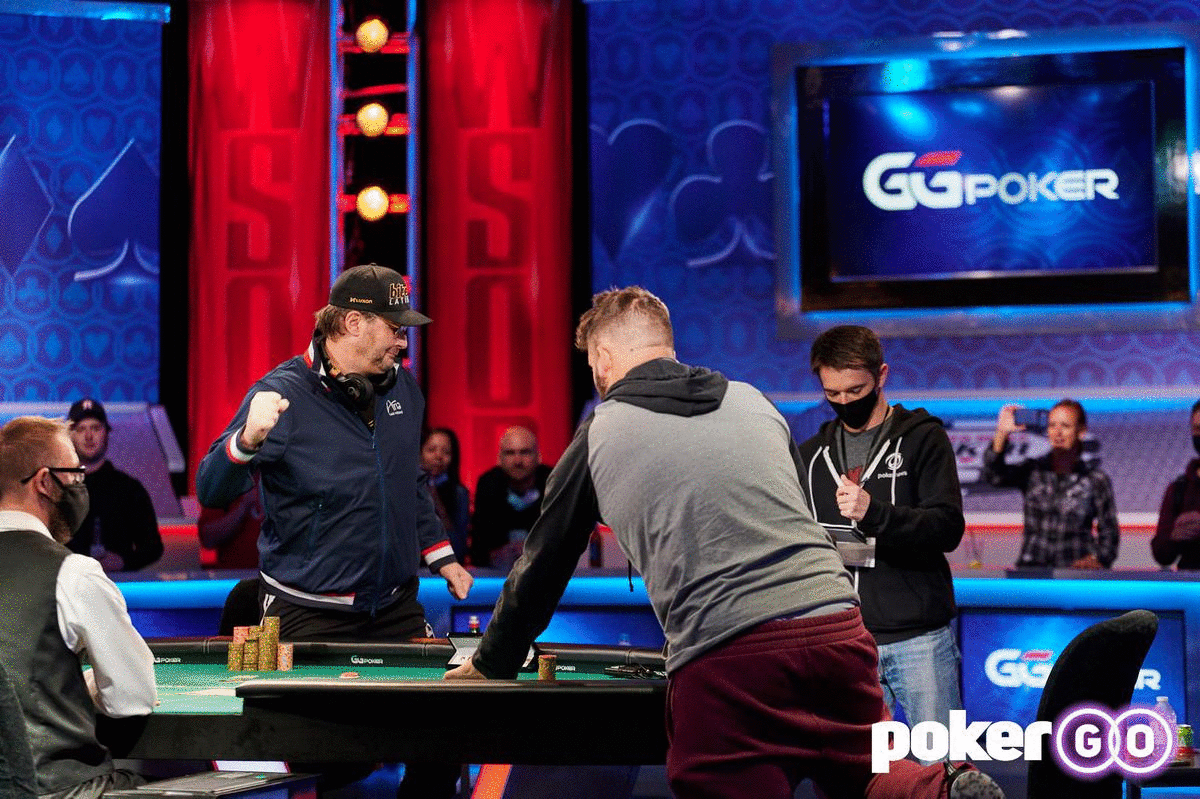 Hellmuth now has 16 WSOP gold bracelets. The first 11 came in hold'em, and it wasn't until his 12th gold bracelet victory that he picked one up in a non-hold'em variant, and that was razz in 2012. According to HendonMob.com, Hellmuth is the No. 1 money earner in razz at the WSOP. He won a second razz bracelet in 2015, but leading into this event it was 13 gold bracelets in hold'em and two in razz. Now with a deuce-to-seven bracelet, Hellmuth's repertoire of success has been expanded.
"It's harder to win in the mixed games," Hellmuth said. "If I can win four or five mixed bracelets, then I think it's going to say a lot about my legacy. I think I'm playing a bunch of games at a world-class level now. In Omaha eight-or-better, I think I'm going to win bracelets. In seven-card stud, I'm 99% and I think I could still get a little bit better. Razz, obviously, I have the best record in razz in history."
For all of his World Series of Poker success with 16 gold bracelets, the most cashes, and fourth on the WSOP all-time money list, there is still one thing WSOP-related that has eluded Hellmuth over the years. That's the WSOP Player of the Year title. Since the WSOP installed the WSOP Player of the Year title in 2004, Hellmuth has finished runner-up on three occasions.
"Of course," Hellmuth said when asked if he would like to achieve a WSOP Player of the Year title. "Three times I've been second in WSOP Player of the Year. Greg Merson had to win the Main Event to take Player of the Year away from me, people don't remember that. The year that Jeff Madsen won it (2006), I technically won by one set of rules. They had to have a big meeting because I passed him on the last day and they decided that they were going to give it to Madsen. The fact that I'm still thinking about it tells you how much. And then Ben lamb had to make the final table of the Main Event to take away Player of the Year that year (2011), so I have three seconds. I think because I don't have enough mixed game bracelets that I haven't really been getting my due in these games, and I've kind of just exploded these last 10 tournaments and shown everybody, 'Hey, I'm pretty good.'"
With this victory, Hellmuth is right there at the top of the WSOP Player of the Year race with Anthony Zinno, who won two gold bracelets in the last week.
Hellmuth's record at the 2021 WSOP includes a fourth-place finish in the $10,000 Seven-Card Stud Championship, a fifth-place finish in the $10,000 Omaha Hi-Lo Championship, a sixth-place finish in the $25,000 H.O.R.S.E., and an 18th-place finish in the $1,500 Dealer's Choice.
"Nothing can be close to this," Hellmuth said when asked if this was his best start to a World Series of Poker. "I think I've won a bracelet in the first four or five events, but not this and not in every game."
Hellmuth said that he is immediately thinking about winning his 17th gold bracelet, which could very well happen this series. It wouldn't be the first time Hellmuth won two gold bracelets in a single year in Las Vegas. In 1993, Hellmuth won three WSOP gold bracelets. In 2003, he won two.
For as much as Hellmuth looked forward to winning a deuce-to-seven gold bracelet, he said the next one on his list is the gold bracelet from the $50,000 Poker Players Championship. He's come close before with a second-place finish in the event in 2011, the year Brian Rast won it, and that's the one at top of mind for Hellmuth.
Overall, Hellmuth said that he thinks he is going to win 24 WSOP gold bracelets in his career. He's two-thirds of the way there with this 16th gold bracelet and has about two-thirds of this year's WSOP in Las Vegas remaining to try and grab another.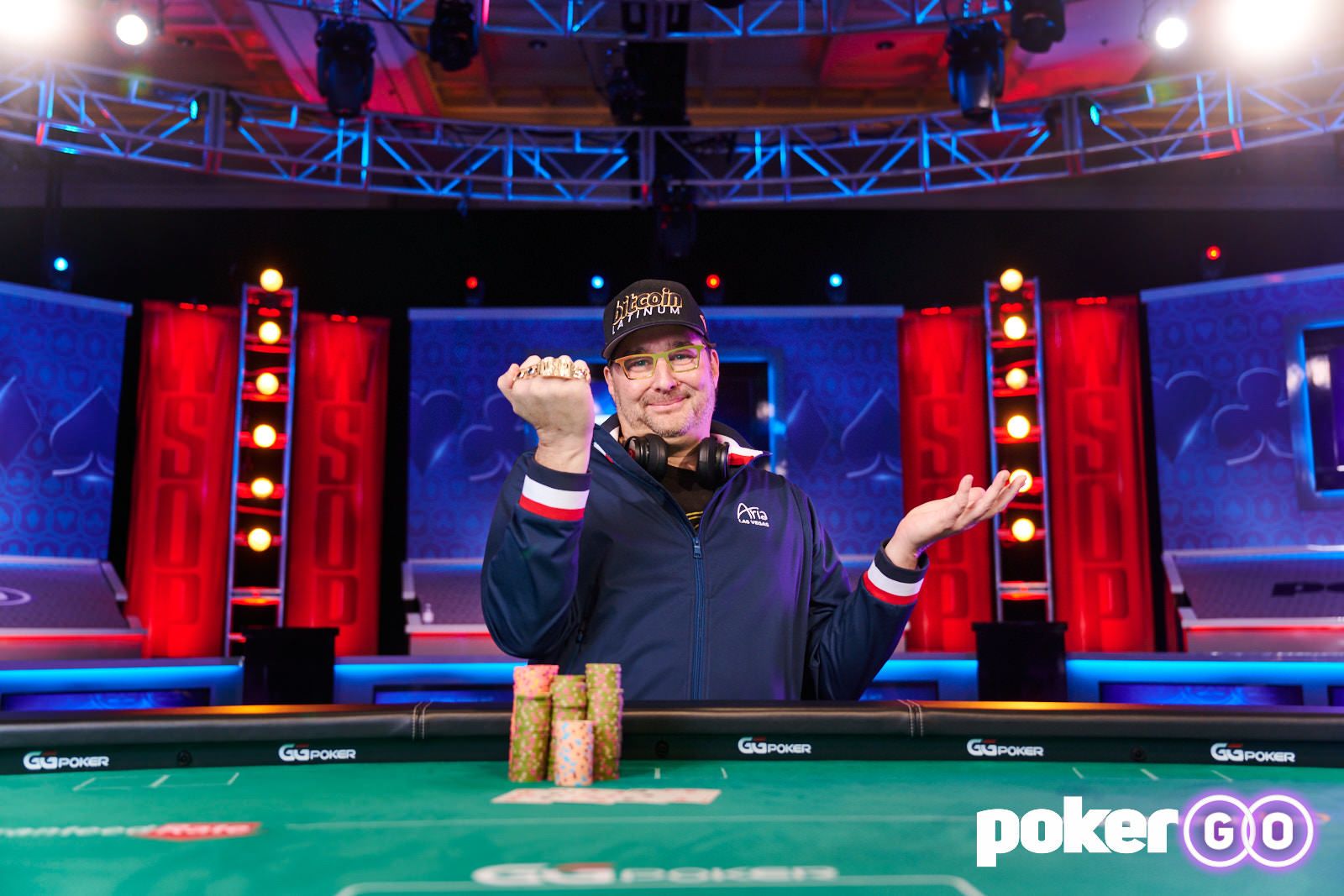 Connect with PokerGO.com on Facebook, Twitter, and Instagram. Use code "WSOP2021" for $20 off an annual PokerGO.com subscription now!