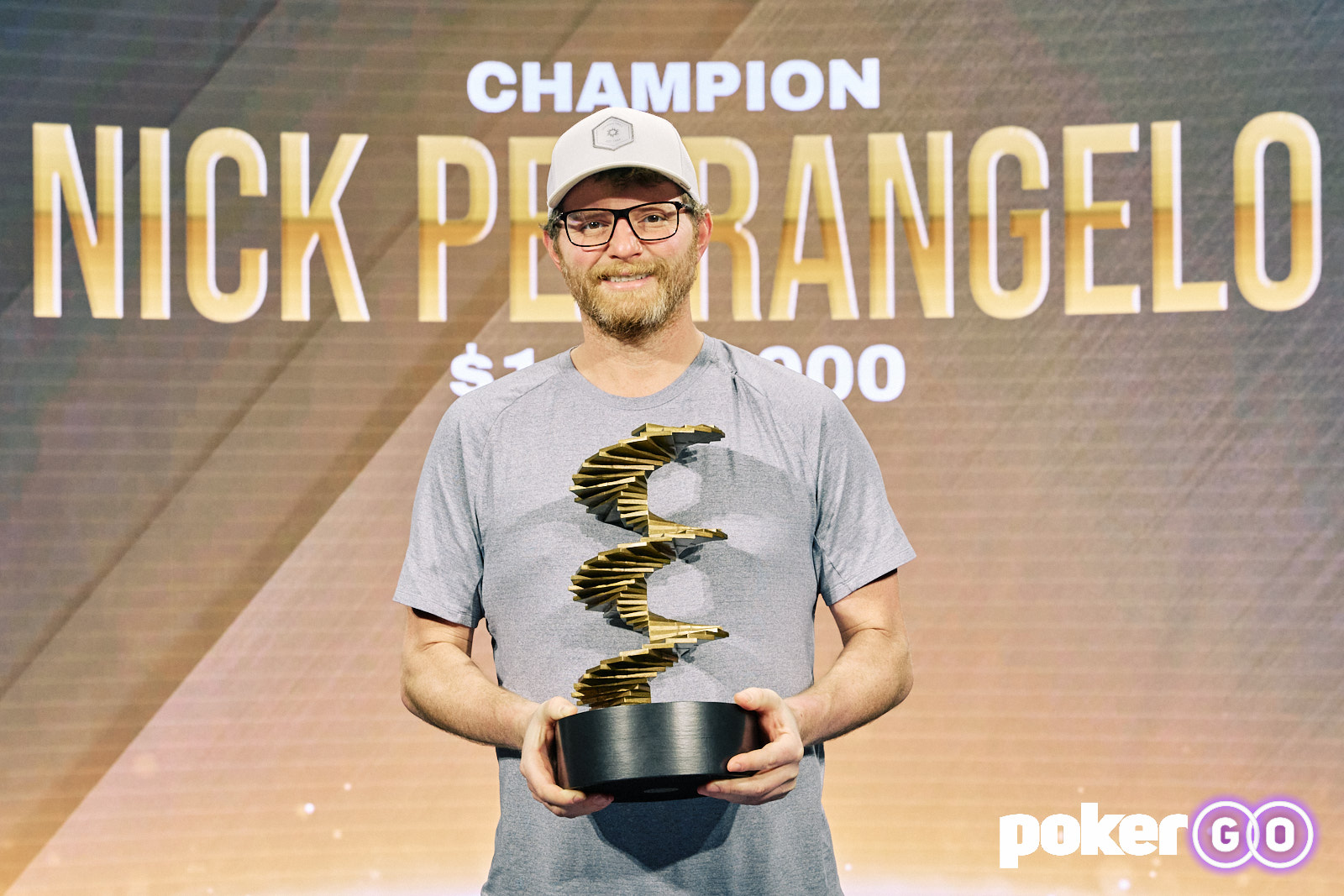 Nick Petrangelo capped off the first-ever Stairway To Millions series with a $1,026,000 victory in Event #8: $100,000 NL Hold'em. Petrangelo topped a field of 19 entries to earn top honors, beating David Peters in heads-up play.
The tournament came down to three players returning for Day 2. Petrangelo entered the final day with the chip lead and he was up against Peters and Sean Perry for Thursday's finale. Perry was the first player to bust, falling in third place, and then Petrangelo finished things off by besting Peters in the final duel. Peters won $570,000 for the second-place finish, and Perry took home $304,000 for placing third.
"No," Petrangelo said about if the winning ever gets old. "It's actually been a while since I had one like this. Well, I guess in the fall I did well in a couple, but we play so much now that my memory is pretty short. Every time you win, it feels great. I was looking forward to this series, and I'm looking forward to playing a lot of live [poker] in general this year. So no, the short answer is that it never gets old. It's awesome. I'm really happy and fortunate that I'm running well."
Petrangelo had quite an incredible Stairway To Millions series. Not only did he win the final event for a seven-figure score, but Petrangelo cashed a total of four times for more than $1,800,000. Included in those four cashes was a victory in Event #7: $50,000 NL Hold'em for $567,000, meaning Petrangelo closed things out with back-to-back wins.
"Confidence in poker is a huge thing," Petrangelo said. "It's a real thing because oftentimes you can get a little gunshy when you're running bad – if you're running big bluffs and everyone always has the nuts, or vice versa if you're making calls and you're just running into it all the time. Sometimes it can kind of mess with your head a little bit and make you second guess yourself. When everything is working out and things are going well and you're making big hands and the bluffs are getting through, it just helps you play better. It's as simple as that."
Stairway To Millions Event #8 Results
| | | | |
| --- | --- | --- | --- |
| Place | Player | Country | Prize |
| 1 | Nick Petrangelo | United States | $1,026,000 |
| 2 | David Peters | United States | $570,000 |
| 3 | Sean Perry | United States | $304,000 |
Stairway To Millions Event #8: $100,000 NL Hold'em attracted a field of 19 entries and generated a prize pool of $1,900,000. The top three finishers reached the money, with Alex Foxen bubbling in fourth place late on Day 1.
Petrangelo's Road To Winning the Final Stairway To Millions Event
Nick Petrangelo won his entry into Event #8 when he cashed in Event #7. The uniqueness of the Stairway To Millions series was the combination of the best elements of a satellite tournament and a multi-table tournament. All players who cashed in an event won entry into the next event.
Petrangelo picked off a bluff from Stephen Chidwick in Level 3 to get a nice boost to his stack, then in Level 4, Petrangelo eliminated Chidwick to boost his stack further.
After registration closed, the field began to work its way down to the final nine players. After Jake Schindler was ousted in 10th place, the final nine competitors joined to a single table and it was Petrangelo in the lead as the only play with more than 1,000,000 in chips. Petrangelo then went on to knock out Ali Imsirovic in eighth place and Bill Klein in sixth place.
Eventually, the tournament landed on the money bubble, with play coming down to Petrangelo, Peters, Perry, and Alex Foxen. Foxen found himself all in with pocket nines against Petrangelo's king-jack. A king hit on the river and Foxen was eliminated on the money bubble, ending play for Day 1.
At the end of Day 1, Petrangelo had 2,305,000 in chips, ahead of Perry's 1,085,000 and Peters' 410,000.
A little more than 20 minutes into play on Day 2, Peters found a double through Petrangelo when his king-queen of clubs bested Petrangelo's pocket tens. That took a chunk of chips from Petrangelo's stack, but he maintained his chip lead. Eventually, though, Perry worked his way into the lead, pushing Petrangelo back to second place. Petrangelo fought his way back into the lead but then lost another all-in pot when Peters doubled through him again, this time with pocket sevens against Petrangelo's ace-nine of clubs. After that hand, Peters had the chip lead, Petrangelo was second, and Perry was third.
Peters began to extend his chip lead and worked his way up to 2,000,000. Petrangelo fell to become the shortest stack, but he and Perry were close in stack size. That's when a pivotal hand took place between Petrangelo and Perry.
With the blinds at 15,000-30,000 with a 30,000 big blind ante, Perry raised to 120,000 from the small blind and Petrangelo made the call from the big blind. Perry had nine-four and Petrangelo had queen-ten. The flop was ace-queen-jack and Perry bet 180,000. Petrangelo made the call to see an eight come on the turn. Perry stayed on the gas with a wager of 220,000. Petrangelo called. The river was another ace and also completed a possible flush draw that was present on the flop. Perry moved all in, putting Petrangelo at risk for his remaining 315,000. Petrangelo eventually made the call to win the hand with his two pair and Perry was left with just 100,000 in chips.
From there, Perry would be eliminated in short order, falling to Peters. That set up the heads-up match between Petrangelo and Peters, with Peters having 2,115,000 in chips to Petrangelo's 1,685,000.
Petrangelo wasted little time in getting to work and taking the chip lead. Then, with the blinds at 40,000-80,000 with an 80,000 big blind ante, Peters picked up pocket sixes against Petrangelo's ace-ten of clubs and the money went in. Peters had limped on the button, Petrangelo raised to 280,000, and Peters shoved for 1,475,000. Petrangelo called and won the flip thanks to making a flush on the turn.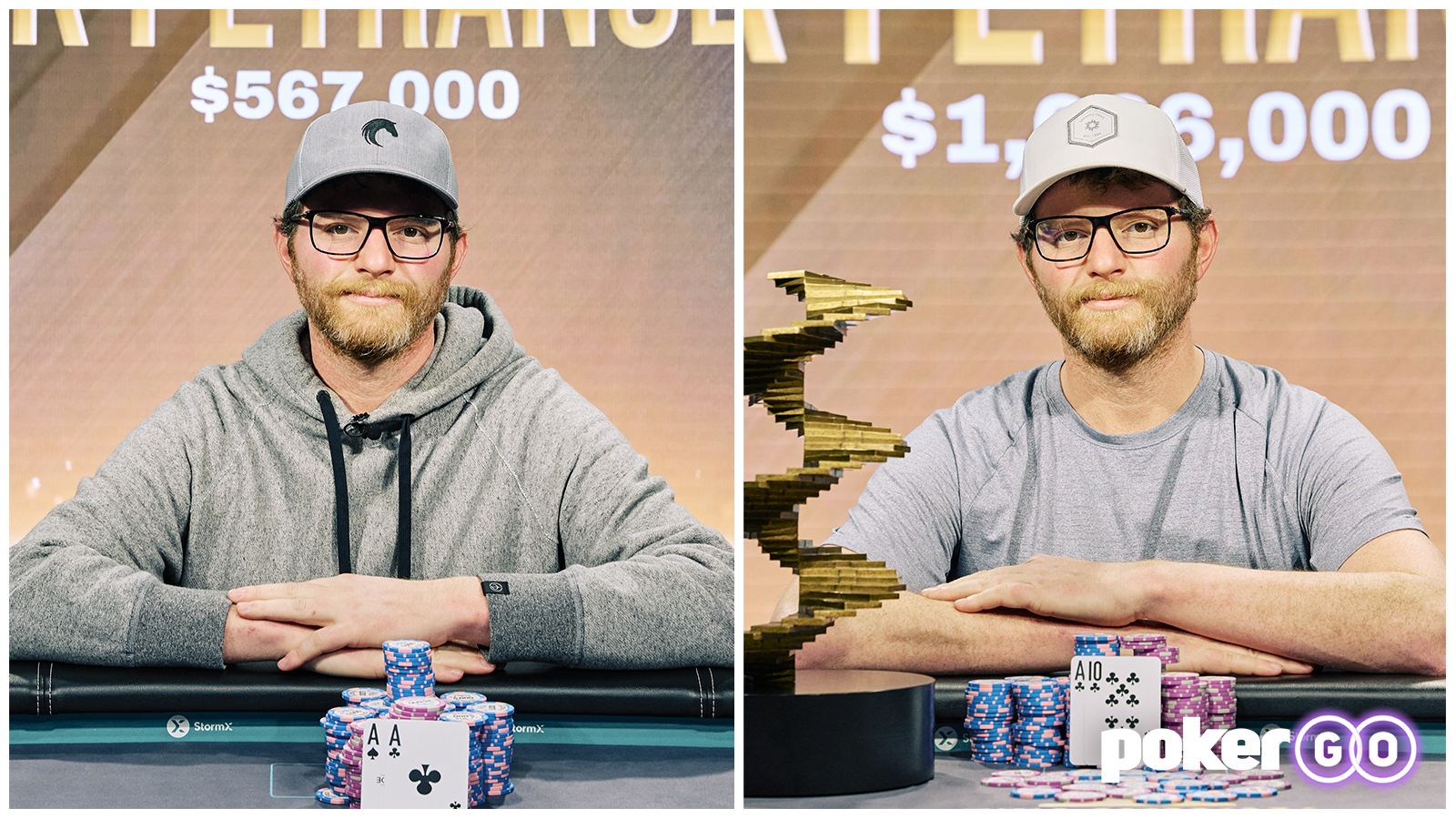 2022 PGT Leaderboard Top 10
View the full PGT leaderboard.
Connect with PokerGO Facebook, Twitter, and Instagram. Use code "PGT2022" for $20 off an annual PokerGO.com subscription now!