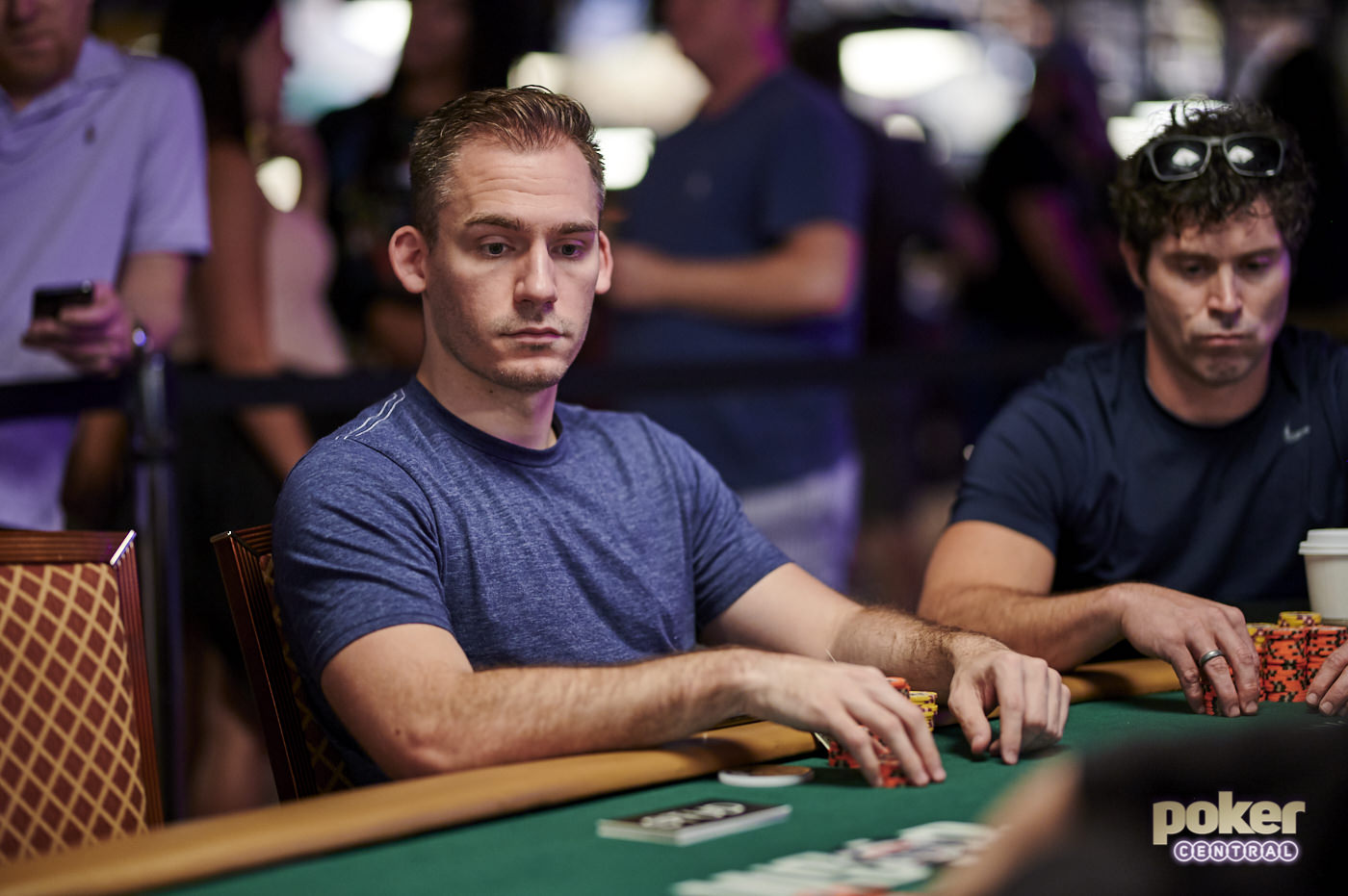 With four more WSOP bracelet events taking place in Las Vegas Nevada overnight, there were big chip stacks for 2018's WSOP Player of the Year Shaun Deeb and Justin Bonomo, who leads the all-time money list. We assess who stands in the way of both men winning bracelets on Monday.
BONOMO BEATS LENG HEADS-UP TO LEAD SHOOTOUT PLAYERS TO GLORY
Justin Bonomo is a worldwide poker phenomenon and he outfought a tough four-handed table to book his seat in Monday's $3,000 Shootout finale when he eliminated Ryan Leng from the event. Leng, who beat Phil Ivey heads-up in Round 1 to set-up his 2nd Round meeting with Bonomo, was a very hard opponent to draw, but Bonomo took care of him to head to the final table shooting for his fourth WSOP bracelet.
Only Bonomo's compatriot Andrew Lichtenberger and Romanian player Alexandru Papazian have won bracelets before this final table, but it is by no means an easy task facing any of the players to book a bracelet win in Event #37. British player Ben Farrell fought back from a seemingly impossible deficit in his game. Martin Zamani followed Bonomo into the final after destroying his table, and 'Chewy' and 'Little Papi' will be fearsome opponents. It all adds up to a huge day of live stream action on PokerGO!
Final Table Seat Draw:
| | | |
| --- | --- | --- |
| Seat | Name | Country |
| 1 | Ben Farrell | United Kingdom |
| 2 | Jan Lakota | Slovenia |
| 3 | David Lambard | United States |
| 4 | Johan Guilbert | France |
| 5 | Andrew Lichtenberger | United States |
| 6 | Martin Zamani | United States |
| 7 | Justin Bonomo | United States |
| 8 | Weiyi Zhang | China |
| 9 | Adrien Delmas | France |
| 10 | Alexandru Papazian | Romania |
SHAUN DEEB FOUR CHOICE ELIMINATIONS AWAY FROM FIFTH WSOP BRACELET
Shaun Deeb, 2018 WSOP Player of the Year, will battle to win his fifth WSOP bracelet from a leading position when the $10,000 Dealer's Choice Championship resumes. With 11 players being reduced to five on a day not without controversy, Deeb rose above other survivors such as Matt Glantz and last year's event winner Adam Friedman, to hold the vital lead into the final day.
From the off, the action was fast, with Majid Yahyaei, Jeff Lisandro, Philip Sternheimer and Bryce Yockey all busted in short order. With the final table redrawn at seven players, Phillip Hui was the next man to drop, followed after the next hand by player and commentator extraordinaire Nick Schulman, who was busted by Deeb when the WSOP 2018 POY rivered a flush.
Deeb will have stiff competition in the final from reigning champion Friedman, who looks to join an exclusive club of players who were able to defend their WSOP title, but Michale McKenna, Matt Glantz and even short-stack David Moskowitz will each have designs on the bracelet too. Anything could happen when the cards go back in the air on Monday lunchtime at the all-American final table.
Final Table Seat Draw:
| | | | | |
| --- | --- | --- | --- | --- |
| Seat | Player | Chips | Big Blinds | Big Bets |
| 1 | David Moskowitz | 382,000 | 19 | 5 |
| 2 | Shaun Deeb | 2,601,000 | 130 | 32.5 |
| 3 | Matt Glantz | 1,401,000 | 70 | 17.5 |
| 4 | Michael McKenna | 1,038,000 | 52 | 13 |
| 5 | Adam Friedman | 1,898,000 | 95 | 24 |
HELLMUTH AND IVEY SURVIVE DEEPSTACK DAY 1
Elsewhere at the Rio All-Suite Hotel & Casino, Phil Ivey and Phil Hellmuth both survived Day 1 of the Deepstack event. Costing $800 to enter, Ivey (260,000) and Hellmuth (231,000) are joined in the draw for Day 2 by current chip leader Jose Brito from Portugal, who has a massive 776,000 chips, a lead he holds over his closest rivals, Canadian player Danny Ghobrial (671,500) and American hopeful Ben Gilbert (577,500).
DOUBLE STACK DELIVERS DAY 2 DRAMA
Arianna Son bagged the biggest stack of 2,363,000 chips on Day 2 of the Double Stack event. Son was the star, but she was followed by some big names, with Radoslav Stoyanov her closest challenger, sat behind 2,000,000 chips as the clear plastic bags were handed out.
Elsewhere in the Amazon Room, Ignacio Molina (1,997,000) and former WSOP bracelet winners Jack Sinclair (1,247,000) and Timur Margolin (1,329,000) also booked their Day 2 berth, along with Ari Engel who totalled 1,683,000 at the close of play. The tournament, which had 6,214 entries, is down to just 359 poker players with a $687,782 top prize the dream for everyone still involved.
Who'll win a WSOP bracelet today and become part of poker history at the 2019 World Series of Poker? Watch the action unfold live on PokerGO and CBS All Access as more coverage of the 2019 WSOP bracelet events takes place. Selected bracelet events will be streamed exclusively on CBS All Access in the United States.