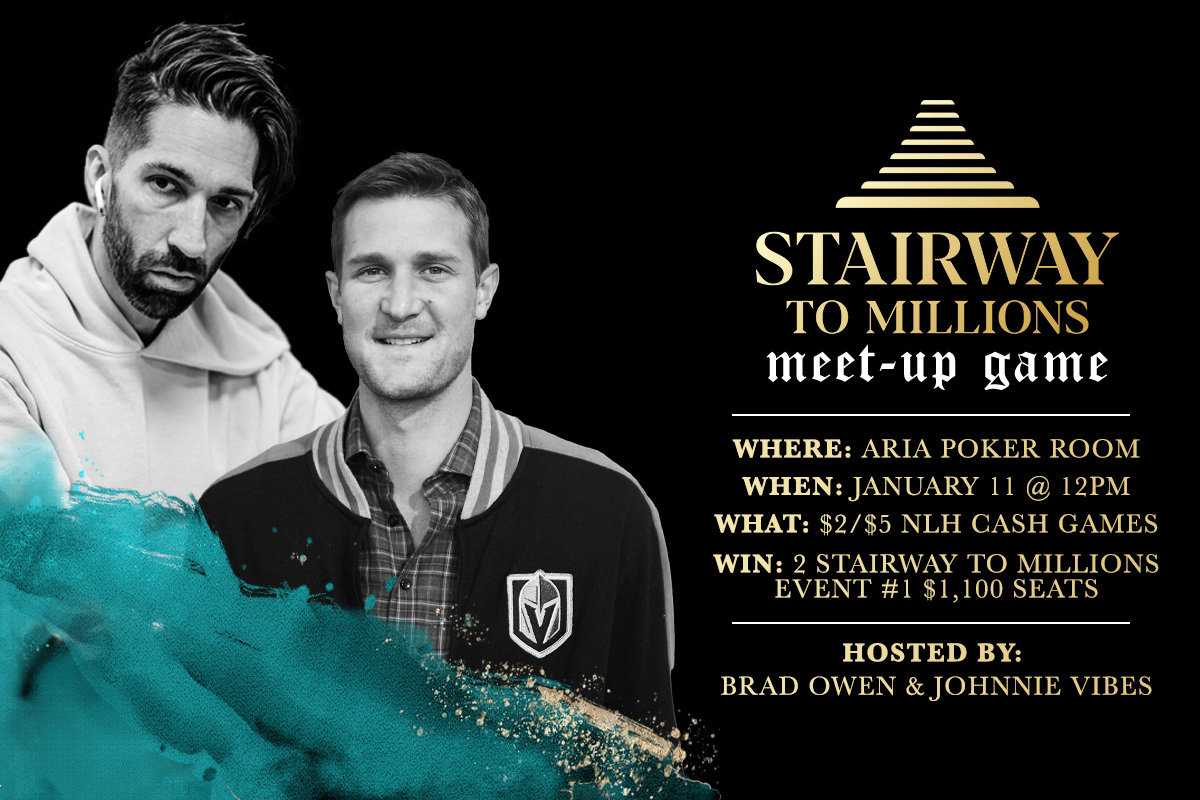 PokerGO is hosting its first-ever meet-up game and you're invited. Taking place at the ARIA Resort & Casino poker room on Tuesday, January 11, 2022, Brad Owen and Johnnie "Vibes" Moreno will play in and co-host the meet-up game alongside the PokerGO family.
The PokerGO Stairway To Millions Meet-Up Game celebrates the brand new Stairway To Millions tournament series being held at ARIA Resort & Casino from January 12-20.
The meet-up game is scheduled to run from 12-6 p.m. in the ARIA poker room. Participants in the meet-up game will be eligible to be part of a special raffle giveaway awarding two $1,100 seats to the first Stairway To Millions tournament.
In addition to co-hosting the meet-up game, Owen and Moreno have committed to play in the first two tournaments on the Stairway To Millions schedule. First up is the $1,100 buy-in tournament on Wednesday, January 12. This tournament has a $100,000 prize pool guarantee. The second tournament is a $2,150 buy-in event on Thursday, January 13, and also features a $100,000 prize pool guarantee.
About the Stairway To Millions
The brand new PokerGO Stairway To Millions is every poker player's ticket to competing in a $100,000 buy-in event for millions of dollars in prize money. The unique format gives players the chance to buy in for $1,100 and run it up the highest of stakes and a chance to compete on the greatest stage in the game at the PokerGO Studio in Las Vegas.
The Stairway To Millions is a series of eight individual poker tournaments. Players who reach the money for a certain tournament will automatically win entry into the next tournament. For example, players who play the first tournament that has a $1,100 buy-in and cash will receive an automatic entry into the $2,150 event in addition to any prize money won from the $1,100 tournament. In order to continue to progress up the ladder of events, players just need to finish in the money of a certain tournament. The next tournament's buy-in amount is automatically deducted from the amount a player cashes for.
The 2022 Stairway To Millions series has a combined $3,000,000 in guarantees. All final tables will be held inside the PokerGO Studio and live streamed.
Click here for more information regarding the Stairway To Millions.