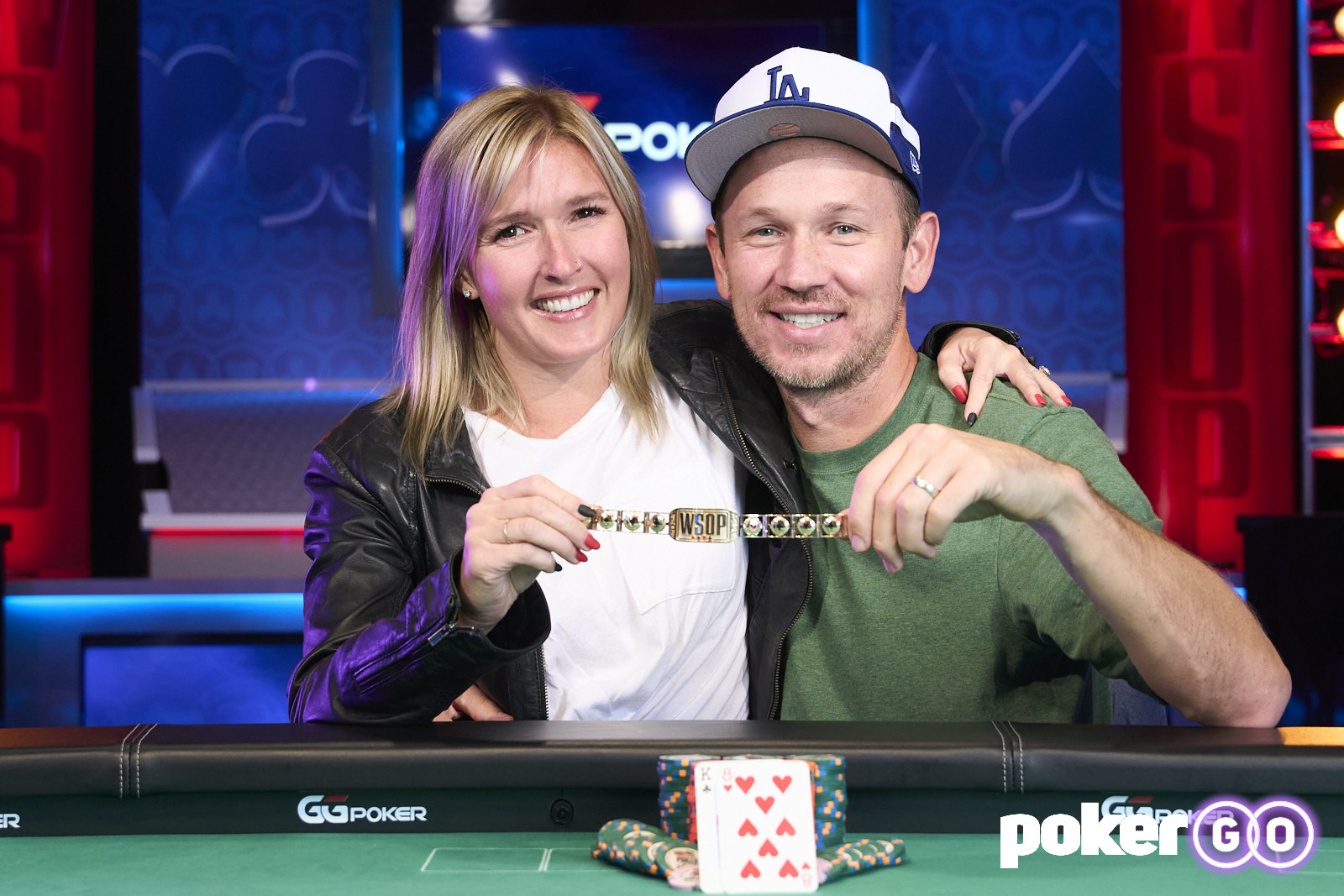 John Monnette is now the owner of four World Series of Poker gold bracelets. With his wife, Diana, watching anxiously from the rail, Monnette defeated FiveThirtyEight.com founder Nate Silver in Event #16: $10,000 Limit Hold'em Championship for a score of $245,680.
Monnette's fourth piece of WSOP hardware will now sit in his trophy case alongside the ones he won in 2011, 2012, and 2017. In 2011, he won the $2,500 Eight-Game Mix for $278,144. In 2012, Monnette topped the $5,000 Seven-Card Stud for $190,826. In 2017, it was the $10,000 No-Limit 2-7 Lowball Draw Championship that Monnette won for $256,610.
"That's a hard question," Monnette started when asked about where his fourth bracelet ranks in comparison to the others. "The first is always the most special, and then after that, it's kind of hard to rank. This is awesome. I had a couple of really bad years at the series where I just did nothing, so to finally get back and do something is great. Hold'em's not one of my better games, but I still like to play it and this is a tough field and it's a $10K championship event, so it definitely means a lot."
With the victory, Monnette moved to more than $3,000,000 in live tournament earnings, and the $245,680 he won in this event is the fourth largest score of his career to date. After the win, Monnette's wife, Diana, was quick to join him on stage for a long embrace, and he spoke emotionally about what that moment meant to him.
"That's the most special," Monnette said. "Her and my kids, man. I've got two now. It was crazy because the last World Series of Poker, in 2019, we had zero, and now the next World Series we have two – my daughter's a little over two and my son is almost eight months. So we've been busy with that. During COVID, I played very little as I was helping to take care of the kids and really loving that – first my daughter, then my son, and it was amazing – but yeah, the moment with Diana … there's a lot going on. We've got two kids, and we're both trying to work. She's owning it at PokerGO and doing such a good job over there, so we're both super busy. She's really been stepping up to give me time to be over here and play and get a good night's sleep. My son likes to wake up at 5:45 – is that the time right now? – so I'll either be in the other room or staying at a hotel sometimes just to get a good night's sleep. I told her, 'Thank you.' I couldn't do it without her. She's there for me in so many ways I can't even describe right now."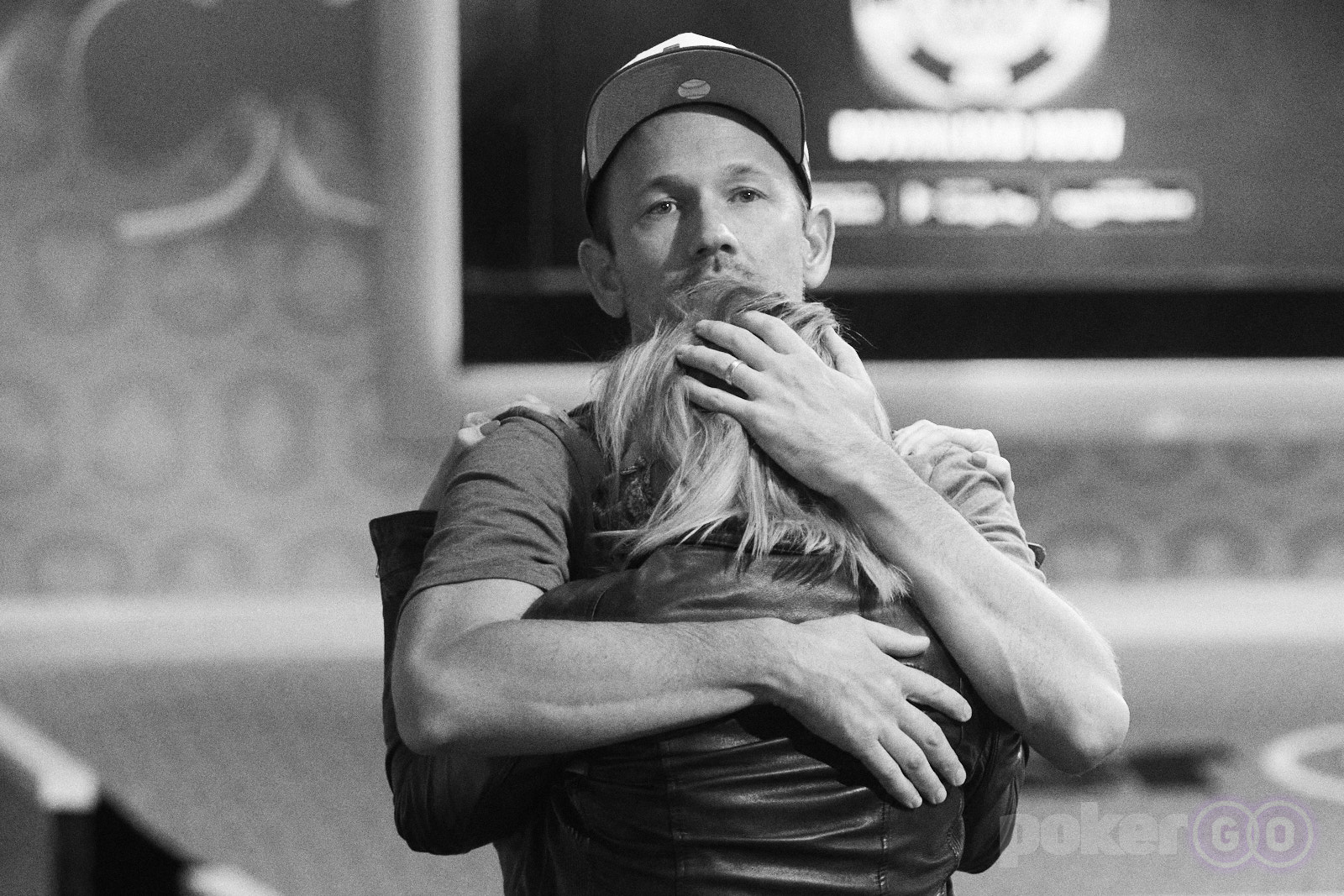 Relive the action from Monnette's fourth WSOP gold bracelet victory with the archived live broadcast on PokerGO.com. Use code "WSOP2021" for $20 off an annual PokerGO.com subscription now!
Event #16: $10,000 Limit Hold'em Championship Final Table Results
Place
Name
Country
Prize
1st
John Monnette
United States
$245,680
2nd
Nate Silver
United States
$151,842
3rd
Eric Kurztman
United States
$108,747
4th
Terrence Chan
Canada
$79,210
5th
Jason Somverville
United States
$58,697
6th
John Racener
United States
$44,263
7th
Scott Tuttle
United States
$33,979
8th
Christopher Chung
United States
$26,561
9th
Kevin Song
United States
$21,149
Entering the final day of play in the three-day poker tournament, Monnette was second-to-last in chips among the final 10 players from the 92-entry field. Monnette maneuvered his way into the final seven, and that's when the PokerGO cameras turned on to provide live broadcast coverage of the conclusion of the event. As the day went on and players were hitting the rail, Monnette's chip stack continued to trend upward.
With five players left, Jason Somerville, who was the shortest stack at the time, went to battle with Silver and it resulted in Somerville's elimination.
With the blinds at 20,000-40,000 and the limits at 40,000-80,000, Silver raised on the button and Somerville three-bet from the small blind. Silver stuck in a four-bet and Somerville called all in with the
. Silver had the
for a classic coinflip. The flop was
and Somerville flopped a Broadway straight with a draw to a royal flush. Silver was 2% to win on the flop, but that probability improved to 20% when the
came on the turn. Silver needed to pair the board on the river, although it couldn't be the jack of spades because then Somerville would win with a royal flush. The river was the
and that was exactly one of the board pairs that Silver needed to get the knockout of Somerville, who finished in fifth place for $58,697.
After Silver knocked out Somerville, Monnette eliminated Terrence Chan in fourth place ($79,210). That left Silver, Monnette, and the Day 1 chip leader Eric Kurtzman to battle for the gold bracelet.
The three battled for a bit before Kurtzman busted in third place, taking home $108,747. With Kurtzman gone, it was down to Monnette versus Silver. The stakes had Monnette eyeing an impressive fourth piece of WSOP jewelry and Silver looking for his first World Series of Poker gold.
Silver entered heads-up play with the chip lead over Monnette, but Monnette still had 25 big bets to work with as the blinds were 25,000-50,000 and the limits 50,000-100,000. The two battled for a bit in a back-and-forth battle that was rather gridlocked. Eventually, Monnette started to pull away and worked Silver down to fewer than 10 big bets.
On the final hand, the blinds were 40,000-80,000 with limits of 80,000-160,000. The two got the money in on the
board with Silver at risk holding the
. Monnette had the best of it with the
. The river was the
to seal the deal for Monnette. Silver was eliminated in second place, but he didn't go home empty-handed. Silver was awarded $151,842 in prize money, which became the largest live score of his tournament career to date.
In addition to all of the success that Monnette has had on the WSOP felt, he's also considered to be one of the best when it comes to high-stakes mixed games and he's played in some of the biggest games on offer.
"I used to think I was definitely one of the best," Monnette said of how he compares his game to others. "I haven't been playing my best recently. I haven't been super focused on poker. I have other things going on, and just, I don't know, not playing great, probably not running great, so maybe I wasn't as confident. This helps, this helps. I'm still pretty confident with my play but there are a lot of really good players out there."
Connect with PokerGO.com on Facebook, Twitter, and Instagram. Use code "WSOP2021" for $20 off an annual PokerGO.com subscription now!