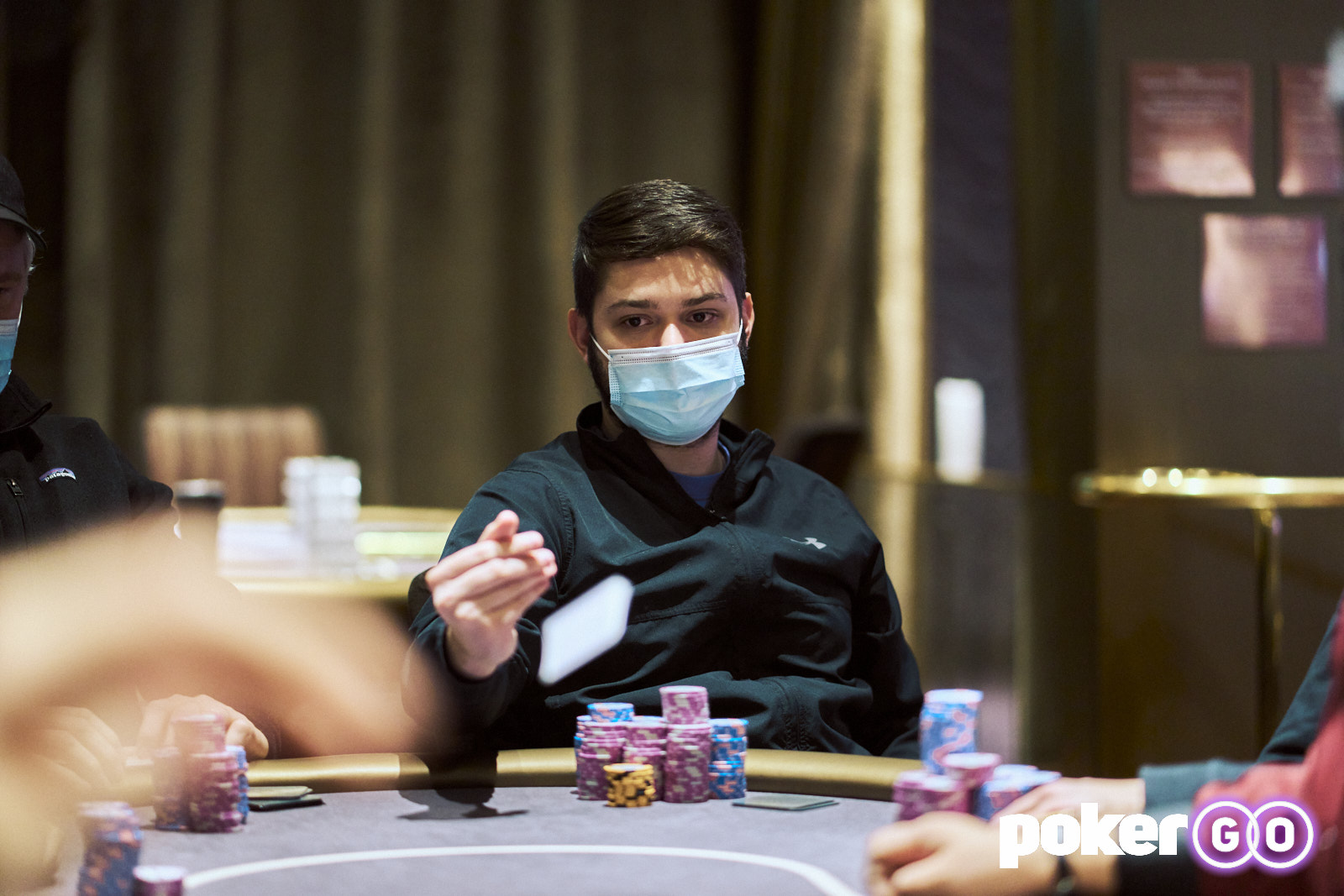 Jovan Santiago came into Event #2: $2,000 No-Limit Hold'em free-rolling thanks to his 23rd place finish in Event #1, and the Leominster, Massachusetts native now finds himself the chip leader with six to play. Joining Santiago in the final six are Joelle Parenteau, Eric Baldwin, Brock Wilson, Jeremy Ausmus, and fellow Event #1 qualifier Chance Kornuth.
Santiago heads into the final six with 4,025,000, and he will have just under a 1.3 million chip lead over second-place Parenteau (2,750,000). Ausmus sits in third place with 1,925,000, Kornuth sits in fourth place with 1,600,000, and Baldwin sits in fifth place with 1,425,000. Wilson heads into the day as the short stack with a million even in chips, good for just ten big blinds.
Event #2 Final Table
Seat
Name
Country
Chip Count
1
Chance Kornuth
United States
1,600,000
2
Joelle Parenteau
Canada
2,750,000
3
Eric Baldwin
United States
1,425,000
4
Brock Wilson
United States
1,200,000
5
Jovan Santiago
United States
4,025,000
6
Jeremy Ausmus
United States
1,925,000
When play resumes there is 23:25 remaining in level 19 and the button is in seat 1
Ausmus held the chip lead for much of the day after eliminating Brendan Shiller late in level 10. Ausmus held pocket aces while Shiller held ace-jack. The flop saw Shiller hit two pair, but Aumus flopped top set. All the money went in on the river when a jack fell giving Ausmus over two million in chips and leaving Shiller shell shocked on his way out the door.
Aumus maintained his chip stack for the rest of the day as he hoovered around two million in chips for most of the afternoon and into the evening. Santiago, meanwhile, found favorable spots throughout the afternoon and slowly built his chips before eliminating Stephen Song in 12th place and Long Lui in 11th place to cross the three million chip mark. Santiago took the chip lead for good when he flopped the nut flush on Baldwin and got paid on river bet to move north of 3.4 million in chips.
The 129-entrant field created a prize pool of $258,000 and awarded the top 19 finishers with a min-cash of $5,160, which includes a seat into Event #3: $4,000 No-Limit Hold'em. The top six is are guaranteed at least $12,900 and the seat but have their eyes fixed on the first-place prize of $51,600.
Those that did not make the finals six but walked away with a seat into event #3 include Gary Leibovitz (10th), Stephen Song (12th), Michael Wang (13th), Jewook Oh (14th), Michael Santos (15th), Salim Admon (17th), Qing Liu (18th), and Kristen Nyman (19th). Event #1 final tableists Mehdi Anooshahr (16th) and Qing Liu (18th) also found a seat for the second day in a row, but it took multiple bullets for the duo to win their seats. Meanwhile, Seventh place finisher Jake Perry and 11th place finisher Long Lui will look to continue their journey up the Stairway to Millions as not only did both players win their way into Event #2, they have now won their way into Event #3.
The unique format of Stairway To Millions sees all players to cash in an event win a seat to the next event. All 19 players to cash in Event #2: $2,000 NL Hold'em won a ticket to play in Event #3: $4,000 NL Hold'em. The third event kicks off on Friday, January 14, at 12 p.m. PT. The "stairway" element applies to all events on the schedule, leading to the $100,000 buy-in finale.
Stairway To Millions Remaining Schedule

Date
Event
Buy-In
Fee (On-Time)
Fee (Late/Reentry)
Starting Stack
Guarantee
Jan. 14
Stairway To Millions #3
$4,000
$100
$200
100,000
$100,000
Jan. 15
Stairway To Millions #4
$8,000
$200
$400
100,000
$200,000
Jan. 16
Stairway To Millions #5
$15,000
$400
$800
125,000
$300,000
Jan. 17
Stairway To Millions #6
$25,000
$500
$1,000
125,000
$500,000
Jan. 18
Stairway To Millions #7
$50,000
$1,000
$2,000
150,000
$500,000
Jan. 19
Stairway To Millions #8
$100,000
$2,000
$2,000
200,000
$1,200,000
Connect with PokerGO Facebook, Twitter, and Instagram. Use code "PGT2022" for $20 off an annual PokerGO.com subscription now!