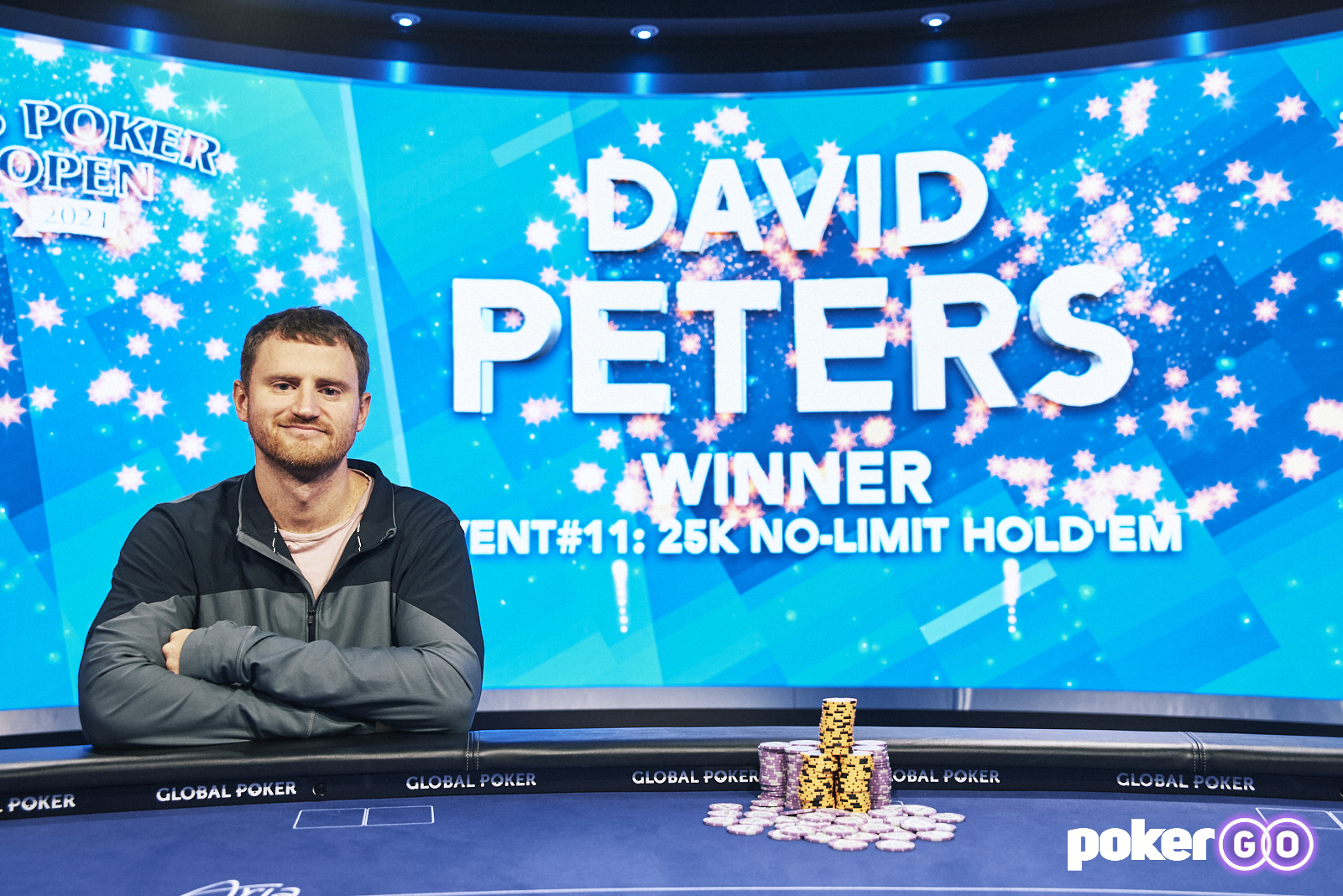 David Peters has shown once more that he's one of the best of the best by taking down his third event in just five days at the 2021 U.S. Poker Open, this time winning Event #11: $25,000 No Limit Hold'em for $465,750. Peters came out on top at a final table that included Vanessa Kade, Dan Shak, and a very tough Ivan Zufic who finished in second place. Watch the full final table on PokerGO right here.
The first hand that lead to an elimination started with a raise to 100,000 by Ivan Zufic holding king-nine of clubs. Frank Funaro called from the big blind and the flop brought out ace-nine-deuce with two clubs and Funaro checked to Zufic who bet 50,000, or one big blind. Funaro moved all in for 535,000 and Zufic called right away to put his opponent at risk. The turn blanked and the river completed Zufic's flush to definitively send Funaro to the rail. This hand landed Zufic the chip lead but that wouldn't last long.
David Peters raised to 100,000 from the hijack after which Vanessa Kade responded with a three-bet to 300,000 from the cutoff. Dan Shak gave up his big blind and Zufic thought for a while before four-betting to 750,000. Peters quickly folded and Kade called after which the flop brought out four-eight-six with two hearts. Both players checked and an offsuit five hit on the turn. Zufic checked again and Kade bet 575,000. Zufic, holding ace-queen offsuit, gave it some thought before making the call. The board completed with an eight on the river and Kade bet another 500,000. Zufic used two time extension chips but ultimately he made the call with ace high and saw that it was no good. Kade tabled jacks and took a firm chip lead, leaving Zufic with very little chips.
With Kade sitting on nearly five million chips, roughly half the chips in play, it was her event to lose. The first dent in Kade's armor came when Dan Shak raised to five times the big blind with jack-nine suited after she limped from the small blind onto his big. Kade called Shak's raise with and lead out for 475,000 on the nine-eight-four flop. Shak moved all in right away and Kade threw her king-ten offsuit into the muck. Shak winning this pot brought the field closer together and that continued when Kade doubled up David Peters.
Peters raised to 120,000 and Kade three-bet from the button to 320,000 holding pocket tens. The action folded back around to Peters who moved all in for 30 big blinds and Kade gave it some thought before making the call. Peters spiked an ace to double up and grabbed the chip lead while Kade was left with roughly 20 big blinds.
A few hands later, Kade's run in this event ended, when she reshoved ace-eight into Peters' ace-king. The board brought no help and Kade exited in fifth place while Peters extended his lead. Zufic, still the tournament short stack, then doubled up through Jake Daniels with ace-king versus nines to bring him fully back in contention. This big pot left Daniels with fewer than eight big blinds and he shoved the following hand with ace-five and, once more, Peters was the one doing the busting. The chip leader called with queen-ten and hit a queen to bring this tournament down to three-handed play.
What followed was an intense three-handed that saw the tables turn on Peters in Zufic's favor. Zufic woke up with pocket kings and min-raised only to get shoved on by Peters from the small blind. Zufic called all-in for 29 big blinds and he took the chip lead after his big pair held up. The following hour, however, proved that no chip lead was safe at this final table as Zufic transferred it to Dan Shak, who in turn, failed to eliminate Peters in a massive coin flip with ace-king versus tens.
Peters regained the lead and never looked back as he busted Shak in third place shortly thereafter. As the blinds and ante grew larger, Peters put Shak all in during a blind battle holding jack-six of clubs and Shak called it off with king-five suited. Shak flopped a five but Peters turned an open-ended straight draw that he completed on the river to get to heads-up play!
Heads-up action only lasted one hand as Peters was dealt tens and Zufic woke up with two nines. Zufic raised to 475,000 and Peters called, bringing out three-eight-queen to the flop. Zufic bet 375,000 and Peters called. The turn was a ten, giving Peters a set, and both players checked. On the river, a four completed the board, and Zufic checked again. Peters paused before moving all in, putting Zufic to the test for 1.2 million with 1.8 million already in the middle. Zufic gave it some thought but called and was eliminated to give Peters his third win of the series!
U.S. Poker Open Event #8: $10,000 No Limit Hold'em
Place
Name
Championship Points
Payouts
1st
279
$465,750
2nd
207
$345,000
3rd
135
$224,250
4th
104
$172,500
5th
83
$138,000
6th
62
$103,500
7th
52
$86,250
8th
41
$69,000
9th
41
$69,000
10th
John Riordan
31
$51,750
The 2021 U.S. Poker Open concludes tomorrow as the Event #12: $50,000 No Limit Hold'em final table will play out live on PokerGO starting at 4:00pm ET. Follow the Live Reporting of this event right here as the list of Championship contenders for the $50,000 cash prize and the Golden Eagle trophy is reduced to just a few players!
U.S. Poker Open Leaderboard
Rank
Player
Points
Wins
Cashes
Earnings
1
David Peters
646
3
4
$832,950
2
Ali Imsirovic
483
1
5
$482,000
3
Dan Shak
371
0
4
$459,750
4
Jake Daniels
323
1
2
$391,000
5
Andrew Lichtenberger
308
0
3
$308,000
6
Joe McKeehen
302
1
2
$302,200
7
Steve Zolotow
289
0
3
$289,000
8
Cary Katz
270
0
4
$270,100
9
Ivan Zufic
266
0
2
$404,400
10
John Riordan
253
1
4
$273,550
Connect with PokerGO Facebook, Twitter, and Instagram. Use code "USPO21" for $20 off an annual PokerGO.com subscription now!