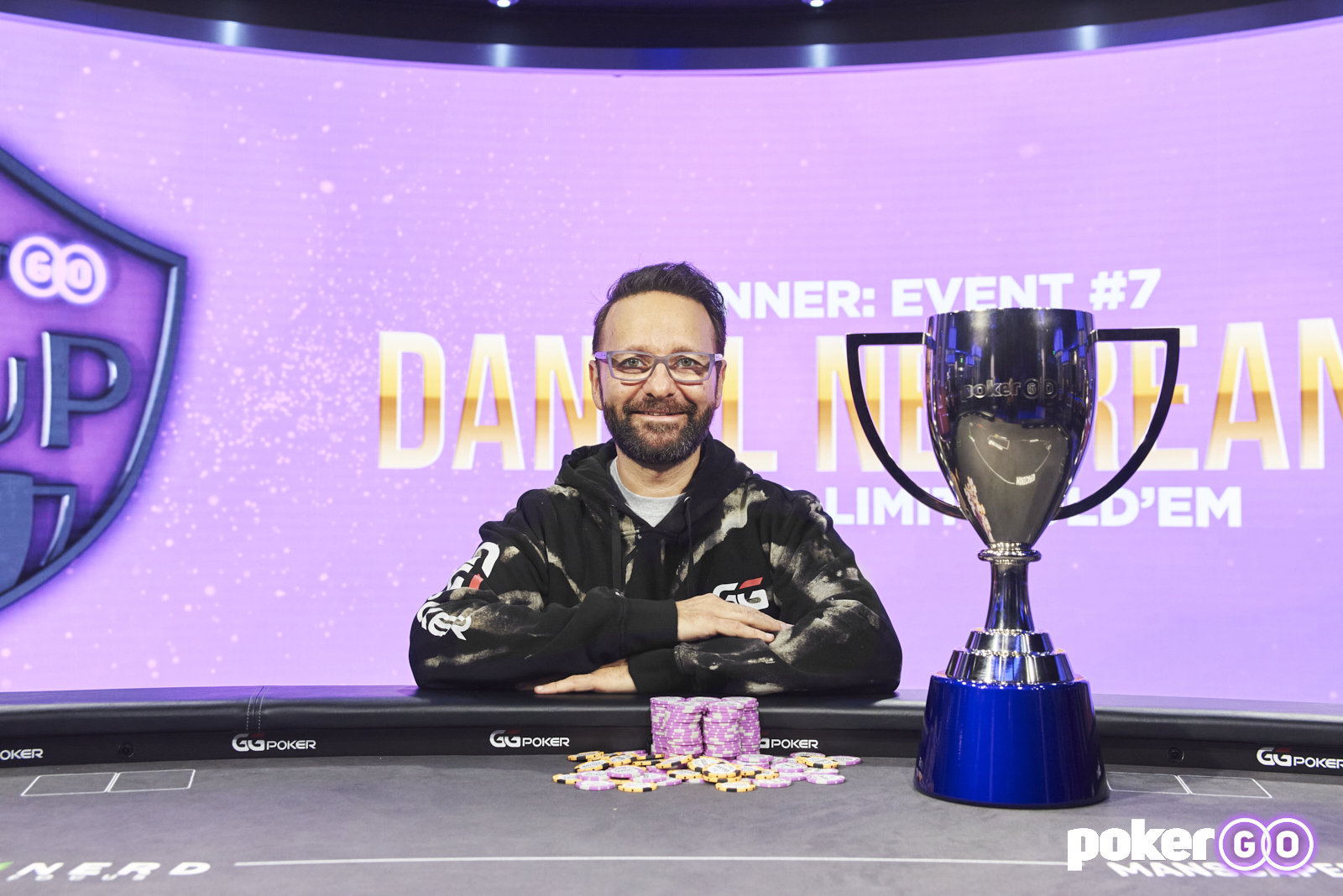 For as much as Daniel Negreanu has won in his poker career, it's been a long time since he landed himself in first place in a live poker tournament. On Tuesday, Negreanu picked up the victory in Event #7: $50,000 No-Limit Hold'em at the 2021 PokerGO Cup, scoring his first victory in an open event since 2013 and earning $700,000 in prize money.
"If I look at my results since 2013, I've cashed for $20 to $30 million, so I've still been able to post wins in terms of finances, but the elusive top prize has been missing," Negreanu said when talking about the drought of first-place results. "I've been a bridesmaid so many times. Just the demons and the ghosts in your brain, like when I'm heads up with [David Coleman] and that three hit the turn, it was just every reminder, like Buckner back in Shea Stadium. Every possible bad thing I'm thinking in my head. I can't help it. I'm human. So just to get that win out of the way it feels like I don't have to think about that anymore."
Negreanu topped a field of 35 entries and jumped into second place on the PokerGO Cup's overall series leaderboard. Negreanu defeated David Coleman in the end, with Coleman improving his series standing to second place on the leaderboard. It remains Ali Imsirovic atop the standings, but it's a tight race heading into the $100,000 finale.
When asked how he feels about the current state of his game and how he feels his game has evolved over the years, Negreanu said he felt good where his game is at and was quick to answer that he's grown to have a positive relationship with bluffing.
"I think my game is better than it's ever been," Negreanu said. "It's simply a factor of really understanding bluffing more and understanding that I need to do it more. For most of my career in the 2000s, I didn't need to bluff much because people called too often. I got to play a small-ball approach that didn't require me taking any risks. Now, if you do that against really great players, you're not going to get value because they're just going to keep folding. The value has to come from a little bit more aggression. So I upped my aggression in a lot of spots, I do a lot more bluffing, and earn some pots.
"In the old days, I used to think, 'Well, these guys are all bad, they're going to pay me off,' so what's the point in bluffing? But to beat these guys, you have to earn it. You have to have some cojones to be like, 'Alright, I'm all in. If you call, I lose,' and feel OK with that. My relationship with bluffing has changed. It used to feel like a punch in the gut when I lost those chips. Like I screwed up, but now it's just like, 'No, it was a good bluff. He called, but so what?' I've gotten to that place now with bluffing."
When it comes to competing inside the PokerGO Studio, the privilege is one not lost on Negreanu, who says that if you want to be the best, you have to beat the best.
"I feel like I've competed well all week," Negreanu said. "I had a bubble, I had two min-cashes, and then I had this one. I feel like I've been in there. I have the utmost respect for my opponents and how good they are. I do believe it's the best learning ground, too – watching what the top players do, the Ali Imsirovic's, the Jake Schindler's, and Alex Foxen – there are so many great players here. I have the luxury of being able to afford to play with them and feel like I'm doing pretty well against them, but it's the best test of where you're at. If you really, really, want to say that you're the best tournament player in the world or you're among them, then you need to compete against them and they're here in droves. This is the spot. Here at the PokerGO Studio."
To relive all of the action from Negreanu's PokerGO Cup victory, check out the replay of the event on PokerGO.com.
Although he entered the final day of play with the chip lead, Ali Imsirovic was the first player to bust. He went out in fifth place and took home $122,500 in prize money. With the blinds at 20,000-40,000 with a 40,000 big blind ante, Imsirovic raised to 220,000 with pocket tens from under the gun. Negreanu was next in the cutoff seat and looked down to see pocket aces. He reraised all in for 665,000. Play folded back to Imsirovic and he called all in for 520,000 total. The board ran out to keep Negreanu's aces in front and Imsirovic was sent to the rail.
Next to go was Sergi Reixach. He picked up two kings on the button and raised almost all in, putting in 235,000 in chips from his stack of 275,000. In the big blind, Daniel Negreanu called with pocket eights. A seven-high flop prompted Negreanu to bet enough to put Reixach all in. Reixach called. The turn was an eight to shoot Negreanu into the lead. The river was a five and Reixach was off to collect his $192,500 payday.
Alex Foxen busted shortly thereafter in third place. He also went out at the hands of Negreanu. Negreanu and Foxen got all the money in preflop in blind-versus-blind action. Negreanu had queen-seven of clubs and Foxen had ace-jack. Negreanu flopped a flush draw but it would be a seven on the river that gave him the knockout and sent him into heads-up play with Coleman. Foxen earned $280,000 in prize money.
Coleman entered heads-up play with the lead, having 2.95 million in chips to Negreanu's 2.3 million. The two battled for quite some time, and it was Negreanu who held the lead for most of the match despite starting off behind. It looked as though Negreanu was going to finish off Coleman when his ace-jack flopped a pair of jacks against Coleman's pocket threes, but a three on the turn allowed Coleman to double up.
Negreanu fought to extend another lead from there and the two eventually got the money in the middle for another flip. Coleman had pocket fives against Negreanu's king-ten. The flop and turn missed Negreanu, but he did have two overs and a flush draw going to the river. The river was a ten to and that's exactly what Negreanu needed to secure the win. Coleman walked away with $455,000 in prize money for what was his fourth final table of the series.
The final table payouts are as follows.
With his fifth-place finish in this event, Imsirovic improved to 497 points on the PokerGO Cup leaderboard. That allowed him to stay in first place, but the race is tight heading into the final event of the series. Coleman is just 27 points behind with 470 points, and then Negreanu is third with 468 points. Also above 400 points is Alex Foxen, who sits on 421 points after his third-place finish behind Negreanu and Coleman in Event #7.
2021 PokerGO Cup Top 10
Rank
Name
Country
Earnings
Points
1
Ali Imsirovic
Bosnia and Herzegovina
$545,500
497
2
David Coleman
USA
$710,000
470
3
Daniel Negreanu
Canada
$766,200
468
4
Alex Foxen
USA
$533,200
421
5
Jason Koon
USA
$446,000
316
6
Dylan Linde
USA
$255,000
255
7
Sergi Reixach
Spain
$320,700
244
8
Jake Schindler
USA
$324,000
194
9
Daniel Weinand
Canada
$181,900
182
10
Sam Soverel
USA
$168,200
168
Imsirovic's finish also allowed him to boost his lead atop the 2021 PokerGO Tour leaderboard. He now has 2,394 points in that race, with Sean Perry a bit of a ways off in second at 1,553 points. Foxen leaped ahead of Sam Soverel and into seventh place thanks to his third-place finish in Event #7 of the PokerGO Cup.
Updated PokerGO Tour Top 10
Rank
Name
Country
Total Earnings
PokerGO Tour Points
1
Ali Imsirovic
Bosnia and Herzegovina
$3,004,960
2,394
2
Sean Perry
USA
$2,206,378
1,553
3
Andrew Moreno
USA
$1,460,105
1,200
4
Clayton Maquire
USA
$1,443,757
1,200
5
Toby Lewis
UK
$1,235,204
1,200
6
Sean Winter
USA
$1,795,790
1,193
7
Alex Foxen
USA
$1,207,786
1,023
8
Sam Soverel
USA
$1,336,896
1,020
9
Chris Brewer
USA
$1,194,850
843
10
David Peters
USA
$1,068,750
796
Connect with PokerGO on Facebook, Twitter, and Instagram. Use code "CUP2021" for $20 off an annual PokerGO.com subscription now! Follow coverage for Event #8: $100,000 No-Limit Hold'em via our live reporting right now. Watch the Event #8 final table on PokerGO.com tomorrow at 4 p.m. ET.