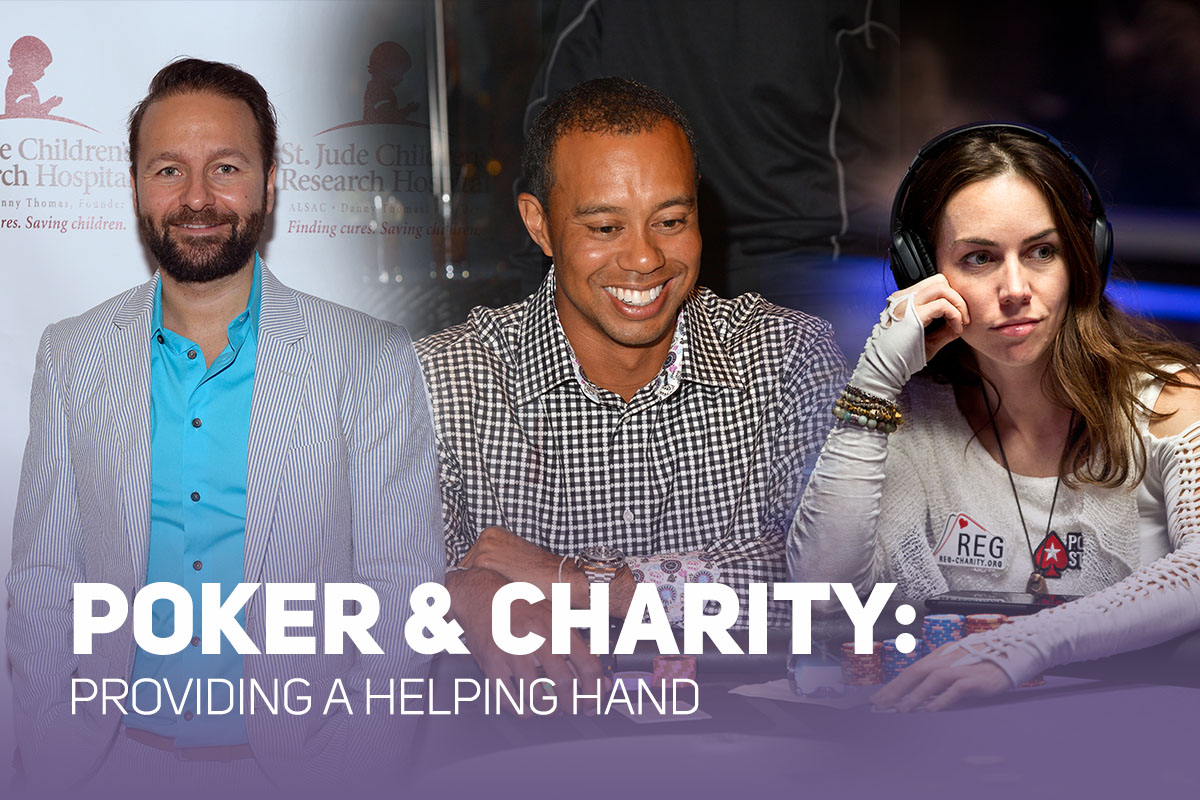 Chris Moneymaker once said that the beautiful thing about poker is that everybody thinks they can play. But while poker is often a game in which we're taught that winning is everything, the by-product of that mindset is often that players are money hungry in the early years of their careers, clutching at their ever-growing bankroll until they can take on the best of the best.
Once players are successful, of course, they have real-life money that often they don't know how to invest or how to donate it. There are, thankfully, several charities that poker players have given money to in the past that have benefitted from some of the millions of dollars that are moved between the winners in the mindsport. We take a look back at a few of them.
Before diving into those, we would be making an error to not lead with Dan Smith's yearly "Double Up Drive" which has raised millions of dollars for a variety of charities with heavily researched causes. This year's Double Up Drive starts on December 1st, check the website for more info.
REG
Otherwise known as Raising for Effective Giving, REG is supported by major poker talents, including but not limited to Igor Kurganov, Phil Gruissem, Liv Boeree and Martin Jacobsen. With over 300 players committed to donating 2% of their yearly profit to the organization, REG has researched how to give effectively and have a detailed approach to finding the worthiest causes for charitable donations. With a philanthropic edge, REG sees themselves as the elite method of how to donate to charity and do the most good in the world.
Tiger Jam
Now in its 21st year, Tiger Jam offers a series of unforgettable events with Tiger Woods, with the opportunity to raise money for charity. As well as – obviously – being able to learn a few strokes from the master on the golf course, there is the ever-popular Tiger's Poker Night, which promises fans that they'll be sat next to "the best poker players in the world" as well as enjoying a live concert and exclusive party. Invitation-only, there's little more exclusive than Tiger Jam.
Charity Series of Poker
Promising to send money to the right causes and in the right proportion is a charity passion led by Phil Hellmuth among others. Established for five years now, the Charity Series of Poker is a not-for-profit company that organizes a lot of charity poker tournaments as well as other events to raise money for that raise money and awareness for worthy charities and causes.
We strive to make it easy for poker players and celebrities to give back to their communities and the world in a very tangible way while playing the game we all love. They've also taken over the running of several independently-run events, such as…
Jude's
Daniel Negreanu's charity passion for many years, St. Jude's 'Against All Odds' Poker Tournament is nothing to do with the former Genesis frontman, Phil Collins. It's actually a night of poker, fine dining and all with an open bar. With a live auction and great prizes throughout the night, it's all a lot of fun and raises vital funds for families to make children's lives easier. Saving lives and playing poker at the same time? That's some superhero stuff right there, and you can donate at any time via the website.
WPT Foundation
The World Poker Tour is one of the world's oldest and most trusted poker brands, and since 2012, the WPT Foundation has been in place to support philanthropy and give a lot back to the world with the help of a poker tournament or ten! There are now year-round auctions in place to support the WPT Foundation via Charity Buzz and you can be joining WPT in Playing for a Better World, as well as supporting key charities through their events, such as human rights, education, and the environment.
All In for CP
The One Step Closer Foundation, hosting the December tournament 'All in for CP' has raised over $1million in just 12 years of fundraising, usually seeing their tournaments take place at Bally's Casino in Las Vegas Last year, Curb Your Enthusiasm's Cheryl Hines and Montell Williams were the hosts, and the charity often invite celebrities to help raise funds as well as awareness about the challenges associated with Cerebal Palsy. Last year's $350-entry poker tournament awarded $25,000 in cash and prizes for the top 15 finishers.