Event #5: $10,000 No-Limit Hold'em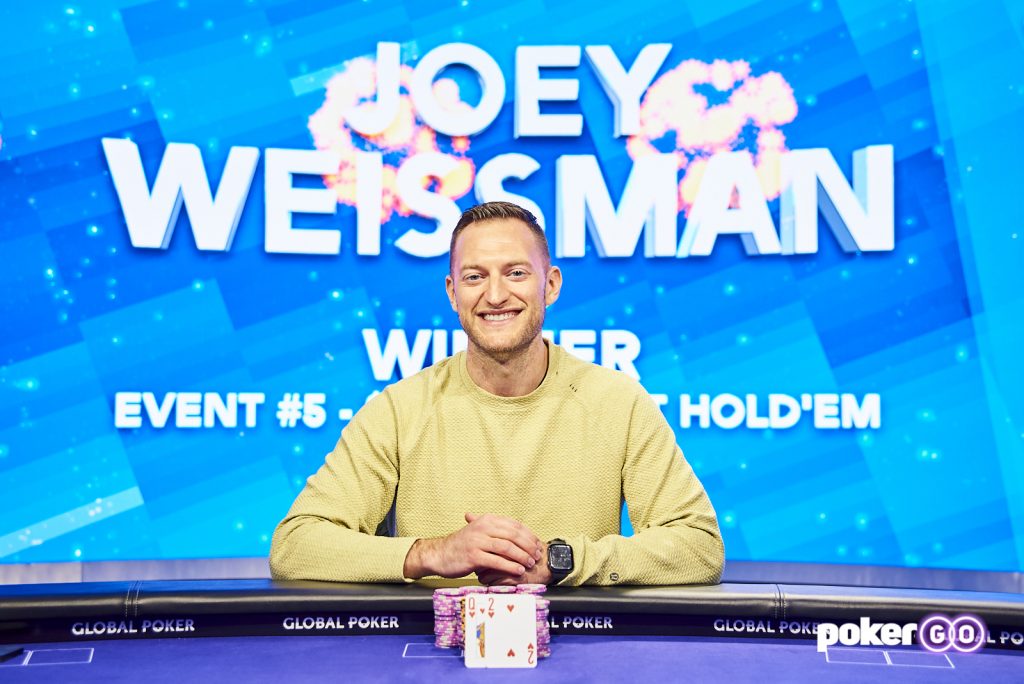 Joey Weissman needed no fewer than five double-ups to stay in contention throughout the day and ultimately he spoiled Adam Hendrix's day by pulling off the upset win! Hendrix was in full control all day, knocking out four players on his way to a 6:1 chip lead heading into heads-up play, but it wasn't meant to be. At a final table that included former WSOP Main Event winner, and current U.S. Poker Open Championship leader Joe McKeehen, Weissman laughed last and collected the $204,000 top prize.
The lone Spaniard at the final table, Vicent Bosca, came into the final table short on chips and he raised to 425,000 on what turned out to be his final hand. Brock Wilson looked down on ace-queen and moved all-in for 710,000 and Bosca called off the remaining 110,000 chips in the 25k/50k level. Bosca flopped a flush draw but the turn nor river helped him stay alive.
Despite chipping up nicely by knocking out Bosca, Wilson was next to go in sixth place in dramatic fashion! The action folded to chip leader Hendrix in the small blind and he shoved to put Wilson at risk. Wilson had 14 big blinds left and snap-called as soon as he caught a glimpse of the ace-queen offsuit that he got dealt. Hendrix tabled jack-eight offsuit and found himself with a 2% chance to win the pot when the dealer fanned out queen-queen-king. A nine on the turn gave Hendrix a gutshot and the players at the table erupted in shock when a ten hit the river to complete his straight. Hendrix extended his chip lead and held more than half the chips in play.
On the same level we saw a newcomer on the high roller scene inside the PokerGO Studio, Frank Funaro, hit the rail in fifth place. Hendrix min-raised with pocket tens after which Frank Funaro moved all-in with ace-three of clubs. Funaro flopped a pair of threes but didn't improve his hand and Hendrix chipped up to seven million chips with only 10.5 million in play.
Weissman was the short stack during four-handed play and moved all-in for his final 5.5 big blind with six-five of hearts only to get called by Katz who tabled ace-four. Katz had Weissman covered by three big blinds and a five on the turn gave the former a winning pair. Katz was left with very little chips and busted against Hendrix on the very next hand in fourth place.
Shortly thereafter, McKeehen moved all-in from the small blind for 11 big blinds onto Hendrix's big blind holding queen-three suited. Hendrix called with king-nine suited and the board ran dry for the former WSOP Main Event champion.
Heads-up action started with Hendrix holding a commanding lead over his opponent with nine million versus 1.6 million. Weissman, however, wasn't going anywhere as two quick double-ups brought him right back into the thick of things. Weissman continued to chip up to a point where Hendrix was down to just five big blinds. Hendrix did not go quietly into the night as he found a double up with quads but it was not enough to regain control of the match. A little while later, Hendrix was all in and at risk again this time holding ace-jack versus the queen-deuce of hearts held by Weissman. Weissman hit a flush and locked up the win!
The full event payouts are as follows.
U.S. Poker Open Event #5: $10,000 No Limit Hold'em
Place
Name
Championship Points
$850,000
1st
Joey Weissman
204
$204,000
2nd
Adam Hendrix
145
$144,500
3rd
Joe McKeehen
102
$102,000
4th
Cary Katz
85
$85,000
5th
Frank Funaro
68
$68,000
6th
Brock Wilson
51
$51,000
7th
Vicent Bosca
43
$42,500
8th
Nick Schulman
34
$34,000
9th
Dan Shak
34
$34,000
10th
Daniel Negreanu
26
$25,500
11th
Ali Imsirovic
26
$25,500
12th
Jordan Cristos
17
$17,000
13th
Shannon Shorr
17
$17,000
The 2021 U.S. Poker Open continues right now as Event #6: $10,000 8-Game is in full swing. Check out our Live Reporting right here and tune into the final table of that event at 1:00 pm PT on PokerGO. Here are the Top 10 of the Championship Standings.
U.S. Poker Open Championship Standings
Rank
Player
Points
Wins
Cashes
Earnings
1
Joe McKeehen
302
1
2
$302,200
2
Jake Daniels
219
1
1
$218,500
3
Joey Weissman
204
1
1
$204,000
4
Sam Soverel
195
1
2
$194,500
5
Dan Shak
186
0
2
$186,000
6
John Riordan
182
1
2
$182,200
7
Steve Zolotow
153
0
2
$153,000
8
Barry Hutter
153
0
2
$152,500
9
Jordan Cristos
147
0
2
$147,000
10
Ray Qartomy
146
0
1
$146,300
Connect with PokerGO Facebook, Twitter, and Instagram. Use code "USPO21" for $20 off an annual PokerGO.com subscription now!