Event #10: $10,000 Short Deck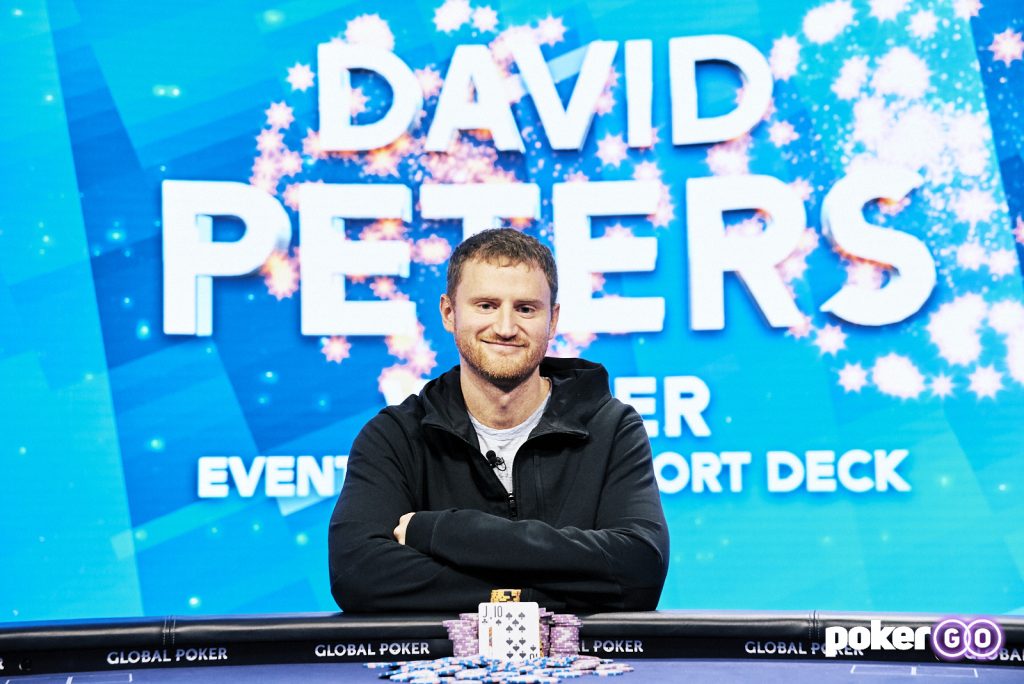 David Peters and Ali Imsirovic put on another show today with the former coming out on top for his second series win while the latter notched up his fifth cash and secured more points in the race for the Gold Eagle trophy and $50,000 cash prize. Watch the full final table of the Event #10: $10,000 Short Deck right here on PokerGO.
The story of this event started late on Day 1 when Daniel Negreanu ended up all in with pocket kings versus David Peters' jack-ten for a massive pot. Peters rivered a straight on this hand and Negreanu was sent packing as the bubble burst. This hand sent Peters up to 5.3 million while Katz (1.3 million), Imsirovic (1 million), and Thomas Kysar (360k) were relatively short-stacked headed into today's final table stream.
On the first hand of the live-streamed final table, David Peters raised enough to put both Cary Katz and Thomas Kysar all in and the latter made the call sitting on a very short stack. Kysar was in the lead with queen-jack of hearts against Peters' queen-nine and a nine on the board brought us down to three players immediately!
Peters maintained his dominant chip position throughout the final table and it was Katz who busted next in third place. Katz was all in with queen-ten of hearts versus Imsirovic's queen-jack of clubs and the board ran dry for Katz who notched up his fourth cash of the series to put him sixth on the championship standings with two events left to be played.
The heads-up battle lasted for 90 minutes as Peters carefully picked his spots. Every time Imsirovic picked up a little momentum, Peters set him straight as he continued holding a comfortable lead. The final hand was rather interesting as Imsirovic called the ante holding queen-eight offsuit and Peters checked his option with jack-ten. The flop brought out ace-jack-ten and Imsirovic bet 100,000 that Peters called rather quickly. A six popped up on the turn and Imsirovic continued for 450,000 and Peters called again. On the river, the board completed with another six and Imsirovic moved all-in for 1.6 million into 1.2 million. No flushes completed on the river and Peters went into the tank before ultimately making the call. Imsirovic tapped the table in defeat and
This event had a total of 27 entries creating a prize pool of $270,000. The payouts are as follows.
U.S. Poker Open Event #10: $10,000 Short Deck
Place
Name
Championship Points
Payouts
1st
124
$124,200
2nd
76
$75,600
3rd
43
$43,200
4th
Thomas Kysar
27
$27,000
Peters winning this event brings him a little closer to Imsirovic who extended his lead over the rest of the field in the Championship by quite the margin. There are two events remaining at the 2021 U.S. Poker Open and any player looking to overtake Imsirovic will need to score big in both events!
U.S. Poker Open Leaderboard
Rank
Player
Points
Wins
Cashes
Earnings
1
Ali Imsirovic
483
1
5
$482,000
2
David Peters
367
2
3
$367,200
3
Andrew Lichtenberger
308
0
3
$308,000
4
Joe McKeehen
302
1
2
$302,200
5
Steve Zolotow
289
0
3
$289,000
6
Cary Katz
270
0
4
$270,100
7
Dan Shak
236
0
3
$235,500
8
Maxx Coleman
231
0
3
$230,800
9
Alex Foxen
224
0
4
$223,300
10
John Riordan
222
1
3
$221,800