Event #5: $15,000 No-Limit Hold'em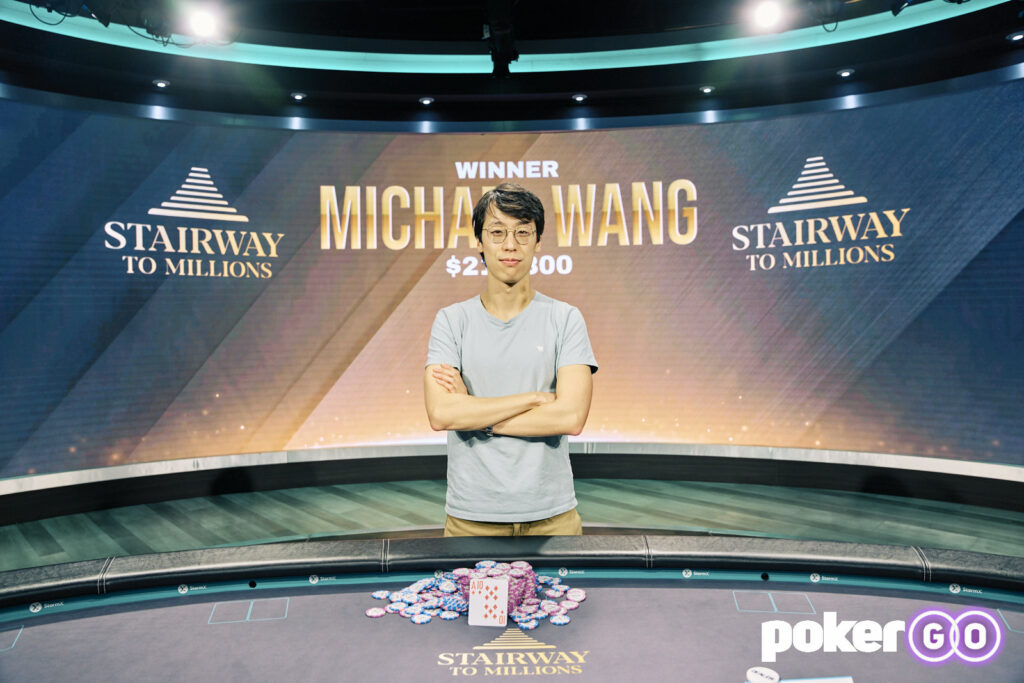 Michael Wang wins 2022 Stairway To Millions Event #5 for $219,300. Wang topped the field of 43 entries to take the title, and with his prize came an entry into Stairway To Millions Event #6: $26,000 NL Hold'em.
Stairway To Millions Event #5 Results
| | | | |
| --- | --- | --- | --- |
| Place | Player | Country | Prize |
| 1 | Michael Wang | United States | $219,300 |
| 2 | Larry Greenberg | United States | $135,450 |
| 3 | Bill Klein | United States | $90,300 |
| 4 | Vikenty Shegal | United States | $64,500 |
| 5 | Stephen Chidwick | United Kingdom | $51,600 |
| 6 | Sean Winter | United States | $45,150 |
Wang is no stranger to the poker scene. He's been in the industry for more than a decade and entered this event with nearly $3,300,000 in live tournament earnings, with cashes dating back to 2009. Wang has enjoyed plenty of success in poker, including a WSOP gold bracelet win in 2015, but this victory was his first inside the PokerGO Studio in Las Vegas.
"I'm feeling really good, obviously," Wang said with a big smile on his face. "It's really good to be in an event where it's so well run. The studio is amazing. It's my first series playing here and I can see why all of the top high-stakes players love playing here. From start to finish, it's been a great experience. Every little detail that I can think of, I just can't think of any room for improvement. It's a great venue, it's a great series, it's a great format – a really interesting idea. I'm really glad I ran well to start my series. I haven't been playing too many high rollers, but I'm starting to get my feet wet a little bit and it's good to not immediately be stuck 50 buy-ins."
Not only did Wang win Stairway To Millions Event #5, but the victory pushed him to the top of the 2022 PGT leaderboard. This event was the first of the Stairway To Millions series that qualified for PGT leaderboard points. It's only the first month of the PGT's new season, so there's a long way to go, but we could be seeing the early foundation of a breakout year for Wang on the high-roller scene. Wang now has 354 points on the PGT leaderboard. He's cashed twice this season, with a second-place finish in a Venetian High Roller as his other result to date.
"At least the $25K for sure, since I'm already registered for that," Wang said of what's next. "It helps to have a little bit of success, not only for the bankroll but for confidence. I feel like I did OK. Obviously, I got very fortunate in my run-outs and my hole cards, but I think that more high rollers are on the horizon."
There were 43 entries in Stairway To Millions Event #5: $15,800 NL Hold'em, creating a $645,000 prize pool. The top seven finishers made the money. Busting in seventh place for $38,700 was David Coleman.
For more on Wang's victory, check out the full recap on PGT.com.