Event #4: $15,000 No-Limit Hold'em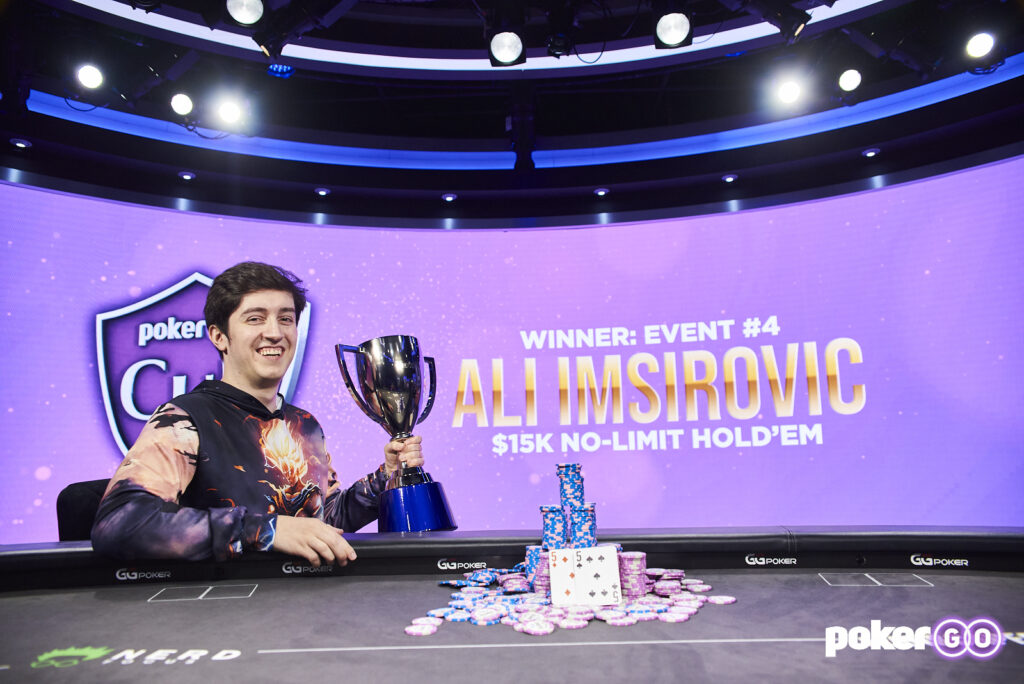 Four events at the 2021 PokerGO Cup have been completed and Ali Imsirovic has won half of them. Imsirovic won the second event of the series for $183,000 on Thursday. On Saturday, Imsirovic took the title from the series' fourth event, topping a field of 50 entries to win $240,000.
"You just have to hit a few sets and it works out (laughs)," Imsirovic said with a smile. "Obviously, I ran really good. I didn't play that good early on yesterday, so I had to try a little harder to redeem myself later on."
Imsirovic now has a commanding lead atop the overall series leaderboard. He picked up 240 points for Saturday's victory to increase to 423 total points. That's well ahead of Dylan Linde and Alex Foxe, who are sitting in second and third with 255 points and 253 points, respectively.
"This is what I want most in poker, to win these high roller-type series against really tough competition," Imsirovic said. "You have to do well over a bunch of tournaments and there's a lot of variance so obviously you've got to run good, but these kinds of series feel way more prestigious than anything else I could really win. So that means the most of anything in poker to me."
You can rewatch the final table by checking out the replay on PokerGO.com.
Down to 145,000 in chips with the blinds up to 10,000-20,000 with a 20,000 big blind ante, David Coleman moved all in from the hijack seat with ten-eight of spades. Daniel Weinand picked up two aces on the button and made the call. Coleman only picked up a pair of eights on the turn and that wasn't enough to crack Weinand's aces, sending Coleman to the rail in sixth place for $45,000.
With the blinds up to 15,000-30,000 with a 30,000 big blind ante, Alex Foxen opened with a raise to 60,000 on the button. Mo Rahim reraised all in from the small blind for 325,000. Foxen made the call with ace-seven of diamonds. Rahim, a dentist out of New Hampshire, had pocket fives. Foxen hit a seven on the river to knock Rahim out in fifth place for $60,000.
Foxen was the next player to bust, hitting the rail in fourth place and picking up $75,000. He busted when he ran pocket eights into the pocket jacks of Imsirovic. With the blinds at 20,000-40,000 with a 40,000 big blind ante, Weinand raised to 80,000 with two sixes and Imsirovic flat-called on the button with jacks. Foxen was in the big blind and moved all in for 1.25 million holding eights. Weinand got out of the way and Imsirovic called to give Foxen the bad news. Imsirovic's jacks stayed in front all the way to eliminate Foxen.
The blinds eventually moved up to 25,000-50,000 with a 50,000 big blind ante and that's when Jordan Cristos busted in third. He was all in with ace-six against the king-three of Imsirovic. Imsirovic flopped a king and held from there, leaving Cristos heading to the payout desk to collect his $105,000 in winnings.
Imsirovic entered heads-up play with a big chip lead. He had three times as many chips as Weinand did. Weinand put up a good fight and did the best he could to work to close the gap against Imsirovic, but at the end of the day Imsirovic could not be taken down.
On the final hand, the blinds were up to 30,000-60,000 with a 60,000 big blind ante. Imsirovic limped in from the button with pocket fives and Weinand checked his option from the blg blind holding eight-three of clubs. The seven-six-five flop gave Imsirovic a set of fives and Weinand a straight draw. Weinand led with a bet of 60,000 and Imsirovic called to see a deuce land on the turn. Weinand fired again, this time for 175,000. Imsirovic raised to 700,000 and Weinand responded by reraising to 1.6 million. Imsirovic moved all in, covering Weinand, and Weinand called off his last 700,000 or so. Weinand had eight outs with one card to come but couldn't hit one with an ace on the river. Weinand finished in second place for $157,500.
The final table payouts are as follows.
As mentioned, Imsirovic leads atop the 2021 PokerGO Cup leaderboard. He's cashed in two of the series' four events and won both of those. Imsirovic won the second event of the series for $183,000. With his second-place finish in this event, Weinand jumped up to fourth on the series leaderboard.
At the end of the 2021 PokerGO Cup, the player atop the leaderboard will take home an additional $50,000 in prize money.
2021 PokerGO Cup Top 10
Rank
Name
Country
Earnings
Points
1
Ali Imsirovic
Bosnia and Herzegovina
$423,000
423
2
Dylan Linde
USA
$255,000
255
3
Alex Foxen
USA
$253,200
253
4
Daniel Weinand
Canada
$181,900
182
5
Sam Soverel
USA
$168,200
168
6
Jordan Cristos
USA
$157,800
158
7
Sean Perry
USA
$132,000
132
8
Sergi Reixach
Spain
$128,200
128
9
Jason Koon
USA
$122,000
122
10
Mo Rahim
USA
$121,000
121
When it comes to the 2021 PokerGO Tour leaderboard, Imsirovic appears to be about as unstoppable as they come. With this latest victory, Imsirovic improved to 2,320 PokerGO Tour points and stretched out his lead even more.
Updated PokerGO Tour Top 10
Rank
Name
Country
Total Earnings
PokerGO Tour Points
1
Ali Imsirovic
Bosnia and Herzegovina
$2,882,460
2,320
2
Sean Perry
USA
$2,206,378
1,553
3
Andrew Moreno
USA
$1,460,105
1,200
4
Clayton Maquire
USA
$1,443,757
1,200
5
Toby Lewis
UK
$1,235,204
1,200
6
Sean Winter
USA
$1,723,790
1,150
7
Sam Soverel
USA
$1,336,896
1,020
8
Alex Foxen
USA
$927,786
855
9
Chris Brewer
USA
$1,194,850
843
10
David Peters
USA
$852,750
666
For as much success as Imsirovic has, he's not one to shy away from understanding he does have weaknesses. He mentioned that he didn't feel as though he played well on the first day of this tournament, and later added that sometimes he breaks from doing what he should do.
"I probably deviate too much from what I should do," Imsirovic said of his biggest weakness. "I'll think 'I just think this is going to work' and then I'll just do it. Sometimes I'm just way off."
Way off or not, everything is going Imsirovic's way right now. With a handful of tournaments left in the 2021 PokerGO Cup, we'll see if he's able to continue his hot run and emerge the series champion.
Connect with PokerGO on Facebook, Twitter, and Instagram. Use code "CUP2021" for $20 off an annual PokerGO.com subscription now! Follow coverage for Event #5: $25,000 No-Limit Hold'em via our live reporting right now. Watch the Event #4 final table on PokerGO.com tomorrow at 4 p.m. ET.