Event #3: $10,000 No-Limit Hold'em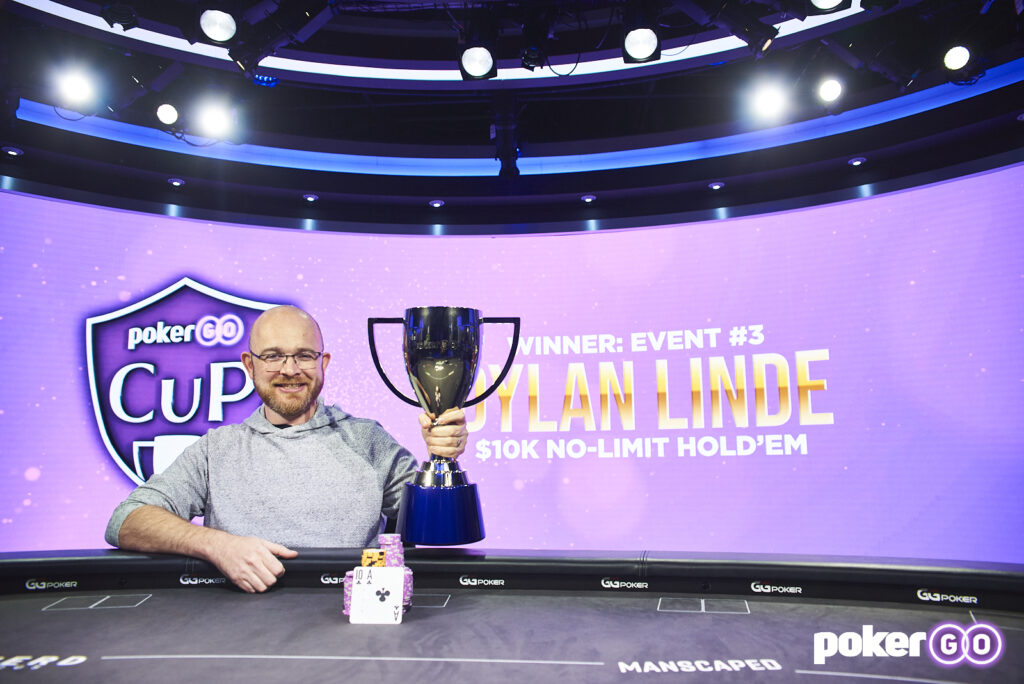 The third event of the 2021 PokerGO Cup, a $10,000 buy-in no-limit hold'em tournament, was won by Dylan Linde on Friday. Linde earned a first-place prize of $169,600 after topping the field of 53 entries.
"It's been a huge evolution for me," Linde said when asked about how his game has matured over the years. "I've done a lot of studying and worked with a lot of players who are a lot better than I am. I'm just lucky to be friends with some very good players that have helped me improve a lot, especially during lockdown when I just spent a lot of time studying and playing online."
Linde also picked up 170 points for the PokerGO Cup and PokerGO Tour leaderboards. As things pertain to the 2021 PokerGO Cup, Linde now sits atop the overall leaderboard with 255 points. In addition to this finish, Linde placed third in the second event of the series for $85,400 and 85 points.
You can rewatch the action from the final table by checking out the replay on PokerGO.com.
Chris Brewer entered the final table with the second shortest chip stack of the final seven players and he found himself in an interesting spot right from the start. On one of the first few hands of the final table with the blinds at 25,000-50,000 with a 50,000 big blind ante, Sam Soverel opened with a raise to 100,000 with ace-king from under the gun. Next to act, Bill Klein picked up two black aces and moved all in for 305,000. Brewer was next in line and looked down to see two red nines and called, leaving himself with 15,000 behind. Play folded back to Soverel and he called after confirming Brewer had 15,000 behind. Brewer tossed in his last 15,000 on the queen-jack-five flop and Soverel called. The turn was a king and the river was a six, allowing Klein to triple up while knocking Brewer out in seventh place for $26,500.
Shortly after in the same level, Cary Katz opened to 100,000 with pocket aces. Play folded to Soverel in the small blind and he looked down at two jacks. Soverel made it 260,000 and Katz shoved for 530,000. Soverel called and saw the bad news. Katz held the lead through the flop and turn, but a jack on the river delivered the blow that would send him to the rail in sixth place for $31,800.
Later on in the level, play folded to Sergi Reixach in the small blind and he raised all in for 765,000 for eight-six of diamonds. Soverel thought about it and then made the call with a dominating ace-eight. Both players flopped a pair, but it was Soverel's pair of aces ahead of Reixach's pair of sixes. Soverel held from there to bust Reixach in fifth place for $42,400.
The blinds eventually increased to 40,000-80,000 with an 80,000 big blind ante, and that's when Klein was eliminated by Soverel. Soverel raised all in from the small blind with ace-queen and Klein called off his 590,000-chip stack with ace-ten. The flop, turn, and river kept Soverel in front and sent Klein to the payout desk to collect his $53,000 in winnings.
Not long after Klein busted, Steve Zolotow found himself all in with ace-nine against the eight-six of clubs of Soverel. Soverel flopped a big one when it came six-high with two clubs. The turn was a red jack and the river was a red ten, knocking out Zolotow in third for $74,200.
Just as he began the final table, Soverel started heads-up play with the chip lead. He had about three times as many chips as Dylan Linde to start the match.
Linde found an important double up to move into the lead when he jammed a flopped two pair on the river and Soverel tank-called with top pair. That gave Linde roughly twice as many chips as Soverel.
On the final hand, the blinds were 50,000-100,000 with a 100,000 big blind ante. Soverel moved all in from the button for 600,000 with ace-three. Linde made the call with ace-ten of clubs. The board ran out clean for Linde and he was crowned the champion of the third event of the 2021 PokerGO Cup.
The final table payouts are as follows.
The victory isn't the first time Linde has found the winner's circle inside the PokerGO Studio. Back in December 2018, Linde topped the prestigious World Poker Tour Five Diamond tournament for $1.63 million. The final table of that event was held inside the PokerGO Studio.
"Besides money keeping me motivated (laughs), I'm a competitor," Linde said. "Before I played poker, I was into competitive video games and stuff. I just like to win. That's why I like tournaments more than cash games. I like the idea of first place."
Linde now sits at the top of the 2021 PokerGO Cup leaderboard through the first three events. He has two cashes and one victory. Ali Imsirovic, the winner of the second event of the series, is second on the leaderboard, 72 points behind Linde. Soverel moved up to fourth place with 168 total points. Soverel has cashed in all three events at the 2021 PokerGO Cup.
The player to finish atop the PokerGO Cup leaderboard at the end of the series will win an additional $50,000 in prize money.
2021 PokerGO Cup Top 10
Rank
Name
Country
Earnings
Points
1
Dylan Linde
USA
$255,000
255
2
Ali Imsirovic
Bosnia and Herzegovina
$183,000
183
3
Alex Foxen
USA
$178,200
178
4
Sam Soverel
USA
$168,200
168
5
Sean Perry
USA
$132,000
132
6
Sergi Reixach
Spain
$128,200
128
7
Jason Koon
USA
$122,000
122
8
Steve Zolotow
USA
$100,600
100
9
David Coleman
USA
$66,000
66
10
Mo Rahim
USA
$61,000
61
The top 10 of the 2021 PokerGO Tour leaderboard remains the same. Soverel remained in seventh place, but he did close the gap with those ahead of him after he improved to 1,020 points with the result in the third event of the PokerGO Cup.
It remains Imsirovic leading the PokerGO Tour leaderboard. He's the only player with more than 2,000 points and is 527 points ahead of Sean Perry in second place.
Updated PokerGO Tour Top 10
Rank
Name
Country
Total Earnings
PokerGO Tour Points
1
Ali Imsirovic
Bosnia and Herzegovina
$2,642,460
2,080
2
Sean Perry
USA
$2,206,378
1,553
3
Andrew Moreno
USA
$1,460,105
1,200
4
Clayton Maquire
USA
$1,443,757
1,200
5
Toby Lewis
UK
$1,235,204
1,200
6
Sean Winter
USA
$1,723,790
1,150
7
Sam Soverel
USA
$1,336,896
1,020
8
Chris Brewer
USA
$1,194,850
843
9
Alex Foxen
USA
$852,786
780
10
David Peters
USA
$852,750
666
Connect with PokerGO on Facebook, Twitter, and Instagram. Use code "CUP2021" for $20 off an annual PokerGO.com subscription now! Follow coverage for Event #4: $15,000 No-Limit Hold'em via our live reporting right now. Watch the Event #4 final table on PokerGO.com tomorrow at 4 p.m. ET.