Event #9: $25,000 Pot-Limit Omaha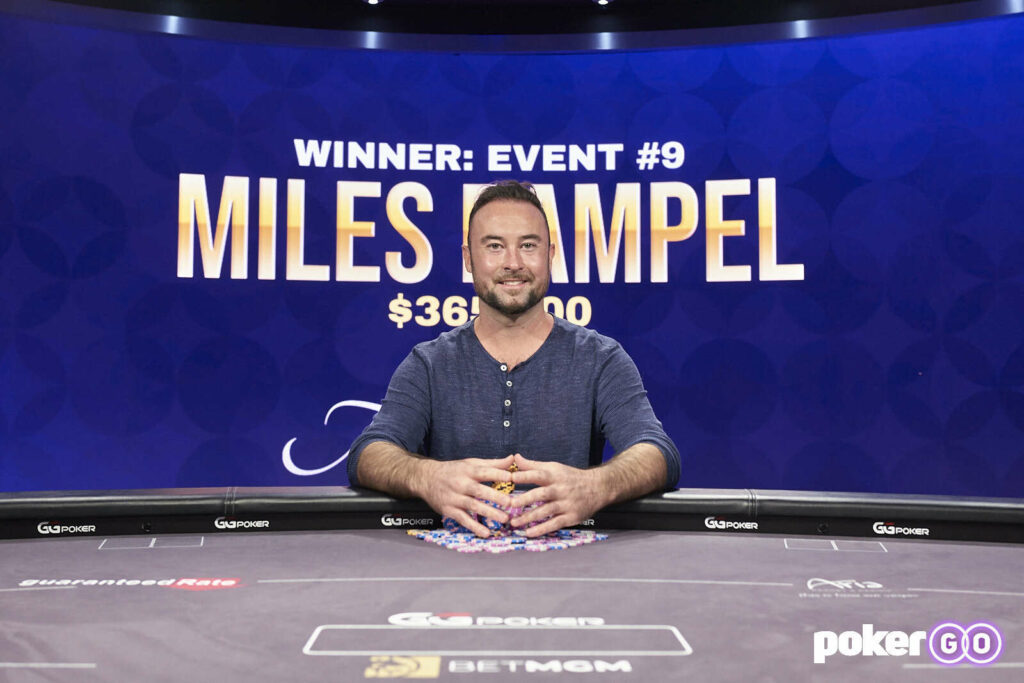 The 2021 Poker Masters is in the home stretch, and the ninth event of the 12-event series wrapped up on Thursday. Topping the 43-entry field in Event #9: $25,000 Pot-Limit Omaha was a newcomer to the PokerGO Studio, Miles Rampel. Rampel picked up a payday of $365,500.
"It hasn't hit me yet, but I feel great, I feel great," Rampel said with a big smile across his face. "I ran really hot. I picked up aces a bunch of times, and I ran hot. There are some plays I probably made that were bad, and I probably played middle of the road with my own unique style that has some leaks in it, but I ran hot and picked up aces like five or six times."
The victory was Rampel's first-ever live tournament score, and it was a big one for the internet entrepreneur from Chica, ​​California. Naturally, we asked to know a little bit about him and his poker background.
"I've been playing $1-2 and $2-5 no-limit [hold'em] for 10 years, starting in college," Rampel said. "I went to UCSB so I played at the Chumash Casino in a little $60 max buy-in $1-2 game. I started playing PLO this year and enjoyed it a lot. It's fun to think a little bit more. Then my friends and I just came to Las Vegas on a whim and saw that this tournament was here. I thought, 'You know what, I'll take a shot.' On the morning of registration, I was hemming and hawing thinking I didn't want to start the trip stuck $25,000 with it being all pros, but I said, 'You know what? I'll register.' Lots and ups and downs."
Going from games at $1-2 and $2-5 limits to a $25,000 buy-in tournament with some of the best players in the world is no small leap to make. While celebrating, one of Rampel's friends did he say that Rampel had never bought into a tournament with a buy-in of more than $100. Another one of his friends confirmed that to be true but added that thanks to finding success in other areas of life their poker games have steadily increased in stakes over the years.
"It was slow," Rampel said of his progression up in stakes. "I'm not like a pro poker player or anything, so as I became more successful in life the games got a little bit bigger – not as big as this, this was definitely taking a shot for me – and I decided to take a shot."
If you'd like to relive all of the action from the final table, you can find the replay on PokerGO.com.
Event #9: $25,000 Pot-Limit Omaha saw five players return for Thursday's Day 2, with Lou Garza out in front. Jeremy Ausmus was the first play to bust in fifth place for $86,000, and then it was Ben Lamb falling in fourth place for $118,250.
During three-handed play, Miles Rampel climbed into the chip lead. Although he did double up Sean Winter once, Rampel was the one to send Winter home in third place. Winter was making his first cash of the 2021 Poker Masters and it resulted in a third-place finish worth $161,250.
For Garza, reaching at least the final two players in this event moved him into the lead for the race for the Purple Jacket.
At the start of heads-up play, Garza held a slight chip lead with 2.83 million in chips to Rampel's 2.545 million. Garza started heads-up play by extending his lead, but then Rampel was able to double through him when a flush-over-flush pot happened. The double moved Rampel to nearly 4 million in chips and knocked Garza down to 1.435 million.
After Garza dipped below 1 million in chips, the final hand took place with the blinds at 40,000/80,000 with an 80,000 big blind ante. On the button, Garza, who began the hand with 880,000 in chips, raised to 240,000 with the
. Rampel called with the
and the flop came down
. Rampel checked and Garza bet the pot for 560,000. Rampel moved all in and Garza called off the remainder of his stack. The equity favored Garza, but after the
turn and
river it was all over in favor of Rampel.
You can see the top 10 of the 2021 Poker Masters leaderboard below.
2021 Poker Masters Leaderboard
Rank
Name
Points
Wins
Cashes
Earnings
1st
Lou Garza
376
0
4
$550,200
2nd
Brock Wilson
358
1
3
$414,300
3rd
Chris Brewer
320
1
3
$490,800
4th
Daniel Negreanu
281
1
2
$281,400
5th
Sean Perry
280
1
3
$280,000
6th
Stephen Chidwick
271
1
3
$296,100
7th
Dylan DeStefano
260
0
3
$260,800
8th
Jeremy Ausmus
219
0
3
$253,200
9th
Miles Rampel
219
0
1
$365,500
10th
Matthew Wantman
216
0
3
$250,700
Connect with PokerGO.com on Facebook, Twitter, and Instagram. Use code "MASTERS21" for $20 off an annual PokerGO subscription now!