Event #8: $25,000 No-Limit Hold'em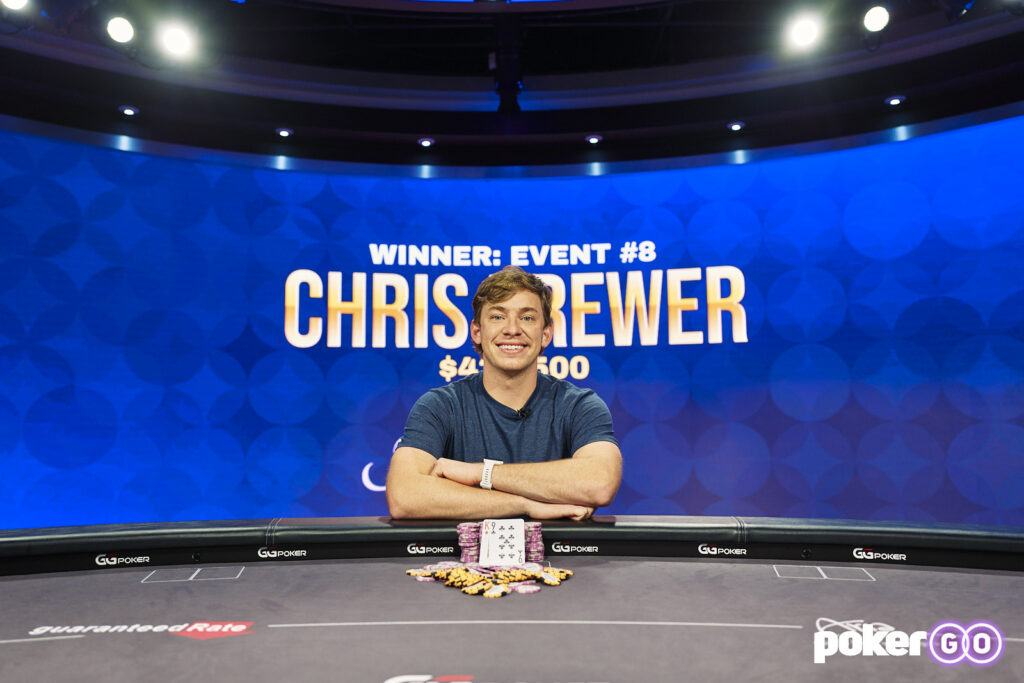 On Wednesday in Las Vegas, Chris Brewer topped a field of 57 entries to win Event #8: $25,000 No-Limit Hold'em at the 2021 Poker Masters for $427,500. In addition to the prize money, Brewer earned 257 points for the Poker Masters leaderboard, which vaulted him into second place overall in the race for the coveted Purple Jacket.
"I'm excited," Brewer said of putting himself in strong contention for the Purple Jacket heading into the home stretch of the 2021 Poker Masters. "It would be really cool to win the jacket. Also, I just got to win money which is cool. I was saying right before this that winning or losing you should probably feel the same about your play, like most of it in regards to the results is out of your control."
Brewer has risen quickly into poker's spotlight and is known to play some of the highest stakes in the world, both in tournaments and cash games. When it comes to winning in a tournament versus winning in a cash game, Brewer was quick to point out which one is better.
"It's way more fun in a tournament," Brewer said. "A cash game is usually way less exciting. A tournament, like, you won, which is always a good feeling to just be the winner."
Last month, he won the $50,000 Super High Roller at Seminole Hard Rock for $420,670, which was good for his career-best live tournament score at the time. This win tops it, but it's also special to Brewer for another reason.
"I think this is the first time I've won on stream, so it's probably one of my favorite moments for that," Brewer said. "I think it has to be up there as one of my favorites."
If you'd like to relive all of the action from the final table, you can find the replay on PokerGO.com.
The event attracted 57 entries and had a $1.425 million prize pool. Five players returned for Day 2, with AP Louis Garza in the lead. Garza eliminated the final three players on Day 1 to boost his stack into the chip lead.
John Riordan was the first player to bust out. The result represented Riordan's fourth cash of the 2021 Poker Masters and he picked up a $114,000 payday. With the finish, Riordan moved to 10th on the overall series leaderboard with 190 points.
After Riordan, Brock Wilson busted in fourth place. His elimination came as the result of two hands.
With the blinds at 25,000/50,000 with a 50,000 big blind ante, Darren Elias moved all in with the
for 495,000 from under the gun. Action folded to Wilson in the big blind and he called the shove with the
and a stack of 895,000. The tens held for Elias and he doubled through Wilson to leave Wilson as the short stack.
On the very next hand, play folded to Wilson in the small blind and he moved all in for 400,000 with the
. Elias called from the big blind with the
. The flop, turn, and river ran out
to eliminate Wilson. For the finish, Wilson picked up $142,500 and 86 points, which was good enough to move him to first on the overall series leaderboard with 358 points.
Three-handed play lasted for a bit of time before the next elimination happened, and it was Garza to fall in third place. His stack got short and eventually he called all in from the big blind after Brewer shoved from the small blind. The blinds were 50,000/100,000 with a 100,000 big blind ante and Brewer had shoved with the
. Garza called with the
and a stack of 575,000. Brewer started the hand with 925,000. The board ran out
and Garza was out in third for $199,500. With the finish, Garza jumped into the top 10 of the 2021 Poker Masters leaderboard.
Heads-up play began with Elias in the lead. He had 5.525 million to Brewer's 1.6 million. Brewer was able to find a double up to bring the stacks even and then he started to stretch out a lead from there.
Then it was Elias' turn to get short and double. He dipped under 10 big blinds before finding a double with the
against the
for Brewer. But even with the double up, Elias was at a chip deficit with 2.175 million to Brewer's 4.95 million. Not too long after, Elias found another double and pulled the stacks closer to even. Brewer still had the lead, though.
Brewer was able to stretch the lead back out and then finished things off in the 50,000/125,000 with 125,000 big blind ante level.
On the final hand, Elias moved all in for 1.65 million from the button with the
. Brewer called with the
. The board ran out
and Brewer became the winner. Elias picked up $285,000 for his result.
"I would like to win some of these series, and I would just like to basically in any game that's big to be the guy who's winning the most in it," Brewer said when asked about what he'd like to achieve in poker. "That's really all to do because all of these guys play great."
You can see the top 10 of the 2021 Poker Masters leaderboard below.
2021 Poker Masters Leaderboard
Rank
Name
Points
Wins
Cashes
Earnings
1st
Brock Wilson
358
1
3
$414,300
2nd
Chris Brewer
320
1
3
$490,800
3rd
Daniel Negreanu
281
1
2
$281,400
4th
Sean Perry
280
1
3
$280,000
5th
Dylan DeStefano
260
0
3
$260,800
6th
Lou Garza
234
0
3
$313,700
7th
Stephen Chidwick
232
1
2
$231,600
8th
Matthew Wantman
216
0
3
$250,700
9th
Shannon Shorr
205
1
1
$205,000
10th
John Riordan
190
0
4
$235,500
In the top 10 of the PokerGO Tour presented by Guaranteed Rate leaderboard, Brewer jumped from seventh to fourth with this victory, moving ahead of David Peters, Sean Winter, and Cary Katz. Ali Imsirovic still leads in a big way with 3,032 points.
PokerGO Tour presented by Guaranteed Rate Leaderboard
Rank
Name
Points
Wins
Cashes
Earnings
1st
Ali Imsirovic
3,032
10
24
$3,976,460
2nd
Sean Perry
2,301
6
21
$3,170,698
3rd
Sam Soverel
1,773
3
19
$2,573,451
4th
Chris Brewer
1,685
3
20
$2,554,820
5th
Cary Katz
1,656
2
20
$2,751,730
6th
Sean Winter
1,614
2
16
$2,633,320
7th
David Peters
1,540
3
10
$3,074,470
8th
Jake Schindler
1,284
2
14
$1,857,108
9th
Andrew Moreno
1,200
1
1
$1,460,105
10th
Clayton Maguire
1,200
0
1
$1,443,757
Connect with PokerGO.com on Facebook, Twitter, and Instagram. Use code "MASTERS21" for $20 off an annual PokerGO subscription now!