Event #2: $10,000 No-Limit Hold'em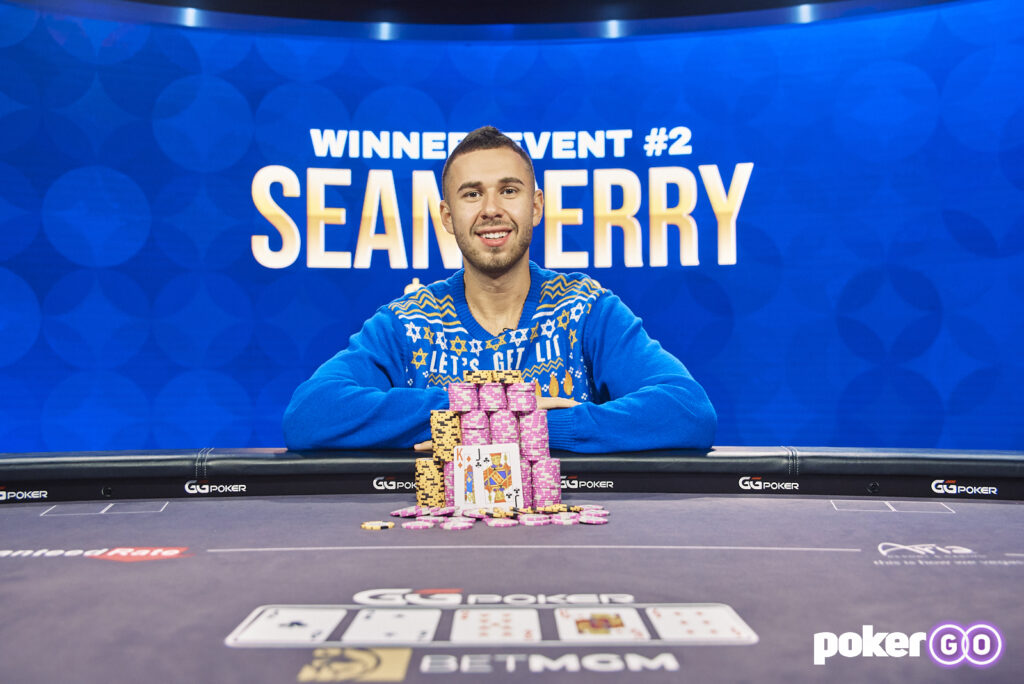 The 2021 Poker Masters continued on Thursday and Event #2: $10,000 No-Limit Hold'em came to a conclusion. The tournament drew 86 entries for an $860,000 prize pool. Winning the lion's share of $206,400 was Sean Perry. Perry defeated Jeremy Ausmus in heads-up play.
If you'd like to relive all of the action from the final table, you can find the replay on PokerGO.com.
"I'm so ecstatic," Perry said after posing for winner photos, a smile from ear to ear across his face. "I came here thinking I would be so honored to win the Poker Masters and now I'm in prime contention after cashing the first event and winning the second event. I just won in a star-studded field against people I grew up watching play, my idols. These guys are phenomenal. I'm so honored and so happy."
Perry did indeed put himself in prime contention in the race for the Poker Masters Purple Jacket. He's atop the leaderboard with 239 points following his eighth-place finish in Event #1 and victory in Event #2.
"It would mean the world to me," Perry said about the idea of winning the overall Poker Masters title and the coveted Purple Jacket. "I want to win Player of the Year for PokerGO, which would be so awesome, but winning the Poker Masters – oh, man. I'd look so good wearing that Purple Jacket going clubbing and I'd wear it to every final table. It'd be so nice."
2021 Poker Masters Event #2 Results
Place
Name
Country
Points
Prize
1st
Sean Perry
United States
206
$206,400
2nd
Jeremy Ausmus
United States
146
$146,200
3rd
Daniel Negreanu
Canada
103
$103,200
4th
Jake Schindler
United States
86
$86,000
5th
Sam Soverel
United States
69
$68,800
6th
John Riordan
United States
52
$51,600
7th
James Romero
United States
43
$43,000
8th
Jason Koon
United States
34
$34,400
9th
Erik Seidel
United States
34
$34,400
10th
Lou Garza
United States
26
$25,800
11th
Metin Aksoy
United States
26
$25,800
12th
Jonathan Jaffe
United States
17
$17,200
13th
Jim Collopy
United States
17
$17,200
The final day of play saw six players return to action at the PokerGO Studio in Las Vegas. Sean Perry was the chip leader, and it was quite a star-studded final group. The first player to bust was John Riordan and he was eliminated by Jake Schindler in sixth place. Riordan picked up $49,200 in prize money.
The next player eliminated was Sam Soverel. After Daniel Negreanu doubled through Soverel, Soverel was left short stacked. Soverel did find a double up through Perry but was later eliminated by Perry. On his elimination, Soverel reraised all in over the top of Perry's raise. Perry had min-raised to 160,000 on the button and Soverel reraised all in from the small blind for 360,000. Play folded back to Perry and he called with the
. Soverel had pocket fives. Perry flopped two pair and held from there, with Soverel finishing fifth for $68,800.
Jake Schindler then busted in fourth place, taking home $86,000 in prize money. He was followed out the door by Negreanu, who placed third for $103,200. On Negreanu's elimination hand, he was all in with the
against the pocket sixes of Perry. With a dead small blind, Perry had opened to 225,000 from under the gun. Negreanu reraised all in from the button for 1.43 million. After Ausmus folded from the big blind, Perry made the call. Negreanu flopped a flush draw, turned an additional straight draw, but still couldn't come from behind to win the hand. He finished in third place for $103,200.
Heads-up play began with Perry in the lead – his 7.425 million to Ausmus' 3.35 million. Ausmus had narrowed the gap a little bit but then he ran a big bluff that Perry picked off.
With the blinds at 50,000/100,000 with a 100,000 big blind ante, Ausmus raised to 200,000 on the button with the
. Perry reraised to 825,000 with the
and Ausmus made the call. The flop was
and Perry led with a bet of 400,000. Ausmus made the call. The turn was the
and Perry checked. Ausmus fired 800,000 and Ausmus called. The river was the
and Perry checked. Ausmus moved all in for 2.13 million on a bluff. Perry had about 4.5 million behind and went into the tank. He eventually made the call with second pair and Ausmus was eliminated. Ausmus picked up $146,200 for the runner-up finish.
You can see the top 10 of the 2021 Poker Masters leaderboard below.
2021 Poker Masters Leaderboard
Rank
Name
Points
Wins
Cashes
Earnings
1st
Sean Perry
239
1
2
$239,200
2nd
Shannon Shorr
205
1
1
$205,000
3rd
David Peters
148
0
1
$147,600
4th
Jeremy Ausmus
146
0
1
$146,200
5th
Daniel Negreanu
103
0
1
$103,200
6th
John Riordan
101
0
2
$100,800
7th
Dylan DeStefano
98
0
1
$98,400
8th
Jake Schindler
86
0
1
$86,000
9th
Jonathan Jaffe
83
0
2
$82,800
10th
Brock Wilson
82
0
1
$82,000
Perry's performance also helped him narrow the gap with Ali Imsirovic on the PokerGO Tour presented by Guaranteed Rate leaderboard. Perry improved to 2,260 points and is now fewer than 800 points behind Imsirovic, who is in first place with 3,032 points. Schindler jumped up into the top 10 thanks to his result in this event and is now eighth with 1,209 points.
PokerGO Tour presented by Guaranteed Rate Leaderboard
Rank
Name
Points
Wins
Cashes
Earnings
1st
Ali Imsirovic
3,032
10
24
$3,976,460
2nd
Sean Perry
2,260
6
20
$3,129,898
3rd
Sam Soverel
1,715
3
18
$2,515,051
4th
Cary Katz
1,630
2
19
$2,725,330
5th
Sean Winter
1,614
2
16
$2,633,320
6th
David Peters
1,540
3
10
$3,074,470
7th
Chris Brewer
1,365
2
17
$2,064,020
8th
Jake Schindler
1,209
2
12
$1,782,108
9th
Andrew Moreno
1,200
1
1
$1,460,105
10th
Clayton Maguire
1,200
0
1
$1,443,757