Event #1: $10,000 No-Limit Hold'em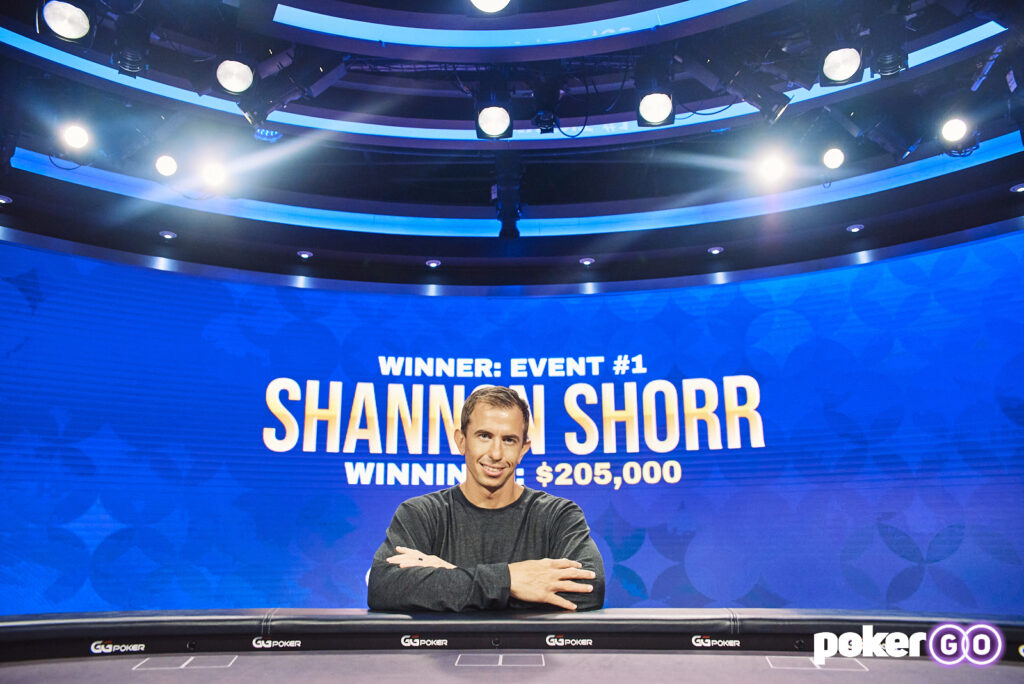 The first tournament of the 2021 Poker Masters Series, a $10,000 buy-in no-limit hold'em event, drew a field of 82 entries and generated a prize pool of $820,000. The two-day event finished up on Wednesday, with Shannon Shorr emerging victorious to win the $205,000 top prize.
To relive all of the action from the final table, you can find the replay on PokerGO.com.
For Shorr, it was his third live tournament victory of the year and first on the PokerGO Tour presented by Guaranteed Rate. In April, Shorr won a $5,000 side event at the WPT Seminole Hard Rock Poker Showdown for $296,535. Just last month in August, Shorr won Event #35: $2,650 No-Limit Hold'em at the Seminole Hard Rock Poker Open for $186,261.
"Ever since the pandemic came, I've been playing a bunch online, so that was very big for improving my game and getting much more fundamentally sound – having poker on my mind more," Shorr said when asked about the success he's had this year. "For years, I just kind of showed up and played live poker. I played online some, but to make it like a lifestyle and have it constantly on my mind and constantly be working is huge for giving me confidence when I play these bigger buy-ins live and stuff.
"In addition, I'm going to be a dad," Shorr continued. "I'm having my first kid around Thanksgiving and that just has really tunneled me and motivated me to put me in this really awesome space where I just want to do all the right things and make some money. I have my life laid out a little bit more with a vision and I'm very motivated to make as much money doing this as I can."
At the end of this tournament, Shorr found himself heads up with David Peters, who is not only one of the best players in the game but also one of Shorr's closest friends.
"I haven't even had time to digest it, but this will definitely go down as one of the most memorable events of my life because David's been a career-long friend of mine," Shorr said of playing heads up with Peters. "We've traveled everywhere and always joked about getting heads up, but this is the first time it's ever happened."
Seven players returned for Day 2. Ben Yu was the shortest stack among the final seven and he was the first player eliminated. Yu fell at the hands of Shorr and picked up $41,000 in prize money.
Out next was John Riordan, also falling at the hands of Shorr. Riordan's
was up against Shorr's
. Although Riordan flopped an eight on the
flop, Shorr moved back in front with the
hitting the turn. The river was the
to bust Riordan, who earned $49,200 in prize money.
Busting in fifth place was Jonathan Jaffe. His pocket deuces couldn't hold up against the
of Brock Wilson. Jaffe picked up $65,600 in winnings.
Even though he knocked out Jaffe in fifth place, Wilson was the next player to bust. Wilson lost about half of his stack when his
lost to the pocket kings of David Peters, and then Peters took the rest a short while later. On a king-high flop, it was Wilson's
up against Peters'
. No help came for Wilson and he was eliminated in fourth place for $82,600.
Hitting the rail in third place was Dylan DeStefano, picking up $98,400. DeStefano was all in with the
against the pocket jacks for Peters. Peters' jacks held up to send DeStefano out the door. With DeStefano's elimination, Peters was heads up with Shorr. To start, Peters had 5.375 million in chips to Shorr's 4.875 million.
Shorr and Peters battled for a bit, with the lead exchanging hands a couple of times. Eventually, Peters worked himself into a sizeable chip lead only to have Shorr double back to make things even. With registration set to close for these players in Event #2: $10,000 No-Limit Hold'em, Shorr and Peters made an agreement and then began to move all in on every hand. Shorr won the final hand and that was it, off to the registration desk they went to hop in the next tournament.
"The crazy thing is we got heads up, chopped, and then we were playing for a little bit more money but then we had to get all in in time to play [the next tournament]," Shorr said. "When he had to get all in, we were almost identical in chips, which is just really crazy. But yeah, I won the big coin flip, ten-eight versus six-deuce, and now I'm doing the winner's interview."
With the victory, Shorr took the early lead in the race for the Purple Jacket at the 2021 Poker Masters. In addition to the $205,000 he won, Shorr earned 205 points.
"I'll definitely play these [$10,000 events] and then I'll consider the bigger ones depending on where I am in the points standings and stuff like that," Shorr said of what we can expect from him for the rest of the 2021 Poker Masters.
You can see the top 10 of the 2021 Poker Masters leaderboard below.
2021 Poker Masters Leaderboard
Rank
Name
Points
Wins
Cashes
Earnings
1st
Shannon Shorr
205
1
1
$205,000
2nd
David Peters
148
0
1
$147,600
3rd
Dylan DeStefano
98
0
1
$98,400
4th
Brock Wilson
82
0
1
$82,000
5th
Jonathan Jaffe
66
0
1
$65,600
6th
John Riordan
49
0
1
$49,200
7th
Ben Yu
41
0
1
$41,000
8th
Sean Perry
33
0
1
$32,800
9th
Nitis Udornpim
33
0
1
$32,800
10th
Jim Collopy
25
0
1
$24,600
As for the PokerGO Tour presented by Guaranteed Rate leaderboard, Peters was able to add 148 points to his total and move to 1,540 points overall. While that didn't change his standing of sixth place on the leaderboard, he did close the gap some with those in front of him. It remains Ali Imsirovic atop the PokerGO Tour presented by Guaranteed Rate leaderboard with 3,032 points.
PokerGO Tour presented by Guaranteed Rate Leaderboard
Rank
Name
Points
Wins
Cashes
Earnings
1st
Ali Imsirovic
3,032
10
24
$3,976,460
2nd
Sean Perry
2,021
5
18
$2,890,698
3rd
Sam Soverel
1,646
3
17
$2,446,251
4th
Cary Katz
1,630
2
19
$2,725,330
5th
Sean Winter
1,614
2
16
$2,633,320
6th
David Peters
1,392
3
9
$2,926,870
7th
Chris Brewer
1,365
2
17
$2,064,020
8th
Andrew Moreno
1,200
1
1
$1,460,105
9th
Clayton Maguire
1,200
0
1
$1,443,757
10th
Toby Lewis
1,200
0
1
$1,235,204