Event #5 $10,000 Big Bet Mix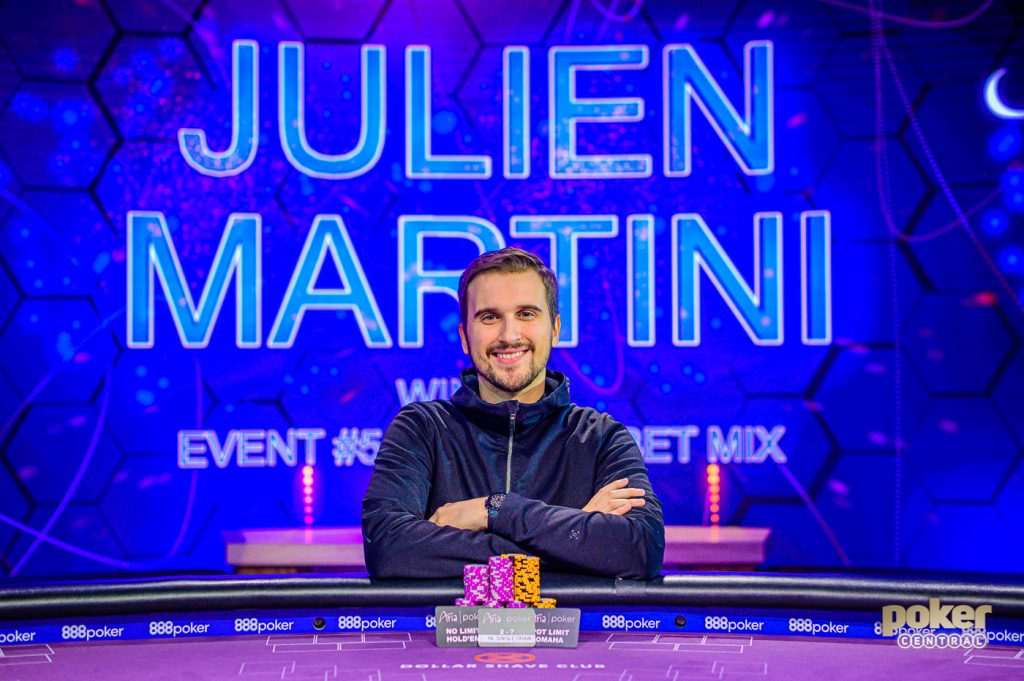 French pro Julien Martini was down to just half a big blind three-handed in Event #5 $10,000 Big Bet Mix of the 2019 Poker Masters but that didn't stop him from mounting an epic comeback and taking the win! Martini beat out Jorryt van Hoof and Kahle Burns on his way to victory and with that, he took home $166,400.
"I came to the Poker Masters because even though I'm having an incredible year I didn't have a single win and I really wanted one. I'm very happy to get this one!" Martini said as he's now up to over $4.5 million in live tournament cashes.
About winning after being down to less than half a big blind Martini joked, "When I won my WSOP bracelet I was down to less than a big blind as well on the final day, so it's like a lucky sign for me."
2019 Poker Masters Event #5 Big Bet Mix Results
Player
Points
Cash
1
Julien Martini
300
$166,400
2
Kahle Burns
210
$109,200
3
Jorryt van Hoof
150
$72,800
4
Sam Soverel
120
$52,000
5
Stephen Chidwick
90
$41,600
6
Pedro Bromfman
60
$31,200
7
Yuri Dzivielevski
60
$26,000
8
Erik Seidel
60
$20,800
The action started with six hopefuls remaining lead by Stephen Chidwick who held 65% of all the chips in play to start, but it became clear very quickly that this was not going to be his day. Chidwick doubled up numerous opponents during the early goings of the final table before Pedro Bromfman was the first player to bust out. Bromfman busted in No Limit 2-7 Single Draw where he was drawing to a 10-7 low but he wasn't able to beat Kahle Burns who drew to an 8-6 and made his hand.
Moments later, Chidwick busted out in No Limit Hold'em when he jammed jack-nine suited and got called by Sam Soverel who tabled ace-queen. Soverel's hand held up and that vaulted him into the chip lead closely followed by Burns. Soverel's chip lead was short-lived as he was the next player to get eliminated during a hand of 2-7 Single Draw. Soverel drew one to an 8-6 low versus Burns who held a pat J-8 low. Soverel did not hit his draw and exited in fourth place.
The three-handed battle went back and forth for quite some time and while Kahle Burns extended his chip lead, it was a clash between Julien Martini and Jorryt van Hoof that seemingly pushed this event to its heads-up stage. Martini doubled up Van Hoof and was left with less than one big blind, but miraculously he managed to get back in the game, leading to a crazy three-way all in.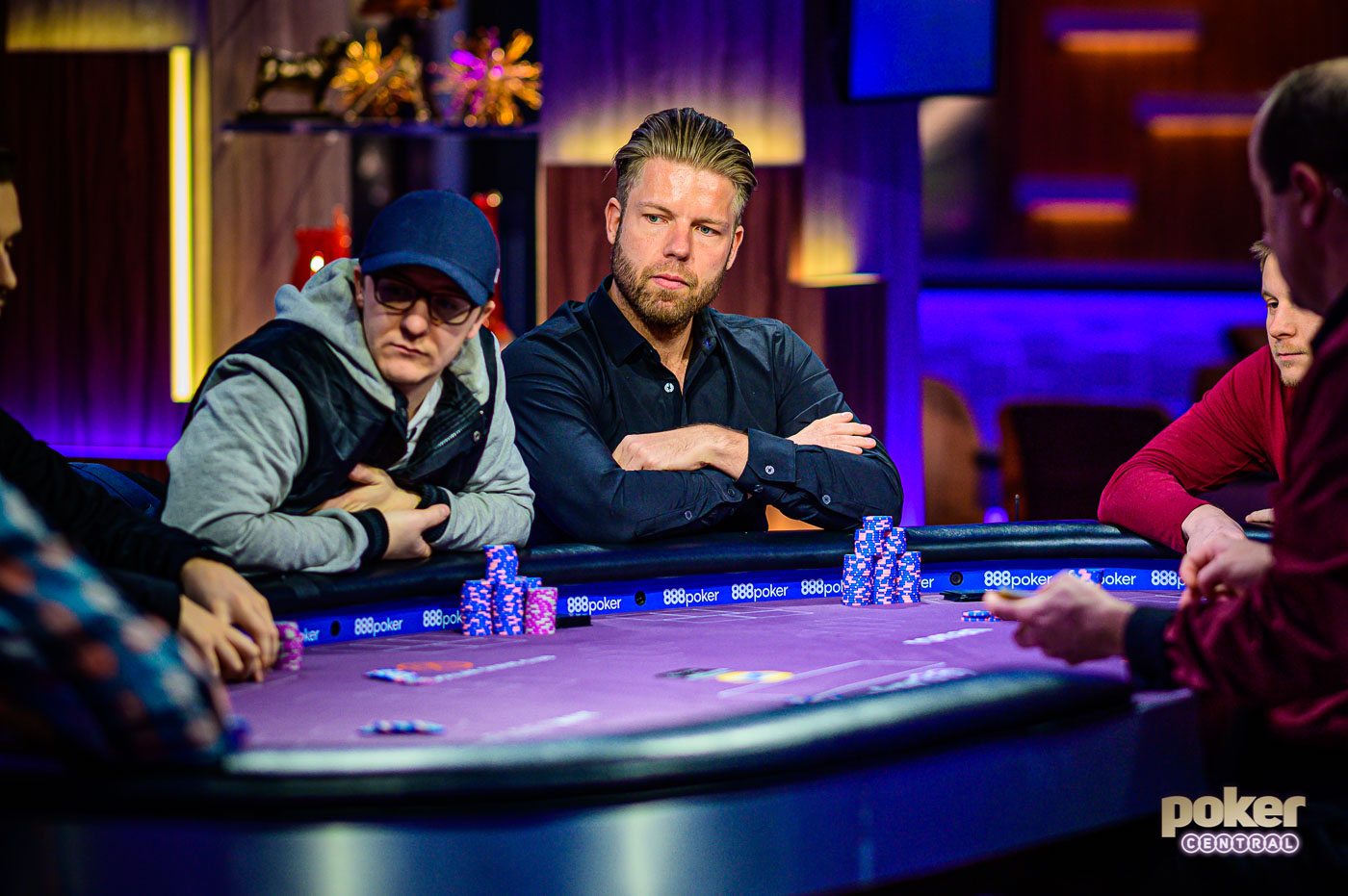 Van Hoof moved all in with a 10-7 draw, Julien Martini moved all in with J-8 and from the big blind, Kahle Burns called with a J-8. Burns tanked for a while before standing pat with his hand, Van Hoof threw two cards to draw to a 7-5-4 after which Martini drew one card to an 8-7. Burns' pat hand did not hold up as Van Hoof turned his hand into two pair but Martini made his 8-7 to knock Van Hoof out and doubling through Burns.
Martini and Burns then started a slow and steady heads-up battle that lastest for nearly an hour before the latter got felted. On the final hand, Martini put his incredible poker skills on display when raised with ace-eight and Burns called with king-three. The flop brought out ten-five-four and Burns check-called a small bet before the jack of spades hit on the turn. Both players checked on the turn and the river completed the board with the third spade, a deuce.
On the river, Burns moved all in for 3 million chips with 1.5 million in the middle and Martini made the call with ace-high to win the tournament.
"I was already putting on my backpack but the dealer told me to come back," Martini joked after winning about his miraculous comeback that lead to this win.
2019 Poker Masters Championship Standings
Name
Points
Earnings
Results
1
Chance Kornuth
420
$288,900
2
2
Isaac Baron
300
$223,100
1
3
Ryan Laplante
300
$186,000
1
4
Julien Martini
300
$166,400
1
5
Jared Bleznick
300
$153,000
1
6
Jonathan Depa
300
$133,200
1
7
Sam Soverel
270
$151,800
3
8
Jorryt van Hoof
270
$109,800
2
9
Alex Foxen
270
$108,200
2
10
Thai Ha
210
$124,800
2
Despite mentioning that he's not a full-time high roller player and that his initial plan was only to play three events at the Poker Masters, ending with the Big Bet Mix, Martini quickly jumped into the $25,000 No Limit Hold'em Event #6 that got underway today. Martini is strongly in the hunt for the Purple Jacket and the $100,000 top prize after his win today and it seems likely at this point that we'll see him battle in the PokerGO Studio as we head into the second week of events.
Follow the Poker Masters on PokerGO. New to PokerGO? Subscribe right now and never miss another minute of thrilling live or on-demand viewing. PokerGO provides more than 100 days of live poker every single year including the World Series of Poker, Super High Roller Bowl, Poker Masters, and U.S. Poker Open.