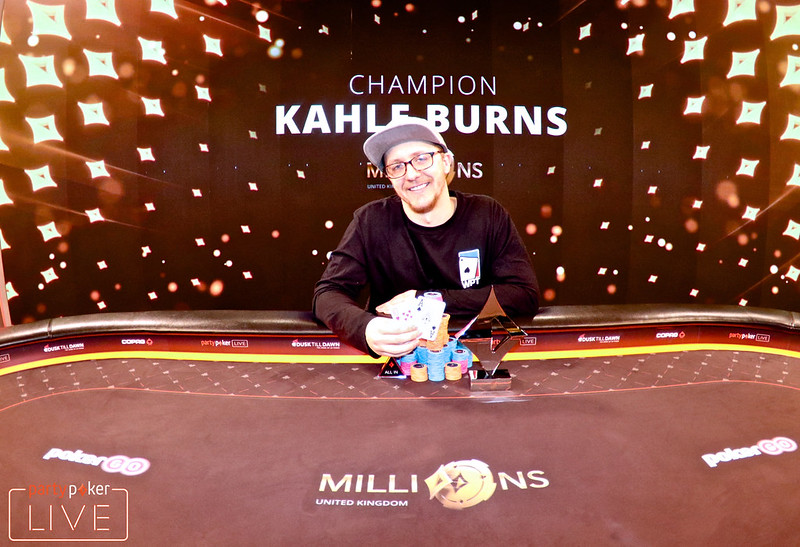 Kahle Burns has emerged victorious in the $25,500 Super High Roller, taking the title and $350,000 top prize after a day with more twists and turns than the Monaco Grand Prix.  His final opponent, Igor Kurganov, at one time held a chip lead that seemed unassailable, but Burns was never a short stack and once heads up, won a crucial double that set him on the track to victory.
A total of 37 entries generated a total prize pool of $897,250, paid to the top five finishers.  Day 1 brought 10 survivors forward to face a few last-minute registrants (5th place finisher Steve O'Dwyer among them) and the field expanded to three tables briefly as several late-stage bustees fired their last allowed bullets.
Several well-stacked Day 1 survivors fell foul of fortune early on, including Kristen Bicknell, Alex Foxen, and Mikita Badziakouski.  Start-of-day chip leader (by quite some way) Luke Reeves dwindled in chips and rallied repeatedly, maintaining a position near the top of the counts for most of the day.  When the final table of nine formed after the elimination of Adrian Mateos, Burns had already surpassed him, however, and Kurganov was about to.
Kurganov's first boost in chips came at the expense of Preben Stokkan (pocket kings vs. pocket jacks), and he won a huge pot from O'Dwyer early on the final table that set him up for a period of what can only be described as steamrolling.  The final table lost Rainer Kempe, Yair "The Wolf" Bitoun, Leon Tsoukernik (with a painful cracking of kings), then tightened up for a level on the bubble.  The final unpaid spot went to Reeves, in a dramatic blind-on-blind confrontation with Kurganov, who'd raised from the small blind with queens and found the erstwhile chip leader moving all in for ten times the amount with fours (no help from the deck).
O'Dwyer busted shortly after the bubble burst, adding $75,000 to his already vast live tournament  winnings, but falling short of taking back to back MILLIONS Super High Roller titles.  There followed a pressure-filled period for short stacks Stokkan and Ben Heath, the former eventually falling in 4th ($100,000) and the latter soon thereafter in 3rd ($150,000).  "One bullet Ben," as the commentators described him, had manoeuvred without much help from the deck throughout the streamed final; when Kurganov eliminated him he held a near 3:1 chip lead over Burns.
Heads up was played swiftly, with little need for the timebank cards.  Small pots went back and forth until a crucial hand saw Burns flop a queen-high heart flush when Kurganov held the ace of hearts, eventually spiking a river pair and paying off a full double through (that river saw the only double timebank card use of the final table, by Burns, before moving in).
Kurganov fought back.  Both players began to chat more than they had been previously, having a beer and making up a special "mandatory check" option that they both agreed to.  At this exact point, however, the final hand played out, an all-in preflop confrontation between Kurganov with pocket fours and Burns with ace-ten.
"Just when we finally agreed on a new fun rule!" lamented Kurganov, as his tournament life hung in the balance.
The board brought a broadway straight for Burns, handing him the title and $350,000, while Kurganov took second place and $222,250.
Both players now have the option of heading straight back into the breach for the $10,300 Main Event, which began alongside the conclusion of this event.  Day 1b begins tomorrow at noon local time, with live reporting starting alongside it.
Full payouts:
| | | |
| --- | --- | --- |
| Place | Player | Prize |
| 1 | Kahle Burns | $350,000 |
| 2 | Igor Kurganov | $222,250 |
| 3 | Ben Heath | $150,000 |
| 4 | Preben Stokkan | $100,000 |
| 5 | Steve O'Dwyer | $75,000 |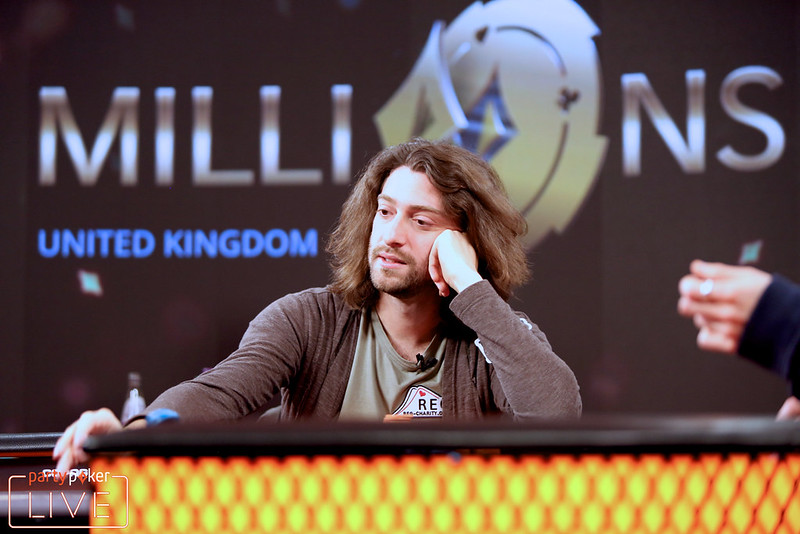 Just when the last two players had decided on a "new, fun, mandatory check" rule (we gather that meant one free go at making the opponent check the flop, turn or river), it was all over before that could be witnessed for the first time!
Igor Kurganov limped his button with
. Big blind Kahle Burns raised to 1,400,000 with
.  Back to Kurganov, who announced, "all in," and was very swiftly called.
"Just when we finally agreed on a new fun rule!" lamented Kurganov, as his tournament life hung in the balance.
The flop was paint heavy:
, and it was all over on the
turn, with the broadway straight and better flush draw locking up the win for the Australian (the river, just for completeness' sake, was the
).
Kurganov, once so mightily stacked, finishes second, taking home $222,250.
Level
Level 20
Blinds
200,000 / 400,000
Big Blind Ante
400,000
So says Igor Kurganov, and he's quite right.  Another million or so chips went his way after he flopped two pair on a
board, having defended his big blind with
.  He check-raised Kahle Burns (325,000 to 975,000), who'd bet his
; call.  The hand went no further than the
turn, when Kurganov bet out for 2,500,000.
Igor Kurganov made it 600,000 on the button with
and Kahle Burns made the call with
, seeing a
flop.  Check, check.  On the
turn, Burns bet 900,000 and Kurganov called.  The
fell on the river, and Burns bet 2,000,000 into a 3,000,000 pot; he was snap-called by Kurganov whose stack rose to 12,200,000.
In the course of two hands, the chip positions of the final two players have changed round, illustrating the heartbreaking (and fun to watch) drama of high stakes no limit hold'em.
Igor Kurganov raised his button, understandably, with
(to 650,000), called by Kahle Burns in the big blind with
.  Burns outflopped his opponent (
); both players checked.  Burns led out for 425,000 on the
turn, then called Kurganov's raise to 1,300,000.  No further betting on the
river, and Burns was up over 14,600,000.
The real damage came soon thereafter, however.  Burns raised his button with
and Kurganov three-bet with
; call.  The suited queen flopped a flush with
, while the nut flush card lurked in Kurganov's hand.  No bet from either player.  On the
turn, Kurganov led out for 3,300,000 and Burns flat called.
The river:
.  Now Kurganov checked, and Burns dived deep into his timebank, using two cards for a full minute extra to make his decision.  It was to shove for 7,900,000.  Kurganov took his own time to make this big call, but make it he did, and now finds himself facing a 3:1 chip leader!
Level
Level 19
Blinds
150,000 / 300,000
Big Blind Ante
300,000
A dramatic end to a hand just now could have seen an end to this tournament as a whole.  Starting with a button raise from Igor Kurganov with
, called by Kahle Burns with
, the
flop elicited no bets, but the
turn brought a bet from Burns worth 725,000.  Kurganov made the call.
The river:
.  Burns considered for nearly a minute before announcing that he was all-in (a bet of around 8,000,000) with jack high.  It was little surprise that Kurganov now took his time over this decision.  Burns, impassive, waited him out and when Kurganov game him credit and folded, picked up the pot.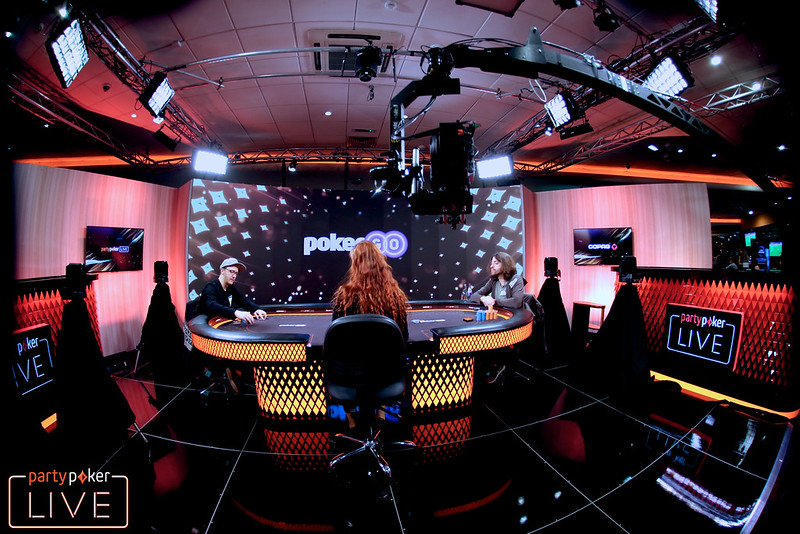 Not much change in the stacks after the first 15 minutes of heads up play.  No river showdowns, just quick-fire button raises and many flops seen (without big pots growing subsequently), but the net result was, for a while, a slow climb further ahead by Igor Kurganov.
Then a good-sized pot went the other way: Kurganov opened
on his button and Kahle Burns defended with
, both hitting top pair on a
flop.  Neither player elected to bet – yet.  On the
turn, Burns led out for 725,000, called by Kurganov.
The river brought the
and another lead from Burns, this time for 1,625,000.  It was snap-called, and all of the small gains made by Kurganov recently were recouped by his opponent.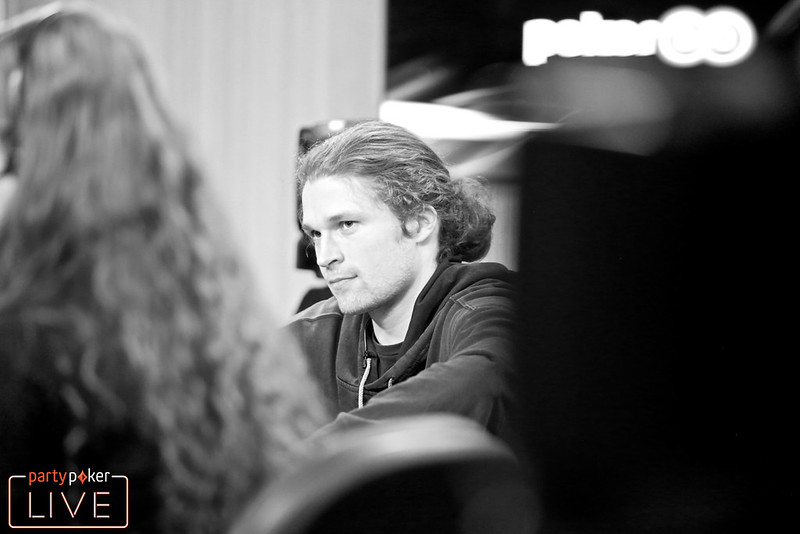 Ben Heath did not have any sort of heater period today, but has finished his run at the $25,500 Super High Roller with a podium finish worth $150,000.  His final hand saw him face yet another Igor Kurganov small-to-big blind shove.  This time he considered his
, his remaining 3,450,000 chips, and made the call.  He was live vs. Kurganov's
, but failed to improve (despite calling for a seven on the turn to spice things up a little) over a
run-out.
We are heads up for the title and $350,000 first prize…
| Player | Chips | Change |
| --- | --- | --- |
| Igor Kurganov | 27,000,000 | 2,985,000 |
| Kahle Burns | 10,000,000 | 645,000 |
| Ben Heath | Busted | -3,670,000 |
You're all caught up!
No more pages to load