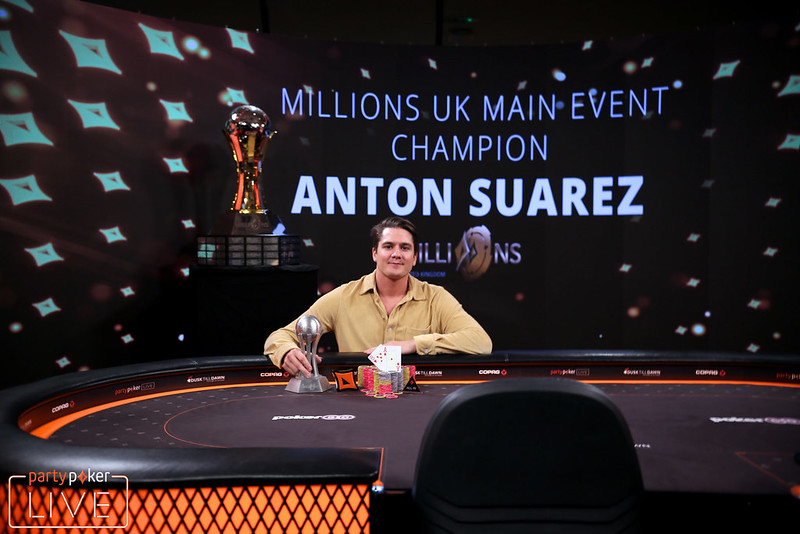 Anton Suarez came to Dusk Till Dawn in Nottingham to play some cash games, having heard how great the action can be during a tournament week like the partypoker MILLIONS UK. But, as he was a bit early, no games of his interest ran and so he joined a $500 satellite for the Main Event. He ended up winning the satellite and then winning the whole partypoker MILLIONS Main Event for a staggering $1,000,000! Entering that qualifier because of a lack of Omaha action must have been one of the best decisions of his life!
| | | | |
| --- | --- | --- | --- |
| Position | Player | Country | Prize |
| 1 | Anton Suarez | Sweden | $1,000,000 |
| 2 | Christian Rudolph | Germany | $620,000 |
| 3 | James Romero | United States | $420,000 |
| 4 | James Clarke | United Kingdom | $311,000 |
| 5 | Fredrik Andersson | Sweden | $230,000 |
| 6 | Weijie Zhen | United Kingdom | $170,000 |
| 7 | Jack Hardcastle | United Kingdom | $130,000 |
| 8 | Maria Lampropulos | Argentina | $100,000 |
Suarez, who has been playing poker for over a decade but mostly focuses on Pot-Limit Omaha cash games, is the second Swede to take home the prestigious partypoker MILLIONS trophy, after Viktor Blom's win in Rozvadov two years ago.
"I don't play many tournaments, so I'm super happy,"
"I don't play many tournaments, so I'm super happy," Suarez said after his win, before assuring the poker media he would look for a party next.
The partypoker MILLIONS UK 10,300 Main Event attracted 530 entries, easily making the $5,000,000 guarantee partypoker had put on the event. Some of the biggest players in the game came to Nottingham for the perfect start to their poker year. The live-streamed final table featured some great poker for the world to see with entertaining characters and non-stop action. With a shot clock in place, the pace of play was already quick. But the action heads up was even faster, with Suarez and his opponent Christian Rudolph making decisions lightning fast.
"I just like to play fast, especially heads up," Suarez said with a big grin on his face. "It's just more fun. He likes to play fast too; [we had a] good flow."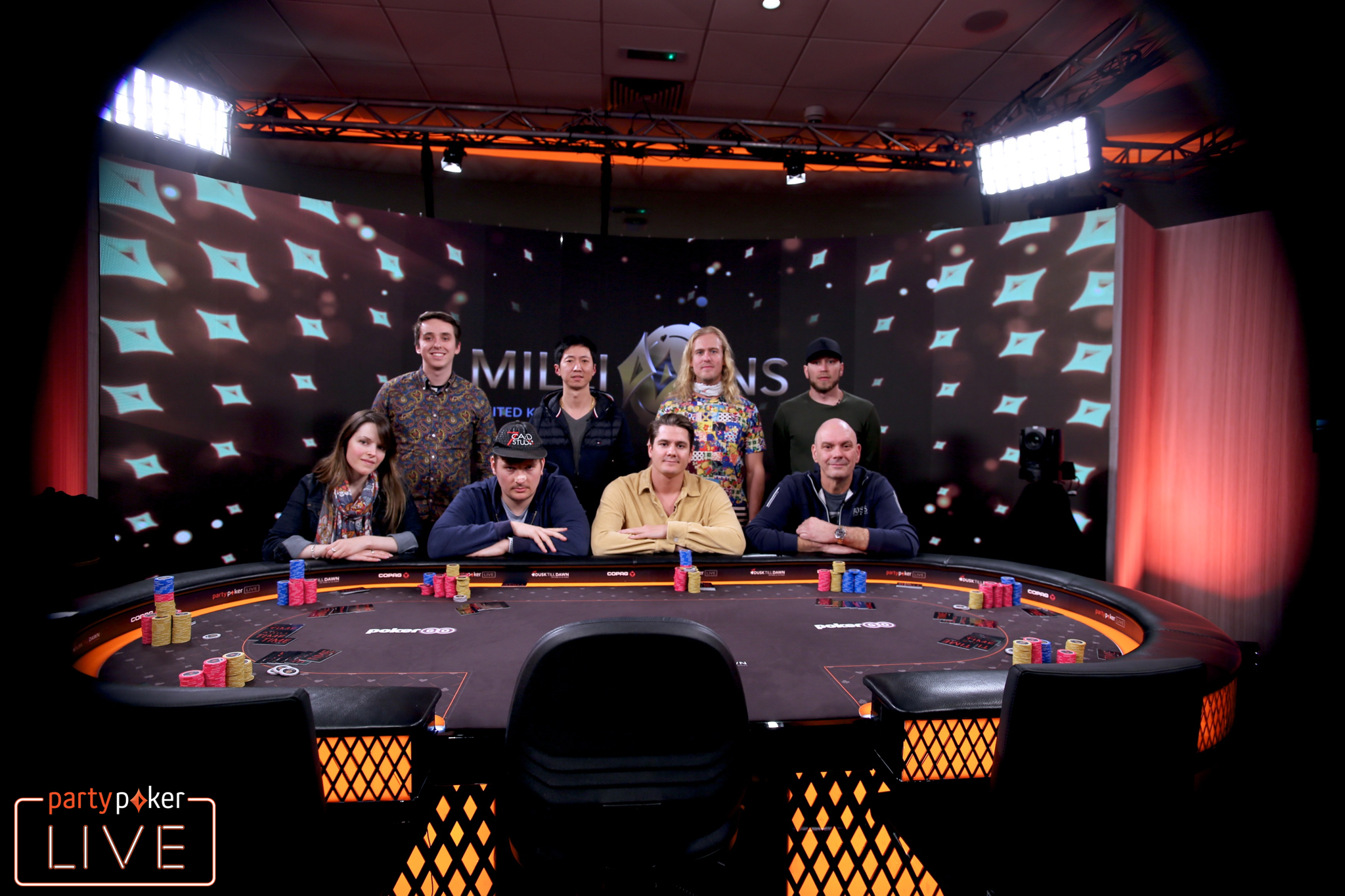 The Main Event's Final Day
The fourth and final day of the partypoker MILLIONS UK Main Event started with twelve players still in contention for the $1,000,000 first-place prize.
John Mooney ended up as the first casualty, losing with ace-jack to pocket eights.
partypoker's Ludovic Geilich, who has a bit of a history at the PLO tables with the eventual winner, busted to Suarez in eleventh place. After finishing in fourteenth place in the final MILLIONS event in the Bahamas last year for $65,000, another deep run for the Scot.
With ten players remaining, Suarez won a massive pot against Jamie O'Connor. On the five-handed table, the two got it in with Suarez turning over ace-king against O'Connor's ace-queen. A king on the flop just about did it and Suarez took over the lead in the tournament. O'Connor exited minutes later, losing to Rudolph in a hand where Alex Lindop too would hit the rail. Rudolph's ace-king beat O'Connor's ace-ten and Lindop's ace-queen to bust two players in one hand and set the final table.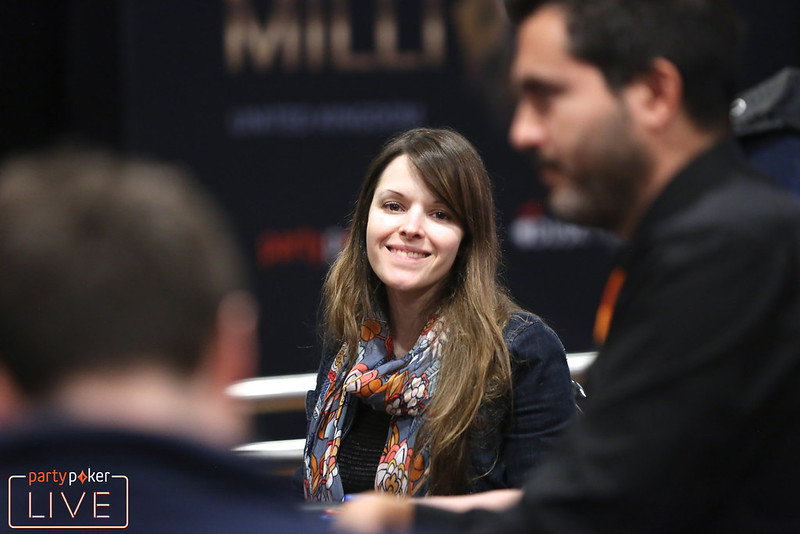 A Final Table Full of Action
Maria Lampropulos started the final table as the shortest stack. The Argentinian, who won this very event two years ago, eventually finished in eighth place. Her ace-queen didn't get there against Jack Hardcastle's pocket nines and another million-dollar score had to wait; she had to make do with $100,000.
Hardcastle himself was the next to go. The Brit check-raised all in with an overcard, gutshot, and flush draw but bricked against Rudolph's overpair.
Weijie "Jervi" Zheng only had four cashes to his name coming into this event. But when he cashes, he goes deep – so proves his Hendonmob profile. The 2019 Irish Open winner (a victory worth €300,000) finished sixth in this partypoker MILLIONS event, good for $160,000. With seven-five, he lost to Rudolph's ace-eight and the tournament was five-handed.
An hour later, Fredrik Andersson exited the feature table to head to the payout desk for his $230,000 share of the prize pool. The colorful Swede made his move with ace-nine and ran into his countryman's ace-ten. Interestingly enough, James Romero woke up with ace-queen behind the Swedish duo but elected to fold. No help on the board for Andersson and just four remained.
James "Raggy" Clarke was the hometown favorite, railed enthusiastically by those frequenting the Dusk Till Dawn poker room. While Suarez qualified for the event via a $500 satellite and turned that into a million, Clarke's return on investment might have even been better since he got into the event for a tiny seeder into a satellite. It was the first time Simon Trumper, Head of UK Poker for partypoker LIVE, organized the feeders: Clarke must be forever grateful he did. Clarke turned his minimal investment into $311,000 for his fourth-place finish. His last hand was a cooler where he flopped trips in a limped pot only to see he was outkicked when the chips went in.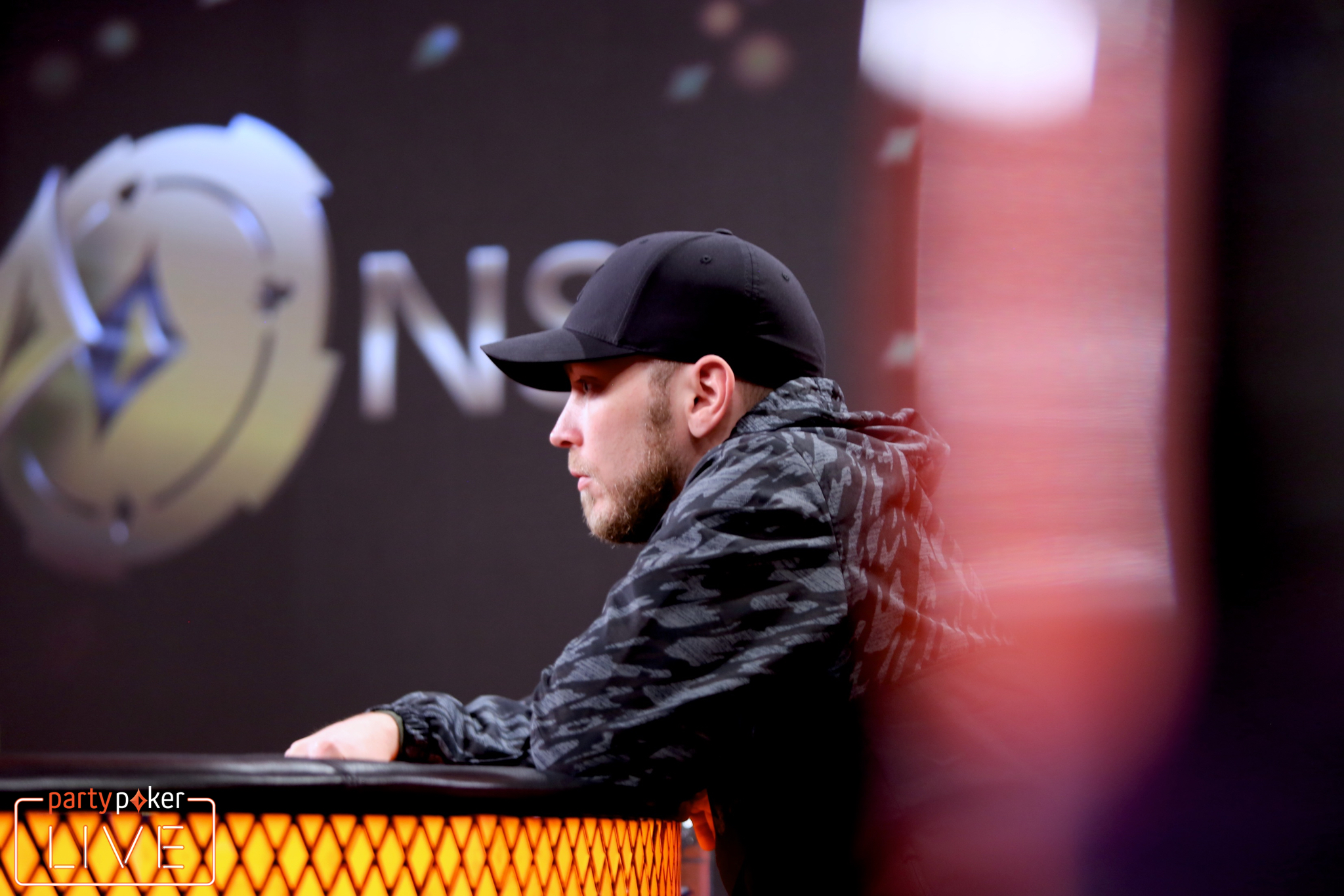 Start-of-day chipleader James Romero finished in third place running top pair into Suarez' flopped set. The American shoved on the river and could only tap the table in defeat seeing Suarez's superior hand.
While the play throughout the final table was already speedy with the shot clock in place, heads up was on a whole other level. Suarez and Rudolph played lightning fast as if there were an extra prize for the quickest player in the game.
Suarez started the mano a mano fight with the lead and only relinquished it briefly. In an especially noteworthy hand, Suarez three-bet a flop with nothing but a gutshot, forcing a fold from Rudolph.
In the last hand, with blinds at three and six million, Rudolph pushed his last sixty million in with seven-four suited. Suarez called with ace-eight and had the tournament locked up on the turn where he hit an ace, leaving Rudolph drawing dead.
Anton Suarez, with his partypoker MILLIONS UK Main Event victory, secured by far the biggest score of his poker career. Having come to Nottingham from Sweden to play PLO cash games, he left with five days of hold'em action under his belt and $1,000,000 in his suitcase.
The MILLIONS, partypoker LIVE's flagship poker series, heads next to South America with a stop at Punta Del Este, in what is known as the St. Tropez of Uruguay. The $10,300 Main Event will again feature online flights on the 2nd and 4th of February, 2020, the live tournament running February 11th-15th. The full festival begins on the 6th of February, with the usual full complement of live satellites and side events. The full schedule can be found on partypokerlive.com. Qualifiers with feeders starting from as little as $2.20 will be running on partypoker, with Sunday online satellites guaranteeing up to twenty $10,300 seats each time.
Following MILLIONS South America, the globetrotting tour will head to Sochi (6th-15th March), Cyprus (May), and wrap the year with the legendary Caribbean Poker Party in the Bahamas (13th-21st November).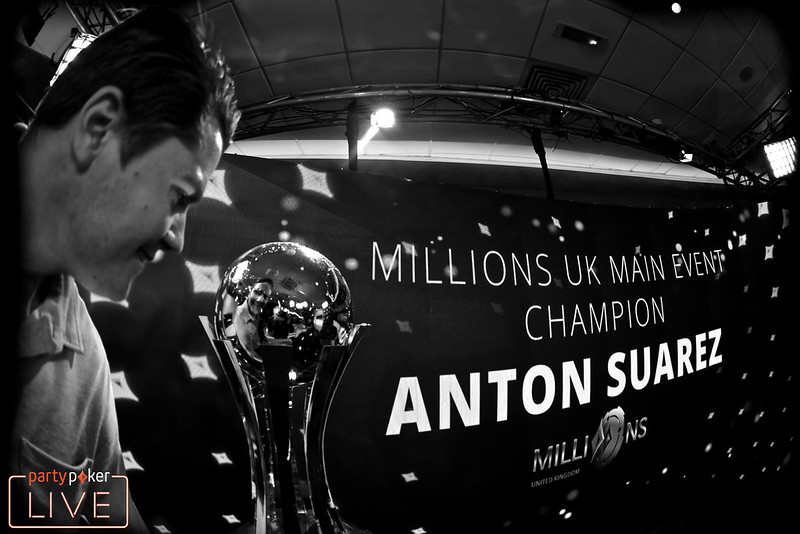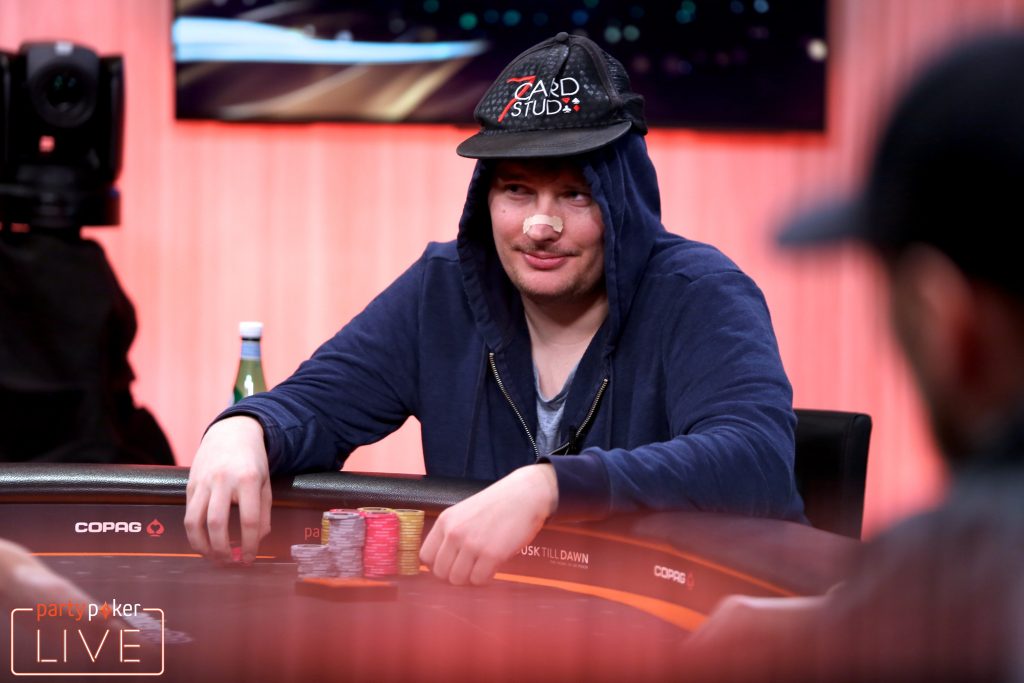 Christian Rudolph had dropped to 10 big blinds after calling a river bet from Anton Suarez with queen high on a
board. Suarez had flopped trips with
and eked out 20,000,000 in total in that hand.
With this small stack facing a recent blind raise to 3,000,000/6,000,000 – a truly astronomical level – it was only a matter of time until Rudolph would have to take his chances. After losing a few more pots, a limp on the button from Suarez was enough for Rudolph to take the plunge on the big blind with
.  Suarez had limped with
and called rapidly.
The final board of the MILLIONS 2020:
.
"Ooooh Mama!" exclaimed newly minted tourney millionaire Anton Suarez, hoisting the small version of the trophy after shaking hands with his valiant final opponent.
Rudolph takes home $620,000 for his performance in the Main Event, while the $1,000,000 first prize is all for Suarez after the fastest play in the West.
A full recap of the final day will be posted here in a short while.
Level
Level 32
Blinds
3,000,000 / 6,000,000
Having saved his own tournament life with a river fold holding
on a
board (Anton Suarez setting him in with
), Christian Rudolph picked up a pot without risking it all on a
board with a check-raise from 12,000,000 to 27,000,000.  He held
; Suarez had been betting
.
Another pot-a-minute stretch, with Suarez coming out of the multiple small skirmishes ever so slightly further ahead.
It was only a matter of pair vs. pair to get all the chips in the middle –
on the button for Anton Suarez and
for big blind Christian Rudolph.  Suarez made it 14,000,000 to go preflop, then called his full 187,000,000 off to find himself in good shape.
Rudolph was drawing dead by the turn – the deck bringing
  – an unbeatable full house for Suarez.
The chip lead swaps back.
Level
Level 31
Blinds
2,500,000 / 5,000,000
Though Christian Rudolph was the winner of two decent sized pots recently, opponent Anton Suarez managed to get away from top pair on both, which could easily have been more costly.
One saw Rudolph flop a straight with
in the big blind on a
board, while button Suarez held
.  Action took off on the turned
when Rudolph check-raised Suarez's bet of 16,000,000 to 46,000,000, but he did not get a call.
Then the largest of the recent pots, where chips took their time getting into the pot but flew in on the river, the board standing
.  Big blind Suarez checked, holding
, and Rudolph, with
bet 20,000,000.  Suarez check-raised to 110,000,000, but the eight-high straight refused to budge and Rudolph called, edging into the lead.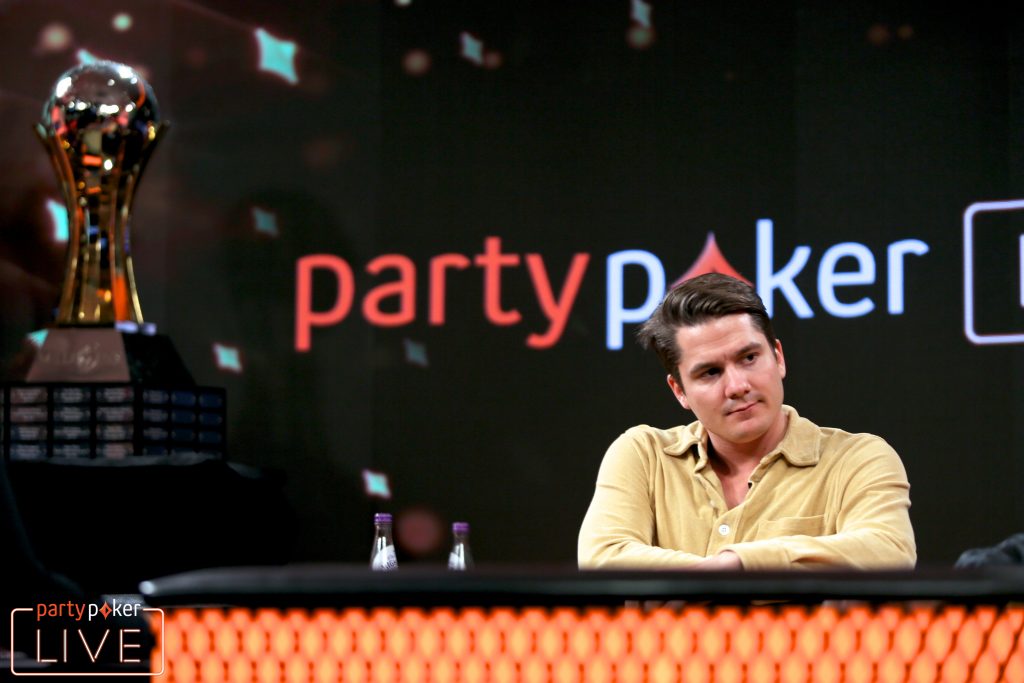 Christian Rudolph put in a check-raise worth 52,000,000 on a flop of
holding
. Button Anton Suarez, with
, had bet 18,000,000, and proceeded to bet even more with his jack high – a total of 100,000,000.  He was rewarded with a fold.
Keeping up with Anton Suarez's pace of play, Christian Rudolph has taken a couple of pots away from the aggressive Swede with some timely moves of his own recently (notably an all in shove with just ace-high and a gutshot).
While we were writing that, Suarez spiked river trips with his
on a
board, paid by Rudolph with
to the tune of 40,000,000 on that street alone.
The chips swing back…
You're all caught up!
No more pages to load