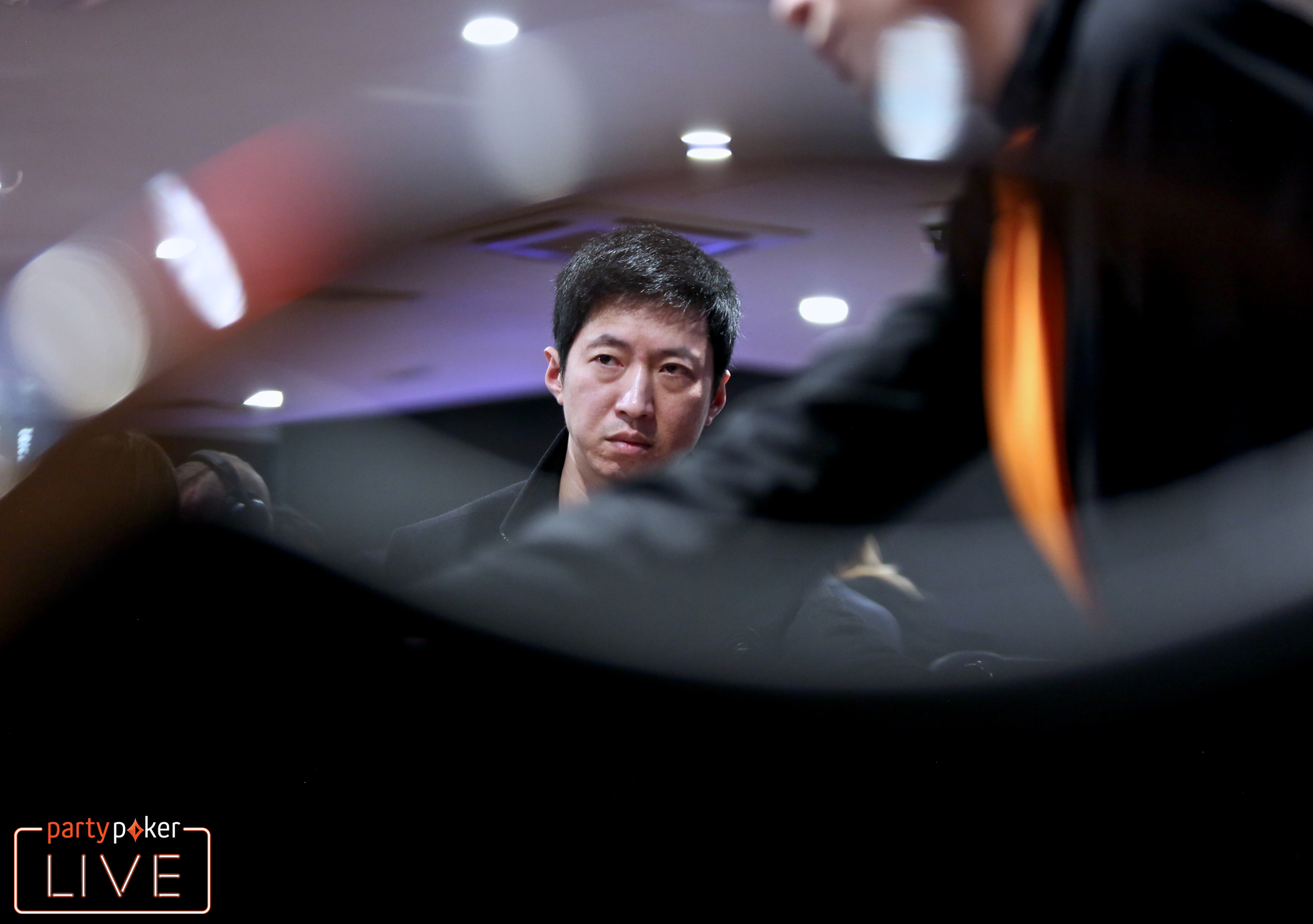 At noon, the partypoker MILLIONS UK Main Event resumes. The sixty survivors of the first two days merge with the fifteen that had already played their way through to Day 3 online for a combined field of 75 players.
All guaranteed the min-cash of $20,000, and they're all eyeing the top-prize of $1,000,000. The goal for the day is to get as close to a final table of eight as possible. The finalists are guaranteed to take home $100,000 from the $5,141,000 prize pool.
Irish Open winner Weije "Jervi" Zheng leads the field, looking for another big score. The competition is fierce, though, as some of the top names in poker have played their way through to the money stage of the UK's most prestigious event. WSOP Main Event winner Hossein Ensan still has a shot at the partypoker trophy, as does WSOPE Main Event winner Jack Sinclair, former partypoker MILLIONS Main Event winner Maria Lampropulos, and a whole platoon of high rollers. Sam Grafton sits in an excellent position to do some damage. Still, high stakes colleagues Ludovic Geilich, Joao Vieira, Sergi Reixach, Niall Farrell, and Patrick Leonard will try to make life hard for their tablemates as well.
Play restarts at noon when the gigantic prize pool will start to be paid with the first elimination.  The live stream begins at 1 pm local time (8 am ET), and from that point, live coverage will keep in time with the delayed feed.
Here's the seat draw at the start of Day 3 in the Dusk Till Dawn in Nottingham:
| | | | | |
| --- | --- | --- | --- | --- |
| Table | Seat | Player | Country | Chip Count |
| 21 | 1 | Daniel Wilson | United Kingdom | 3.940.000 |
| | 2 | Ondrej Goetz | Czech Republic | 10.250.000 |
| | | | | |
| | 4 | Philipp Zukernik | Israel | 5.325.000 |
| | 5 | Adrian Mateos | Spain | 3.215.000 |
| | 6 | Russell Betts | England | 3.750.000 |
| | 7 | Maria Lampropulos | Argentina | 5.590.000 |
| | 8 | Christian Rudolph | Germany | 16.500.000 |
| | | | | |
| 22 | 1 | Faraz Jaka | United States | 7.550.000 |
| | 2 | Chris Neesam | United Kingdom | 1.900.000 |
| | 3 | Jack Hardcastle | United Kingdom | 4.215.000 |
| | 4 | Fabrizio Gonzalez | Uruguay | 11.800.000 |
| | 5 | Saulo Galvao Sabioni | Brazil | 2.575.000 |
| | 6 | Georgy Philippovich | Russia | 16.105.000 |
| | 7 | James Sathiakiri | United Kingdom | 1.795.000 |
| | 8 | Anton Suarez | Sweden | 18.445.000 |
| | | | | |
| 23 | 1 | Carlos Chadha | United Kingdom | 16.965.000 |
| | 2 | Bartlomiej Machon | Poland | 3.935.000 |
| | 3 | Jiayu Ruan | China | 5.260.000 |
| | 4 | James Romero | United States | 2.900.000 |
| | 5 | Matthew Stone | United States | 3.390.000 |
| | 6 | Michael Allmrodt | Germany | 9.080.000 |
| | 7 | Dara O'Kearney | United Kingdom | 3.570.000 |
| | 8 | Niall Farrell | United Kingdom | 6.310.000 |
| | | | | |
| 32 | 1 | Santiago Plante | Canada | 2.245.000 |
| | 2 | Kevin Rabichow | Canada | 6.030.000 |
| | 3 | John Mooney | United Kingdom | 8.585.000 |
| | 4 | Jamie O'Connor | United Kingdom | 3.930.000 |
| | 5 | Sam Grafton | Ireland | 13.285.000 |
| | 6 | Joep Raemaekers | Malta | 4.040.000 |
| | 7 | Hossein Ensan | Germany | 4.600.000 |
| | | | | |
| 32 | 8 | Patrick Leonard | United Kingdom | 8.180.000 |
| | 1 | Tony Nicholas Fellone | United Kingdom | 1.195.000 |
| | 2 | Jean-Pascal Savard | Canada | 8.005.000 |
| | 3 | Peter Chien | Canada | 21.890.000 |
| | 4 | Ioannis Angelou-Konstas | Greece | 5.590.000 |
| | 5 | Richard Trigg | United Kingdom | 2.020.000 |
| | 6 | Roberto Romanello | United Kingdom | 6.100.000 |
| | 7 | Benjamin Chalot | Hungary | 3.570.000 |
| | 8 | Ludovic Geilich | United Kingdom | 14.825.000 |
| | | | | |
| 34 | 1 | Ronan Sweeney | Ireland | 2.900.000 |
| | 2 | Alex Keating | United States | 3.150.000 |
| | 3 | James Clarke | United Kingdom | 7.600.000 |
| | 4 | Usman Ulhaq | England | 9.910.000 |
| | 5 | Diego Zeiter | Switzerland | 2.055.000 |
| | 6 | Oskar Prehm | Germany | 5.405.000 |
| | 7 | Mikolaj Zawadzki | Poland | 9.825.000 |
| | 8 | Marvin Rettenmaier | Germany | 6.310.000 |
| | | | | |
| 35 | 1 | Rachid Ben Cherif | Netherlands | 480.000 |
| | 2 | Anthony Kennedy | United Kingdom | 6.900.000 |
| | 3 | Michael Benjamin Jones | United Kingdom | 4.710.000 |
| | 4 | Guillaume Nolet | Canada | 15.380.000 |
| | 5 | Mukul Pahuja | United States | 3.830.000 |
| | 7 | Jack Sinclair | United Kingdom | 9.755.000 |
| | 8 | Michael Christian  Bauer | Germany | 3.335.000 |
| | | | | |
| 36 | 2 | Kulild Andreas Wiborg | Norway | 5.135.000 |
| | 3 | Sergi Reixach | Spain | 5.520.000 |
| | 4 | Robert Heidorn | Germany | 4.545.000 |
| | 5 | Felix Bleiker | Switzerland | 8.870.000 |
| | 6 | Martin Mulsow | Germany | 4.500.000 |
| | 7 | Arsenii Karmatckii | Russia | 14.895.000 |
| | 8 | Michael Sklenicka | Czech Republic | 1.665.000 |
| | | | | |
| 37 | 1 | Kamil Lewandowski | Poland | 2.275.000 |
| | 2 | Fredrik Andersson | Sweden | 13.550.000 |
| | 4 | Weijie Zheng | United Kingdom | 27.625.000 |
| | 5 | George Demetriou | United Kingdom | 7.755.000 |
| | 6 | Joao Vieira | Portugal | 1.845.000 |
| | 7 | Per Anton Siden | Sweden | 5.310.000 |
| | 8 | Nicholas Romanello | United Kingdom | 3.850.000 |
| | | | | |
| 38 | 1 | Luigi Knoppers | Malta | 6.550.000 |
| | 2 | Jeff Gross | United States | 3.325.000 |
| | 4 | Daniel Ondejka | Slovakia | 7.125.000 |
| | 5 | Alex Lindop | United Kingdom | 6.040.000 |
| | 6 | Antony Romanello | Wales | 13.615.000 |
| | 7 | Kearney Leslie | United Kingdom | 3.275.000 |
| | 8 | Lohnert Florian Stephan | Germany | 11.950.000 |