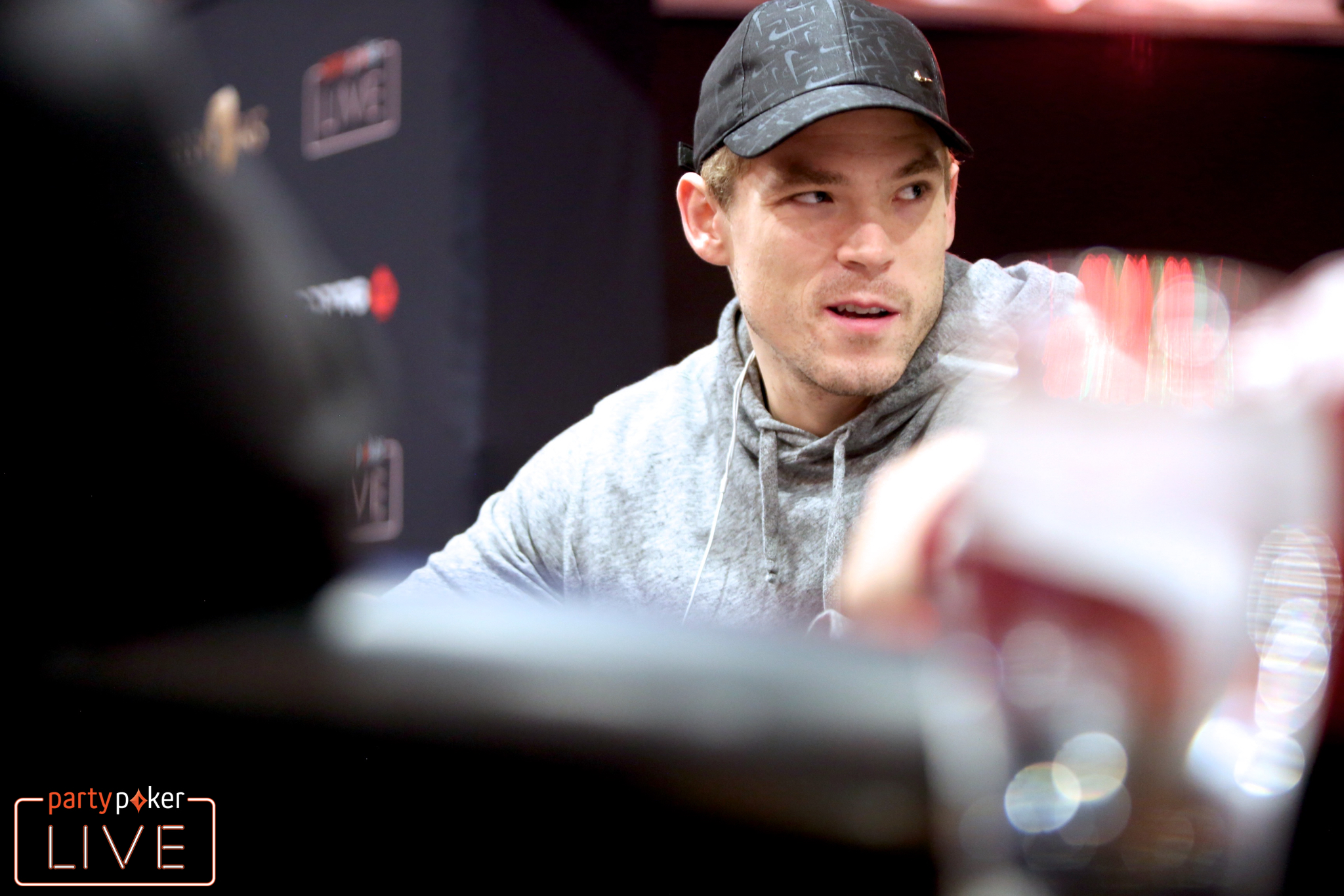 Welcome to Day 2 of the partypoker MILLIONS UK Main Event!
Day 1a's chipleader Jack Sinclair leads the field with a stack just shy of 6 million in chips. In second position, we find Day 1b's chipleader Philipp Zukernik who brings a comparable stack to the table. The absolute shortest stack belongs to Alex Foxen. Foxen, the GPI's 2018 and 2019 Player of the Year, will start with just 200,000 in chips, the equivalent of seven big blinds.
Foxen and all others have the option to reenter if they bust within the first two levels. Of course, they'll have to buy back in for $10,300 to receive a fresh 1,000,000-stack. With blinds starting at 15,000 and 30,000 with a 30,000-big blind ante, reentering gives anyone trying now 33 big blinds.
The goal of the day is to play to the money, so a set percentage of the field. Today's survivors will return, all guaranteed a cash prize, to the Dusk Till Dawn casino in Nottingham tomorrow for Day 3. They will be joined by numerous players that have already made Day 3 by playing the first two days of this prestigious event online on partypoker.
Levels are once again an hour long with a short break every two levels. We'll bring you live updates throughout the day, so sit back and keep your eyes on this page as the action gets underway at noon!
| | | | | | |
| --- | --- | --- | --- | --- | --- |
| Table | Seat | Player | Country |  Chip Count | Big Blinds |
| 21 | 2 | John Mooney | United Kingdom | 1,585,000 | 53 |
| | 3 | Adam Reynolds | United Kingdom | 1,490,000 | 50 |
| | 4 | Kevin Rabichow | Canada | 1,735,000 | 58 |
| | 5 | Andrej Desset | Slovakia | 460,000 | 15 |
| | 6 | Benjamin Chalot | Hungary | 1,095,000 | 37 |
| | 7 | Govert Metaal | Netherlands | 1,945,000 | 65 |
| | 8 | Basharat Mahmood | United Kingdom | 1,950,000 | 65 |
| | | | | | |
| 22 | 1 | Timothy Vukson | Canada | 2,305,000 | 77 |
| | 3 | Peter Chien | Canada | 2,000,000 | 67 |
| | 4 | Adrian-Eugen Constantin | Romania | 1,190,000 | 40 |
| | 5 | Oskar Prehm | Germany | 2,525,000 | 84 |
| | 6 | Per Siden | Sweden | 2,905,000 | 97 |
| | 7 | Georgios Sefertzis | Greece | 655,000 | 22 |
| | 8 | Grzegorz Gosk | Poland | 3,240,000 | 108 |
| | | | | | |
| 23 | 1 | Bryan Piccioli | United States | 3,145,000 | 105 |
| | 2 | Soares Manuel Ruivo | Portugal | 1,410,000 | 47 |
| | 4 | Usman Ulhaq | England | 1,455,000 | 49 |
| | 5 | Christopher Fraser | United Kingdom | 2,580,000 | 86 |
| | 6 | Kristoffer Rasmussen | Denmark | 710,000 | 24 |
| | 7 | Lukas Soucek | Czech Republic | 1,075,000 | 36 |
| | 8 | Farukh Tach | Netherlands | 1,605,000 | 54 |
| | | | | | |
| 24 | 1 | Oliver Price | United Kingdom | 1,080,000 | 36 |
| | 2 | Benjamin Heath | United Kingdom | 1,625,000 | 54 |
| | 3 | Ian Hamilton | United Kingdom | 2,695,000 | 90 |
| | 4 | Nicola Angelini | Italy | 3,180,000 | 106 |
| | 6 | Petr Hlavacek | Czech Republic | 880,000 | 29 |
| | 7 | Zapatero Javier Gomez | Spain | 2,915,000 | 97 |
| | 8 | Anatoly Filatov | Russia | 1,400,000 | 47 |
| | | | | | |
| 32 | 1 | Alexander Keating | United States | 1,070,000 | 36 |
| | 2 | Christian Bauer | Germany | 3,330,000 | 111 |
| | 3 | Vitalijs Korhs | Latvia | 1,880,000 | 63 |
| | 4 | Linton Reid | United Kingdom | 1,680,000 | 56 |
| | 6 | Job Greben | Denmark | 1,390,000 | 46 |
| | 7 | Ivan Gabrieli | Italy | 1,630,000 | 54 |
| | 8 | Maria Lampropulos | Argentina | 3,875,000 | 129 |
| | | | | | |
| 33 | 1 | Niall Farrell | United Kingdom | 2,230,000 | 74 |
| | 2 | Andreas Christoforou | Cyprus | 2,375,000 | 79 |
| | 3 | Florian Lohnert | Germany | 550,000 | 18 |
| | 5 | Santiago Plante | Canada | 3,895,000 | 130 |
| | 6 | Michael Sklenicka | Czech Republic | 3,505,000 | 117 |
| | 7 | Marvin Rettenmaier | Germany | 3,805,000 | 127 |
| | 8 | Thomas Muehloecker | Austria | 1,350,000 | 45 |
| | | | | | |
| 34 | 1 | Espen Uhlen Jorstad | Norway | 1,545,000 | 52 |
| | 2 | David Taborsky | Czech Republic | 1,200,000 | 40 |
| | 3 | Georgy Philippovich | Russia | 1,110,000 | 37 |
| | 4 | Gilad Gutkin | United Kingdom | 720,000 | 24 |
| | 5 | Daniel Ondejka | Slovakia | 2,160,000 | 72 |
| | 6 | Robert Bickley | United Kingdom | 840,000 | 28 |
| | 8 | Gonzalo Joel Isla | United Kingdom | 1,410,000 | 47 |
| | | | | | |
| 35 | 1 | Thomas Hall | United Kingdom | 1,200,000 | 40 |
| | 2 | Dietrich Fast | Germany | 615,000 | 21 |
| | 3 | Emrah Yildiz | United Kingdom | 1,565,000 | 52 |
| | 4 | Kacper Pyzara | Poland | 1,380,000 | 46 |
| | 6 | Francesko Romanello | Italy | 3,560,000 | 119 |
| | 7 | Samuel Grafton | Ireland | 2,000,000 | 67 |
| | 8 | Daniele Ruocco | United Kingdom | 1,010,000 | 34 |
| | | | | | |
| 41 | 1 | Anh Do | Czech Republic | 970,000 | 32 |
| | 2 | Simon Deadman | Ireland | 2,330,000 | 78 |
| | 4 | Eduard Scharf | Germany | 835,000 | 28 |
| | 5 | Carl Shaw | United Kingdom | 1,720,000 | 57 |
| | 6 | Mikolaj Zawadzki | Poland | 640,000 | 21 |
| | 7 | Ondrej Goetz | Czech Republic | 445,000 | 15 |
| | 8 | Michael Allmrodt | Germany | 1,805,000 | 60 |
| | | | | | |
| 42 | 1 | Adrian Mateos | Spain | 2,115,000 | 71 |
| | 2 | Paul Vas Nunes | United Kingdom | 2,935,000 | 98 |
| | 3 | Fredrik Andersson | Sweden | 3,755,000 | 125 |
| | 4 | Dimitar Danchev | Bulgaria | 1,290,000 | 43 |
| | 6 | Roberto Romanello | United Kingdom | 1,200,000 | 40 |
| | 7 | Mauricio Ferreira Pais | United Kingdom | 5,510,000 | 184 |
| | 8 | Andreas Diga | Germany | 530,000 | 18 |
| | | | | | |
| 43 | 1 | Matas Cimbolas | Lithuania | 2,285,000 | 76 |
| | 2 | Morten Mortensen | Denmark | 1,230,000 | 41 |
| | 3 | Christopher Kyriacou | United Kingdom | 1,095,000 | 37 |
| | 4 | Jack Hardcastle | United Kingdom | 1,250,000 | 42 |
| | 6 | Nicolas Nemis | Canada | 1,380,000 | 46 |
| | 7 | Ludovic Geilich | United Kingdom | 2,095,000 | 70 |
| | 8 | Jakob Miegel | Germany | 3,205,000 | 107 |
| | | | | | |
| 44 | 1 | Rainer Kempe | Germany | 1,505,000 | 50 |
| | 2 | Kuljinder Sidhu | United Kingdom | 1,350,000 | 45 |
| | 3 | Morten Klein | Norway | 1,390,000 | 46 |
| | 5 | Andrew Wilson | United Kingdom | 1,685,000 | 56 |
| | 6 | Youness Barakat | United Kingdom | 550,000 | 18 |
| | 7 | Andrea Fossati | United Kingdom | 2,000,000 | 67 |
| | 8 | Pierre Mothes | Germany | 1,835,000 | 61 |
| | | | | | |
| 45 | 1 | Matthew Wantman | United States | 1,310,000 | 44 |
| | 2 | Langar Oghabian | Netherlands | 1,955,000 | 65 |
| | 3 | Lander Lijo | Spain | 1,760,000 | 59 |
| | 4 | Antoine Saout | France | 2,000,000 | 67 |
| | 6 | Ondrej Drozd | Czech Republic | 3,230,000 | 108 |
| | 7 | Ben Winsor | United Kingdom | 650,000 | 22 |
| | 8 | Stephen Buxton | United Kingdom | 460,000 | 15 |
| | | | | | |
| 46 | 1 | Petr Kubenka | United Kingdom | 1,195,000 | 40 |
| | 2 | Max Silver | England | 1,225,000 | 41 |
| | 3 | Francisco Carreira | Portugal | 2,395,000 | 80 |
| | 4 | Mustapha Kanit | Italy | 515,000 | 17 |
| | 6 | Sergi Reixach | Spain | 2,650,000 | 88 |
| | 7 | Petr Gajdos | Czech Republic | 1,885,000 | 63 |
| | 8 | Alexandros Kolonias | Greece | 460,000 | 15 |
| | | | | | |
| 51 | 1 | Steven van Zadelhoff | Malta | 1,240,000 | 41 |
| | 2 | Alex Foxen | United States | 200,000 | 7 |
| | 4 | Raoul Refos | Netherlands | 460,000 | 15 |
| | 5 | Christos Xanthopoulos | Greece | 290,000 | 10 |
| | 6 | Craig Mccorkell | United Kingdom | 1,840,000 | 61 |
| | 7 | Maduka Meragal | Canada | 510,000 | 17 |
| | 8 | Nicholas Romanello | United Kingdom | 2,410,000 | 80 |
| | | | | | |
| 52 | 1 | Kristoffer Hansson | Sweden | 1,475,000 | 49 |
| | 2 | Joao Simao | Brazil | 3,515,000 | 117 |
| | 3 | Dara O'Kearney | United Kingdom | 1,410,000 | 47 |
| | 4 | Josef Snejberg | Czech Republic | 935,000 | 31 |
| | 6 | Joao Martins | Portugal | 3,945,000 | 132 |
| | 7 | Paul Michaelis | Germany | 1,215,000 | 41 |
| | 8 | Kristen Bicknell | Canada | 1,735,000 | 58 |
| | | | | | |
| 53 | 1 | Jelle Moene | Netherlands | 1,565,000 | 52 |
| | 2 | James Rann | United Kingdom | 1,085,000 | 36 |
| | 3 | Andreas Wiborg | Norway | 2,155,000 | 72 |
| | 4 | Philipp Gruissem | Germany | 3,200,000 | 107 |
| | 6 | Steven Warburton | United Kingdom | 1,475,000 | 49 |
| | 7 | Anthony Lynch | Ireland | 2,330,000 | 78 |
| | 8 | Gianpietro Valentini | United Kingdom | 3,925,000 | 131 |
| | | | | | |
| 54 | 1 | James Sathiakiri | United Kingdom | 1,765,000 | 59 |
| | 2 | Alexandr Merzhvinskiy | Russia | 340,000 | 11 |
| | 3 | Andrew Graham | United States | 4,125,000 | 138 |
| | 4 | Kamil Lewandowski | Poland | 3,080,000 | 103 |
| | 6 | Paul Evans | United Kingdom | 2,595,000 | 87 |
| | 7 | Chris Neesam | United Kingdom | 1,000,000 | 33 |
| | 8 | Thomas Middleton | United Kingdom | 635,000 | 21 |
| | | | | | |
| 55 | 1 | Jonathan Little | United States | 885,000 | 30 |
| | 2 | Joep Raemaekers | Malta | 1,185,000 | 40 |
| | 3 | Sanjay Patel | United Kingdom | 1,820,000 | 61 |
| | 5 | Bartlomiej Machon | Poland | 1,275,000 | 43 |
| | 6 | James Atkin | United Kingdom | 1,050,000 | 35 |
| | 7 | Robin Hegele | Germany | 1,890,000 | 63 |
| | 8 | Kassa Getnet Taye | United Kingdom | 960,000 | 32 |
| | | | | | |
| 56 | 1 | Philipp Zukernik | Israel | 5,875,000 | 196 |
| | 2 | Mukhtar Taysi | Turkey | 1,290,000 | 43 |
| | 3 | George Demetriou | United Kingdom | 2,945,000 | 98 |
| | 4 | Nathan Jones | United Kingdom | 1,000,000 | 33 |
| | 6 | Nikolay Ponomarev | United Kingdom | 1,295,000 | 43 |
| | 7 | Daniel Wilson | United Kingdom | 2,770,000 | 92 |
| | 8 | Micha Hoedemaker | Netherlands | 1,200,000 | 40 |
| | | | | | |
| 62 | 1 | Luke Marsh | England | 1,835,000 | 61 |
| | 2 | Pavlos Xanthopoulos | Greece | 865,000 | 29 |
| | 3 | James Clarke | United Kingdom | 3,100,000 | 103 |
| | 5 | Gary Banks | United Kingdom | 1,920,000 | 64 |
| | 6 | Weijie Zheng | United Kingdom | 1,840,000 | 61 |
| | 7 | Jiushuang Wang | United Kingdom | 4,510,000 | 150 |
| | 8 | Benjamin Pollak | France | 1,750,000 | 58 |
| | | | | | |
| 63 | 1 | Waheed Ashraf | United Kingdom | 1,375,000 | 46 |
| | 2 | Andrei Boghean | Romania | 590,000 | 20 |
| | 3 | Charles Lehr | United States | 2,045,000 | 68 |
| | 4 | James Romero | United States | 1,260,000 | 42 |
| | 6 | Lawrence Bayley | Ireland | 1,245,000 | 42 |
| | 7 | Felix Bleiker | Switzerland | 2,690,000 | 90 |
| | 8 | Jack Sinclair | United Kingdom | 5,935,000 | 198 |
| | | | | | |
| 64 | 1 | Marcel Luske | Netherlands | 915,000 | 31 |
| | 2 | Fabio Sperling | Germany | 700,000 | 23 |
| | 3 | Jeremy Macghilles | United Kingdom | 2,785,000 | 93 |
| | 4 | Emile Hijman | Netherlands | 2,385,000 | 80 |
| | 6 | Anton Suarez Johansson | Sweden | 5,525,000 | 184 |
| | 7 | Florian-Dimitrie Duta | Romania | 660,000 | 22 |
| | 8 | Tomas Jozonis | Lithuania | 515,000 | 17 |
| | | | | | |
| 65 | 1 | Bertrand Grospellier | France | 645,000 | 22 |
| | 2 | Duff Charette | Canada | 575,000 | 19 |
| | 3 | Arsenii Karmatckii | Russia | 2,170,000 | 72 |
| | 4 | Sirzat Hissou | Germany | 1,020,000 | 34 |
| | 6 | Trevor Reardon | United Kingdom | 1,125,000 | 38 |
| | 7 | Marco Dipersio | Italy | 3,005,000 | 100 |
| | 8 | Raul Martinez | Spain | 2,385,000 | 80 |
| | | | | | |
| 101 | 1 | Ryan Mandara | United Kingdom | 3,355,000 | 112 |
| | 2 | Michael Kane | United Kingdom | 310,000 | 10 |
| | 3 | Denys Shafikov | Ukraine | 2,000,000 | 67 |
| | 4 | Richard Trigg | United Kingdom | 4,140,000 | 138 |
| | 6 | Adriano Luzzi | Wales | 1,190,000 | 40 |
| | 7 | Michael Zhang | United Kingdom | 550,000 | 18 |
| | 8 | Andrew Salami | United Kingdom | 910,000 | 30 |
| | | | | | |
| 102 | 1 | Nathan Watson | United Kingdom | 3,240,000 | 108 |
| | 2 | Arunas Sapitavicius | Lithuania | 2,105,000 | 70 |
| | 3 | Mudasser Hussain | United Kingdom | 1,205,000 | 40 |
| | 4 | Pawel Brzeski | Poland | 1,625,000 | 54 |
| | 6 | Yiannis Liperis | United Kingdom | 2,715,000 | 91 |
| | 7 | Dominik Panka | Poland | 970,000 | 32 |
| | 8 | Martin Mathis | United States | 1,915,000 | 64 |
| | | | | | |
| 103 | 1 | Thomas Knespl | Czech Republic | 1,965,000 | 66 |
| | 2 | Rachid Ben Cherif | Netherlands | 2,095,000 | 70 |
| | 3 | Jiayu Ruan | China | 1,375,000 | 46 |
| | 4 | Ondrej Franta | Czech Republic | 1,620,000 | 54 |
| | 5 | Thomas Boivin | Belgium | 2,725,000 | 91 |
| | 7 | Tom Kunze | Austria | 2,370,000 | 79 |
| | 8 | Luigi Knoppers | Malta | 1,100,000 | 37 |
| | | | | | |
| 104 | 1 | Hossein Ensan | Germany | 600,000 | 20 |
| | 2 | Christoph Vogelsang | Germany | 1,140,000 | 38 |
| | 3 | Josef Gulas | Czech Republic | 825,000 | 28 |
| | 4 | Carlos Chadha | United Kingdom | 1,795,000 | 60 |
| | 6 | Robert Heidorn | Germany | 3,510,000 | 117 |
| | 7 | Ryan Riess | United States | 1,895,000 | 63 |