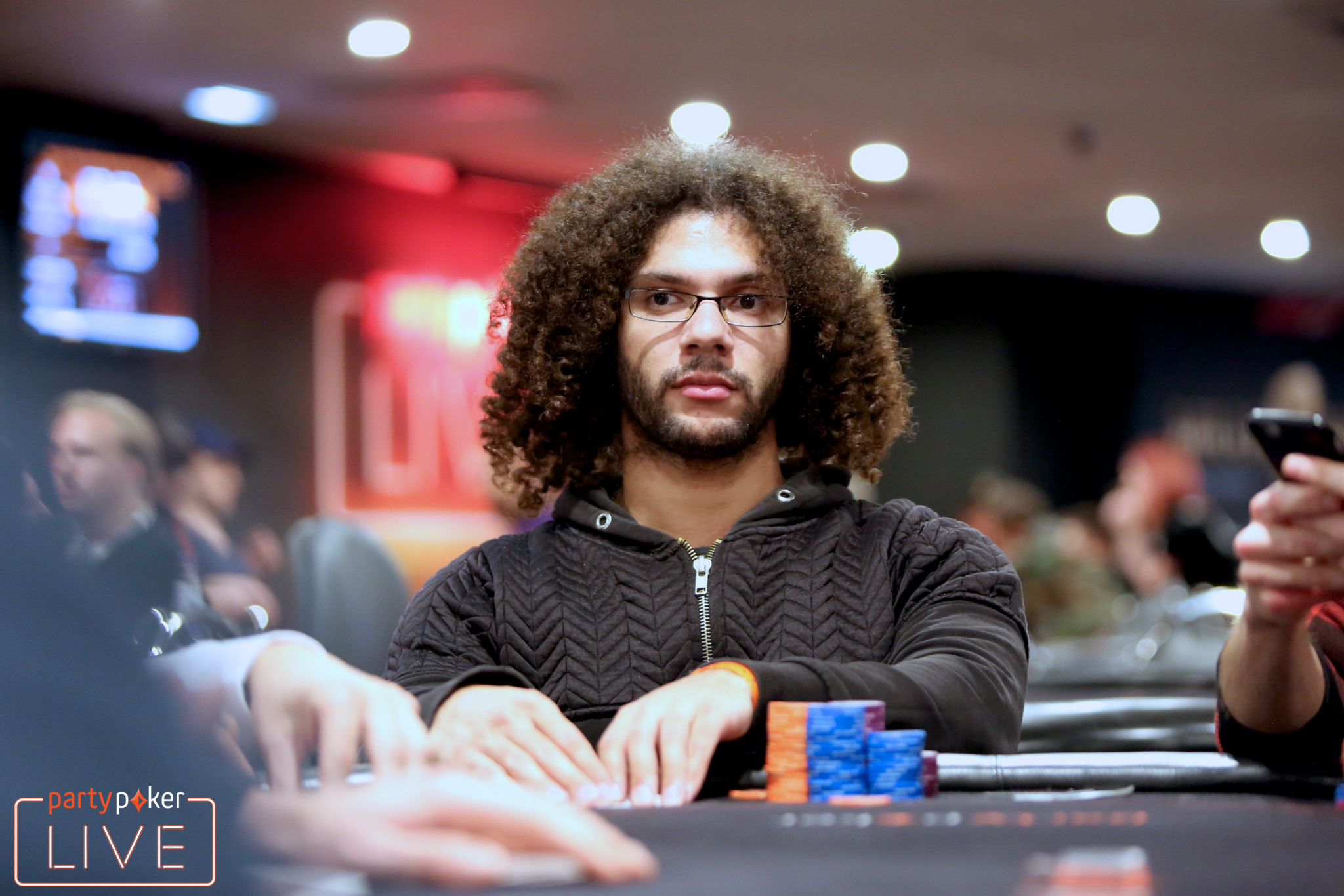 Day 1a of the partypoker MILLIONS UK Main Event in the Dusk Till Dawn got underway at noon today with a total of 170 players entering.
After eight levels of play, some massive stacks emerged with Mauricio Ferreira Pais seemingly collecting the most. He battled it out all day with the likes of Steven van Zadelhoff, Marvin Rettenmaier, and Joep Raemaekers at his table. Pais came out on top with a stack of over 5.5 million, no small feat considering everyone started with a million in chips. Pais will return on Day 2 with almost 184 big blinds.
Jiushuang Wang too had a great day, turning his million starting stack into 4.5 million, knocking out players left and right along the way. The biggest scalp came in a pot against partypoker PRO Roberto Romanello. While Romanello is, amongst other things, known for folding a full house in the WSOP Main Event a decade ago to the amazement of Mike Matusow, he wasn't willing to repeat that feat here in Nottingham. He called with queens full of jacks, only to see Wang turn over queens full of kings on the river.
Wang is by no means the only one to multiply his stack. Such big names as Marvin Rettenmaier (3.8 million), Sam Grafton (2 million), November Niner Bryan Piccioli (3.1 million), and partypoker's Joao Simao (3.5 million) all did well too.
Oliver Price was the first to head the tournament. Price's surgence came at the expense of bracelet winner Max Silver who suffered a bad beat with top-pair and top-kicker all in against Price's flush draw on the turn. A heart on the river sealed Silver's faith and catapulted Price to the role of chipleader. Price didn't stay up top and lost a fair bit of chips back throughout the rest of the day, ending the eight level with just over starting stack.
Day 2 sees the players return to action with blinds at 15,000 and 30,000. But before the 87 Day 1a survivors continue their quest for gold, first Day 1b will be played out on Thursday, January 9th. Players that busted on Day 1a today have another shot by handing over another $10,300 in exchange for a fresh 1,000,000 starting stack.
With the clock down to zero, 87 players from a field of 170 players survived Day 1a's eight levels. Below are the official chip counts.
Player
Chips
Change
Philipp Zukernik
5,875,000
4,875,000
Anton Suarez
5,525,000
4,525,000
Mauricio Ferreira Pais
5,510,000
2,144,997
Jiushuang Wang
4,510,000
-90,000
Santiago Plante
3,895,000
2,695,000
Marvin Rettenmaier
3,805,000
1,505,000
Fredrik Andersson
3,755,000
855,000
Joao Simao
3,515,000
2,515,000
Robert Heidorn
3,510,000
2,850,000
Michael Sklenicka
3,505,000
2,505,000
Ryan Mandara
3,355,000
2,355,000
Nathan John Watson
3,240,000
2,240,000
Ondrej Drozd
3,230,000
2,230,000
Jakob Miegel
3,205,000
2,205,000
Bryan Piccioli
3,145,000
1,445,000
Marco Di Persio
3,005,000
2,005,000
George Demetriou
2,945,000
1,945,000
Javier Gomez Zapatero
2,915,000
15,000
Per Anton Siden
2,905,000
1,905,000
Daniel Wilson
2,770,000
1,770,000
Yiannis Liperis
2,715,000
1,715,000
Felix Bleiker
2,690,000
1,690,000
Nicholas Romanello
2,410,000
1,410,000
Francisco Carreira
2,395,000
1,395,000
Emile Hijman
2,385,000
1,385,000
Tom Kunze
2,370,000
1,370,000
Niall Farrell
2,230,000
430,000
Daniel Ondejka
2,160,000
1,160,000
Adrian Mateos
2,115,000
1,115,000