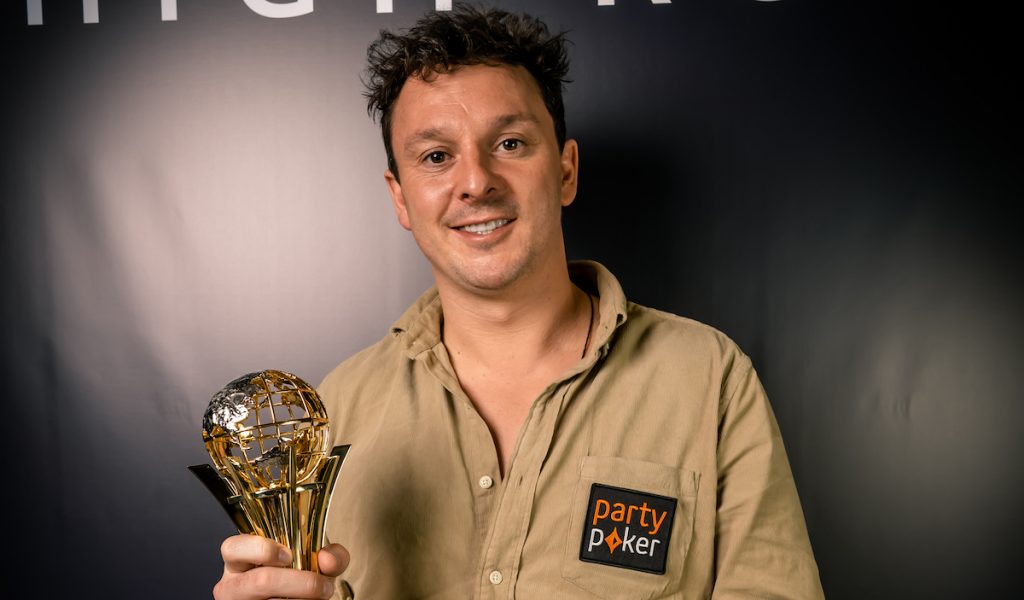 Sam Trickett has bested a field of 58, including finalists Phil Ivey, Timothy Adams and Adrian Mateos, in Event #2 of the partypoker LIVE MILLIONS Super High Roller Series held this week in Sochi.  Though a rare traveller on the live tournament circuit these days, Trickett seemingly picked up where he left off, adding $435,000 to his already $21.3 million in career earnings.
After a fairly lengthy pre-bubble period at the end of Day 1, the elimination of Aleksey Gortikov brought an (unofficial) final table of nine back to play for the hefty prizes at the top of the payouts.
Read through all Live Reporting coverage from this event here and check out the full final table stream replay on PokerGO here.
Chips were very unevenly distributed, with Ivan Leow holding nearly 3,000,000 (nearly half of the total in play) and four players bunched with just under 500,000 apiece (Ivey, Adams, Paul Phua, and Matthias Eibinger).  It was start-of-day shortest stack Webster Lim who was eliminated first, his ten big blinds boosting Ivey's stack above the others at the bottom of the counts – for a while. Lim picked up $43,500 for what represents a min-cash at this buy-in level and promptly jumped into Event #3: $25,000 Short Deck.  Ivey outlasted Phua, whose big blind kicker problems with a pair of flopped jacks saw him exit in 8th ($58,000), but soon followed him to the payouts desk. Ivey's pair of pocket queens failed to keep ahead of Matthias Eibinger's king ten suited, when he was finally all in for his tournament life preflop.
Artur Martirosyan had lost the very first hand on the final in dramatic style, doubling up Eibinger whose pocket nines stayed ahead of the sole Russian finalists' ace-queen suited (all in preflop).  He had nursed his now super-short stack through three others' eliminations, but down to just 180,000, could wait no more for help from the deck.  He moved in preflop with ten-jack suited, was called by Trickett with ace-four offsuit (in a perfect piece of foreshadowing for the tournament's eventual dramatic denouement), and failed to connect with his final board.  Martirosyan picked up $87,000 for 6th place.
Adams, also fairly quiet so far (and receiving no cards with which to make moves), finally found a hand – pocket tens – and a spot after a raise from chip leader Leow to get his stack of 300,000 in.  Leow made the call with king-seven suited and paid Adams his double – only to bust him in 5th ($116,000) a few hands later.
The final four players then began a session of far cagier play (all suffering a sustained period of being card dead, to boot).  It was Adrian Mateos who shifted the final table momentum back up a gear, doubling up and then busting in back to back hands.  With a fresh 680,000 stack courtesy of Eibinger, Mateos saw a king-high flop from the big blind with king-eight.  Unfortunately for him, preflop button raiser Trickett held pocket aces and one check-raise all in later (plus two missing streets) Mateos was on his way to collect his $145,000 prize for 4th place.
Eibinger, who already topped Austria's all-time money list, followed Mateos almost immediately to the rail, after a blind vs. blind confrontation with Trickett, who called his preflop three-bet shove (Eibinger held king-four of hearts) with ten-jack of the same suit, making a broadway straight on the river.  Eibinger picked up $203,000 and left Trickett heads up with Leow holding a small chip lead.
Around half a 40-minute level's worth of small pot poker traded the lead back and forth, but never by a huge margin.  Trickett had nosed ahead, 4.2 million to 3 million chips, when the final hand took place.  Leow found a genuinely strong button hand – ace-queen of hearts – and promptly raised, only to find Trickett with ace-four offsuit applying maximum pressure and setting him in.  One snap call later, and the deck brought a four-flush for Trickett on the river that abruptly ended the heads up sparring.  Leow won $290,000 for the runner-up spot, while Trickett took $435,000 and the trophy.
Final Table Results (full payouts):
| | | | |
| --- | --- | --- | --- |
| Place | Player | Country |  Prize |
| 1 | Sam Trickett | United Kingdom |  $435,000 |
| 2 | Ivan Leow | Malaysia |  $290,000 |
| 3 | Matthias Eibinger | Austria |  $203,000 |
| 4 | Adrian Mateos | Spain |  $145,000 |
| 5 | Timothy Adams | Canada |  $116,000 |
| 6 | Artur Martirosyan | Russia |  $87,000 |
| 7 | Phil Ivey | United States |  $72,500 |
| 8 | Paul Phua | Malaysia |  $58,000 |
| 9 | Webster Lim | Malaysia |  $43,500 |
Live reporting is ongoing for Event #3: $25,000 Short Deck and will begin on the $50,000 No Limit event when #3 moves on to its final table tomorrow, which will be live streamed on PokerGO from 8am EDT/3pm local time.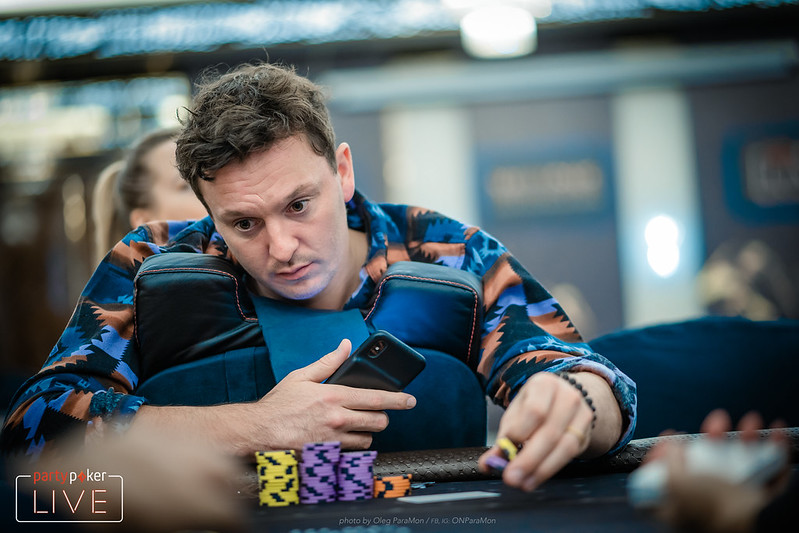 After half a level of cagey back and forth pots with Ivan Leow, Sam Trickett with one fell outdraw (see below) has scooped the title and $435,000 first prize.  A late Day 1 registrant in this 58-runner $25,000 No Limit Hold'em event, Trickett navigated his way through the nine-handed final table with aplomb, his prize nearly half a million dollars to add to his already $21.3 million career earnings.
A recap of the final day's action and winner's photograph to follow.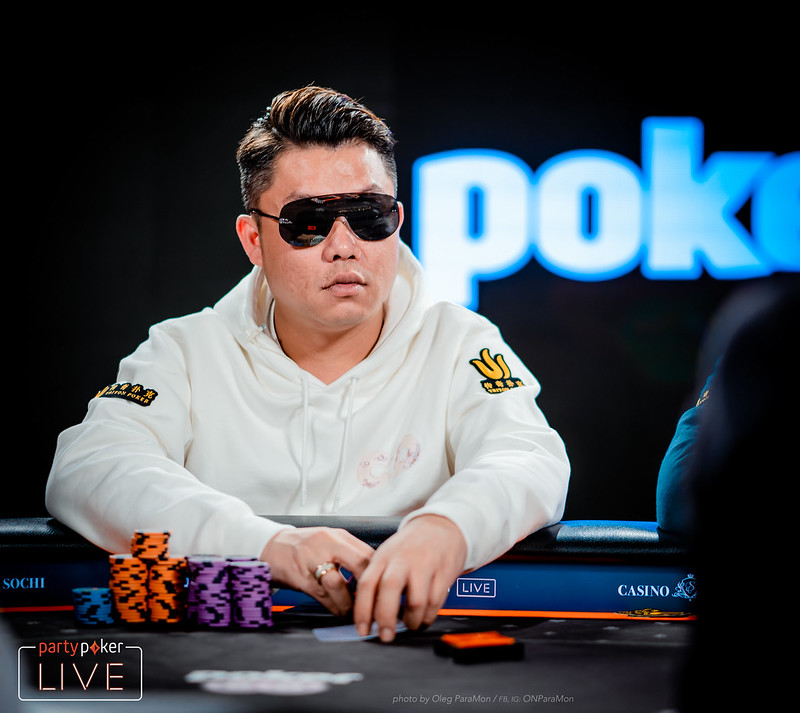 Sam Trickett had nosed into the chip lead by a million chips chips (the blinds now 40,000/80,000) when a battle of the preflop aces suddenly escalated into a tournament-ending giant pot.  Ivan Leow picked up
on the button, making it 250,000 to go.  Trickett, with
, pondered for a moment before simply setting his opponent all in for what would be a 6,000,000 chip pot.
Leow snap-called, and the cards were on their backs for what would be the final time in this event.  The flop paired Leow's queen but brought three spades:
.  "Always a sweat!" came the inevitable commentary as Leow faded Trickett's flush draw on the
but decidedly didn't on the
river.  The prize for second at the $25,000 level: $290,000.
A couple of low to middling aces were played from the big blind by Ivan Leow recently, the first (ace-five offsuit) picking up a Sam Trickett button opening raise when he three-bet it.  The second lost that amount of chips back: Leow, with
, called Trickett's raise to 240,000.  It was Trickett who hit the
flop with his
, betting 150,000 when it was checked to him.  Leow called, but neither player put another chip in as the runout finished
, Trickett picking up the pot.
Sam Trickett limped his button with
, then called Ivan Leow's raise (holding
) to 250,000.  A gutshot and flush draw for Trickett on the
flop – he went nowhere to a lead out of 90,000 from Leow.  The turn paired the three (
) and both players checked.  The river paired the nine too with the
.  Leow checked quickly and Trickett gave up the hand, and the pot, checking back around a bowl of bananas (some poker food never goes out of fashion).
"King high," announced Leow.
"You win," said Trickett.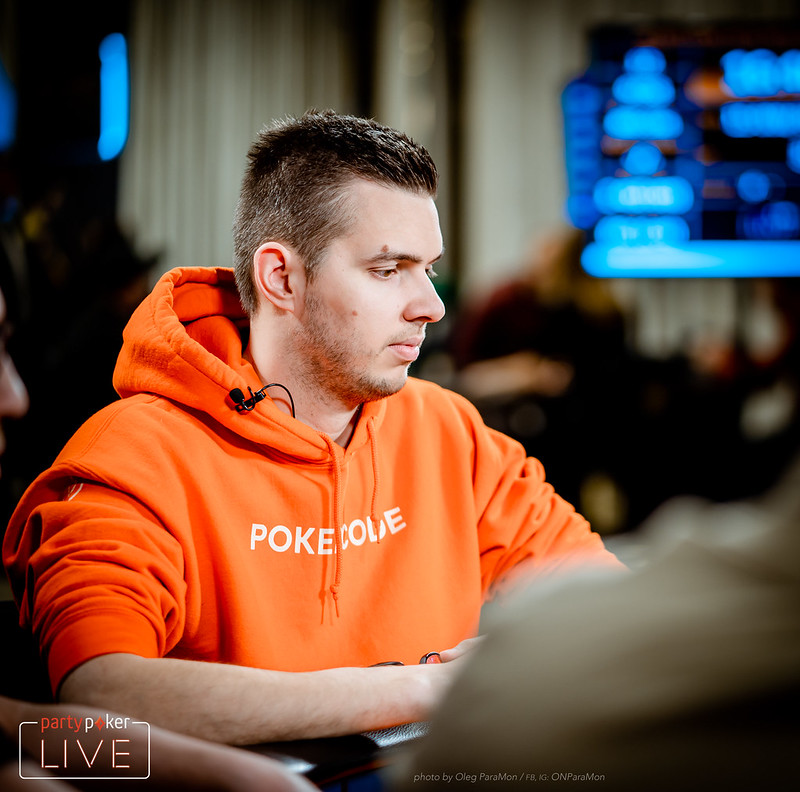 Mateos' chair had barely stopped spinning before another final table elimination took place – that of Matthias Eibinger.  Ivan Leow folded his button, Sam Trickett raised from the small blind and Eibinger moved in for 1,100,000 from the big.  Trickett made the call with
to find Eibinger with dominating hearts:
.
Eibinger spiked his king on the
flop, but the following
on the turn and river gave Trickett runner-runner broadway to bring Event #2 to its heads up phase.
| Player | Chips | Change |
| --- | --- | --- |
| Sam Trickett | 4,030,000 | 930,000 |
| Ivan Leow | 3,225,000 | 795,000 |
| Matthias Eibinger | Busted | -1,600,000 |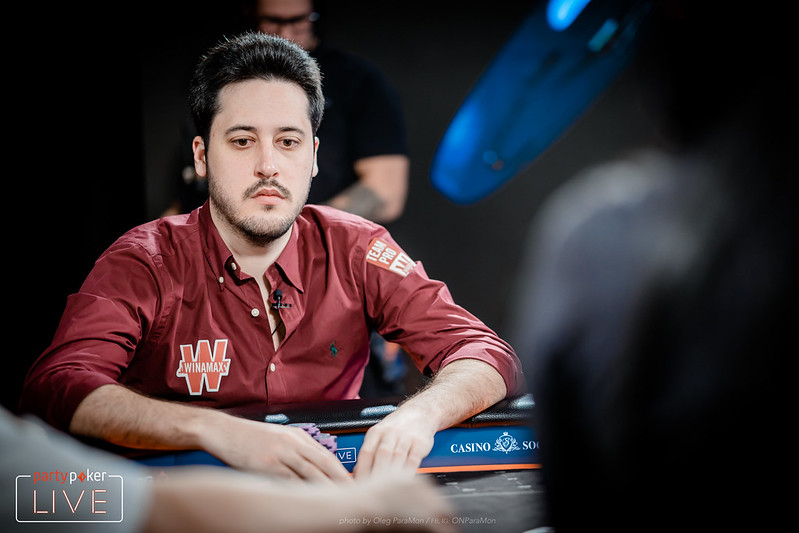 First hand back from a short break, and Adrian Mateos finally picked something up, first to act –
.  With just 380,000, his chips were soon over the line.  Big blind Matthias Eibinger thought for a moment, then made the call with
.  The board brought Mateos a double (
).  Now up to 11 big blinds total, Mateos in the big blind called a Sam Trickett minraise from the button with
, spiking top pair on a
flop.  He check-raised all in when Trickett bet a further 100,000, but was snap-called: Trickett was sitting on
which held over the
turn and river.
Level
Level 15
Blinds
40,000 / 80,000
Big Blind Ante
80,000
"An uncanny amount of walks, but if you look at the holdings it's not surprising." Such is the verdict of the commentators who have watched a good few orbits with more than one walk in the big blind apiece.  Adrian Mateos has remained patient with his short stack (and has received no help from the deck even if his patience were running out) while Sam Trickett has been picking spots to slowly chip up (just now threebetting his button to 400,000 with
after a cutoff open from Ivan Leow with
.  Leow tossed his hand in the muck.
The breakneck speed of eliminations seen at the start of this final has eased back this level, with fewer showdowns or even pots worth more than a few big blinds contested.  Still, with the blinds at 30,000/60,000, a few big blinds represents a good proportion of the shorter players' stacks; currently Adrian Mateos is in trouble stackwise, while Ivan Leow has been chipping back up (recently with a well-timed preflop threebet of Matthias Eibinger with
from the small blind).
| Player | Chips | Change |
| --- | --- | --- |
| Ivan Leow | 2,430,000 | 275,000 |
| Sam Trickett | 2,350,000 | 750,000 |
| Matthias Eibinger | 1,600,000 | -295,000 |
| Adrian Mateos | 680,000 | -670,000 |
You're all caught up!
No more pages to load