Event #1 $25,000 Short Deck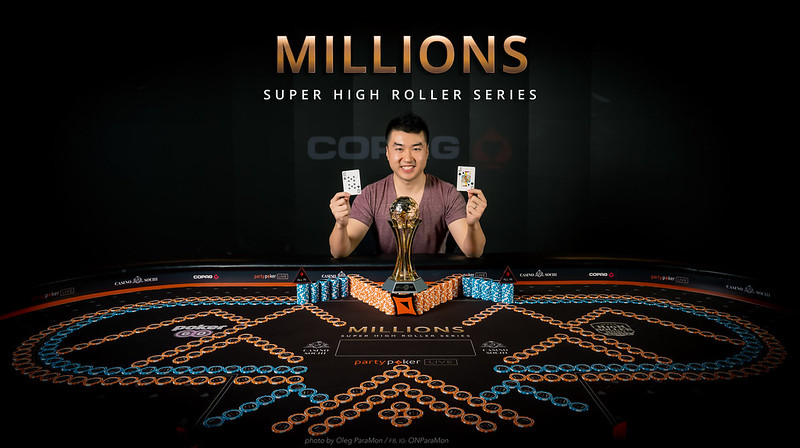 Jiang Xia He has won Event #1: $25,000 Short Deck, the first of the partypoker LIVE MILLIONS Super High Roller Series held at Casino Sochi this week, for $378,000, after seeing off a total field of 42 – his final four opponents within minutes of each other.  His fortunes wavered early on at the six-handed final table, but after a crucial double through against start-of-day chip leader Wai Leong Chan, He finished off the rest of his opposition in true steamroller style in less than half an hour.
Read through all of the Live Reporting coverage from this event right here and check out the full final table stream on PokerGO here.
The two shortest stacks coming into the final, belonging to WSOP Main Event champion John Cynn and Cary Katz, did not stay that way for long, both players doubling up within a level to even up the lower half of the counts.  The latter's tortured fold of rivered trip jacks to a bluff from Aaron Van Blarcum (which made the highlights reel on the livesteam) sent him back into the danger zone, but he was to rally and outlast one of the more dangerous of danger spots on the final: Stephen Chidwick.
Chidwick, 6th on the overall all-time money list, who has already racked up four high-roller final table appearances in January alone (worth over $600,000), raced Van Blarcum's ace-king with pocket queens (unsuccessfully), this major clash the only one the British pro was to be involved in.  He was eliminated in 6th place, winning $63,000.  Van Blarcum's newly-acquired stack took a hit soon afterwards, as he gave He the double through that was to start the eventual winner's ascent to the top.  This began to plump He's stack, but it was a huge pot vs. Wai Leong Chan that started the wrecking ball rolling.  Chan limped with ace-king offsuit, then found He putting on maximum pressure with king-jack offsuit – the chip leader's 5 million all-in preflop vs. second-in-chips Chan's 4 million.  A rivered full house for He (after his opponent hit broadway on the turn) sent Chan suddenly to the rail (5th for $84,000) and changed the dynamic of the final table unalterably.
With such a huge chip advantage, He spent most of the level moving in on his opponents.  When they found hands – as Katz did with pocket jacks and eight big blinds left – he held or hit, as necessary.  Against Katz, He's king-queen found another full house to send the PokerGo-emblazoned player (no slouch at high roller events himself, with over $27 million in live earnings) to the rail in 4th place ($105,000).
He's final two opponents, Van Blarcum and Cynn, were both playing around half a million in chips; he continued simply getting it in preflop and letting his huge chip advantage do the work – with a little help from the deck.  He busted Van Blarcum in 3rd ($168,000) with king-ten of spades vs. jack-ten offsuit, flopping a flush to remove all hope for his hard-battling opponent.  One hand later, heads up play was over before it had really begun, Cynn making his final stand with king-nine of spades.  He's final hand started off as jack-ten offsuit (with the jack of clubs), and ended up as no less than a Royal Flush, ending the tournament with the unbeatable nuts.
Cynn took home $252,000 for his runner-up finish, while He hoisted the first trophy of the festival and collected $378,000.
High rollers are not known for their need for rest from action: Chidwick has already been spotted in Event #2 $25,000 No Limit Hold'em and live coverage continues here throughout Day 1, with the final table streamed live on PokerGO from 8am EDT tomorrow.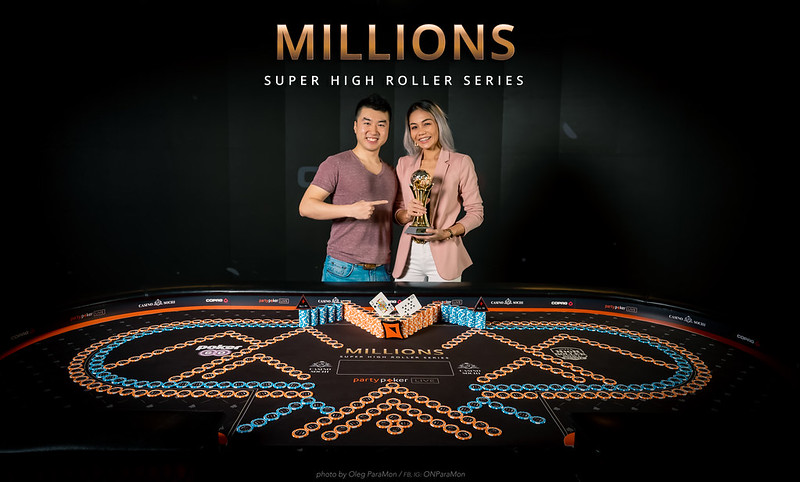 Jiang Xia He returned from the one and only break on today's $25,000 Short Deck final table to eliminate the player with the only stack close to his, and then take every scalp remaining in less than half an hour to bulldoze his way to the title and $378,000 first prize, his final hand a Royal Flush, no less.
This event attracted 42 entries, paying all six finalists from a total prize pool of $1,050,000. A recap of today's frenetic action will follow.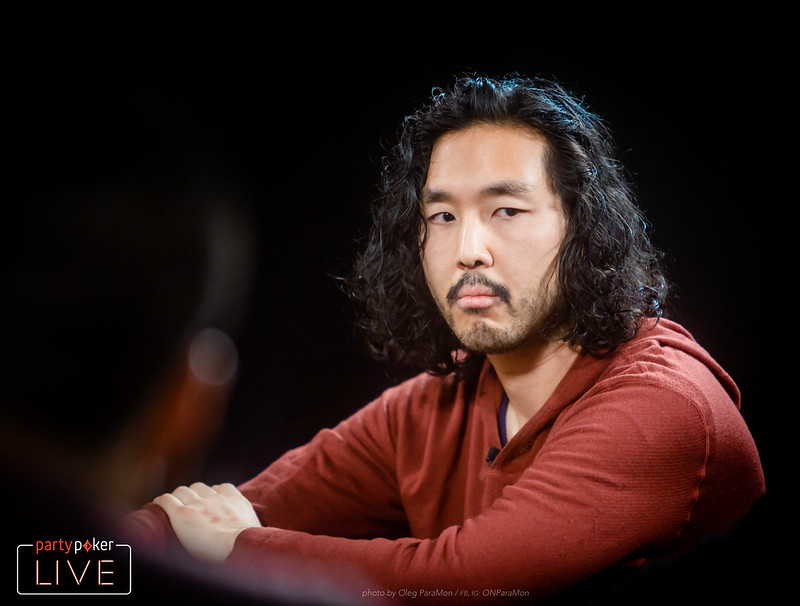 And just like that, it's over.  John Cynn, down to just 550,000, made a preflop stand with
, up against the
of the final table's late stage steamroller Jiang Xia He.
The board ran out
– a Royal Flush for He – making this the fastest possible heads up match and handing Cynn a $252,000 payday while He will take the first title of the partypoker MILLIONS Super High Roller Series Russia and $378,000.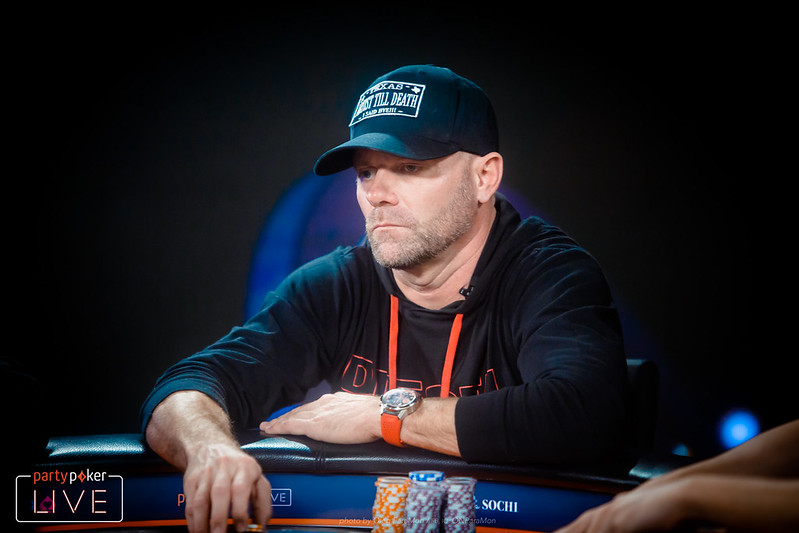 Seconds after Katz exited, we found ourselves heads up in this Short Deck final table, as Aaron Van Blarcum, with little wiggle room in his 500,000 stack, moved in with
.  Jiang Xia He reshoved, getting it heads up holding
.  Van Blarcum was drawing dead after the
flop – a rare flush adding another player's scalp to the towering stack of chips in front of He.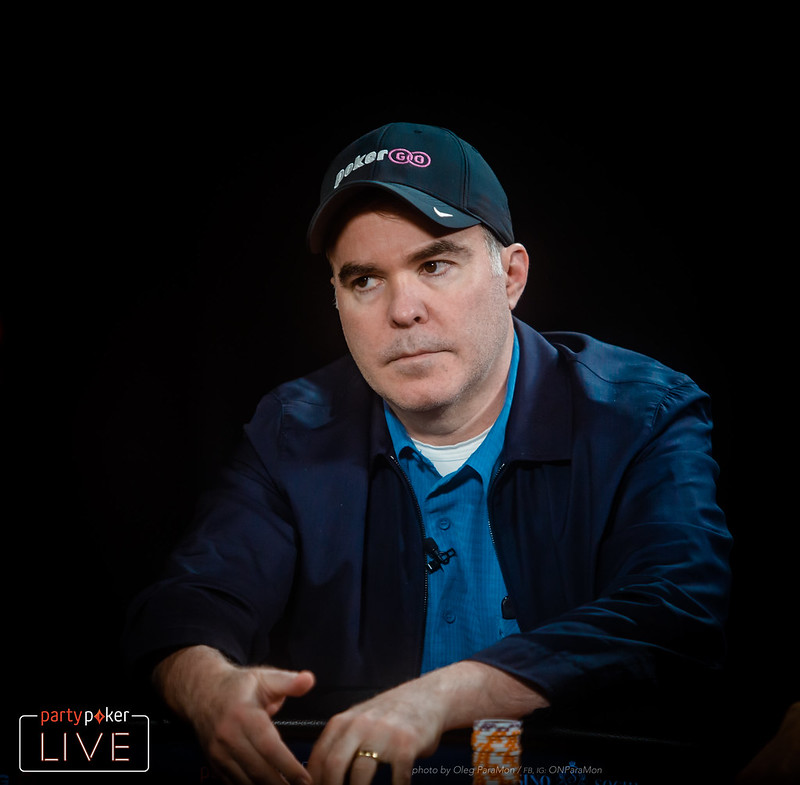 Jiang Xia He, in the enviable spot of being the one huge stack vs. three short stacks, has been setting his opponents in preflop with abandon, picking up several uncontested pots.  His most recent jam, with
, found Cary Katz behind him holding
; Katz's last 875,000 was in the middle with little delay.
Board:
– the rich get richer and we're three handed.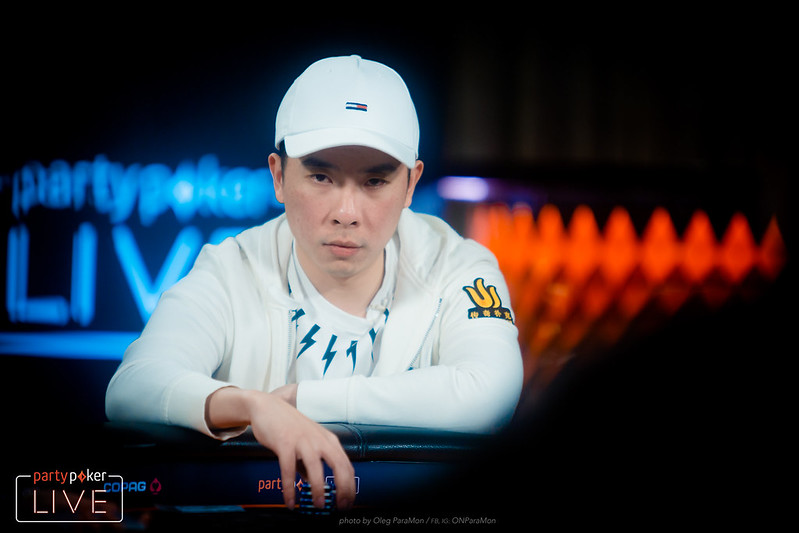 A giant clash between the chip leaders has sent Wai Leong Chan to the rail in 5th place.  Wai Leong Chan limped for 100,000; over to the only stack that covered him, that of Jiang Xia He, who put him to the full test with
.  Wai Leong Chan held
and made the call for over four million chips.
The board ran out
– the final queen on the river giving He a full house, pipping his opponent's straight and just like that, the dynamic on the final changes hugely.
Level
Level 20
Blinds
50,000 / 100,000
Big Blind Ante
100,000
| Player | Chips | Change |
| --- | --- | --- |
| Santi Jiang | 5,345,000 | 665,000 |
| Wai Leong Chan | 4,125,000 | -620,000 |
| John Cynn | 1,350,000 | -250,000 |
| Cary Katz | 975,000 | -25,000 |
| Aaron Van Blarcum | 805,000 | -120,000 |
| Stephen Chidwick | Busted | - |
Aaron Van Blarcum opened to 380,000 with
, then called when Jiang Xia He moved in for 2,260,000 holding
.  The
runout doubled He into a powerful position with over 4.5 million.
After making that big fold earlier, Cary Katz's stack had dwindled to 445,000, which he moved in when it folded to him on the cutoff with
.  Button John Cynn had picked up
and swiftly put the man the PokerGo commentary calls "El Jefe" at risk.  An ace arrived on the flop to save Katz's tournament life, the full runout lying
.
| Player | Chips | Change |
| --- | --- | --- |
| Cary Katz | 1,000,000 | 270,000 |
You're all caught up!
No more pages to load