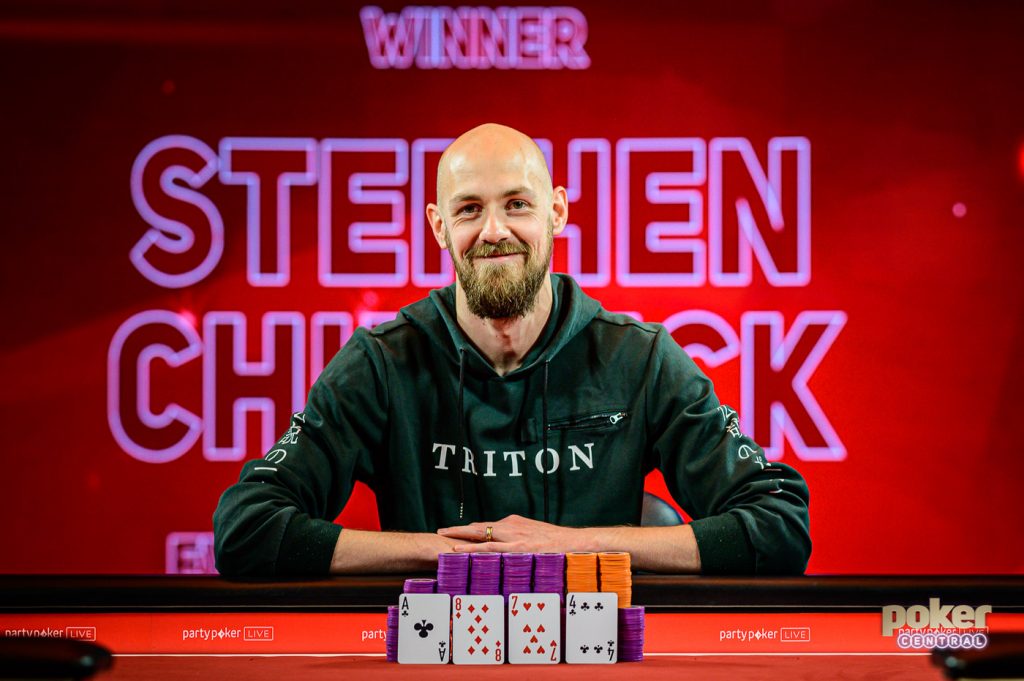 A dramatic day at the felt saw Event #7, the £25,000-entry Pot Limit Omaha event produce another new winner this series, as Stephen Chidwick put himself right back in the race for the British Poker Open Championship in London.
SOVEREL'S CHIP LEAD DISAPPEARS
Coming into play with a mammoth lead in the overall Championship, American pro Sam Soverel might have been forgiven for thinking nothing could go wrong. The streetwise super high roller thought no such thing, of course, knowing PLO better than most on the planet, and as we have seen so many times before, the chip lead he came into play with disappeared fast.
Soverel wasn't to bubble, however. Ben Tollerene came into the day as the short stack by some margin, and while he quadrupled up when even shorter, his run came to a premature end when his pair of queens on the flop was drawing very thin against George Wolff's trip queens, which held to bust the online legend.
WOLFF AND SOVEREL FALL SHORT
One of the pivotal moments of the British Poker Championship could well become when George Wolff then took out Sam Soverel. Soverel, who has 580 points now in the BPO Championship leaderboard. The overnight chip leader was eliminated when Wolff first called a great bluff with an even greater hero call on the river, then was all-in pre-flop and paired up on the turn to send Soverel out of the running.
Heads-up was a fairly lengthy affair, and saw a turnaround in fortunes for the two players, with George Wolff 2:1 ahead in chips at the commencement of proceedings in London. Wolff picked the wrong time to bluff as he pushed all-in on a river he'd missed all of his draws on. Chidwick, however, had turned the flush and called it off in double-quick time to go 9:1 ahead.
CHIDWICK THE CHAMPION
The end was a mere formality away once Wolff was taken down from 220,000 chips to 85,000, Chidwick sitting behind over two million.
"End my misery!" joked Wolff, and it was over when his all-in move with
and was called by Chidwick with
. The board of 
saw Chidwick crowned champion. He was disarmingly honest in his post-game interview.
"I'd like to say that I've figured out how to play tournament PLO," he said, "But honestly, I've been running very good. These last three 25k PLOs, I've registered at the last minute and run well. That's kind of what it takes."
Despite his obvious success in the format – Chidwick also won his maiden WSOP bracelet this summer in the same buy-in and format for over a million dollars – he retains a belief that he still has a lot to learn.
"I don't think I have an edge. There's a lot of very experienced PLO players here. But I really enjoy playing PLO even though I don't do it that much just try and do the best that I can."
TAKING ON A FRIEND FOR THE CHAMPIONSHIP
Chidwick's success means that he closes to within 200 points of British Poker Open Championship leader Sam Soverel. He'll be trying to reign in a player he counts as a friend on the super high roller circuit.
"I've played a ton of poker with Sam over the last few years and I'm sure I'll continue to. It's fun to play against Sam, although it's really tough, and obviously he's running great this week too. I'll keep playing as well as I can to keep trying to chase him."
With three events to go, the race really is on!
Final Table Results:
| | | |
| --- | --- | --- |
| Place | Player | Prize  |
| 1st | Stephen Chidwick | £202,500 |
| 2nd | George Wolff | £112,500 |
| 3rd | Sam Soverel | £60,000 |
Seven British Poker Open events are in the books and Sam Soverel still holds the points lead.
Stephen Chidwick is Soverel's closest competition and is now less than 200 points back after winning the £25,000 Pot Limit Omaha event. Chidwick has four cashes, equalling Soverel's BPO total. George Wolff is also near the top of the charts. The four-card specialist likely won't enter another BPO event though, meaning his total should stay at 340.
An updated look at the BPO top-ten is provided below:
| | | | |
| --- | --- | --- | --- |
| RANK | PLAYER | POINTS | CASH |
| 1 | Sam Soverel (4) | 580 | £561,200 |
| 2 | Stephen Chidwick (4) | 420 | £343,500 |
| 3 | George Wolff (2) | 340 | £232,500 |
| 4 | Sam Greenwood (2) | 260 | £147,200 |
| 5 | Robert Flink (2) | 240 | £108,800 |
| 6 | Sergi Reixach | 200 | £253,000 |
| 7 | Elio Fox (2) | 200 | £157,000 |
| 8 | Paul Newey | 200 | £156,400 |
| 9 | Luc Greenwood | 200 | £119,600 |
| 10 | Rainer Kempe | 140 | £196,600 |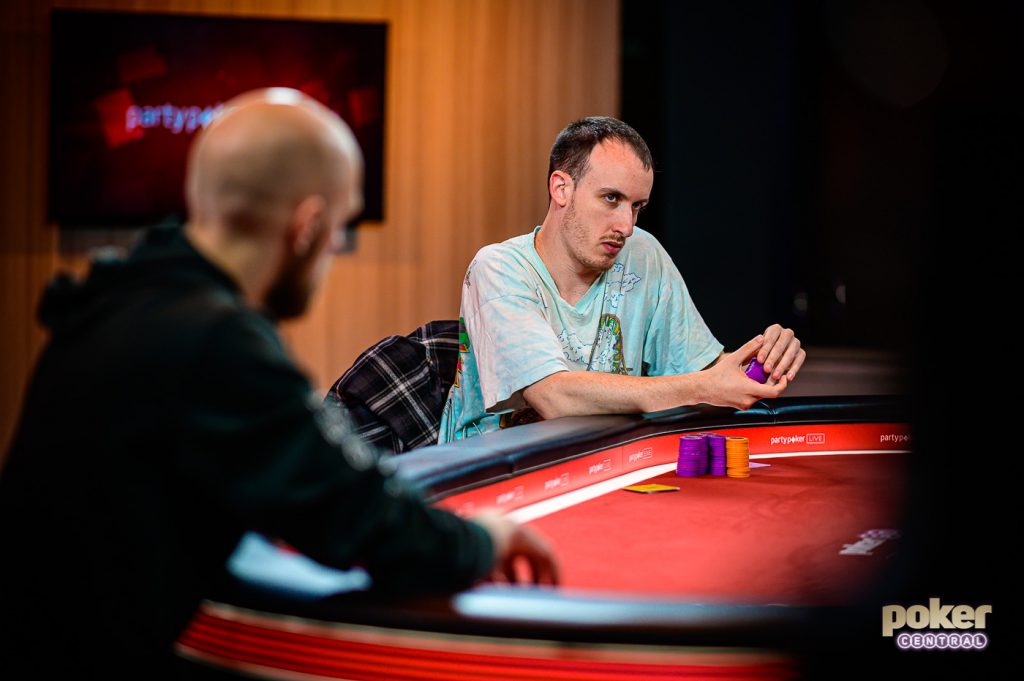 Whittled down to just seven big blinds, George Wolff was left howling after a wounding hand.
Chidwick held
and raised it up to 90,000, with George Wolff calling with
. Chidwick bet to take it down, leaving Wolff with just three big blinds, 'on the ropes' in the words of Jeff Platt in the commentary booth with Brent Hanks alongside him.
Wolff then moved all-in with
and was called by Chidwick with
.
"End my misery," laughed George Wolff.
The flop of
kept Chidwick in the lead, but only marginally in terms of odds. The
meant that Wolff needed a queen, nine or three to survive, but the river of
saw Stephen Chidwick become the first player in history to win a U.S. Poker Open and British Poker Open event, as well as the £202,500 top prize, moving himself into second position in the race for the British Poker Open Championship.
It's game on with three events left to play, Soverel less than an event win ahead of Chidwick now.
Stephen Chidwick has won his 19th career title, his 11th in the last year alone, including four U.S. Poker Open events, to which he has added his first British Poker Open event win. George Wolff wins £112,500 for his runner-up finish, the second heads-up match he's taken part in during his own hugely successful 2019 British Poker Open.
Level
Level 6
Blinds
1,500 / 3,000
Big Blind Ante
3,000
A sensational call on the river may have won Stephen Chidwick this Event #7 title.
Chidwick held
and his opponent George Wolf had moved all-in with
after the pot of 880,000 had gone to the river on a board of
.
A stunning bluff, but an even more amazing call saw Stephen Chidwick win the pot and lock up 90% of the chips in play. Could this titanic battle be over?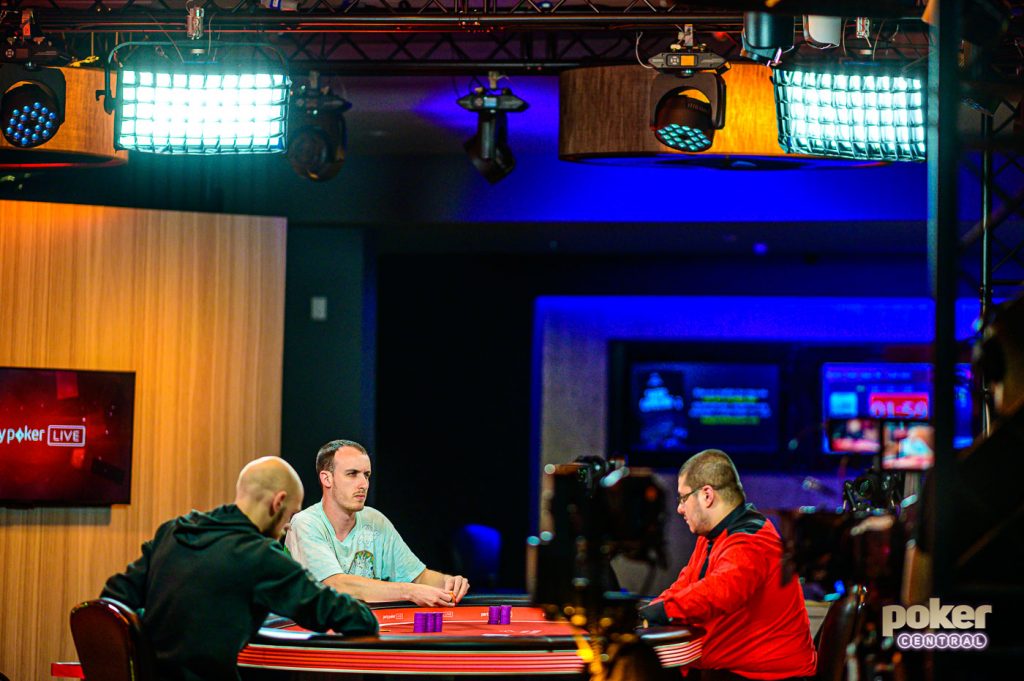 Stephen Chidwick held
and raised to 90,000. George Wolff three-bet to 270,000 with
and Chidwick made the call.
With 570,000 in the middle, the flop of
Wolff potted for 570,000 and took it down.
Wolff has retaken the chip lead again.
Level
Level 5
Blinds
1,000 / 2,000
Big Blind Ante
2,000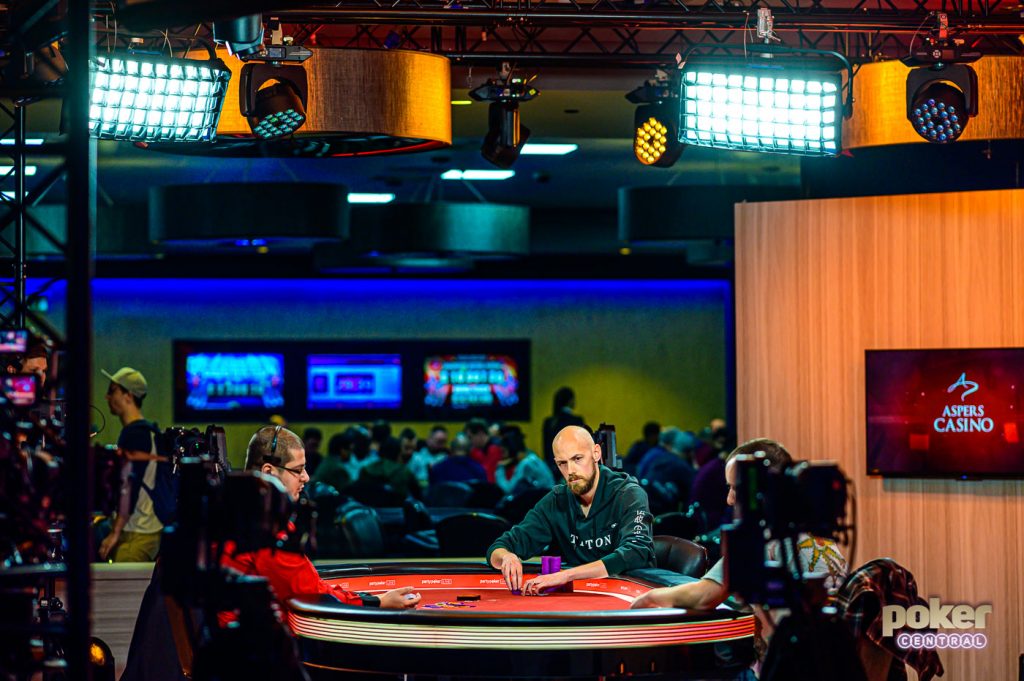 With 175,000 in the pot, Stephen Chidwick had
and bet the flop to take it down yet again, winning four hands of the last six.
Chidwick has the chip lead on Wolff by a ratio 2:1 at present… but will that be enough to see it out and move into second place in the BPO Championship?
Level
Level 17
Blinds
15,000 / 30,000
Big Blind Ante
30,000
George Wolff bet 60,000 and when Chidwick three-bet to 180,000 holding
, Wolff made the call with
.
With 380,000 in the pot and
on the flop, Wolff bet 325,000 and Chidwick moved all-in, in "fantastic shape to double" as broadcast team Jeff Platt and Brent Hanks said in the commentary booth.
The turn was the
and the river would need to be a six to end Event #7. The 5th Street card was the
, however, and Chidwick is now chip leader, flipping the counts on their head since the start of the heads-up duel.
You're all caught up!
No more pages to load