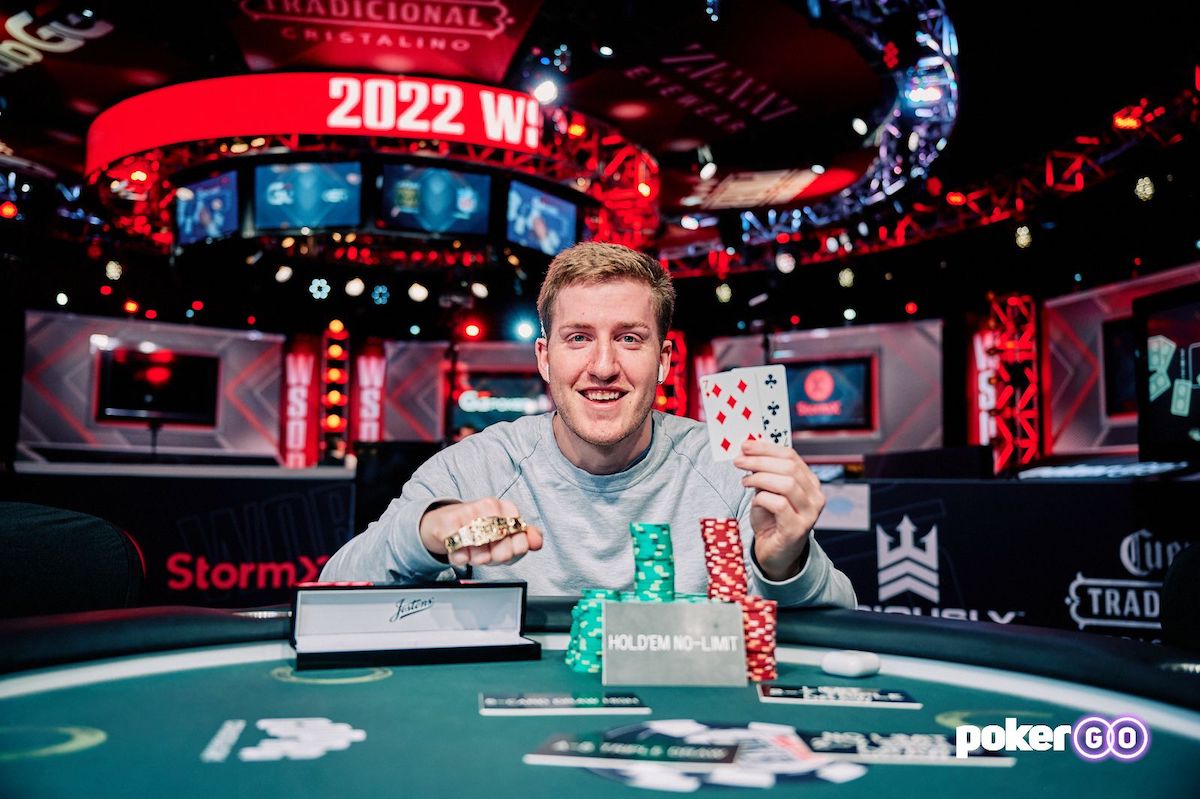 A huge day of action took place in the World Series of Poker in Las Vegas as a packed Paris and a bulging Bally's welcomed players from around the world. With three bracelets won on the day, there was debut gold for both Jake Schindler and Ben Diebold.
Schindler Claims Maiden Bracelet in $50,000 High Roller
Six players returned to action in the $50,000-entry High Roller tournament, which was won by Jake Schindler after he beat the overnight chip leader Brek Schutten to the title heads-up. With players such as 2019 WSOP Main Event runner-up Dario Sammartino (8th for $151,942) and David Peters (5th for $326,464) both taking part, the final table was a thrilling one to watch, with viewers treated to the whole show on the PokerGO live stream.
You can watch the event play down to a winner in stunning fashion right here, with commentary from Jeff Platt and Jamie Kerstetter throughout.
WSOP 2022 Event #12 $50,000 High Rollers Final Table Results:
Place
Player
Country
Prize
1st
Jake Schindler
U.S.A.
$1,328,068
2nd
Brek Schutten
U.S.A.
$820,808
3rd
Punnat Punsri
Thailand
$593,481
4th
Shannon Shorr
U.S.A.
$436,412
5th
David Peters
U.S.A.
$326,464
6th
Andrew Lichtenberger
U.S.A.
$248,516
7th
Michael Rocco
U.S.A.
$192,570
8th
Dario Sammartino
Italy
$151,942
Diebold Wins First-Ever Bracelet After Defeating Gorodinsky
After coming back to finish off Event #10, the $10,000-entry Dealer's Choice Championship,
Ben Diebold used the 5.7 million chips that he returned with to defeat Mike Gorodinsky and deny him a third bracelet. Keeping Gorodinsky at arm's length throughout the short battle, Diebold eventually closed it out in No Limit Hold'em, with his pocket sevens holding against his opponent's queen-jack to seal a memorable win and the top prize of $299,488.
WSOP 2022 Event #10 $10,000 Dealer's Choice Final Table Results:
Place
Player
Country
Prize
1st
Ben Diebold
U.S.A.
$299,488
2nd
Mike Gorodinsky
U.S.A.
$185,095
3rd
Brian Rast
U.S.A.
$134,370
4th
Christopher Claassen
U.S.A.
$98,738
5th
Naoya Kihara
Japan
$73,453
6th
Randy Ohel
U.S.A.
$55,329
Michael Moncek Takes Gold as Yueqi Zhu Comes Third
In the $1,500-entry Limit Hold'em event, otherwise known as Event #13, proved lucky for Michael Moncek as he captured the title and $145,86 top prize. Outlasting a stellar final table, Moncek overcame Ben Ross heads-up for the title after Yueqi Zhu busted in third place.
The day began with just 16 players left from the 522 total entries. With three bust-outs in the opening level, former WSOP Main Event Joe McKeehen was out of the reckoning in fifth after losing two pots to the eventual winner along the way.
WSOP 2022 Event #13 $1,500 Limit Hold'em Final Table Results:
Place
Player
Country
Prize
1st
Michael Moncek
U.S.A.
$145,856
2nd
Ben Ross
U.S.A.
$90,150
3rd
Yueqi Zhu
U.S.A.
$63,314
4th
Christoph Kwon
U.S.A.
$45,178
5th
Joe McKeehen
U.S.A.
$32,761
6th
Steven Wolansky
U.S.A.
$24,149
7th
Fred Lavassani
U.S.A.
$18,100
8th
Nick Pupillo
U.S.A.
$13,798
9th
Lee Markholt
U.S.A.
$10,701
Cada and Tsang Battling for More Gold in Six-Max
The fourth event of the Day 6 tournaments to close for the night was Day 2 of the Six-Max No Limit Hold'em Event #14, which was topped by Daniel Wellborn (8,805,000). He was some way clear of Leonard August (5,800,000) in the top 10, with the 2009 WSOP Main Event winner Joe Cada (5,645,000) in third place of the remaining 16 players.
On a busy day, players such as Jeremy Ausmus, Taylor Paur and Shankar Pillai all cashed along the way, with the top prize of $456,889 now being chased by 14 players without a WSOP bracelet and just two with. Cada is joined in that respect by the short-stacked Anson Tsang, who has just 520,000 chips.
WSOP 2022 Event #14 $1,500 6-Max NLHE Top 10 Chipcounts:
Place
Player
Country
Prize
1st
Daniel Wellborn
U.S.A.
8,805,000
2nd
Leonard August
U.S.A.
5,800,000
3rd
Joe Cada
U.S.A.
5,645,000
4th
Maximiliano Gallardo
Argentina
5,615,000
5th
Thomas Schultz
U.S.A.
5,550,000
6th
Leo Soma
France
4,790,000
7th
Ivan Zhechev
Bulgaria
4,650,000
8th
Derek Sudell
U.S.A.
3,700,000
9th
Ryan Jones
U.S.A.
3,400,000
10th
Tuanyi Mu
China
3,055,000
Deeb and Drinan Both Chasing Becker's Lead
There is a stacked field remaining in the 15th event of the WSOP, with Johannes Becker leading the 24 players who survived from 110 on Day 2 of the Omaha Hi-Lo 8 or Better Championship. Becker ended the day on 895,000 chips, marginally more than Freddy Deeb with 840,000.
Ray Henson (830,000), Connor Drinan (675,000) and Aditya Prasetyo (670,000) round out the top 5 chipcounts, but there are superstars everywhere in a tank full of sharks for the final stages of the event.
Daniel Zack (610,000), Bryce Yockey (605,000) and Yuval Bronshtein (595,000) are all in the top 10 chipcounts, but players such as Phil Ivey, Brian Rast and WSOP Main Event reigning world champion Koray Aldemir all attempted late registration at the start of the day but busted.
WSOP 2022 Event #15 $10,000 Omaha Hi-Lo Championship Top 10 Chipcounts:
Place
Player
Country
Prize
1st
Johannes Becker
Germany
895,000
2nd
Freddy Deeb
Lebanon
840,000
3rd
Ray Henson
U.S.A.
830,000
4th
Connor Drinan
U.S.A.
675,000
5th
Aditya Prasetyo
U.S.A.
670,000
6th
Daniel Zack
U.S.A.
610,000
7th
Bryce Yockey
U.S.A.
605,000
8th
Yuval Bronshtein
Israel
595,000
9th
Bart O'Connell
U.S.A.
505,000
10th
Kane Kalas
U.S.A.
490,000
Two More Events Tie up on Day 1
In Event #16, the $3,000-entry NLHE event saw 1,080 entries make up a near $2.5 million prize pool. With just 407 players surviving Day 1, the chip leader at the close of play was David Tovmasyan, who bagged up 325,500 chips by the close of play, with Barry Hutter (311,500) and Jarrett Bates (311,500) each piling up the same amount with which to chase down the leader on Day 2. With top five appearances from Calvin Anderson (300,000) and Christina Gollins (298,000), plenty of other big names made Day 2 such as Chance Kornuth (226,000), Norbert Szecsi (209,500) and Michael Mizrachi (194,000).
Among those who didn't make the cut and bag up chips at the close of Day 1 were WSOP Main Event winner Joe McKeehen, David Pham, Andrew Lichtenberger, David Williams, Bertrand Grospellier, Eddy Sabat and Chris Brewer.
WSOP 2022 Event #16 $3,000 NLHE Top 10 Chipcounts:
Place
Player
Country
Prize
1st
David Tovmasyan
U.S.A.
325,500
2nd
Barry Hutter
U.S.A.
311,500
3rd
Jarrett Bates
U.S.A.
311,500
4th
Calvin Anderson
U.S.A.
300,000
5th
Christina Gollins
U.S.A.
298,000
6th
Stephen Song
U.S.A.
297,600
7th
Michael Scarborough
U.S.A.
288,500
8th
John Reiter
U.S.A.
286,000
9th
Yi Wei Peng
Taiwan
285,000
10th
Alexandros Theologis
U.S.A.
283,000
Finally, in the $2,500-entry Mixed Triple Draw event, James Opie (196,500) bagged the most chips as he outran Robert Campbell (177,000) to the chip lead, with Kenny Hsiung continuing his strong series with 173,000 chips. Others such as Patrick Leonard (128,500), Max Kruse (122,000), Ari Engel (120,000) are all still in the running.
Others fell by the wayside, with Jaswinder Lally, Adam Friedman, Robert Campbell and Barry Greenstein all failing to make the Day 2 cut.
WSOP 2022 Event #17 $2,500 Mixed Triple Draw Top 10 Chipcounts:
Place
Player
Country
Prize
1st
James Opie
U.S.A.
196,500
2nd
Robert Campbell
Australia
177,000
3rd
Kenny Hsiung
U.S.A.
173,000
4th
Kimberly Stone
U.S.A.
167,500
5th
Jonas Mackoff
Canada
166,500
6th
Alex Epstein
U.S.A.
165,000
7th
Sumir Mathur
U.S.A.
160,000
8th
Paul Martino
U.S.A.
150,500
9th
David Funkhouser
U.S.A.
146,500
10th
Hasan Kural
U.S.A.
145,000
PokerGO is available worldwide on all of your favorite devices, including Android phone, Android tablet, iPhone, iPad, Apple TV, Roku, and Amazon FireTV. You can also stream PokerGO on any web or mobile browser by going to PokerGO.com. For a limited time, you can save $30 off an annual subscription by using the code "WSOP30" at checkout.
Connect with PokerGO.com on Facebook, Twitter, Instagram, and TikTok. Watch daily poker clips on the PokerGO YouTube channel. Join the conversation on the PokerGO Discord server.