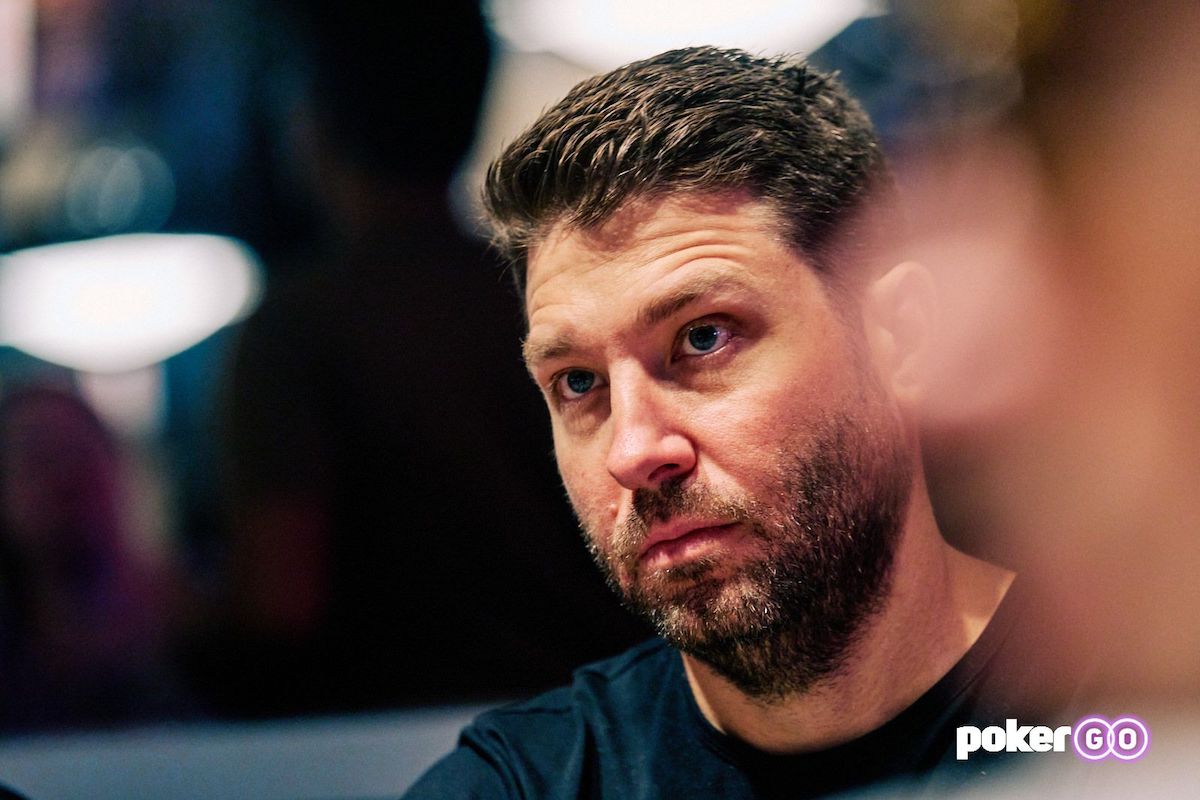 Eight events took place on Monday in Las Vegas as Bally's and Paris casinos welcomed thousands of poker players in a battle for glory in the form of the fabled WSOP gold bracelets. Jeremy Ausmus, Rob Wazwaz and Christopher Chatman all took home gold on the day, with Ausmus' success his fourth win in his World Series career.
Ausmus Crowned WSOP Champion for Fourth Time
The last stages of the $3,000-entry Limit Hold'em Six-Handed Event #23 saw a dramatic victory for Jeremy Ausmus as the popular poker professional sealed his fourth WSOP bracelet win and banked $142,147. With six players reaching the final table, there were eliminations for Kevin Erickson, Shaun Deeb and Robert Como ahead of the official final table kicking off, whereupon the only other bracelet winner, Andrew Kelsall, busted for $21,170.
With Ausmus taking on Michael Rocco, the overnight chip leader, for the bracelet, Ausmus had an almost 3:1 lead over his opponent. It took one big hand to give Ausmus virtually all the chips, with a pair of fives good enough for the eventual champion to make the key hero call which earned him the fourth WSOP bracelet of his career and third in the last nine months.
WSOP 2022 Event #23 $3,000 Limit Hold'em 6-Max Final Table Results:
Place
Player
Country
Prize
1st
Jeremy Ausmus
U.S.A.
$142,147
2nd
Michael Rocco
U.S.A.
$87,854
3rd
Gabe Ramos
U.S.A.
$59,486
4th
Zachary Grech
U.S.A.
$41,191
5th
Mike Lancaster
U.S.A.
$29,185
6th
Andrew Kelsall
U.S.A.
$21,170
Chatman Dominates Finale of Flip & Go Event
Christopher Chatman took down the final table of the Flip & Go format Event #24, winning the top prize of $187,770 after a brief heads-up battle with Rafi Elfarar. Before the last nine gathered, players such as Galen Hall busted, but at a final table that contained plenty of big names, Mike Matusow was the first victim, falling in ninth for just $17,010. With Ian Steinman and Pete Chen both making the top five, Tyler Willse was the unfortunate man to miss out on the final duel, cashing for $85,420 in third place.
Heads-up, Chatman had top pair with top kicker for the pivotal pot, Elaharar losing a huge chunk of his stack with just queen-six when Chatman's ace kicker with the queen played. Soon after, the title was won for the first time bracelet winner Chatman, as another domination (ace-king against king-six) gave him the gold.
WSOP 2022 Event #24 $1,000 FLIP & GO Final Table Results:
Place
Player
Country
Prize
1st
Christopher Chatman
U.S.A.
$187,770
2nd
Rafi Elharar
Israel
$116,050
3rd
Tyler Willse
U.S.A.
$85,420
4th
Ian Steinman
U.S.A.
$63,530
5th
Pete Chen
Taiwan
$47,760
6th
Austin Apicella
U.S.A.
$36,290
7th
Zach Cheatum
U.S.A.
$27,880
8th
Georgios Sotiropoulos
Greece
$21,660
9th
Mike Matusow
U.S.A.
$17,010
Wazwaz Wins Deepstack for Career-High $358,000 Score
Rob Wazwaz took down Event #25 as he claimed the $800-entry NLHE Deepstack event title at a fast-paced final table. With the nine players at the final table representing five different countries, it truly brought the World Series of Poker to a global audience as fans of each player from around the world could cheer on their prospective champion.
Before the final table began, a busy day leading up to the win saw players such as Ryan Phan (53rd), Melanie Weisner (101st) and Adam Levi (108th) all bust to miss out on the final stages. It was Israeli player Liran Betito who busted first at the final table, crashing into Wazwaz' aces, which held to reduce the field to eight.
French player Sebastian Clot was unlucky to go out with ace-king against overnight chip leader Maxine Duhamel's queen-jack, but after India Abhinav Iyer busted in seventh place, it was Duhamel himself who made an exit, running pocket fours into Sean Legendre's pocket tens. Dov Markowich's king-queen was unable to crack the ace-seven of Wazwaz before Legendre (4th for $125,3781) and Terence Reid (3rd for $166,011) both left the party.
Heads-up, it was Robert Crow who lead, but if he thought he was taking a direct route to the gold bracelet, he was wrong. All-in with king-six for the win, Crow couldn't overcome Wazwaz' pocket queens and the tide had turned. Eventually, Crow bluffed a river for his stack with just king-high and Wazwaz called with middle pair on the flop and fourth pair by the river to win the title in style.
WSOP 2022 Event #25 $800 NLHE Deepstack Final Table Results:
Place
Player
Country
Prize
1st
Rob Wazwaz
U.S.A.
$358,346
2nd
Robert Crow
U.S.A.
$221,399
3rd
Terence Reid
U.S.A.
$166,011
4th
Sean Legendre
U.S.A.
$125,371
5th
Dov Markowich
Canada
$95,363
6th
Maxime Duhamel
Canada
$73,064
7th
Abhinav Iyer
India
$56,388
8th
Sebastien Clot
France
$43,839
9th
Liran Betito
Israel
$34,336
Jouhkimainen Leads from Seiver and Arieh in PLO High Roller
A stacked field took part on Day 1 of the $50,000-entry PLO High Roller event, with Finnish player Joni Jouhkimainen (2,935,000) leading from Aaron Mermelstein (2,375,000) in the event that has a huge top prize of over $1.3 million. With Scott Seiver (1,835,000) and 2021 WSOP Player of the Year Josh Arieh (1,825,000) both flying high too and in superb form – Arieh has finished third twice in major events, Seiver already has a bracelet – there will be some great competition on Day 2.
With a total of 106 entries creating a $5 million prize pool, just 36 players remain in seats, with other big names such as the returning poker hero Jason Mercier (1,070,000), three-time WSOP winner Chance Kornuth (895,000) and perennial poker threat Ben Lamb (845,000) all in the top 20.
There were a galaxy of stars on display at every table, but some of the brightest burned out on Day 1, with Anthony Zinno, Jeremy Ausmus, Stephen Chidwick, Daniel Negreanu, Dan Zack, Alex Foxen, Phil Galfond, Shaun Deeb, Phil Ivey and Dylan Weisman all failing to last the day.
WSOP 2022 Event #28 $50,000 PLO High Roller Top 10 Chipcounts:
Position
Player
Country
Chips
1st
Joni Jouhkimainen
Finland
2,935,000
2nd
Aaron Mermelstein
U.S.A.
2,375,000
3rd
Scott Seiver
U.S.A.
1,835,000
4th
Josh Arieh
U.S.A.
1,825,000
5th
Michael Heritsch
U.S.A.
1,795,000
6th
Ap Garza
U.S.A.
1,390,000
7th
Aaron Katz
U.S.A.
1,250,000
8th
Manuel Stojanovic
Austria
1,180,000
9th
Krasimir Yankov
Bulgaria
1,120,000
10th
Veselin Karakitukov
Bulgaria
1,110,000
Monster Stack Reaches Final Day
The final day of the $1,500-entry Event #21, otherwise known as the Monster Stack event, which will be streamed exclusively on PokerGO, was reached on Monday night. The start of Day 2 saw 271 players kick off Day 3, but just 39 of those survived to the final day of the event that has enjoyed a total of 6,051 entries and has a prize pool of $8,678,835.
With one day to go, Japanese player Yoshiya Agata is best-placed to win the top prize of $966,577 and the much-coveted gold WSOP bracelet, sitting with 19,475,000 chips at the close of Day 3. With everyone in the top 10 having more than 12 million chips and less than 16.5 million, things are tight behind Agata, however. Max Steinberg (12,875,000) and Anthony Spinella (15,850,000) will both be threats.
A little further back in the chipcounts, bracelet winners Calvin Anderson (9,925,000) and Joao Simao (4,900,000) will both be threats, but fellow gold holder Justin Saliba has work to do with just 2,900,000 chips, the equivalent of 11 big blinds when play resumes.
WSOP 2022 Event #21 $1,500 Monster Stack NLHE Top 10 Chipcounts:
Position
Player
Country
Chips
1st
Yoshiya Agata
Japan
19,475,000
2nd
Frank Lagodich
U.S.A.
16,450,000
3rd
Anthony Spinella
U.S.A.
15,850,000
4th
Andrej Senic
Australia
15,375,000
5th
Francis Anderson
U.S.A.
15,300,000
6th
Jeremy Saderne
France
14,400,000
7th
Ricardo Caridade
Portugal
14,000,000
8th
Max Steinberg
U.S.A.
12,875,000
9th
Alexios Zervos
Greece
12,100,000
10th
Ricardo Eyzaguirre
U.S.A.
12,100,000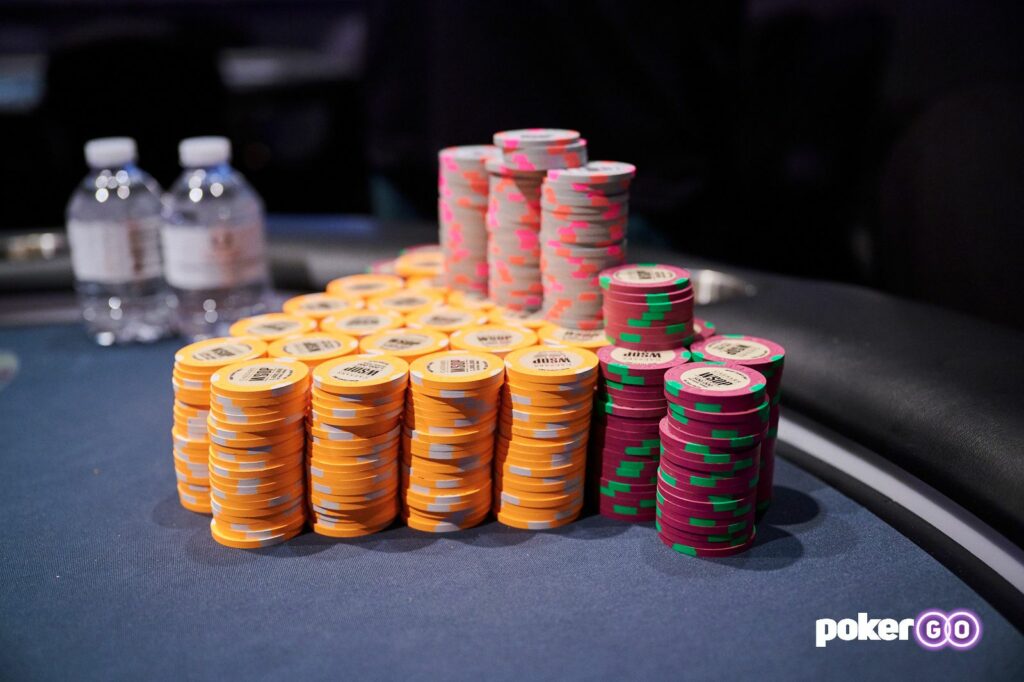 Eveslage Shoots for Second Bracelet This Series in Limit Hold'em
Chad Eveslage will lead the last nine players into the Limit Hold'em Championship final table as he bids to become the first person to win two WSOP bracelets this series. With just over a million chips, Eveslage leads from Matthew Schreiber (970,000) and Joey Coulden (830,000) at the final table, with plenty of other excellent players chasing him down.
It was a disappointing day at the felt for players who missed the final table, with Joao Vieira (38th), Anthony Zinno (35th), Kenny Hsiung (34th), Dan Zack (32nd), Josh Arieh (31st), Yueqi Zhu (30th), Paul Volpe (29th), Johannes Becker (25th), Yuval Bronshtein (23rd), Julien Martini (20th), Robert Campbell (19th), and Brian Rast (15th) all missing out on the opportunity to add another gold bracelet to their collections.
WSOP 2022 Event #26 $10,000 Limit Hold'em Championship Final Table Chipcounts:
Position
Player
Country
Chips
1st
Chad Eveslage
U.S.A.
1,080,000
2nd
Matthew Schreiber
U.S.A.
970,000
3rd
Joey Couden
U.S.A.
830,000
4th
Kyle Dilschneider
U.S.A.
705,000
5th
Jonathan Cohen
U.S.A.
605,000
6th
Matt Woodward
U.S.A.
530,000
7th
Matthew Gonzales
U.S.A.
435,000
8th
David Litt
U.S.A.
190,000
9th
Amir Shayesteh
U.S.A.
175,000
Katchalov Among Players to Advance in Shootout WSOP Event
A total of 1,000 players took on the $1,500 Shootout event, which sees 10-handed no limit hold'em action play down to a winner at each table, putting 100 players into the money, where they'll then play again in the same format to make the final table before shooting for the win. That means someone will win three Sit N Go's to win a WSOP bracelet, but with a tough competitor in virtually every seat, it's not as easy as it sounds to do so.
On Day 1 of the event, 100 ten-handed tables took place and among the players to advance was Eugene Katchalov. The Ukrainian, who is in part playing to raise vital funds for humanitarian charities this summer, outlasted his nine opponents to put himself in the money for his first cash of the series so far. He'll be hoping to win two more tables for his second WSOP bracelet.
Going for their first WSOP bracelet are a huge number of great players, with Italian professional Mustapha Kanit, British online poker legend Patrick Leonard and poker writer extraordinaire Maria Konnikova all still alive. WSOP Main Event winner Qui Nguyen will be looking to book his second bracelet win in this event, as will Barak Wisbrod, Kevin Song, Cole Ferraro, Alan Sternberg, Ben Keeline, Dalibor Dula and Ognan Dimov. Others multiple bracelet winners who toppled their tables include Chris Moorman (2), Tom Schneider (4) and Brian Yoon (4). In addition to those memorable players, Women's Hall of Fame member JJ Liu got the job done and made the Day 2 cut too.
Hellmuth Returns to Defend Lowball Crown
Finally, Event #29 saw a record field of 437 players take on the $1,500-entry $1,500 No-Limit 2-7 Lowball Draw Event. With just 122 players still remaining at the close of play, it was the returning defending champion Phil Hellmuth who made all the headlines after his enforced COVID hiatus denied fans a week of Poker Brat action.
The reality is that unless he achieves the spectacular, Hellmuth has almost no chance of winning this year's Player of the Year title, with just one cash across the first fortnight of action. Achieving the near-impossible is, however, the Poker Brat's M.O. and he survived a busy day with a decent stack of 121,500. Both Hellmuth's friend Mike Matusow (149,500) and fellow Vegas high roller Chris Brewer (117,500) close to Hellmuth in the counts.
Ian O'Hara (294,500) leads the field, with Brandon Shack-Harris closest behind on 235,500 chips. Others to bag top 10 stacks included four-time WSOP event winner Tom Schneider (207,500).
Others weren't so lucky and there will be no place in the Day 2 seat draw for Maria Ho, John Monnette, Galen Hall, Dylan Linde, Melanie Weisner, Andrew Kelsall, Jeff Lisandro, Daniel Negreanu or the current Main Event world champion Koray Aldemir, all of whom bust on Day 1 of this record-setting event.
WSOP 2022 Event #29 $1,500 No-Limit 2-7 Lowball Draw Top 10 Chipcounts:
Position
Player
Country
Chips
1st
Ian O'Hara
U.S.A.
294,500
2nd
Brandon Shack-Harris
U.S.A.
235,500
3rd
Jon Kyte
Norway
213,500
4th
Tom Schneider
U.S.A.
207,500
5th
Gabe Paul
U.S.A.
189,500
6th
Michael Lang
U.S.A.
185,000
7th
Ilkka Heikkila
Finland
172,500
8th
Jonathan McGowan
U.S.A.
172,000
9th
Yosif Nawabi
U.S.A.
170,500
10th
Yanni Raz
U.S.A.
166,000
PokerGO is available worldwide on all of your favorite devices, including Android phone, Android tablet, iPhone, iPad, Apple TV, Roku, and Amazon FireTV. You can also stream PokerGO on any web or mobile browser by going to PokerGO.com. For a limited time, you can save $30 off an annual subscription by using the code "WSOP30" at checkout.
Connect with PokerGO.com on Facebook, Twitter, Instagram, and TikTok. Watch daily poker clips on the PokerGO YouTube channel. Join the conversation on the PokerGO Discord server.