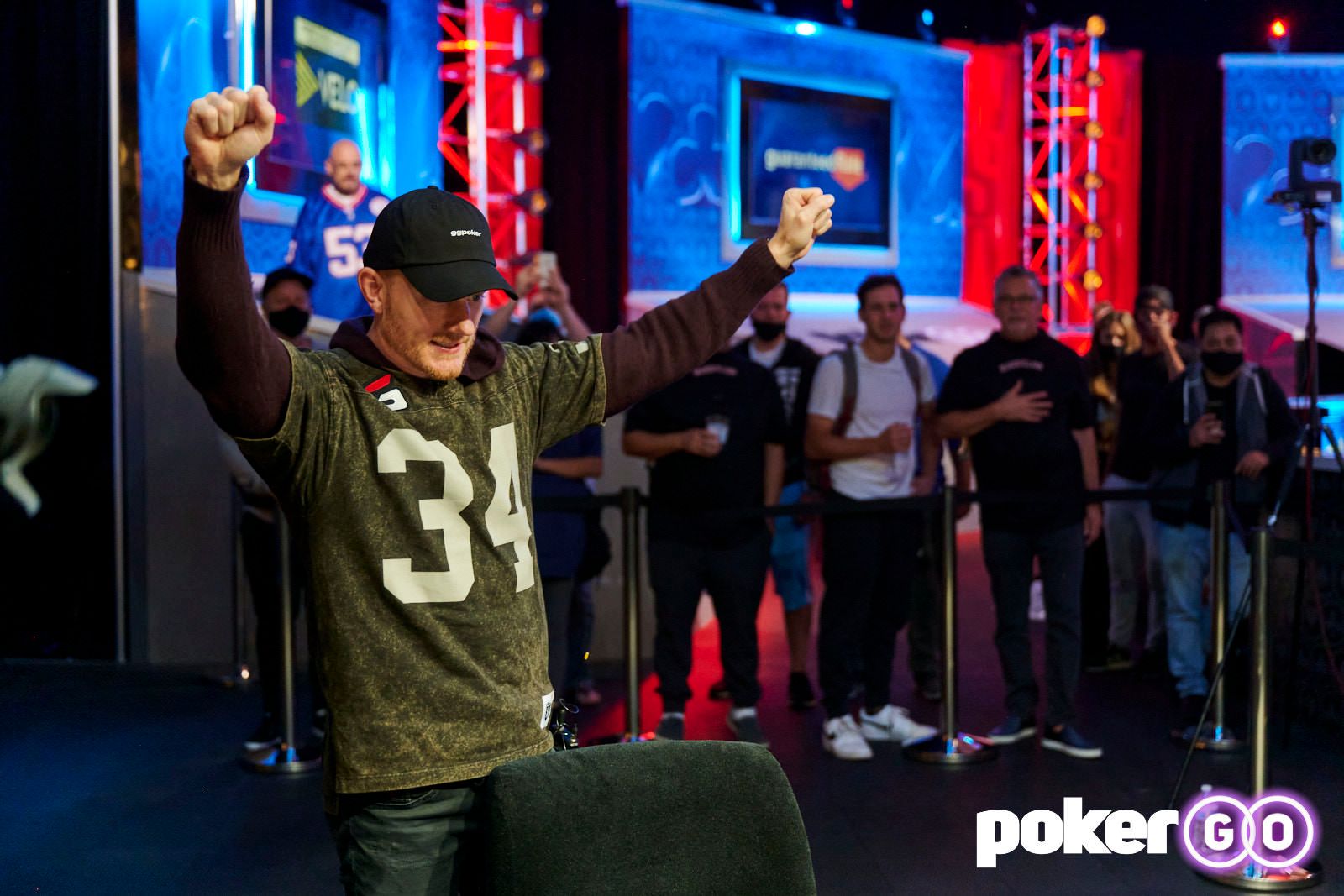 Jason Koon won his first World Series of Poker Bracelet just days after becoming a GGPoker ambassador as the West Virginian's dream week was crowned by the WSOP bracelet victory that he had wanted for so many years.
Koon Crowns Stunning Series with Debut Gold
Koon's victory in the $25,000 NLHE Heads-Up Championship was a spectacular one, coming after Koon bested Henri Puustinen in the semifinals and Gabor Szabo in the final where he came from behind to secure his first-ever WSOP victory. In the other semi-final, Daniel Zack – who was the only player to have won a bracelet of the final four, lost out to Szabo to set up the final.
Koon – who became a GGPoker ambassador this week too – looked over the moon to claim victory at the last in dramatic fashion.
Koon initially got off to a good start in the final, but when Szabo moved ahead, it took a coinflip to save Koon's tournament life. His pocket fives triumphed against Szabo's suited ace-queen, but only after an almighty sweat on turn and river after the flop brought a flush and Broadway straight draw to add to the Hungarian's two overcards. Koon went on to win with ace-queen against ace-jack in the pivotal hand for almost all of the chips and closed out a memorable victory minutes later.
WSOP 2021 Event #11 $25,000 Heads Up Championship
Place
Player
Country
Prize
1
Jason Koon
U.S.A.
$243,981
2
Gabor Szabo
Hungary
$150,790
3
Henri Puustinen
Finland
$89,787
3
Daniel Zack
U.S.A.
$89,787
In Event #9, the $10,000 Omaha Hi-Lo 8 or Better Championship was won by Canadian player Ari Engel for his second career bracelet. At the final table, Phil Hellmuth's short stack saw the 15-time bracelet winner busted first, and Engel then proceeded to make heads-up against Zachary Milchman.
Engel's victory earned him $317,076 and his second bracelet, leading to wild celebrations on the rail from his friends in the Thunderdome.
Want to watch all the action on PokerGO. Check out the final table replay right here.
WSOP 2021 Event #9 $10,000 Omaha Hi-Lo 8 or Better Championship
Place
Player
Country
Prize
1
Ari Engel
Canada
$317,076
2
Zachary Milchman
U.S.A.
$195,968
3
Andrew Yeh
U.S.A.
$143,988
4
Eddie Blumenthal
U.S.A.
$107,204
5
Phil Hellmuth
U.S.A.
$80,894
6
George Wolff
U.S.A.
$61,877
7
Robert Mizrachi
U.S.A.
$47,987
8
Ben Landowski
U.S.A.
$37,738
9
Khamar Xaytavone
U.S.A.
$30,102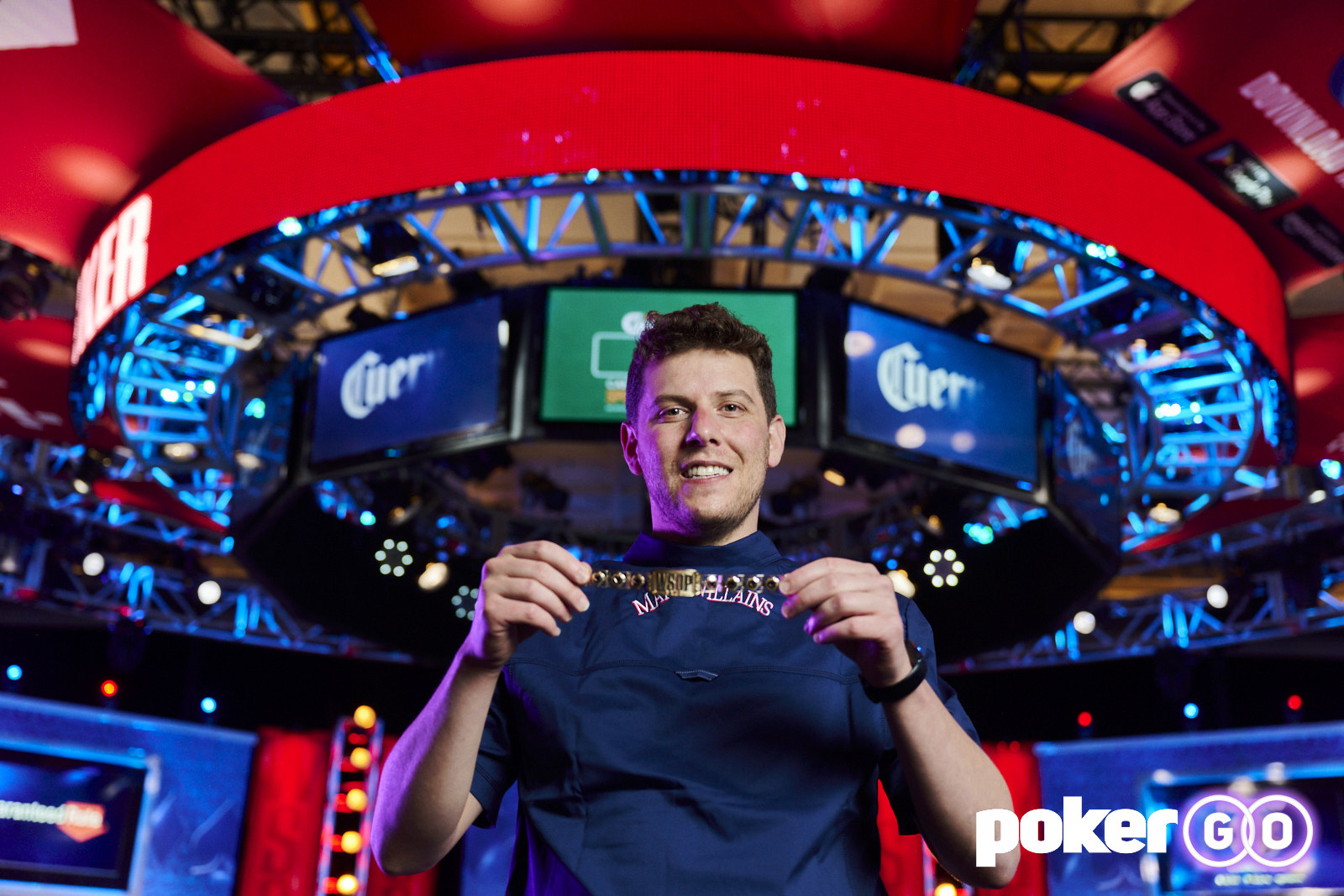 Engel Wins Epic Heads-Up to Win Second Bracelet
The third bracelet winner of the day was Israeli player Yuval Bronshtein, whose victory in Event #12, the $1,500 Limit Hold'em came to double his WSOP bracelet total and earn him $124,374 to go with the gold. Overnight chip leader Kevin Erickson came so close to going wire-to-wire and winning the event, but Bronshtein got the better of him heads-up to close out a great win.
WSOP 2021 Event #12 $1,500 Limit Hold'em
Place
Player
Country
Prize
1
Yuval Bronshtein
Israel
$124,374
2
Kevin Erickson
U.S.A.
$76,868
3
Tom McCormick
U.S.A.
$53,588
4
John Bunch
U.S.A.
$38,011
5
Ian Glycenfer
U.S.A.
$27,488
6
Zachary Gruneberg
U.S.A.
$20,262
7
Guy Cicconi
U.S.A.
$15,230
8
Tony Nasr
U.S.A.
$11,677
9
Anh Van Nguyen
Canada
$9,137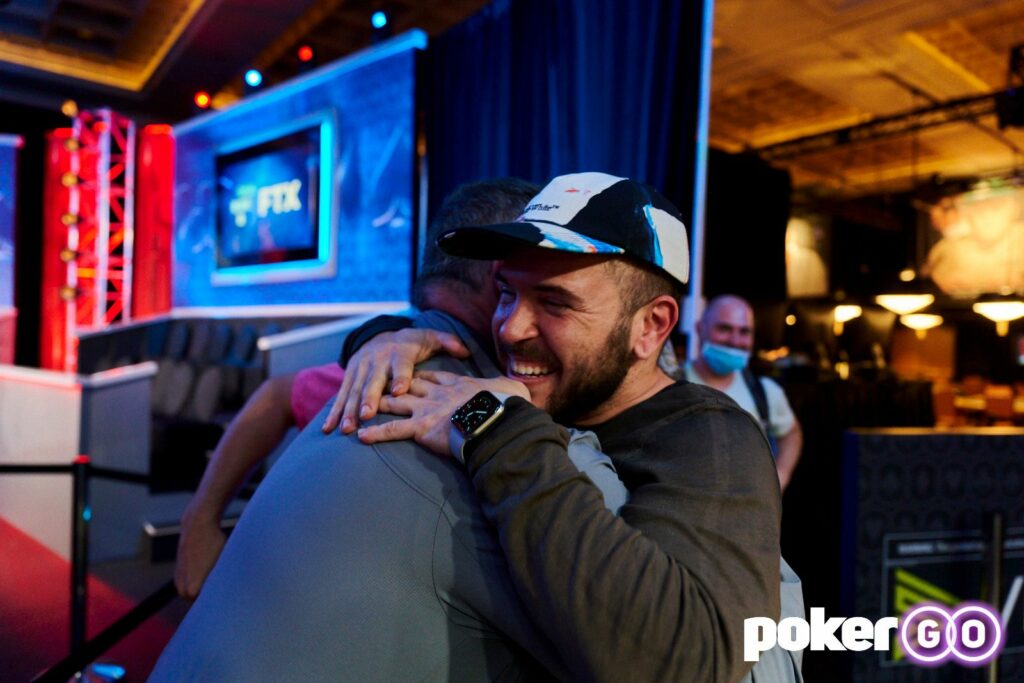 In Event #13, the $3,000 NLHE Freezeout, Brandon Caputo finished the day strongest to reach the final table with the most chips. Caputo's stack of 7.2 million dwarfs all except his nearest challenger, Belgian player Michael Gathy (6.7 million), and he will undoubtedly be the biggest threat to Caputo, having the experience of winning four WSOP bracelets in his armory. Gathy is the only former bracelet winner to have made the final seven of the event.
Others such as Gabriel Andrade (4.9m) and Craig Mason (2.78m) will be hoping they can upset the odds to claim the victory, with Harvey Matthews (2.5m), Girish Apte (2.4m) and David Lolis (2.2m) all confident of coming back to win in style when the final table begins.
WSOP 2021 Event #13: $3,000 NLHE Freezeout
Position
Player
Country
Chips
1
Brandon Caputo
U.S.A.
7,200,000
2
Michael Gathy
Belgium
6,700,000
3
Gabriel Andrade
U.S.A.
4,900,000
4
Craig Mason
U.S.A.
2,780,000
5
Harvey Mathews
U.S.A.
2,520,000
6
Girish Apte
U.S.A.
2,425,000
7
David Lolis
U.S.A.
2,295,000
The 14th event of the 2021 World Series of Poker has reached the final six players, and two of them are absolute megastars of the game and World Series history. With just half a dozen remaining in the $1,500 Seven Card Stud event, Shaun Deeb and David Williams will both go into the final table believing the bracelet will be theirs.
It is Rafael Lebron (1,690,000) who has the chip lead, but Deeb (1,195,000) and Williams (1,050,000) are both well placed, either side of David Moskowitz (1,150,000) in the chipcounts.
WSOP 2021 Event #14: $1,500 Seven Card Stud
Position
Player
Chips
1
Rafael Lebron
1,690,000
2
Shaun Deeb
1,195,000
3
David Moskowitz
1,150,000
4
David Williams
1,050,000
5
Nicholas Seiken
970,000
6
Christina Hill
435,000
Event #15, the $1,500 Six-Handed No Limit Hold'em, saw 1,450 players reduced to just 96 by the close of Day 1, with big names such as Melanie Weisner (467,000), Joni Jouhkimainen (320,000), Darren Elias (265,000) and Upeshka De Silva (166,000) all making the cut.
Chip leader is Daniel Orgil, who took 1.65 million through to Day 2, with his nearest challengers Daniel Rezaei (1,266,000) and Jun Obara (1,200,000) the only other players to bag over a million for their Day 1 efforts.
WSOP 2021 Event #15 $1,500 NLHE Six-Max
Position
Player
Chips
1
Daniel Orgil
1,650,000
2
Daniel Rezaei
1,266,000
3
Jun Obara
1,200,000
4
Steve Foutty
971,000
5
Jesse Yaginuma
843,000
6
Jeremy Eyer
825,000
7
Itai Levy
782,000
8
Jared Ambler
635,000
9
Sean Hegarty
621,000
10
Mark Liedtke
616,000
Just 78 players took on the $10,000-entry Limit Hold'em Championship, but the standard of play was terrific, with 35 players making it through to Day 2. Many superstars of the game got off to a bad start and busted early, such as Robert Mizrachi, Scott Seiver, Jake Daniels, David Benyamine, Daniel Negreanu, Eli Elezra and Dan Zack, who hours earlier had busted the $25,000 Heads Up Championship at the semi-final stage.
Others had a much stronger day, with Eric Kurtman the pick of them, bagging up a 466,000 stack of chips to lead the players into Day 2. Kurtman was followed in the counts by Andony Wasaya (314,000) and Yuri Dzivielevski (270,000), both of whom will be looking over their shoulder at players such as Chad Eveslage (162,000) and Anthony Zinno (159,000), both of whom made the Top 10 chipcounts.
WSOP 2021 Event #16 $10,000 Limit Hold'em
Position
Player
Chips
1
Eric Kurtzman
466,000
2
Andony Wasaya
314,000
3
Yuri Dzivielevski
270,000
4
Casey Mccarrel
232,000
5
Christopher Chung
201,000
6
Nate Silver
198,000
7
Mike Thorpe
178,000
8
Christopher Vitch
162,000
9
Chad Eveslage
162,000
10
Anthony Zinno
159,000
Connect with PokerGO.com on Facebook, Twitter, and Instagram. Use code "WSOP2021" for $20 off an annual PokerGO.com subscription now!